The Buffalo media and networking landscape has seen a huge influx of women-centric/women-run outfits in the last few years. From podcasts to magazines to Instagram to television news, the women of Buffalo are now taking the reins to tell their own stories over myriad information platforms to a plethora of audiences. Qween City wishes to highlight several of these incredible individuals and organizations who have truly given voice to our community of empowering thought leaders, organizers, movers, and shakers.
Our first spotlight on Kelly Dudzik of City Shapers can be found here, our second spotlight, on the events & networking team behind Virago Buffalo, can be found here, our third spotlight, on Miranda Bigham of She's From Buffalo, can be found here, our fourth spotlight, on the professional networking group WINC Buffalo, can be found here, our fifth spotlight, on the networking and social media machine Buffalo Boss Babes, can be found here, and our sixth spotlight, on the women-centric podcast Womankind, can be found here.
---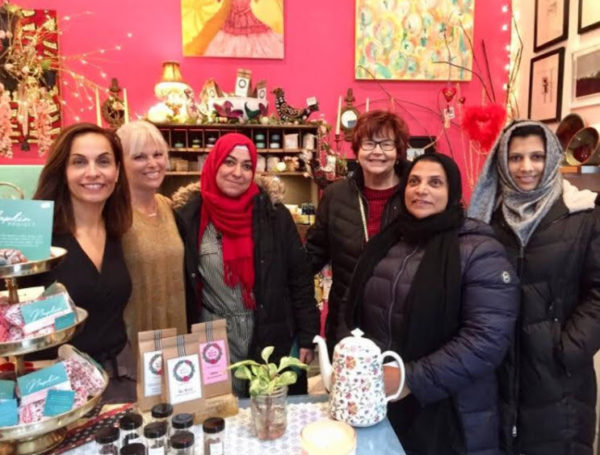 Buffalo Women's Consortium (BWC) is a collective of women artisans founded in July 2019. The group first came together at the inaugural Flutterby Festival, through a common interest in creating works of art from repurposed materials, said co-founders Jen Stockman and Holly Metz Doyle.
First asked to participate in the eco-friendly summer festival on Elmwood Avenue, Holly's craft of turning garbage-picked furniture into functional pieces of art was perfectly inline with the festival's mission, she said. Holly then invited fellow artisan and friend Jen Stockman to participate with her.
Jen had developed "The Napkin Project," a project that used fabric remnants to create reusable cloth napkins. From there the two women thought of several other artisans whose work spoke to the ethos of the festival, and, with "a Facebook page and a vision," BWC was officially born.
The group was formally introduced at the Flutterby Festival in July 2019, with five artisans under two tents. This past holiday season saw their Holiday Pop-Up Bazaar, which welcomed more than 20 artisans to the showcase.
Now, just 6 months since their founding, the group has officially opened its doors to the Buffalo Women's Consortium Member Showroom and Gallery, located at the Market Arcade Building, 617 Main Street in downtown Buffalo. This showroom, which will feature the upcycled and handmade works of more than 20 artisans, "gives the public an opportunity to see and purchase our members' wares in an environment created to be a feast for the senses," Jen and Holly said. "We hope all who enter feel a sense of peace and comfort."
---
What have you learned in your time with BWC?
What we have learned is that when opportunities arise, we just say yes. We both discuss this a lot. So many incredible things have been happening since we began the BWC. The level of support and enthusiasm we have been given throughout the city of Buffalo has been so rewarding. So when a bit of insecurity pops up when asked to participate in a podcast or some type of promotion, we simply understand that as long as we are true to ourselves and know it's for the greater good of the future of the BWC, we say YES.
Putting ourselves out there and acknowledging our vulnerability is good for the collective. We hope that by putting ourselves out there we will give more women, no matter their age or level of fear, the courage to say, "I can and I'm ready to take that next step." That's what we call growth.
---
Where does your inspiration for the organization stem from? Describe the group's trajectory, from beginning stages to present day.
We had an inner knowing that there were more women out there like us. Women who had an incredible longing to simply create, whether it be turning a piece of trash into treasure, re-purposing something into a work of art, or coming to terms with their gifts of healing.
We wanted to tap into those stories of how their passions came about and how they could be translated into becoming their purpose. We started drawing that information out by posting inspirational, thought-provoking posts on social media. Our posts very quickly resonated with so many women, and soon enough we were on a path of creating a community of makers!
Our first event, the Holiday Pop-Up Bazaar, had more than 20 makers. What we witnessed was way more than women selling their goods. It was a meeting place where women from all ages, walks of life, and diverse backgrounds simply supported one another by sharing their stories. We strove to create an event that was not simply a shopping experience. Live music in an intimate setting provided for relationships to be formed between vendors as well as with shoppers in the interactive atmosphere. We created a true bazaar ambiance that we feel was truly unique. At the end of the event, these very authentic souls were connected and relationships were formed; a community was budding.
We then won Queen City Pop-Up and moved into the Market Arcade with a free storefront through the holidays that was well-received and very successful. We concentrated our inventory on home decor, with 10 artisans represented in the space.
From there we signed a lease with the Market Arcade and opened our doors as the Buffalo Women's Consortium Member Showroom and Gallery on February 1 with more than 20 artisans represented.
---
Tell us a bit about who you are.
BWC founders Jen Stockman and Holly Metz Doyle are two artisans who bonded instantly over their instinctive affinity for water and their passion for turning furniture caterpillars into one-of-a-kind butterflies.
Jen Stockman is the sole proprietor of Jen Stockman Designs. Her passion for creating new life from vintage or antique pieces of furniture, primarily through textiles, has been incredibly rewarding to her. Through the years Jen has developed relationships with many eco-friendly wholesalers who are aligned with her environmentally conscious vision for a sustainable future. Jen is a lifelong learner who loves to pursue fun and clever ways of incorporating fabulous design into environment-friendly solutions. When she's not scoping out her next project she enjoys reading, traveling, and spending time with her husband, three children, and dog.
Holly Metz Doyle of 4 Dog Design upcycles unwanted and discarded furniture using several artistic mediums. As an avid animal advocate with a small menagerie of rescued animals in her home, Holly donates 10 percent of each sale directly to a Western New York animal rescue. She considers her furniture pieces to be rescues in their own right, and each of her completed projects comes with an appointed name, along with a backstory of how it made its way to where it is today.
When not working on furniture Holly digs in her garden, swims as much as possible, writes for local publications, scopes out garbage nights throughout the area along with estate and yard sales, and hangs out with her family and pets.
Buffalo Women's Consortium (BWC) is, at its core, a group of women artists. We seek to inspire and support each other while providing collaborative opportunities amongst ourselves.
---
What's coming up for 2020?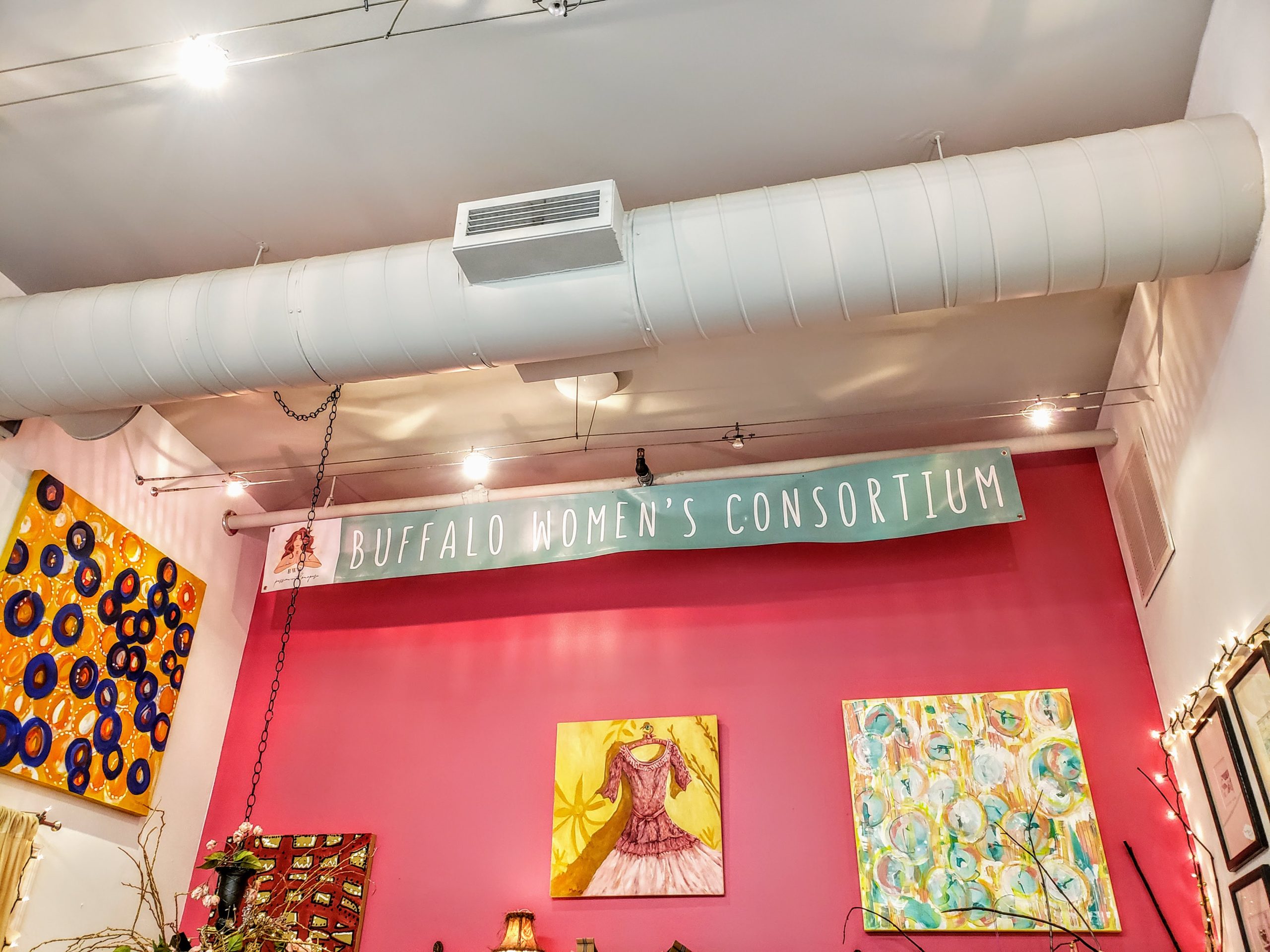 We plan to utilize a beautiful conference room next door to our showroom to host workshops and seminars and have the following events already planned:
March 27 — Designing Women Spring Solstice Vendor Fair, 10 a.m. to 7 p.m. Live music and refreshments from 5 – 7 p.m.
June Summer Solstice — TBA
Our website, www.buffalowomensconsortium.org, launched mid-January, 2020. It will continue to be a work in progress as we build our member base and create and add to our e-commerce. Our blog section will be almost exclusively dedicated to highlighting the work of our incredibly talented members.
---
Visit the Buffalo Women's Consortium Showroom and Gallery, 617 Main Street inside the Market Arcade, Tuesday – Friday, 11 a.m. – 5 p.m.; Saturdays 12 – 5 p.m.