The Buffalo media and networking landscape has seen a huge influx of women-centric/women-run outfits in the last few years. From podcasts to magazines to Instagram to television news, the women of Buffalo are now taking the reins to tell their own stories over myriad information platforms to a plethora of audiences. Qween City wishes to highlight several of these incredible individuals and organizations who have truly given voice to our community of empowering thought leaders, organizers, movers, and shakers. Our first spotlight on Kelly Dudzik of City Shapers can be found here.
---
Our second spotlight in this series is on the collective known as Virago Buffalo. Virago came raging onto the scene in early 2019, throwing their first event on International Women's Day this year.
Asked to describe Virago Buffalo to the uninitiated, the group explained: "Virago Buffalo is a collective for women, NB, genderqueer and other traditionally underrepresented creatives in Buffalo, New York. We host events that celebrate and empower women artists and women-run businesses while giving a chance for all people to come together, network, and get to know one another." In addition, all of Virago's events have had fundraising components for Pinnacle Community Services and their Passage House Shelter.
"Our first two events were very similar in nature with a marketplace of vendors, a performance component, and more general networking," they said. "In June, we partnered with a nationwide initiative called Still Not Asking For It and co-hosted a special tattoo flash sale at Black Cobra in Allentown."
---
Who They Are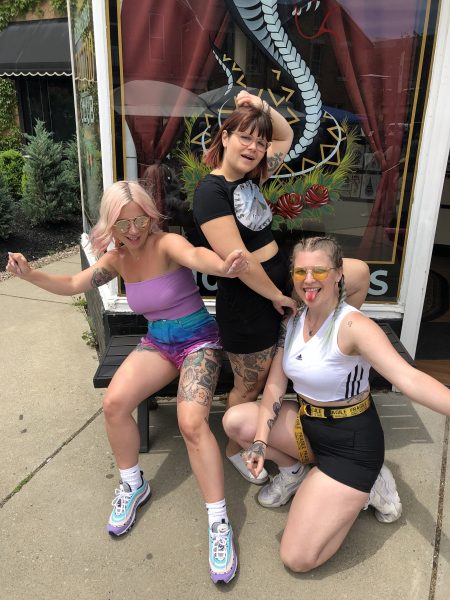 D. Arthur is a Buffalo-based fiction and humor writer, comedian, event producer, and progressive political activist. Her writing has been featured in Electric Literature, McSweeney's Internet Tendency, The Belladonna Comedy, and more. She recently spent two months in New Hampshire working as an organizing intern for Elizabeth Warren's presidential campaign. She is currently at work on a novel based in Buffalo. You can learn more about her and read her writing on her website or Instagram.
Gabby Arthur (aka DJ Lil Gab) is a Buffalo-based DJ known for bringing a female-centric, hip-hop derived playlist to Buffalo's nightlife, concert, and special event scene.  She has shared the stage opening for notable acts such as Juice Wrld, Travis Scott, Rae Sremmurd, Cupcakke, Lil Yachty and more. Follow her on Instagram to see where she's DJing next.
Sam Tilkins is a Buffalo-based photographer and graphic designer. She has designed over 100 published children's books and young adult novels. While Sam is passionate about photographing weddings (her wedding photography business can be found at silverdustvisuals.com) she also continues to work on a passion project of a collection of works that celebrate the aggression and edge of the female spirit, most recently featured in a gallery at Pine Apple Company in Allentown. She loves photographing her two co-collaborators in her work and hopes to bring that energy to Virago Buffalo. Visit her Instagram to see her work. — VB
---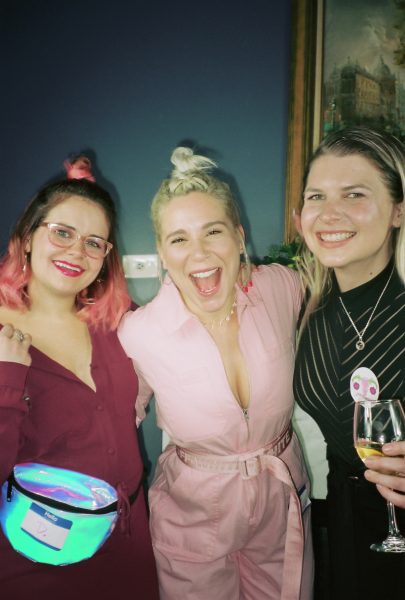 What have you learned in your time doing Virago?
One of the things we learned was that there are so many women doing amazing things in Buffalo that are hungry for a platform! If anything, we often have had to turn away really talented and amazing vendors or performers for our events. There is such a vibrant community of craftspeople, bakers, painters, writers, and so much more! It is really inspiring to see so many women doing their own thing.
Also, one of the things that was really important to us when we started Virago was making sure that it would be an intersectional and inclusive environment. There are a lot of really glamorized and commoditized ideas of feminism, and we wanted to make sure that we were being more thoughtful about celebrating different types of femininity. While we make a point to highlight a diverse group of creatives and business owners at our events, we definitely want to continue to look at ways that we can celebrate even more underrepresented communities. The scope of Virago aims to be inclusive not just of cis-women, but trans, genderqueer, and NB creatives, and we hope to continue to educate ourselves as cis-women to be thoughtful about how we can empower these other important voices.
---
Where does your inspiration for the project stem from? How did your personal trajectory bring you to where you are today?
All three of us are creatives. Gabby is a DJ, Sam is a photographer, and D. is a writer. We all noticed that even though there are so many badass creative women and femmes out there, so many of the people we encounter in these fields are men (especially straight, white men). We knew that we personally wanted a chance to meet more people like us who were doing the work, commiserate over shared struggles (e.g. getting paid), and also just build a network in a really natural, positive, and empowering way. A lot of similar initiatives around empowerment seem to focus on growing your career in a more corporate environment, and we wanted to hold space for people who don't necessarily fit into that mold—the artists, freelancers, small-business owners. We want our events to be super open to everyone, though! We love our corporate babes. We also make a point to invite allies to attend our event while keeping the spotlight on people who normally don't have it.
---
What's coming up for the rest of 2019? 2020?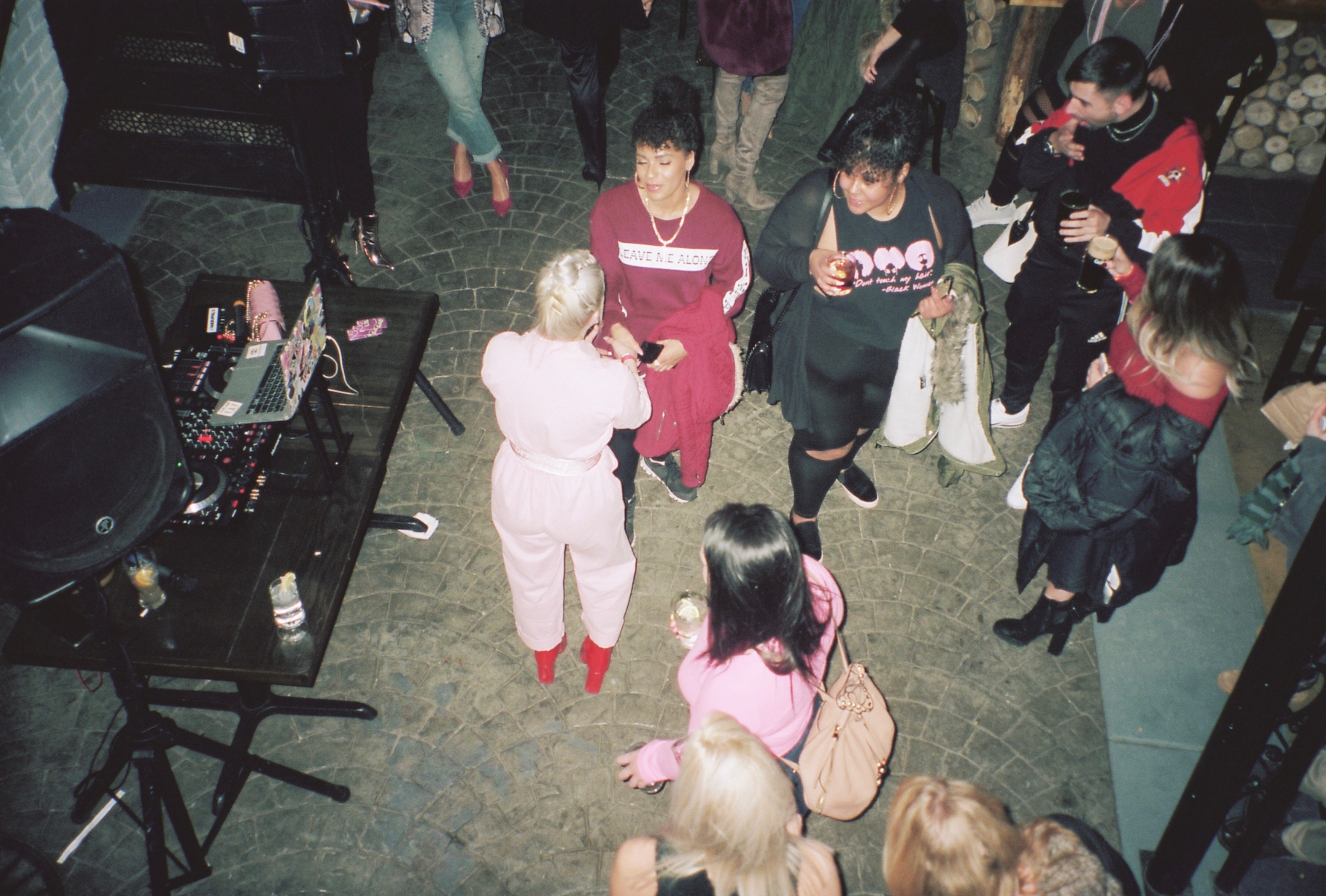 We are really looking to see how we can continue to innovate with the type of events that we are hosting. We are hoping to do an event focused on youth soon! We know that harassment and bullying is such an important issue, and we want to bring young people together to have some fun and feel empowered. We are finalizing our calendar for fall and winter, so follow us on Instagram for upcoming dates. We also want to look at ways we can build Virago outside of our events. We hope to grow our social media as a place that we can empower and highlight some of our favorite creatives in the community. We are always open to feedback, and we hope that people reach out to us with any ideas that they would like to see Virago help support!