Photos By: Jillian Barrile Photography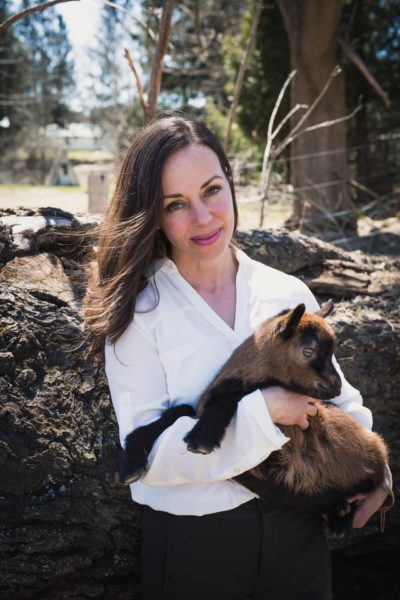 Alpine Made started with the purchase of one baby goat from the Erie County Fair. "We brought it home and then realized the next day that it needed a companion," Kerry Planck said. "One goat became three goats very quickly."
---
The state's only organic goat milk farm, a sprawling 15-acre expanse encompassing two properties in the town of Wales, is now home to 35 goats a decade later. Kerry, full-time farmer, businesswoman, and mom, personifies the old adage, "Living the Dream." A first-generation Cuban American, with a history of ranching and farming in her family that dates back to the Cuban Revolution, Kerry now sees the parallels between herself and her grandfather, who once operated five different farms with his family.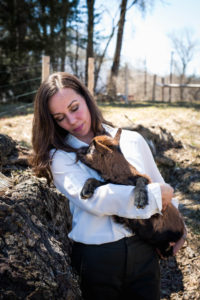 "I was influenced by a lot of the stories. Maybe that entrepreneurial spirit gets shifted down from generation to generation," she said. She was still swimming against the familial tide as a liberal-leaning, independent woman in a more conservative, traditional culture, however. This independence took her on an academic path, earning her degrees in environmental forest biology and a Masters in ecology, then into governmental work.
The first agency to hire her out of college was the United States Department of Agriculture, where she was trained as an inspector, hired to keep pests out of the country. In this role she acted more as an officer of the law than a scientist or a farmer.
"When someone is subjected to questioning and interrogation right at the border — that type of dynamic — they view you differently than how they would view a farmer," Kerry said.
---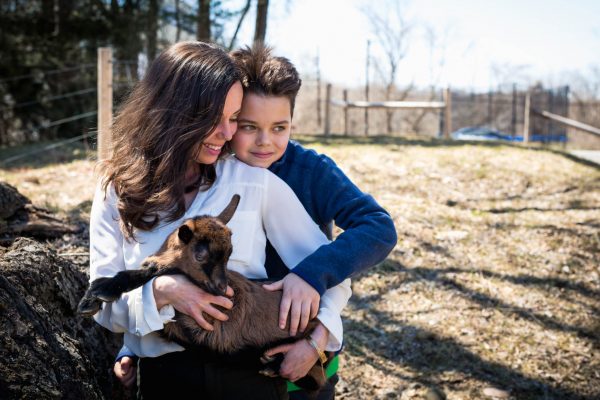 The experience of working with the government shifted Kerry's goals in an entrepreneurial direction. The shift coincided with her plans to begin her family, a family she ultimately wanted to raise in a farm setting. "I was allowed to be able to do that. I quit my job," she said. With support from her then-husband, Kerry set forth in the plans to build out her dream.
"It was just a little hobby farm at first," she said. "Once the kids started growing up and becoming more independent and getting into school, I knew at that point I needed to do a make-or-break scenario. I couldn't just be a hobby farmer/homesteader, that wasn't the life I wanted. I had more of a drive in me, I wanted to do something, reach out, create something, then bring it to people and be able to engage them."
This desire manifested into the product collection Kerry's developed out of her dairy goat farm. A collection of soaps, lotions, salves, and balms, the line uses high quality, non-GMO food grade oils and plant-derived herbs, spices, and scents, in combination with the organic milk she and her team harvest from the herd. The healing elements found in goat milk include rejuvenation (the lactic acid assists in breaking down dead skin cells); the reduction of inflammation (high fat content in the cream moisturizes and soothes dry and damaged skin); restoration (due to the proteins and vitamins found in the milk); and antibacterial properties that assist in clearing up acne and other skin conditions.
---
Although she didn't have formal business training from college, Kerry gleaned a whole new knowledge base from SCORE, a program that pairs retired entrepreneurs with those just starting down the path. She also regularly works with the Small Business Development Center out of Buffalo State College, whom she partnered with in 2017 to bring refugee and immigrant students from Lafayette High School to her farm.
"We had a one-day event and brought in 16 students from the Congo, Cuba, and Puerto Rico — half of them spoke French and half of them spoke Spanish, and my mom, having taught both, was able to act as translator," she said. The girls gravitated to the production area, while the boys got down and dirty with barn work.
"By working with these organizations, it opens up doors and opportunities beyond me just being a farmer, creating a raw material — certified organic milk, to then use in production for an end product," she said. "Our goal is to use our products to engage community."
---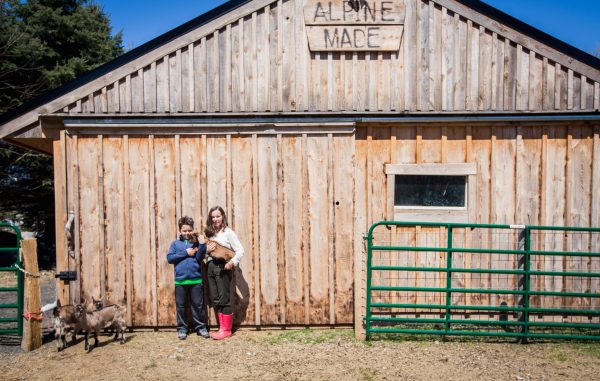 In the beginning of her entrepreneurial days, from 2011 to 2015, Kerry was a completely different person, she said. "I was Type A personality, I lived high stress, because I was a perfectionist at heart, and I wanted everything perfect. I had a limited staff, one part-timer and one full-timer, and myself. I was a micro-manager. Not necessarily checking on people every minute, but, I wanted things done a certain way, and I wasn't allowing for a cohesive, creative, force to be able to help grow the business," she said.
This predisposition landed Kerry with stress-related health issues in her 20s and 30s, leading to post-partum depression after the birth of her children at age 30 and 32.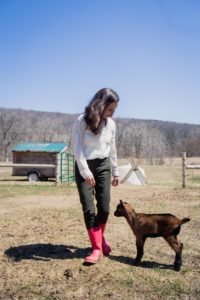 "I was treated for that, but I was always an advocate for making myself well, and not succumbing to the fact that I would have to take medication the rest of my life. I'm not about that," she said. "So, in my healing process, working with a holistic health practitioner to ween myself off of those drugs, to be functional as a parent of young children, I started looking into alternative ways of healing.
"At the beginning it was just, 'Let's heal myself, my body, the physiological symptoms, because that's all it is.' But, in reality, you have to heal yourself internally, and through the mind, and my creative process came by way of healing the mind, the insides," she said.
This journey soon fanned outward, into a yoga practice, breathing techniques and meditation, focusing on the present. "That would allow me to become a better leader and employer, and working cohesively with my staff," she said. "I didn't want to be so directive anymore; I wanted everybody to have an input."
---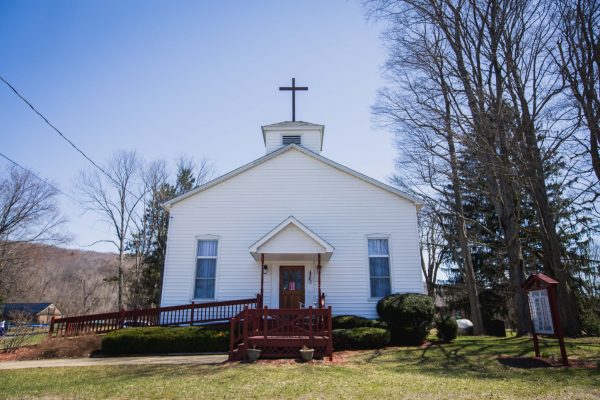 As we sat in the basement of her converted 1800s-era Methodist church that now acts as home, production center, and storefront, Kerry explains that she's not religiously affiliated, not a church-goer. However, while seeking and studying ways to actively pursue internal change, she's found that connecting to something higher than human-based thought process has afforded her the opportunity to develop her intuition and creativity in new and profound ways, and to strengthen her connections with her community and work.
Understand that change is dynamic, it's always going to be.
"I was able to learn things like, in order to obtain balance, you have to accept change, understand that change is dynamic, it's always going to be, and you have to work through your fears, live outside of your comfort zone, and get more comfortable with change as you go along. Change is every day," she said. "Once I grasped that concept, that change is every day, I now welcome it, I look at it as a blessing instead of something that used to stop me in my tracks and not allow me to find balance."
---
In 2017, Kerry and her husband of almost 20 years finalized their divorce. "We came together at a different point in our lives. Now I'm 180 degrees the other way. I've learned so much about myself, what I want, my desires, where I'm going…You shift. You shift your focus. He has his own visions, now, for what he wants to do with his life," she said.
The split included the couple's assets, making the year a "financially exasperating and trying time," Kerry said. But the business was growing, and life doesn't wait on hardship. She retained ownership of the house and the barn, and had acquired a plot of land with a church a few houses down from headquarters. The infrastructure needed to be built out — $15K worth of fencing, a custom storefront in what had previously been the church's foyer, a reinforced barn, new lighting and heat upgrades in the production space.
"It was a huge financial struggle in 2017," she said. "I wasn't sure if, at the end of the year, Alpine Made would be successful."
To put a feather in the cap of an absolutely 'thrilling' year last year (for lack of a better word), her staff of three, two of whom had been with her for about 5 years, the third 3, all resigned around the same time for various personal reasons.
"My mom kept telling me, 'You're going to make it, and at the end of the year you're going to say, 'How in the world did I do this?,'" she said.
By the end of 2017 she had a new, fully trained staff, finished the infrastructure build out, moved her family down the way, and tripled their inventory. She now rents to two tenants in the former home.
"Everything changed, all at the same time. And it worked," she said. "If this was 5 years ago, where I was living with a different kind of mindset, an unbalanced mindset, I would have given up."
---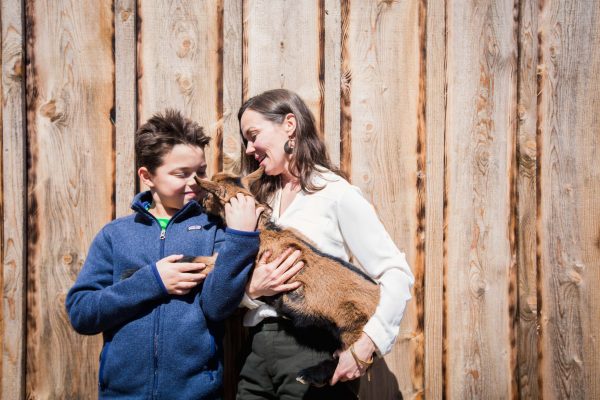 After a lengthy, yearlong process of approvals, Alpine Made was accepted into Wegmans' distribution in mid-2016, and is now carried in 12 of the supermarket's stores throughout Western New York. She is currently in negotiations with Whole Foods, who has greenlit her product for the chain's Buffalo-based location.
Buffalo-based Bootleg Bucha, a kombucha company, has partnered with Kerry on several initiatives, including Goat Yoga, now in its second year. Last season they held three separate days of activities, and within each of those days held two sessions of yoga, successfully incorporating 200 people each of the days. "It was so fun. People had the experience where they could feel peace, breathe fresh air, and engage with a very dynamic and loving animal, clear their breath and ground themselves through the yoga practice, and then talk to and meet people, meet community," she said. This year's activities will take place June 3, June 24, and July 22.
Alpine Made is currently producing 2,400 bars of soap every month, with an increase looming just around the corner.
---
Kerry has used her real world experience of building her farm and business as ultimate teachable moments to her two sons, age 13 and 11. The lessons of positive thinking, hard work, effort, and manifestation teach them that, if they have a goal for themselves, they can use these things to see it through to completion.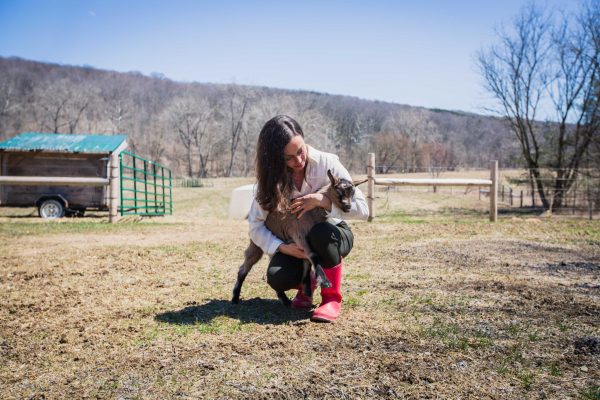 "We first had goats when my oldest son was 3, and he's 13 now, so he has seen it from just having pets, to now, 'Mom had a dream and she took it from Point A to now almost Z," she laughs. "I think that just seeing me do this motivates them — when you see somebody in action on a daily basis, that becomes a model for you as you grow up and become a young adult; you understand what it takes to really make your dreams come true."
---
© 2018 Jillian Barrile Photography LLC. All Rights Reserved. All images on these pages are copyrighted. Use or reproduction without prior written permission is prohibited. To see more of Kerry and the herd, check out the full gallery of our day on the farm.