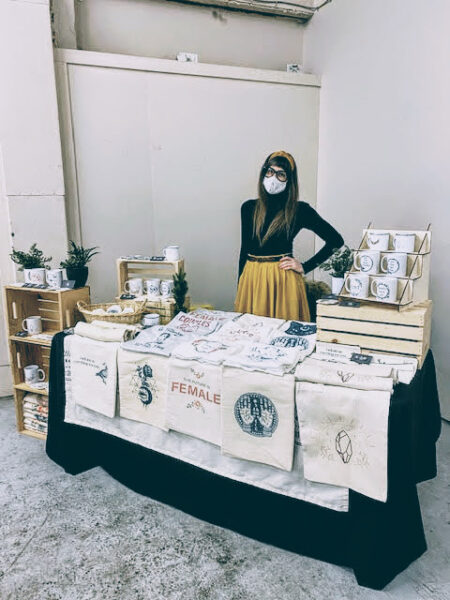 Jennifer Barton's life is steeped in art. She has spent the past decade working as an art facilitator with people on the neurodiverse spectrum and those with physical and developmental barriers, is active in the performing and visual arts community as an independent artist, and now, in her latest chapter, can list entrepreneur on her expansive art resume.
---
In 2010 Jen began her career at Southeast Works, a small non-profit that worked to support people with developmental, intellectual, and physical disabilities. It was here she became the day programming coordinator, and was invited to write a grant for a brand new arts program. The 25-year-old with her first art facilitation job was shocked, but took the challenge head on, writing her first grant with the then-associate CEO. It was accepted.
Her first art class at Southeast consisted of five people in the corner of a shipping/receiving warehouse that the organization used as a space for their pre-vocation work program. By the time Jen left the organization, she had taught 132 artists. "In the beginning we were begging people to come to this program, then ended up having to put people on a waiting list," she said.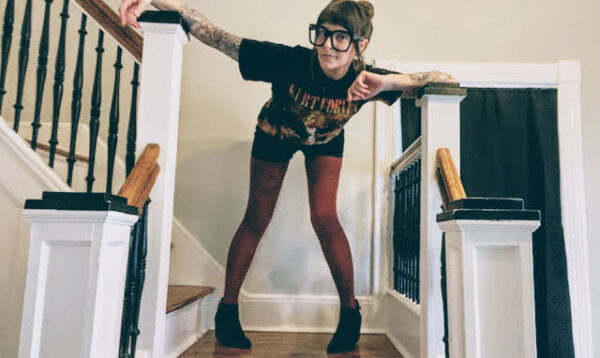 With the growth of the program came an increase in areas of study. Jen hired Katie Creenan, a woman who had initially been with the residential department, to helm the theater program. Then a fine arts program was up and running, where Jen got to use her kiln to teach ceramics, and taught painting and drawing, her first loves. She also incorporated her passion for photography into the program, bringing her students downtown to make portraits of Buffalo's historic architecture on black and white 35 mm film, and then bringing them to CEPA Gallery's dark room, where they were taught how to develop film and print their own photos.
A music therapist was soon hired, as well. She maestro'ed a jam band and taught private lessons to students. The theater group started an improv comedy troupe and hosted community open mic nights, inviting regional group homes to visit and perform stand-up comedy, or poetry, or song.
---
Jen was able to successfully launch and pilot an arts program from the ground up for the four years of her tenure at Southeast, and soon followed her director to a new organization with hopes of recreating the program for an even larger population of people. However, bureaucracy being the animal that it is, the vision never truly met the gaze of reality, and the daily administrative grind eventually ground down the artist's soul. After seven years here, Jen put it to the universe: "I miss art. I miss working with people."
"I missed it so much. I told [my partner], 'If I could do anything right now, it would be that. I would go back to that in a heartbeat,'" she said.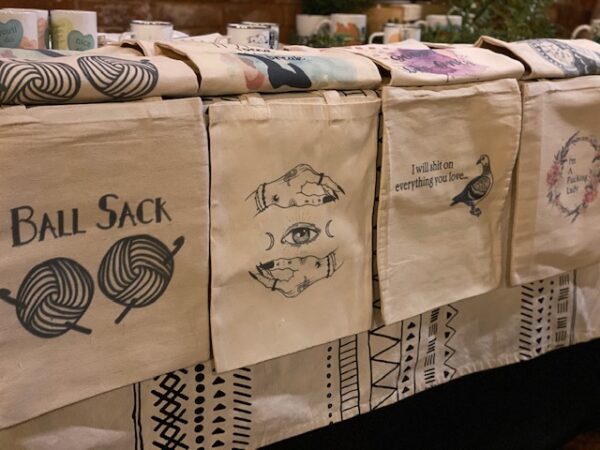 Almost exactly two months to the day she proclaimed this wish out loud, she received a phone call from the CCO at the Arc of Erie County New York, whom she had worked with way back in the day at Southeast. "'I've got a proposal for ya.'" Halfway through that call, Jen was all in. No more details necessary.
Jen started as an art facilitator with Arc in July 2020, the global pandemic a backdrop to this major pivot back to her artist-teacher passion. 
Her classes began in the virtual world, an already challenging environment for neurotypical students or those without physical barriers. "But when someone has moderate to severe intellectual disability, and then you're trying to connect through a computer, and you've never met them face to face, and then maybe they've got a physical disability on top of it, and you're trying to get them and the staff person that's assisting them and supporting them through this session to understand what you want them to do, is frustrating, and it's hard," she said. "Everyone was like, 'Oh my gosh, you finally get to work from home.' I didn't want to. I wanted to be there. I wanted to do the hand-over-hand. I wanted to wheel them up to a wall canvas and let them paint."
Jen now sees 90 artists a week between three day programming sites.
---
"Ever since I can remember, I've been into drawing and painting," she said, recalling her early days as an artist. She remembers taping paper to the wall, putting finger paint on the bottoms of her feet, and lying on her back with her little feet prancing away above her on the wall. "I come from a family of artists…everyone was very traditional in their styles, and I always compared myself to them. My sister would be working on a black and white charcoal piece, and it would look like a black and white photo. I would say, 'I can't do that.' But I got to a point where I could say, 'But that's not me. I'm the girl that's half-naked, feet in the air, stomping on the wall with all the different colors I can possibly find,'" she laughed.
---
The swath of product currently developed under the auspices of her independent craft business, The Charcoal Annex, started as a few sets of coasters and ornaments back in late 2020.
Jen had found herself with less hours at her program, the clutches of the pandemic firmly on most industries in the winter of the first year. Instead of taking a part-time job (or two or three, as she has been wont to do her entire adult life), she saw the slowdown for the opportunity that it was — a chance to finally, fully pursue her art as a means of economic support. The time given back to her creative life due to this slowdown, coupled with the emotional and financial support of her partner, TJ, gave Jen the strength to see her work as a thing that could be a THING.
Showing her friend and business owner Psyko Kupkake what she was noodling around with, Jen was encouraged to bring her wares to a pop-up holiday shop being planned at Shianne Waxing Studio and what is now Timeless Babez.
The response was good enough to let Jen know she might be onto something. She then started making floral stud earrings out of clay, and those took off pretty well. Then she got playoff-fever and Buffalo-Bill-ized them at the suggestion of fellow maker Bekka Kulik. They flew off the shelves.
"I've been so lucky to have the opportunity to have these strong-ass, experienced women around me. I really don't know if I would have been able to do this," Jen said. "Any question I had, they were so willing to answer."
Friendliness and support wasn't always the soup du jour, however. "I remember being very put off in the past — like a decade or so ago — by the art world, because it can be kind of cliquey, and can be very competition-oriented. I don't know if it's the pandemic or it's just this whole new wave of 'community over competition' now with women, which I embrace through and through, but in the past I've had people say, 'Figure it out on your own.' Now people are starting to be a lot more, 'Someone helped me, so I'm going to help you,'" she said.
---
After the success of the run of earrings during the holiday/playoff season, Jen found that she was in the black and would be able to invest a bit more into the burgeoning business.
"I had enough money to then say, 'Okay, where do I want to go with this now? What do I want to do?'," she said. She even found that customers were beginning to reach out and inquire about custom gift-wrapping and custom cards to accompany their gift purchases. This inspired a business add-on of a specialized gift bundling service geared towards individual occasions and celebrations.
Now the wheels were turning. Thinking about the next line of wares that could potentially be produced, Jen set her sights on a sublimation machine, something that could make the vinyl designs on the mugs she was now producing permanent, making them dishwasher- and microwave-safe. "And then it made everything just explode," she said.
---
Jen had begun holding creative art nights for a few girlfriends in her trusted pandemic bubble, bouncing ideas around over glasses of Prosecco and palettes of paint. One girlfriend in particular mentioned in passing that the woman below her art studio, Tara Sasiadek of Snowy Owl Kombucha, was thinking of starting a traveling market of craftpeople, and would Jen be interested in talking to her about it. 'Yeah!' was the enthusiastic response. They were in the throes of lining vendors up, and were looking for people to round out the listing. "It was right there that I was like, 'Alright, I'm in love and this is what I'm doing forever,'" she said.
The rush of bringing her wares to people IRL, especially after this slow and strange year of homebound and online life, was the hook and sinker for Jen. "It's one thing when you sell something online; you don't really get to see people dying laughing," she smiled. "I ended up having a line of people waiting to get to my table and taking pictures and just cracking up. I sold out of almost everything I had," she said, remembering that first month of the Queen City Traveling Market. "I was like, 'Okay, I'm actually doing something people like.'"
Her latest business expansion heavily emphasizes collaboration. "I have these goals where I want to collab with someone local every month," she said. She began with a couple of candlemakers, Linda Tschari and Allison Mitchell, who turned her sassy, smartass-y mugs into beautiful votives. Then she worked with a nursery to secure cacti and other small plants that were then decoratively planted in the mugs. Then she worked with Jill Burton, a fine arts illustrator, to put her work on material goods, like tote bags and the aforementioned mugs. Then she worked with several small businesses, putting their logos on small runs of gift items. "So now I've got all these different avenues that I didn't even realize could happen," she said.
---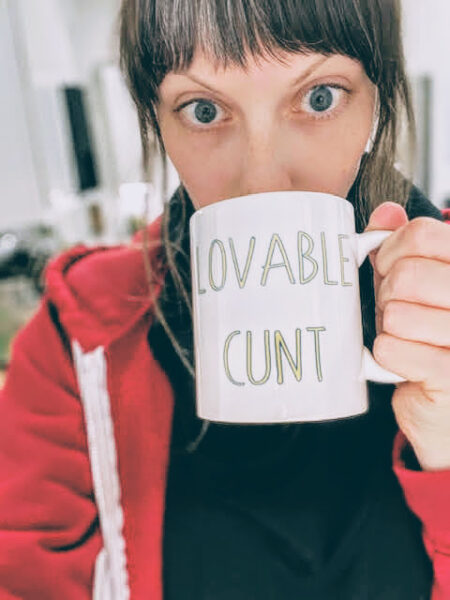 It didn't take long for Jen to book herself full for "Market Season," a time of year she is delighted to find herself participating in. "I was starting to organize my calendar the other day, and I went, 'Oh, fuck. I am packed,'" she laughed.
This busy period coming up demanded Jen find an assistant to help out on-site — setting up, tearing down, and keeping the in-demand inventory fresh and stocked at the table during shows. Enter Liam, Jen's 13-year-old son, looking to make some summer bucks (and also spend some QT every weekend with mama). "I haven't had that with the kids; I've been on-call 24/7 for seven years. Their quality time with me was running from emergency to emergency with work."
Bringing back in-person events has been tricky after our year of near-lockdown, but Jen sees the safety precautions being adhered to by venues, event producers, and her fellow vendors, and being safe is first and foremost in her mind. She also recognizes the benefit of bringing people back together, to revel in that togetherness and in supporting small businesses in the community. "I think people have needed it. We've all been very cooped up and playing it so safe, thank god," she said. "Personally for me, starting to do these markets, it gave me a focus, it gave me something to work towards, and it's gotten me out of my bubble, which sometimes can be overwhelming."
---
In looking forward to the future of The Charcoal Annex, Jen envisions an all-encompassing center, one in which she has space to have independent and collaborative workshops with artists across the neurodiverse spectrum and those with physical barriers; she also sees a space for artists to hold residency and have cooperative ownership in the space or sublet space short-term. There would be a gallery space and maybe a little shop, she said. Maybe even a small event space for yoga or paint-and-sips. Maybe this space would even be an opportunity for her to stop working out of her dining room, she laughed. But in the immediate future, Jen plans to keep it simple: "I just want to get more focused in this next year. I want to really hone in on what it is that I do well, so I can just keep growing," she said. "I want to keep working with people. That's the funnest thing for me. Collab'ing with people."
---
Photos provided.