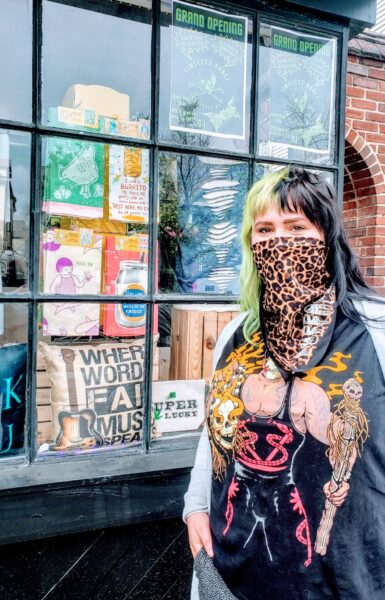 Bekka Kulik was that friend in high school who always seemed to be on the extreme edge of style, the one you envied for their irreverent, carefree, give-no-fux attitude. Now an adult and on the precipice of her next brazen chapter, that attitude has not dissipated with the passage of time. She was even able to use a global pandemic to jumpstart this chapter, no small feat when in the depths of a true unknown. Talk about rock, baby.
---
"I was a punk in high school, and at the time [stores] didn't have the clothes I wanted," Bekka said, revisiting her early days as a punk rock seamstress. "My parents got me a sewing machine when I was 15; I started hemming all my jeans, and then I started making purses and working with X-ACTO knives and projection screen paper to make my own patches."
Her quirky punk rock patches caught on in her friend group, and Bekka soon found herself fielding requests for specialty items. "People would say, 'Oh, I like that. Can you make me one?' So I started making patches for everyone, doing jackets and jeans for anyone. It was just a thing I did for fun," she said.
Foraging through local thrift stores, Bekka began hand-picking items to be upcycled in her fashion. "I did that for awhile, where I was taking old jackets or pants and either adding a screenprint that I would paint directly onto the clothing, or cutting them to make something completely new out of them; whether I was taking pants and making them into purses, or just tightening them or making them into skirts."
People started to strongly encourage Bekka to pursue this path more seriously, given the clear passion and talent she had for upcycled fashion and craft handiwork. "That's what I did every night. I would just hang out and make things," she said.
---
Her first official show was a Sugar City flea market (back when they were still at 19 Wadsworth St.). "I couldn't even get in the event; it was already booked up. But I'll never forget: it was Derek Neuland who was just like, 'No, just come, I'll set you up, I'll make sure you get a table, I'll make sure you meet the girls who are running the event.'" She did, and true to their word it went off like gangbusters.
Now that she was at a for-real show, Bekka realized she kinda needed a name for the biz — it was here that Beau Diem (soon to be Timeless Babez) was officially born. "That show went really well — it was the first thing I ever did, and a lot of my stuff went. I was shocked. 'Wow, this is a thing that I could do,'" she said.
Bekka started trying out the vendor market circuit more regularly, but found her most successful shows were smaller, city-based shows, not the shows "in fire halls or schools," she said. "That's when people maybe appreciated it more or saw the value in it, which helped a lot."
She also checked out the consignment scene, but a bad experience turned her off from collaborating with shops for a long time. "I gave this person all of my stuff and then they just, closed up shop and I never found any of my things," she said.
However, it was 125 Art Collective (a.k.a. 125 Curiosity Shop) that reinstated her faith in collaborative retail a couple of years later, Bekka explained. "I went in there very timid," she laughed. "'Hi. I make things.' Kupkake [then-proprietor of 125 Art Collective — read more on this boss right here] said, 'Well where are they? Bring them in!' She was super ecstatic. It was forever after then," Bekka laughed.
Kupkake went on to teach Bekka how to price things with the value of her time and skills in mind. "She really helped me to hone in on how to value my artwork," she said.
This burgeoning business relationship and friendship was the lead up to where Bekka stands now, in her own brick-and-mortar shop that aims to support other artists and the Buffalo music scene in a similar collaborative retail model.
---
At the beginning of the Great Pandemic of 2020, Bekka was still working full-time in an office and focusing most of her creative juice on jackets and vinyl records. She had also begun to expand her collection of thrifted textiles, including leather jackets and vintage sweaters. "I had all this stuff I had been collecting and making while working full-time. I had always thought about finding a space. I said, 'Well, I can at least get a space to work out of, and then I can have everything laid out, and just pick and choose as I go along,'" she said. "But, it was kind of too expensive, or I was just working too much that I wouldn't be able to be in that space enough."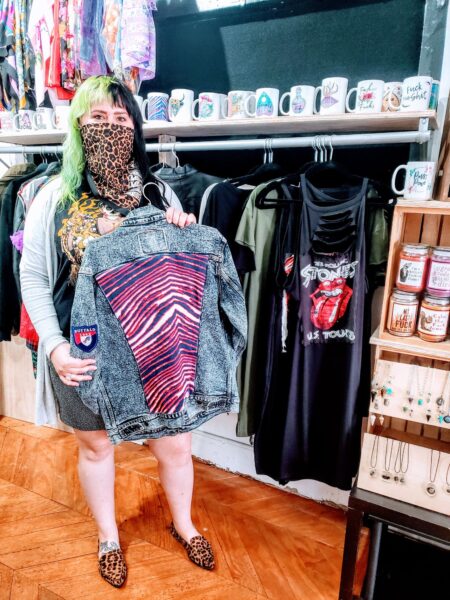 The space at 125 Art Collective offered local artists a great opportunity to have their work be seen and purchased in a commercial retail setting, however.
"Kupkake helped a lot, in that I got to put a lot of stuff in her shop, and then we would do events together, so that got me back into doing more events like Music is Art, so I had those little outlets," Bekka said. "Then, when the pandemic hit, I had so much more time. I wasn't able to go to work, but I kept making, making, making, and that's all I was doing."
Bekka's inventory was expanding with all of this newly discovered downtime due to COVID-related layoffs. The upcycled jackets, hand-painted vinyl records, Buffalo-centric face masks, and off-the-beaten-path Bills gear were growing as the months of shutdown continued. Soon it was the holiday season, a season unlike any we've seen in our lifetime thus far, and people were getting inventive.
"So, the salons were closed and I was reaching out, posting on social media, asking, 'Where can I do a pop-up?' There weren't craft shows, but shops were open," she explained. "I was looking around for salons or tattoo studios that couldn't be open, where we could somehow work out a deal, whether I rented the space from them to do a pop-up, or we worked out some sort of consignment and I could stay there all day. I wasn't at a job, but I'm a worker. I need to be working."
It was then that Kupkake suggested Bekka reach out to Shianne Velletta, of Shianne Waxing Studio. Her studio happens to be in the same physical structure as 125 Curiosity Shop (the then-across-the-way neighbor-businesses moved north up Elmwood at the same time in late 2019, partnering to take over one building in the Village District). "Shianne said, 'Use the space. I can't be there — take it all.'" 125 Curiosity Shop and Timeless Babez set up a "permanent" pop-up shop in the space in November and December 2020, welcoming folks to social distance shop in person for the holidays.
---
With Kupkake's move back to California in April 2021, the 125 Curiosity Shop space found itself up for the taking. Having Bekka take over the space was a no-brainer, yet was still quite the "leap of faith," she admits. "I said to myself, 'I don't want to go back to an office, I've had so much fun working through November and December being in the shop all day,'" she said. "It really opened my eyes to this being a real possibility… this is my passion, and I could fulfill it.
"Because I always worked, and I always worked at least full time and part time, it really gave me the chance to sit back and breathe, and say to myself, 'Okay. I'm 31, I've been doing this for 15 years now. What am I doing? Am I going to keep showing up to the office, or am I going to really hone down and do this?' And that's what kind of happened," she said.
"That was definitely a huge eye opener for me. I was able to have the time to sit back and look at it and work it like a real job, work a regular 8 hour day doing what I love — it's what I want to do. There are no other options. There's no turning back for me. This is what I want to do."
---
Bekka encourages local bands to visit her IRL in the shop or shoot over a DM on Instagram; she is endeavoring to curate an expansive selection of Buffalo-based merchandise to sell and promote year-round. As for local artists working in that punk/alt aesthetic: swing through with some examples of your work, and chat with Bekka on the possibility of forging a collaborative retail partnership at Timeless Babez.
In looking forward to the remainder of 2021, Bekka has a few things in mind as goalposts for her burgeoning business. Of these she notes plans for further interaction with the community, including on-site dog adoptions and a monthly band meet-and-greet. "I want it to grow into something that's a real home for kids or bands or anyone that doesn't feel like there are shops that fit them. You can come in here, you can hang out, there's no pressure to buy, you can just enjoy the environment and all of the oddities that you're going to see.
"I want to be able to give people that one thing that you can't find anywhere, and maybe people would be afraid to ask for it, and then they see it and they're just like, 'Oh my god, this is amazing.'"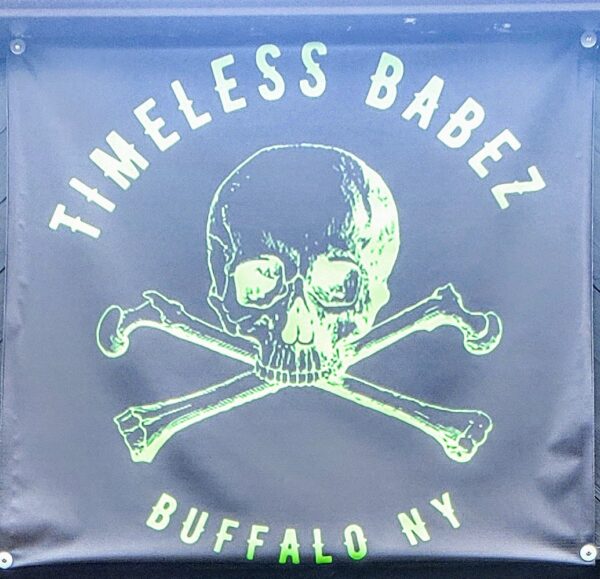 ---
The grand opening of Timeless Babez is 11 a.m. to 9 p.m. this Saturday, April 24. Stop down throughout the day for special sales and giveaways. DJ GrimeTime will be spinning all vinyl from 4 to 9 p.m.