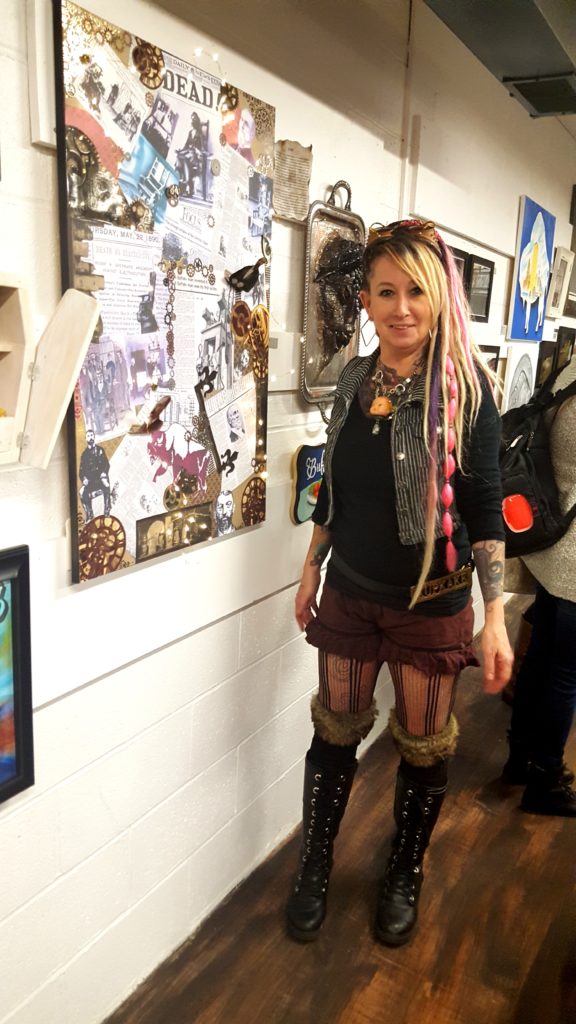 Amid the delights and curiosities that line every inch of the walls and displays that hold all manner of weird and wonderful accoutrements stands Psyko Kupkake, a visual cornucopia unto herself, holding court with patrons and customers that mix and mingle in
125 Art Collective
, the new Elmwood Avenue art space on the block.
The cozy shop/tattoo parlor/art gallery has been open for business since spring of last year and has now solidly taken its place in the Allentown arts community. She and husband Ted Hawkins (who runs the tattoo component of the shop) came back to Western New York in June 2014 from California, where they had lived and worked for 30 years. It was here back home that an idea that had been percolating in the back of her mind for many years could possibly, maybe, come to fruition.
"When we left San Diego I had this vision, 'I want to do local art,' she said. Kupkake used to visit a swap-meet-esque place in the Valley that rented little booths to local artisans, which inspired her original vision. That kind of market requires a lot of coordination between multiple parties, however.  Undaunted, she focuses now on carrying local items. "There's nothing more exciting than, 'Oh, I sold something.'"
---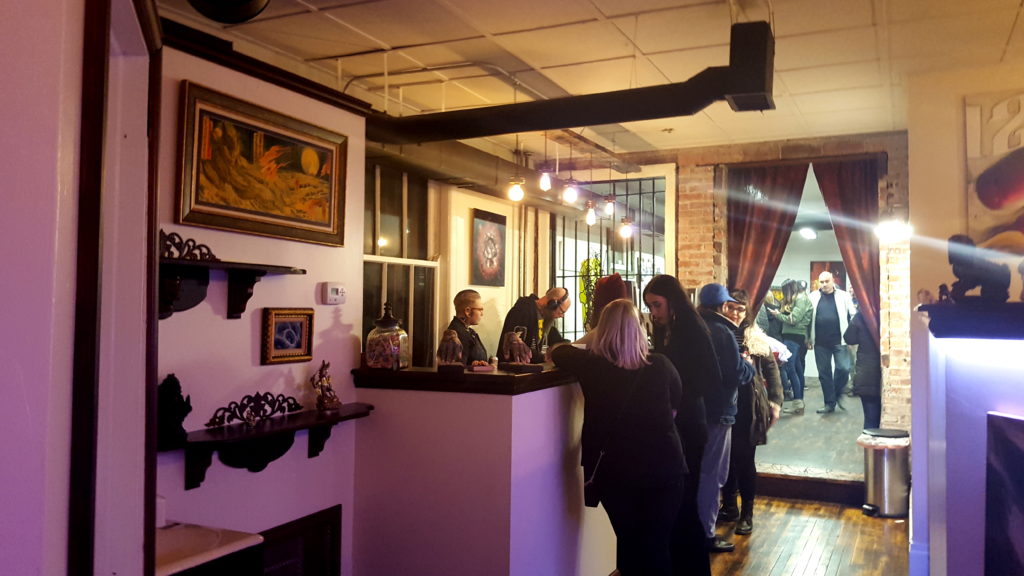 After beginning the business in Kenmore and gaining some traction with customers and new friends in their old/new city, Kupkake and Ted began looking at spaces in the highly desirable Allentown area. When they happened upon the current space at 125 Elmwood, they discovered there was already a connection in place – the owner knew Kupkake's grandparents, aunt and uncle (because Buffalo). It was the only sign they needed to commit to a move downtown. "We would be stupid if we didn't take the spot, and we're not ready, and we can't afford it, and we'll figure it out, and here we are."
---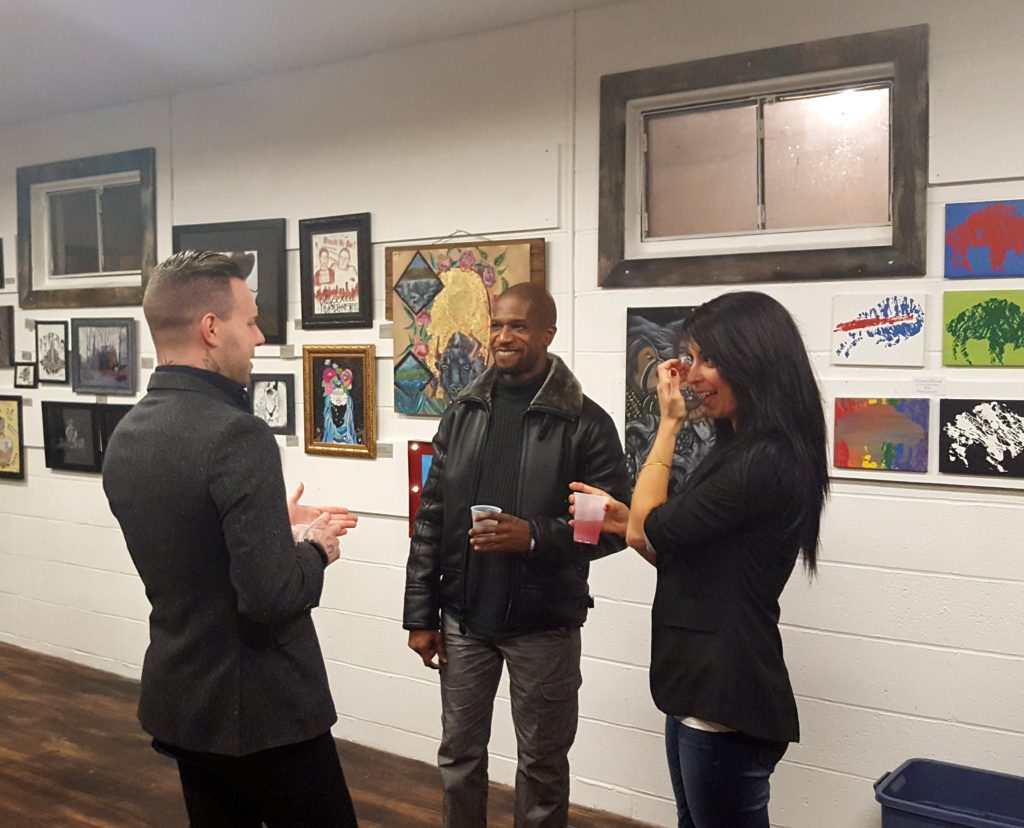 And here they are indeed. After moving and re-setting up shop, they welcomed their new neighborhood to a gallery opening to celebrate the new space. "We were overwhelmed…We had almost 30 artists submit a piece, and we thought we were going to do a 2-hour opening and instead had to throw people out at 1 in the morning…We had between 2- and 300 people come through here," she recalled.
Moving across country and starting a small business wasn't quite enough to keep Kupkake busy, however. Upon moving back home, she began missing one of her loves back in California – roller derby. She played with her local Renegade team there, which was something missing in her hometown.
Her son's girlfriend played derby with Kupkake in California, and when she moved back to Buffalo her son and his girlfriend came along. She and the girlfriend decided to form a Renegade team. "Okay, we have two members. We only need eight more," she said. "So, we tried to recruit and it was a fail. For like, six months."
Thus was formed the Nickel City Renegade Rollergirls, which operates under different league rules than the city's other team, the Queen City Roller Girls. The Renegade league was started 12 years ago by a couple of girls who used to play in a WFTDA (Women's Flat Track Derby Association) league, but the rules got to be so cumbersome that they weren't having fun anymore. "We don't want to be an Olympic sport, we just want to play some derby," Kupkake said.
You're kind of playing by the no-douchebag rule.
"You're kind of playing by the no-douchebag rule. Don't do something to somebody that you don't want done to you. Nobody wants anybody to get hurt. We don't have any refs but we have 'brawl busters' that come in and pull us apart, but nobody really wants to stay engaged because you want to score, and if you're rolling around on the ground, nobody's scoring any points." Kupkake continued, explaining the difference between the two leagues: "We're like the bar softball league of roller derby. I used to say, 'They're like Nascar, and we're like Demolition Derby.'"
---
Although interest in the new team waned in the beginning, Kupkake didn't relent. "We handed out flyers and did meet-ups in Delaware Park. But then we realized we were restricted by weather, which we didn't have in California…Then we were doing meet-ups at the roller rink in Tonawanda; people would call and message me on Facebook and say they were coming and then not show up."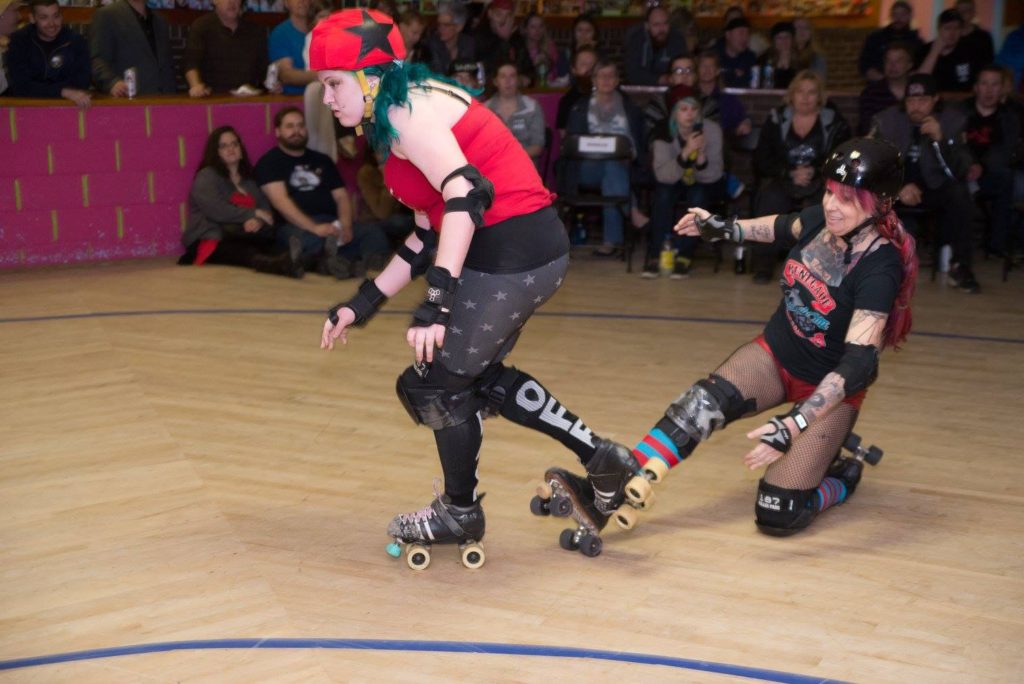 A following week after attending a party and talking to some girls about getting together to skate, Kupkake was running late to a meet-up and thinking nothing of it as no one had been coming regularly. She then received a message asking if she was on her way because they were waiting. Four girls had come out for that Wednesday's meet-up. They couldn't even really skate, but they wanted in.
"We just started from there. They came every week for two months. We got them so they could finally skate, and then found the rink on East Ferry, and started to do practices," she said.
"Our early practice photos were pretty pathetic," she says, laughing. "It was like six girls, and two of them would be holding onto the wall."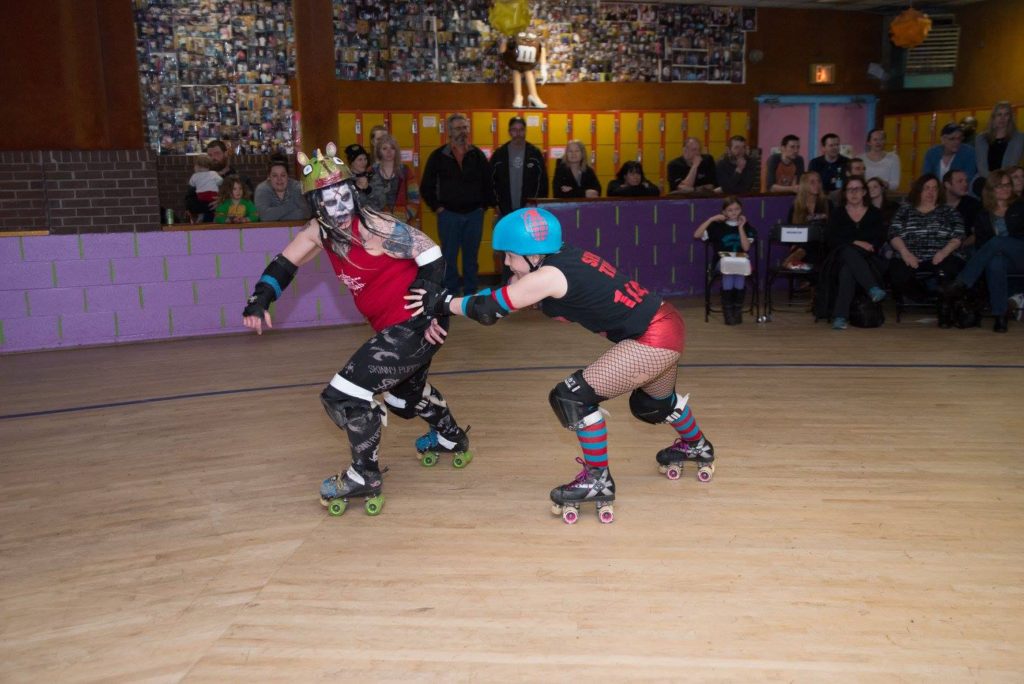 The league books the national schedule in January, and although she had only barely cobbled together a team, Kupkake jumped to get them on the schedule for that April's start of the season. "I have a team!" she exclaimed. "Team? We had six girls who couldn't skate and me.
'Just tell them we're ready. If you build it they will come.'"
They currently have 20 active skaters and 35+ girls in the league.
"If you've even thought about playing roller derby you can come check us out…You don't even have to put skates on at the practice. Come check it out – you might love it; you might want to just do it for a workout, we don't care." Practices take place Monday and Wednesday evenings (7-8:30 p.m.) and Sunday mornings (11 a.m.-1 p.m.) at Skateland, 33 E. Ferry.
---
Kupkake admits this all came from a "selfish" place. "I'm like, 'Well, I don't want to stop playing; well, the only way to not stop playing is to build a team…I gotta go collect some women so I can continue to play here.'"
This drive carries over into the shop. "Well, I want to make art, and I don't really want to go to work every day, so if I open this store and then I sell other people's art I could just do that," she said. "It's a lot of work, but it's kind of super fun."
Regarding the collective, Kupkake delights in the successful melding of components. "Everything seems to be overlapping, which is really cool. People will come in based on what's in the window, and then be like, 'Oh, there's a tattoo shop in there,' or 'Oh, I make art, too, can I bring stuff in?'…People are surprised that we don't have some kind of filter process. I'm not going to judge your art — you want to bring it in and sell it, bring it in and sell it."
---
As they settle into the business and their new community, they'll be adding more events and activities to welcome new patrons and customers to the space this coming spring. They'll be adding regular group paint nights to the repertoire every couple of months, as well as regular gallery openings on First Fridays. There will also be a poetry night in April and a record release party in May. In June they'll be hosts to a Mark Freeland retrospective.
Kupkake is the point of origin for a lot of people these days. "I love that more people are getting involved in derby, I love the new girls that are like, 'Oh, I always wanted to do this, but didn't think I could,'" she said. "I love artists being like, 'Oh, really? I can sell my stuff here?'"
She revels in her newfound role as proprietor and team leader. "I think my favorite thing to do now is at the end of the month when I do all the receipts and I call people and I'm like, 'We owe you money!'…I never thought I would be excited to owe people money," she laughs.