Food lies at the heart of our bodies and our culture; it is there for celebrations and sustenance. NOMaste features a local fierce foodie each month, in four weekly segments. First, an interview, then a top 10 list, followed by a recipe to share, and finally a food review. This food corner will not just feature local chefs but also restaurateurs, buyers, suppliers — any woman involved in any aspect of the food chain, from farm to food truck. Join us each week as we get to know another Foodie in the city. Part I of this month's series can be found here, part II can be found here, and part III can be found here.
---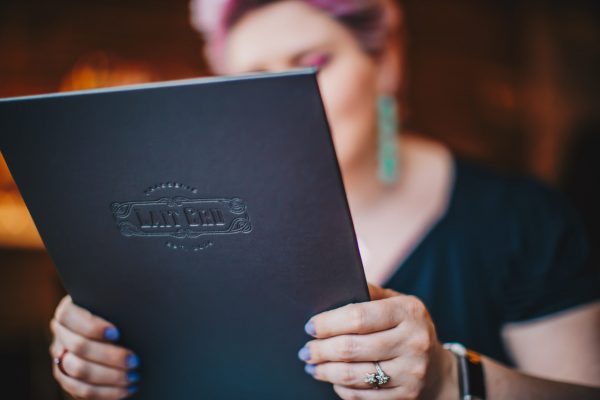 When you walk into the high-ceilinged, open air concept of Lait Cru Brasserie, you know you are in for a special experience.
You can see the kitchen from any point inside, which to me is always a treat. I love being able to see where my food is coming from — not just because I get a peek at the action, which I find exciting to witness, but when it's that integrated into the space the smells pour out into the restaurant, giving you a sneak peek (or sniff) of what's to come. The delicious aromas wafting through may even inspire you to order something you hadn't yet considered.
The atmosphere is very refined without seeming pretentious — a difficult balancing act. This is accomplished by the coordinated wooden tables and small but thoughtful table top decor. Mismatched seating, like church pews and individual chairs, are paired alongside large potted plants among a backdrop of exposed brick and wooden support beams. But enough about the space, onto the food!
---
Fromage & Charcuterie
Three Fromage & Two Charcuterie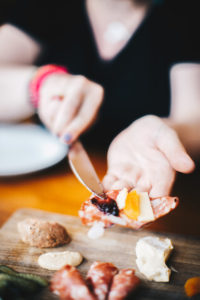 If you go to Lait Cru Brasserie and somehow don't get a cheese plate of some size, then I'd question why you were going at all. The best part of eating at this restaurant is that the cheese shop, Nickel City Cheese & Mercantile, is right there! Where else can you get expertly paired cheeses AND shop either before or after your meal for cheese to take home? I got the largest plate because, carpe fromage. My plate consisted of: Cabot, a cloth-bound Vermont cow's milk cheese, Valdeon, a Spanish cow and goat's milk blue cheese, and St Angel, a cow's milk triple cream cheese.
With these were soppressata, and duck and pork rillettes with orange. Also on the plate were some cornichons, dried apricots, dijon mustard, and sour cherry jam. The plate was set up in an intuitive manner, where all the adjacent items paired with each other, which was absolutely brilliant. I am still in the mindset of using my meat as the 'bread,' and combining cheese and jam together to make an incredible combination of sweet and salty flavors; the chewiness of the meat mixing with the creaminess of the cheese.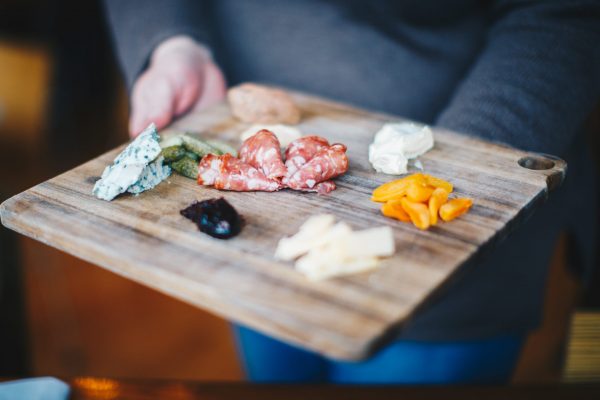 The plate is accompanied by toasted bread, but I preferred to enjoy my plate mostly made of its own parts. Each flavor was distinct, from the pungent and sour blue, to the buttery, salty triple cream, to the sharp Cabot, which were all further highlighted by pairings with opposites (pungent and earthy with fruity and bright) or neighbors (salty with sour). It was a well thought-out and perfectly balanced plate representing many flavors and textures in the dairy, fruit, and meat categories. Bravo.
---
Romanesco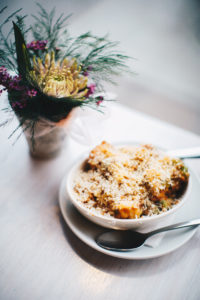 This was a side I ordered to go with the main meat courses since I did not order a salad. I thought I should have a vegetable of one variety or another because a night of meat and cheese alone is never recommended (although it is a guilty pleasure of mine, I will admit). The romanesco is a bright chartreuse-colored vegetable that is cousin to both broccoli and cauliflower and is subtle in its own flavor. This side was cooked perfectly — not too mushy and not too crunchy, sprinkled with a crunchy Parmesan topping. As a side, it was solid and well made. Definitely a good choice to sit next to any main course on the menu. Also, you don't find romanesco in that many places, so it always tickles me to see what I consider to be the world's prettiest vegetable as a menu item.
---
Beef Bourguignon

Pork Belly, Red Wine, Carrot, Fingerling Potato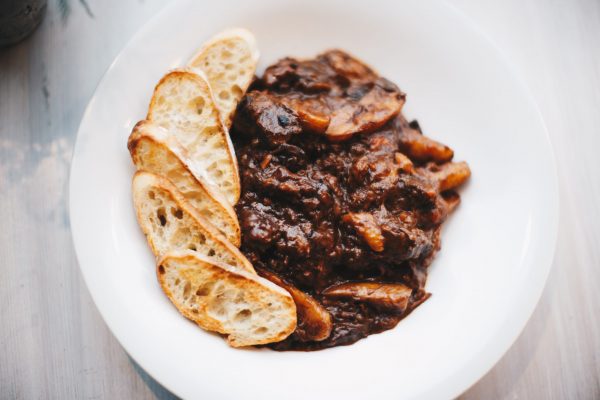 When I think of French cooking, I think of this dish. That's perhaps a sheltered cooking viewpoint to have and as provincial as it would be to think of spaghetti as Italy's iconic dish (spoiler, it's not!) but that's where my mind goes. So when I saw this on the menu, and specifically because it's made with pork belly, I had to try it.
The meat selection bucking against tradition was a welcomed treat, and I thought brave. Traditionalists be damned, this is a delicious solid dish. The meat is a mix of pork belly and chuck roll, which gives it a distinct flavor as opposed to just beef. The smell hits you right in the face when it's brought out, and I could not stop myself from taking in big deep inhalations of it. My table manners vanished in order to do this, and all I can say is: worth it! They use Powers Cabernet Sauvignon in this dish, and it tasted magical.
The fingerling potatoes managed to soak up a lot of the au jus, while leaving the center chewy enough to still have the perfect potato texture while the outer half was softer and incredibly salty and flavorful. Each potato was a divine little experience on its own. The perfect meal for a cold Buffalo spring day — when it manages to still snow and stay below freezing almost into May.
---
Cast Iron Roasted Chicken

Lentil du Puy, Pickled Vegetable, Pan Jus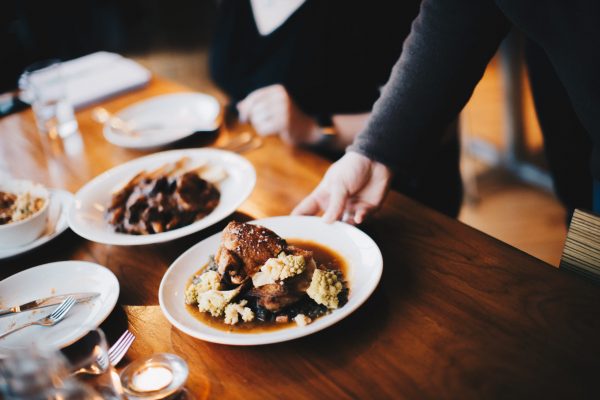 I ordered this dish because I asked for a recommendation as to what to try, and Jill mentioned that it was a customer favorite.  I almost never order chicken out; it's one of those dishes that when I order, I just think why didn't I order beef? I can easily make chicken at home, and it seems like just a cheaper version of steak, so why bother? I can count on one hand how many times I've ordered chicken in a restaurant. When I say 'order chicken,' I mean chicken, in its close to original form (like this was), simply cooked and the star of the dish.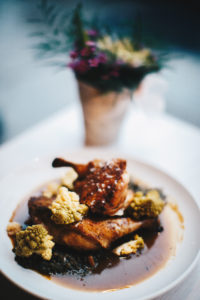 I am glad I took the recommendation. I was open-minded, but skeptical about what seemed like a simple dish simply prepared, cast iron chicken over lentils. When the chicken came out, it was beautifully plated. Dare I say, prettier than the Beef Bourguignon. So far, so good. Then I had my first bite of the chicken. I am a white meat girl, so I took a bite of the breast meat first. It was the juiciest, most delicious chicken I have ever put in my mouth. The skin had a crunch to it that I had never before tasted — it was as thin as crepe paper, if crepe paper was made out of salt. The meat was absolutely full of liquid as though it was injected into it somehow. The combination of the skin and the meat was unlike anything I've ever tasted, and I don't know if I will ever again.
Chicken is one of those trickster meats that while seemingly easy to cook, is not. All you have to do is read my recipe review from last week where I try to recreate this dish, and don't do so well, to see what I am talking about. The chefs at Lait Cru are magical, and may whip up the greatest chicken of your life.
The meat sits on a bed of lentils, sprinkled with pickled romanesco (my favorite gorgeous vegetable on display again!). The lentils, while not my favorite legume, were carried by the pickled romanesco. The vinegary tartness of the romanesco gave the lentils the flavor pop they were missing. The lentils, combined with the pickled vegetable and that magical chicken, created the perfect bite of food. If I had to recommend only one dish, I think this one may be the one to get.
I was sad that after this, I had no room for dessert. And that was after sharing my food and taking some home!
---
I cannot recommend this place enough. Be sure to shop at the cheese counter, which sells more than just cheese, mind you. They also have an assortment of great jams, honey, and dessert items. A perfect afternoon would be to buy some cheese (and taste some, too!), sit at the bar for a few drinks and a chat with the friendly staff, then have yourself a nice meal. I can't think of a better way to spend a lazy Saturday than surrounded by wine, fine cheeses, and expertly crafted food.
---
Photos by AlanAdetolArts, L.L.C. – Birdcage Studios – Buffalo, N.Y. 14213 –[email protected]
© 2018 AlanAdetolArts Photography LLC. All Rights Reserved. All images on these pages are copyrighted. Use or reproduction without prior written permission is prohibited.