Food lies at the heart of our bodies and our culture; it is there for celebrations and sustenance. NOMaste features a local fierce foodie each month, in four weekly segments. First, an interview, then a top 10 list, followed by a recipe to share, and finally a food review. This food corner will not just feature local chefs but also restaurateurs, buyers, suppliers — any woman involved in any aspect of the food chain, from farm to food truck. Join us each week as we get to know another Foodie in the city. Part I of this month's series can be found here, and part II can be found here.
---
Lentils
Ingredients:
1 Quart French Lentil du Puy
2 Ribs Celery
2 Small Carrots
1 Large White Onion
3 Bay Leaves
2 Sprigs Thyme
2 Sprigs Rosemary
2 Sprigs Parsley
1/2 Cup Sliced Garlic (not minced)
3 Cups Water
1/4 Cup White Wine
Salt & Pepper to Taste
Sweat mirepoix. Deglaze pan with white wine. Add lentils, water & spices. Simmer until tender. Add salt & pepper.
---
Pickled Romanesco (or other vegetable)
Ingredients:
2 Cups Cider Vinegar
1 Cup White Vinegar
1 Tsp Crushed Red Pepper
3 Bay Leaves
2 Cloves Garlic
3 Whole Cloves
1 Tablespoon Fennel Seed
1 Tablespoon Coriander
1 Tablespoon Black Peppercorns
1/2 Cup Kosher Salt
1 Cup Sugar
Combine all ingredients in a pot, bring to a boil, pour over cut vegetables, let cool then refrigerate.
---
Chicken
We take a whole chicken & break it down to skin-on breasts with the wing bone in & the thighs. You can use whatever cut you like (would be great for a crowd with a whole roasted bird).
Heat a cast iron pan with blended oil until the pan starts to smoke. Place chicken skin side down, season with salt & pepper. Once skin gets caramelized, place in a 400 degree oven until chicken reaches 165 degrees internally. Let cooked chicken rest, take pan drippings & whisk in butter.
---
Presentation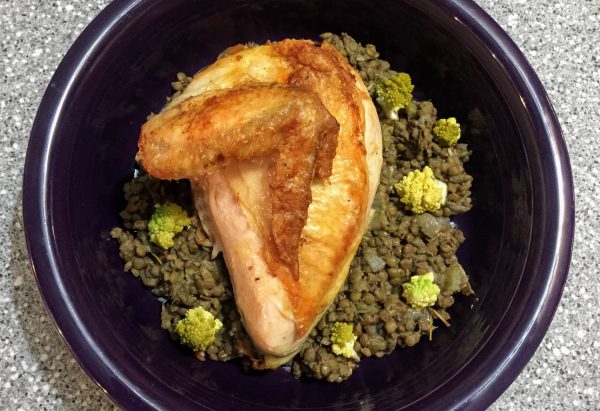 To plate, heat up lentils with butter. Place in the middle of the plate. Place chicken thigh on lentils, cut breast in half & place on thigh. "Sprinkle" pickled vegetable pieces around the plate (always in odd numbers, it's a cook thing). Spoon sauce around the lentils. Bon Appetit!
---
Educational! I learned a few things about cooking that I did not know before. It could also be said that I learned that there was a lot about cooking that I still need to learn. This was a great meal to make while snowflakes were intermittently falling outside my kitchen window these past nights (in APRIL!).  I learned how to sweat vegetables – yes, that's a real thing. That is when you gently, and under low heat, cook your vegetables so that they glisten, or 'sweat,' so that you are getting the moisture out of them. This is done when you have more cooking steps to do after, and you don't want to fully cook or make mushy these first veggies. So you sweat them — pretty cool! This was done while making the lentils.
Let's talk lentils. I have never cooked lentils before, and the closest experience I had was making a bean soup with dry beans that I did not soak, and ended up having a sludge that I had to add more water to. Now, my fancy self did not purchase the French lentils, so I settled for Goya's very small dainty version. I just drained them but did not soak them before I cooked them. I have to assume this was a mistake, since I had to add about triple the water than what the recipe called for to keep these from being tiny rocks and instead becoming delicious soft lentils. As usual, I was not entirely sure of the proportions, so I am pretty sure my 'small' carrots were too small, and my 'large onion,' which was softball shaped, was too large. I also cut the recipe in half — and even cut in half, the amount of lentils I made was enough to feed about 6-8 people.  And of course I left out the black pepper (yuck!).
The pickled romanesco was fun and easy, and I am pretty sure that it came out exactly as it should have. It was the easiest part of this recipe, and I can imagine using this recipe on a bunch of other delicious veggies, like onions and carrots. I'll admit I did not have crushed red pepper, and I left out the black pepper because that's how I roll, so it came out a touch different than it would if you followed the recipe exactly. Also, I used powdered coriander, not whole coriander seeds — I am still not sure which I was supposed to use, but either way, it tasted wonderful!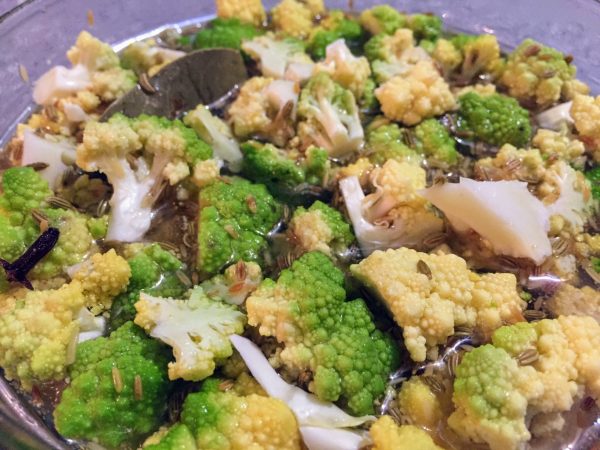 Romanesco, for those who are not familiar, looks like the love child of broccoli and cauliflower in appearance, but is not an actual hybrid of the two. It is a vegetable in its own right, but part of the same family. It has a mild flavor similar to cauliflower, but not as strong a flavor as broccoli. While similar to both, but unique in its own way flavor-wise, its most striking feature is that it's gorgeous. It's a fractal vegetable that you could stare at for hours. Because of its mild flavor, it took to the pickling solution well. I let mine sit overnight — maybe that was too much because it was very strong, but in a good way. I am not sure if mine was stronger than the one I had at the restaurant or not. I feel this was the easiest recipe to follow, and one that can be applied to a ton of other items.
And now, the chicken. Chicken is one of those ubiquitous meats that is everywhere, appears simple, and should be very easy to cook. Many people make this elementary mistake. Chicken is always daunting to me, outside of just preparing a roaster in the oven, with a plastic pop up timer so I know it is ready. The first problem I had was cutting it up. I think I quartered it correctly, but the leg part looked so small compared to the thigh part. It took me two kinds of knives since I do not have poultry scissors (yes, that is a real tool according to Amazon). My cast iron pan was not large enough to cook all four pieces at once, so I cooked the legs, then the breasts, separately. I was getting splattered on mercilessly with the little amount of oil, but more importantly, the chicken juices that were coming out of the bird itself. I feel like I should invest in a chef's coat just to keep myself safe for future cooking ventures. I wore my silicone pot holders on both hands to just protect my fingers.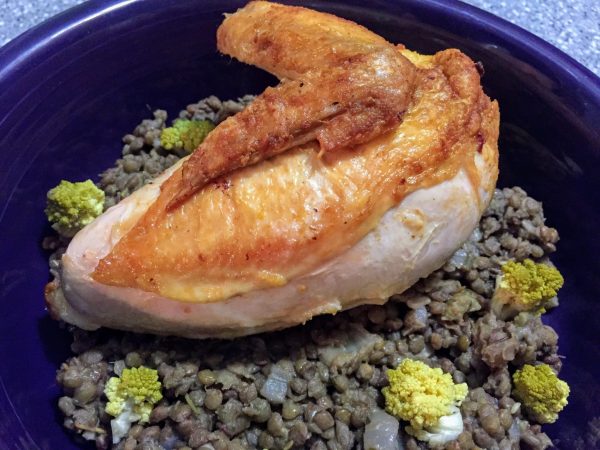 I was not sure what 'caramelized' would look like, so I think I may have removed the legs from the pan too soon. When I flipped them up to cook fully in the oven, I assumed the skin would get darker — I was wrong. As a result, I cooked the breast pieces a lot longer when browning (caramelizing) the skin in the pan, before putting it in the oven. I did get to use my super fancy meat thermometer, where you stick the probe into the meat, then the wire hangs outside of the oven, attached to a digital thermometer which beeps when your meat reaches the internal temperature you set it for. This, inconveniently enough, started to beep while I was in the bathroom. Of course it did, why would it beep at a convenient time? The legs stayed in the oven a couple minutes longer than they should have, but I did not see any detrimental side effects of this. The breast meat was much prettier, with its darker skin color.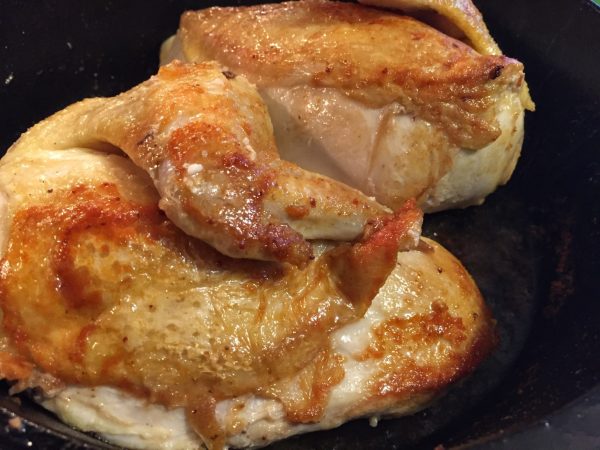 Spoiler alert for next week, this was one of the meals I had at Lait Cru Brasserie, so I know what it is supposed to taste like, and what it is supposed to look like. I adore that there were plating instructions with this recipe — I believe that is a first for NOMaste! Mine was not as pretty, mostly because it was just for me, but also because my chicken looked a lot larger than what I remembered being presented. My skin was not as dark, and the plating was not nearly as polished. Even though it didn't look as good, it still tasted good, but I'll be honest, not as good as the one I had at Lait Cru.
I tried the lentils on their own, and they were very bland out of the pot. Once I added them to the chicken fat/butter mix they has more flavor, but still needed salt, which I added. Still though, maybe it's because I am not a lentil fan, I wasn't super charmed — until it was on the plate with the pickled romanesco. The pickled romanesco on its own was SO strong it was difficult to eat on its own. In fact, I couldn't really get through a whole piece. But when combined with the lentils they made the perfect tangy treat. The vinegar and salt from the romanesco made the more bland lentils taste delicious, and really brought out the flavors in each other. Separate I could not eat them, but combined, they were delicious. This is the magic of recipes and building flavors. Some items alone fall apart, but when paired together, create a magical concoction that is perfect. That is what love about cooking and trying new things.
The chicken itself was OK. I would have brined it beforehand if I did it again, since even though I added salt to the skin, it still needed more flavor. I am also a white meat person, and the piece I had was very large and thick, so when I cut into it, it was a bland chicken flavor. Even when mixed with the romanesco/lentil medley, it only made the chicken adequate, maybe a touch more so. But on its own it needed more flavor. I don't know how Lait Cru does it to be honest, because their chicken was life changing. But more on that next week, when I review the delectable dishes I had there.
Till next week, I suggest you try this at home. Try your lentils separate, and the romanesco separate, then mix them together to see and taste the magic that happens for yourself.