Food lies at the heart of our bodies and our culture; it is there for celebrations and sustenance. NOMaste features a local fierce foodie each month, in four weekly segments. First, an interview, then a top 10 list, followed by a recipe to share, and finally a food review. This food corner will not just feature local chefs but also restaurateurs, buyers, suppliers — any woman involved in any aspect of the food chain, from farm to food truck. Join us each week as we get to know another Foodie in the city. Part I of this month's series can be found here, part II can be found here, and part III can be found here.
---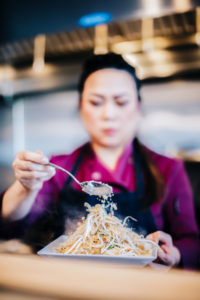 Nestled in a modest space near Elmwood Avenue, Rin Thai Bistro sports tables that have a wonderful curbside view of the busy street. If people-watching is your thing, grab a seat right against the window. In the summer expect to see patio seating for the full people-watching and al fresco experience, and take in that Buffalo sunshine while you can.
The front has larger tables that can accommodate groups of four to eight, and can be rearranged to accommodate a larger party if necessary. The decor is part industrial, part farmhouse — raw wood and metal letters of the inner sign go together perfectly with the finished wood counters and tables, with industrial-style metal frames and stools. Her small, streamlined establishment has a nook to fit every dining style. There is a long counter against one wall, where couples and solo diners can saddle up and have an intimate eating experience, as well as larger tables.
Rin's condensed menu is perfect for indecisive diners who get overwhelmed when presented with a long list of every option, replete with every type of protein, from the land to the sea. Here you don't even get handed a paper menu — the menu is hanging on a chalkboard on the wall, right next to her refrigerated case, displaying the fresh produce that will be cut up and cooked into your meal. This keeps things simple, for both her customers and herself.
There is a shorter counter that faces the kitchen area, where diners who like to witness the hustle and bustle of prepping and plating can see the food being prepared and the flames from the stove. The intoxicating aromas of grilled pork and vegetables, spices, and of course, all those sauces, don't have far to travel to entice diners. The end result is not harsh, thanks mostly to the warm and cozy wall colors inside to balance everything out and really pull the room together. Everything has been thoughtfully customized and made for the space. No inch is wasted here, and it shows. But now, onto the food!
---
Appetizers
Moo-Ping
"Moo-Ping is my favorite thing on the menu. [It] is the dish I grew up with. It's a barbeque Thai-style pork on a skewer, with sticky rice, served with a homemade spicy tamarind dipping sauce. That's the dish I saw somewhere else and it was like, why can't I do it?"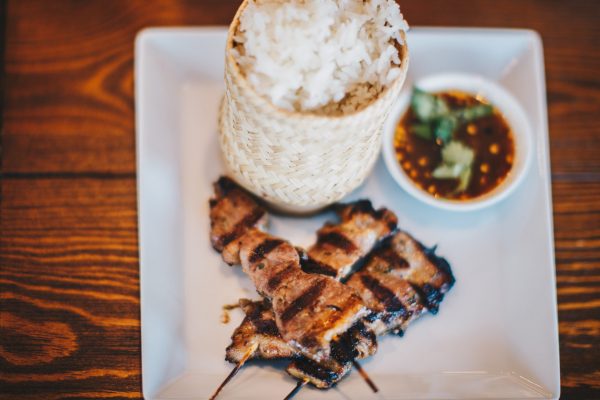 With an introduction like that, how could I not ask to try this dish?  This delightful platter, perfect for three people to share, since it is served with three skewers of pork, was so good I could have had two plates. The pork had a nice char to it, so you could taste the grilled flavor, but because it was so thin and must have only been cooked briefly, it was still tender and not tough — a difficult balancing act to achieve. The sauce it came with was phenomenal. I wanted to pour it over everything. I dipped the pork in it, trying to thoroughly cover each delicious bite. The sauce had little pieces of cilantro floating in it for added flavor and color. There was a beautiful handmade container of sticky rice that came alongside this. The rice was perfect, and took to the sauce very well. Another way to enjoy this would be to put the rice on your dish, cover it in the tamarind sauce, and then top it off with pieces of the pork. If you combined and served the food this way you could stretch it out for more than three people. Or you can be selfish and eat all three skewers yourself, and share just a little of the rice. Your choice!
Spring Rolls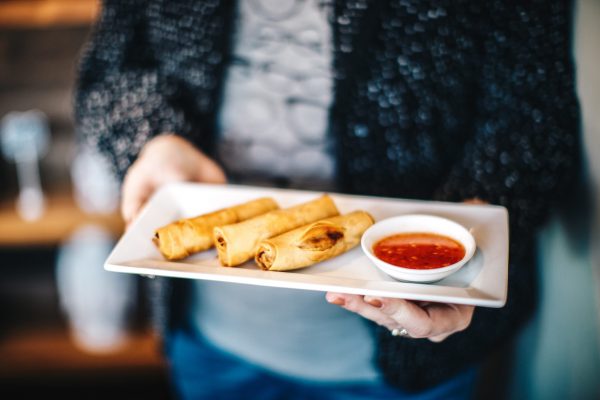 These rolls are an item that again, had I not been presented with them, I may have not ordered. It's a menu item I often overlook, thinking that I shouldn't waste stomach space on a small deep fried log of mostly vegetables that will be a filler and distract me from the main event. I couldn't have been more wrong with Rin's rolls, and like other dishes she brought me, I am glad I let her take the wheel and select for me. These were the BEST spring rolls I have ever had. They were filled with chicken and vegetables, and served with a sweet chili sauce. I can't recall the last time I had chicken in a spring roll — and there was plenty of it. This was pure heaven. The size of the roll was good, too — not very large, so you can eat one without filling up, and still cut them up to share with your other diners. The sauce was a wonderfully sweet sauce that accompanied it perfectly. The wrapping was not too thick, so you were not getting a mouthful of oil-soaked dough — it was a thin little shell that just did its job; provide a crispy house for the filling to be contained in. Another fantastic appetizer you can share.
Mango Salad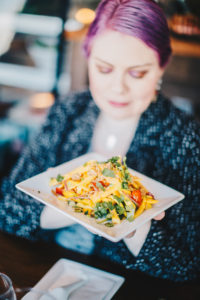 The most surprising item I tried was the Mango Salad. It was such a shock for me. You would expect it to be a super sweet salad with mango, or a big pile of lettuce or greens with some mango and other toppings on it. It is anything but. The mango forms the base and acts like the lettuce, becoming the 'bed' of the salad. The fruit is sliced thin and short, so it can easily be tossed with the other ingredients. Mixed in are fresh red onions, scallions, tomatoes, cilantro, and topped with crispy fried onions. The dressing, if you want to call it that, because it's more of a clear liquid drizzled and tossed over everything, is vinegary, tangy, and slightly spicy that just blends everything together so well — it is the unifying flavor that really brings everything together. It kicks everything up a notch in the spice department and adds a zest to the dish. Rin says it better than I can: "That's a refreshing dish. You should try it, it's spicy, it's gotta be spicy! It has to be a little bit — it's the tang. It wouldn't be balanced without the spice." This is my new favorite item — an item I may have never tried if it wasn't selected. As longtime readers know I am somewhat spice shy. But that's Rin's plan — to get you to find new favorites from her carefully curated menu.
---
Entrees
Chicken Pud Thai (Pad Thai)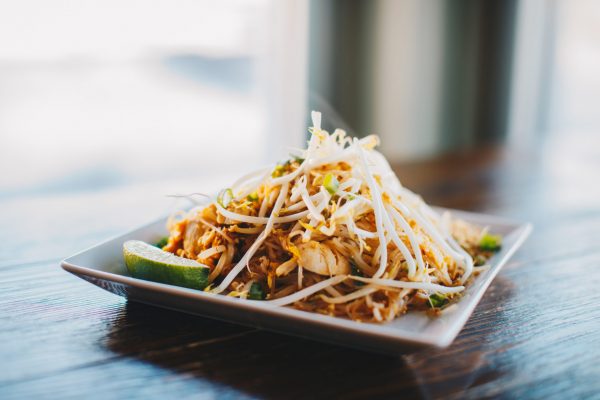 Because Pad Thai is the local staple and favorite, even though Rin would prefer you to expand your horizons and try new flavors, she has it on the menu because it is a tried and true favorite of the town. It is as familiar and comforting as a slice of pizza or a hamburger is to American food. But Rin does hers a little differently, and with a certain style. The most striking thing about her pad thai are the noodles. They are not your thicker, flat noodles you are used to seeing in other restaurants. Hers are very thin, making it lighter, and fluffier. The sauce is not overwhelming — you get a good sense of the flavors, and the tamarind and other spices get attention but are also not overwhelming. It is not sitting in a pool of orange-hued sauce, weighed down by it. It is enough to coat, but not enough to drown the other, more subtle flavors.
I had the chicken version, since again, it's the local staple. The chicken was nice and thin, and in large enough pieces to be bite-sized but not too big that you had to cut it up — the perfect size. It was covered in bean sprouts, and served with a pile of crushed peanuts and a lime wedge, as you would expect. The presentation was beautiful — served in a beautiful pyramid. Its size is misleading, because it looks like you can gulp it down in a few bites, but when you start, you see that there is no end to the noodles. This easily made two meals for me. I am sure it would be filling to your average diner; if not, it would still allow you to share a few bites and maybe take some home.
Red Curry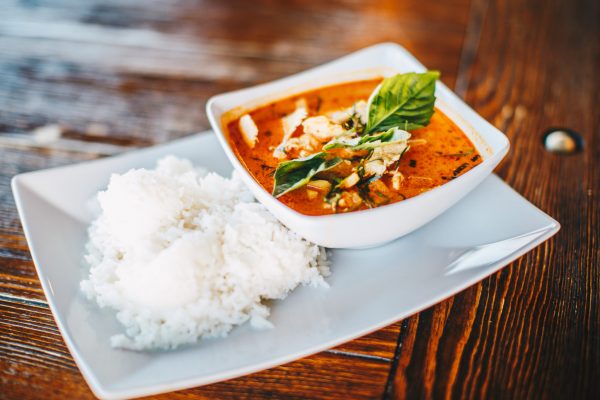 Describing the flavors of curries has always been elusive, since when they are done correctly they create a flavor resonance, a taste profile which comes from their combination rather than the individual ingredients. I will be honest: I do not fully grasp the difference or flavors of 'red' or 'green' curry — the color as a descriptor has always eluded me. I can identify which is which by flavor, but it would be difficult to describe exactly what was different in each curry. In addition, I have what I can only describe as a 'white girl spice tolerance,' which is to say, not much. I am often laughed at when I describe something as 'hot.' I can manage medium wings, maybe hot, but I know that those are vinegar-based and can't hold a candle to the heat of the Far East (or the Near East for that matter. Or much of the South. But I digress…). Rin knew that, so she prepared my curry at the one star (perhaps zero star) level since she is more than willing and capable of tailoring the heat levels to her specific patron.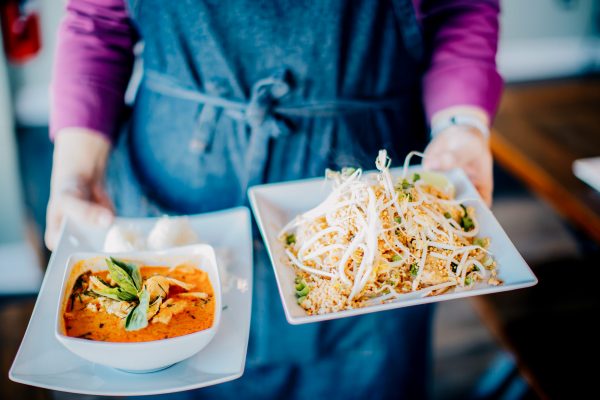 This red curry was complex, thoroughly combined and balanced. My dining mates teased me when trying to tease out the different flavor notes, saying "it's red curry." Still, the coconut-based curry — which is the signature of all Thai curries — gives a forward sweetness and cooling temperance to the curry. Then there is the ginger, and the 'red' pepper components of the curry.
I wish I had better words to describe the hot, spicy, but well-balanced flavor other than this, but I am left speechless. The curry had a wonderful mix of vegetables and chicken, and was served with, of course, with a nice pile of beautiful, perfectly cooked rice. Rice is one of those sides that often goes ignored — people tend to think of rice as a simple side. That is not the case. It can't be too dry or too wet, it should be sticky enough to hold together but not so much that it is difficult to chew. Rin's rice is always on point. Again, the portion would be enough to let others share with you, but you could finish this if you tried, or didn't fill up on appetizers. I will admit, if I didn't have the three starters, I probably could have finished either the Pad Thai or the Red Curry for my main course — but not after having everything else that came before it.
I cannot stress enough the quality of the food here, and the care with which each dish is plated and presented. The portions are correct. Nothing is overwhelming in size and ostentatious, nor is anything disappointingly anemic. Each dish has exactly what it should, not an overflowing and overwhelming pile of food that will ultimately go to waste. Plates are perfect to share, so you can taste many different dishes. I urge you to get something you have not tried before, to step outside of your Pad Thai comfort zone. With the guidance that comes from a short, curated menu you should try something new. You don't have to like it — you don't even have to order it again, but you will learn something and be proud of yourself for doing it. And who knows, it could be your next favorite dish! Mine is now Mango salad — and if I didn't try it (or rather, if Rin hadn't selected it) I may never know how incredibly complex and thoroughly enjoyable it is. So make a reservation, or call in a pick-up order, and ask Rin to select something for you. You won't regret it!
---
Photos by AlanAdetolArts, L.L.C. – Birdcage Studios – Buffalo, N.Y. 14213 –[email protected]
© 2018 AlanAdetolArts Photography LLC. All Rights Reserved. All images on these pages are copyrighted. Use or reproduction without prior written permission is prohibited.