Food lies at the heart of our bodies and our culture; it is there for celebrations and sustenance. NOMaste features a local fierce foodie each month, in four weekly segments. First, an interview, then a top 10 list, followed by a recipe to share, and finally a food review. This food corner will not just feature local chefs but also restaurateurs, buyers, suppliers — any woman involved in any aspect of the food chain, from farm to food truck. Join us each week as we get to know another Foodie in the city. Part I of this month's series can be found here.
---
This week, Rin gives us her Top Ten foods she enjoys. While many are favorites from Thailand, some are simple things you can find anywhere.  The list below is the foods that Rin enjoys the most.
Steak (Any Cut that's Fatty and Juicy)
Why not try and fry up one yourself, and grab a thick, delicious cut from the butchers at the Broadway Market.
Moo Ping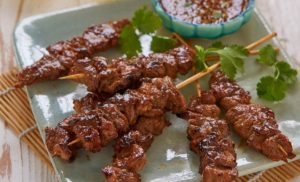 This is Rin's favorite dish from home, and she made sure it appears on her menu.  Grab some at
Rin's own place
and see why she loves it so much.
Papaya Salad (Spicy)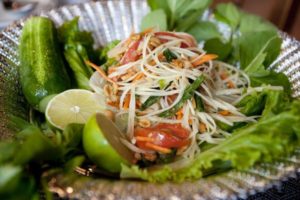 If you have tried a Thai mango salad, you can easily imagine what this spicy, tangy treat would be if you swapped out the mango for papaya. 
Sun Cuisines
offers one, so try it there today!
Grilled Seafood (Shrimp) with Spicy Thai Seafood Dipping Sauce
How can one not love a good plate of grilled shrimp and other assorted treasures from the ocean?  To make it better, dip it (or cover it) in a spicy Thai sauce.  Try the recipe from SiamSizzles.com and see for yourself why it makes Rin's list.
Curry
Second only to Rin's Moo Ping, curry is her favorite thing to eat, and she can eat it every day and never tire of it.  A well-balanced coconut-based Thai curry is something she absolutely adores.  Try some at the West Side Bazaar, from Nine & Night.
Pad Gra Pow (Basil and Chili)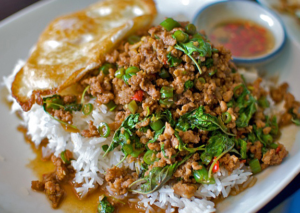 This noodle dish can be enjoyed with any kind of meat or seafood, and can be mild to off-the-charts spicy — your choice!  Try some at the
Water Lily Cafe
down in Bowmansville.
Sugar Snap Peas with Garlic
This sounds so delicious, I can almost smell the garlic as I read the name.  The great thing about this dish is that it is incredibly easy to do at home.   Follow this recipe from ThaiFoodie.com and see for yourself how delicious foods can be whipped up in a NY minute.
Mangosteen (or any fruit that tangy)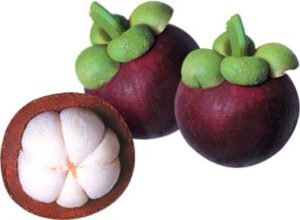 I was blessed with being able to travel to Thailand many years ago, and when I was there, I bought a giant bag of Mangosteen every single day from the street vendors, and ate them as I walked, and at the hotel at night.  There is no other equivalent for this tangy, juicy, incredibly flavorful and tart fruit.  Getting the version in a can is a sad disappointment, but because they are imported you need to find them at specialty grocery stores.  It saddens me to spend 7 dollars a pound for this sweet delicious fruit when I remember paying less than a dollar for a sack of them back in Bangkok.  If you find them, it's worth shelling out the dough to try this.  You can usually find some at the
Ni Hoowa Market
.
Truffle (in anything)
Buffalo does deep fried well, so if you want a nice taste of truffle, I suggest having truffle fries at the many establishments that offer them up.  Here is a list of 10 places that serve them up with style, from Foursquare.
Thai Dessert (anything that has coconut)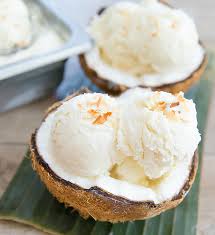 I tend to agree with Rin on this one — a good coconut-based dessert, whether it's a simple coconut ice cream, or a coconut-covered sticky rice with mango dish, and I am on board.  There's something I have been dying to try called Purple Sweet Rice in Coconut Cream at
Pho Lantern
.
---
Photos "provided" from the Internet.