Food lies at the heart of our bodies and our culture; it is there for celebrations and sustenance. NOMaste features a local fierce foodie each month, in four weekly segments. First, an interview, then a top 10 list, followed by a recipe to share, and finally a food review. This food corner will not just feature local chefs but also restaurateurs, buyers, suppliers — any woman involved in any aspect of the food chain, from farm to food truck. Join us each week as we get to know another Foodie in the city. Part I of this month's series can be found here, part II can be found here, and part III can be found here.
---
Having been a longtime fan of the previous incarnation of Mexico City, I had shown up for my meal with what I wanted to eat already in mind. The format has changed a lot over the years, but they have settled on the diner-friendly format of what you could call 'half-fast food.' You place your order at the counter and pay, then seat yourself and wait for your food to arrive. When it's ready, the piping hot, steaming plate is brought straight to you at your table. It is all fresh and made to order, so it arrives in a standard sit-down restaurant timeline, but that is expected with any restaurant serving made-to-order quality food.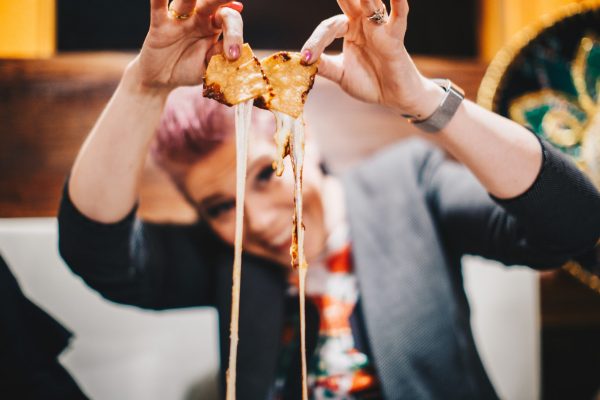 The dining room is spacious, and there is a mix of booths and tables that can be configured to accommodate a party of over 20, or for an intimate dinner for two. Gone are the televisions distractingly blaring various different shows or sports. In their absence you are left with a simple stylish room that is quietly awaiting your dinner conversation. Accenting the orange walls are bright white cushions that glow on the dark wood booths.
We took over a corner and crammed six bodies into a booth. We could have opted for a larger table but the beauty of the corner booth with its padded cushions was too much to pass up. We waited patiently for our food, which came out platter after platter, until there was no room left on the table for all of it.
---
First up is a staple that you just expect at any Mexican restaurant — a plate of tortilla chips with their house-made salsas and pico de gallo. They have a mild and hot version of their salsas, but don't let that fool you — they are both hot! I kept to the pico only, but the rest of my dining company devoured the other sauces. They are homemade, and although they are a bit liquidy and runny, they have plenty of heat, so thank goodness they're not too chunky, because you may not survive if you're a spice lightweight like me — a little goes a long way. I was almost worried I would be full by the time our food came since I just love me some homemade pico and chips, but I did share with everyone else so that saved some room for the parade of entrees.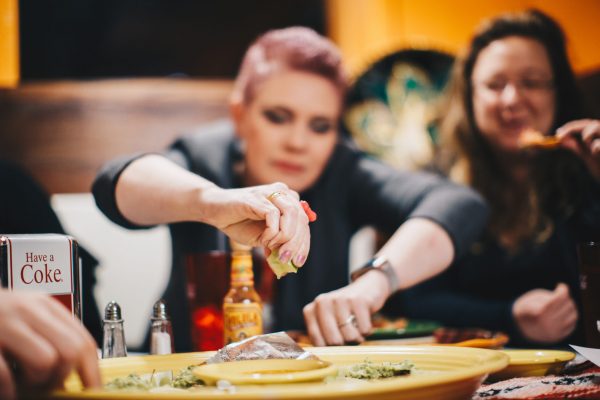 Our first dish was a surprise treat that we did not order, but the restaurant brought out to us to try. It was a plate full of cricket tacos. The insects were cooked to a crunchy consistency, and were on top of a delightfully flavorful homemade corn tortilla. There was generous heap of guacamole on it along with a lime wedge for you to add some citrusy zest to your taco. The texture was crunchy, and the flavor was mostly lime and guacamole. The crickets did not have that much of a flavor – perhaps a subtle nutty flavor — but they did add a ton of texture. This was refreshing because I was a bit timid. The crunch was a little difficult for me, I will admit, but if no one told me what I was eating, I could have sworn it was some fried crispy vegetables. Apparently they are packed full of iron, so they are very healthy for you. We each tried one and were happy for the adventure. Not all of us got through the whole taco, but we shared an experience we wouldn't forget. I recommend giving it a try — you can be the first among your friends to say you ate a gourmet insect.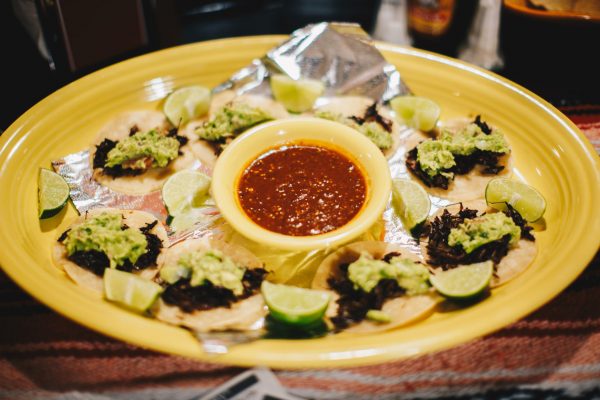 Out next was my favorite — the Mexico City Nachos, smothered in mole sauce. The mole sauce was something I requested, because I loved the previous restaurant's mole nachos, so they happily obliged. I am sure they will cover your nachos if you ask as well! These were covered in multiple kinds of meat — pork, steak, and chicken, then smothered in cheese — queso blanco and fresco, beans, mole, sour cream, and pico de gallo. I opted to hold the salsa verde, which is (for me) an incredibly hot salsa that they add to all the tacos, burritos, and nachos. So beware — if you have a weak palette like I do (I love flavor, but can only tolerate Frank's for heat) you may want to hold the salsa verde on everything you order. Some people mistakenly order these as an appetizer to solo before an entree. I don't know about you, but I have never had the stomach capacity to house two full-sized entrees alone. I recall the first time someone ordered the nachos before their entree and an appetizer, foolishly thinking it would be a manageable item to share with their significant other. It is such a massive amount of food and cheese, that they could barely eat half of it. We all helped them out with that — a privilege we were only too happy to help with.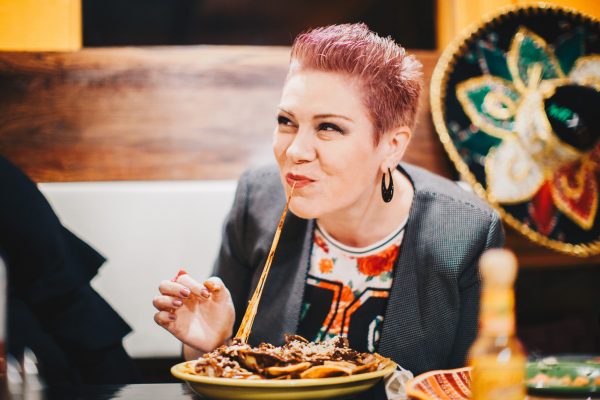 ---
This time I knew what I was in for, so I already told the table we would all be sharing in the nachos, and everyone was as thrilled as you would expect. We had enough for the six of us to pick at, and we could barely finish it along with our main dishes. Nachos are sneaky like that — they look like they wouldn't be that much of a big deal to eat, but you realize it's a huge pile of carbs, dairy, and protein — and then it hits you. This IS an entree! Sometimes I have ordered this as my meal — it's a toss-up between this and the burritos for my favorite item.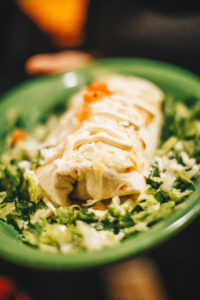 My entree arrived shortly after — the Al Pastor burrito. Al Pastor is the best thing for people who love to mix their sweet and their savory. If you like Hawaiian pizza like I do, then I guarantee you will adore anything Al Pastor. This is essentially fried pork with pineapple. They make an Al Pastor taco as well, but I always go for the burritos — a gigantic meal that comes in its own wrapper, that I can always get two meals out of. The burritos are full of rice, beans, and cheese, and are topped with some sour cream and salsa. Again, I ask to hold 'the hot stuff;' since I am a wuss. Burritos always look so unassuming and manageable, till you cut it in half to eat it. I have never been able to pick it up and bite into it for a couple reasons. One, it is too hot to handle — it comes out on a hot ceramic plate, and the contents are steaming and fresh, so I can't physically handle the thing. Second, it is so massive, I wouldn't know how to even take the first bite.
I decide to cut mine in half, since I always save half for lunch the next day. As I try and cut into it further to make myself bite-sized pieces, the burrito seems to magically explode and become twice the size it appeared on the plate. I swear it gets bigger the more you eat! It's a magical thing. That, and the pineapple, onions, and pork are such a winning combination of flavor, I don't think I'll ever order another kind of burrito. When it's true love, you stop looking for other options — you found your bliss, you are there to stay. That is me and my Al Pastor burrito.
---
There were other items that were ordered, various burritos, enchiladas, and some off-menu requests that were accommodated, because that's what happens when you eat at an establishment for four years and remember every single item ever made there.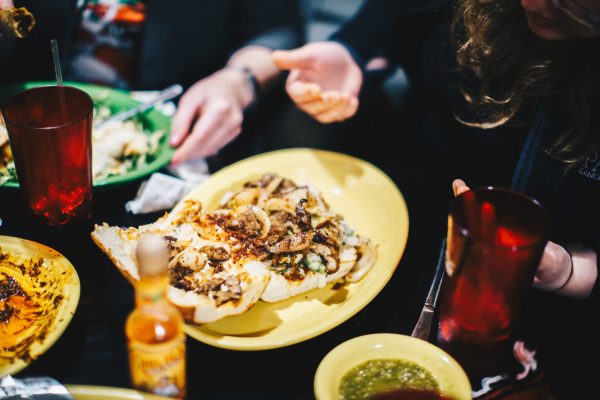 I will take a moment to talk tamales. Their tamales are also made from scratch, and with a lot of love. They come in their beautifully folded corn husk wrappers, alongside some sauces to dip. They have various flavors of meats that they stuff inside them. Eating one is like being given a present. You unwrap the package to reveal a beautiful corn cake, and inside that corn cake is flavorful meats.
Everyone's food was delicious, and conversation basically halted with the exception of saying, 'Hey, try this,' or 'Oh my god, this is SO delicious!' The table was heavy with the weight of platters slowly getting lighter from our eating, and all you could hear was chewing, and a variety of groans and sounds coming from us. It was the sound of pure, gluttonous joy.
---
We were stunned when at the end of our meal, out came a beautiful flan on a platter. This was a surprise — I LOVE their flan, but no one ordered it, they just brought it out to us. We were bowled over. We were already stuffed, but through the miracle of desserts we all had room for a slice of heaven. This flan is not your typical flan. Their flan is a love child between a traditional flan you might make at home with a dash of cheesecake. It has body to hold it up, and a creamy texture which I have never had in a flan. Usually flan is a touch more runny or even at times crumbly — this is a perfectly smooth, decadent cake-flan hybrid. The texture is pure velvet — with the requisite caramel coating on the top. The outside is a rich yellow color, but inside is a lighter shade of yellow. I do not have the words to give this flan justice, you simply have to go try it. This is Hector Jr's secret recipe — he is the master behind the flan. I am in awe of his baking skills. He also makes a fantastic tres leches cake and well as other treats — but this is his star achievement.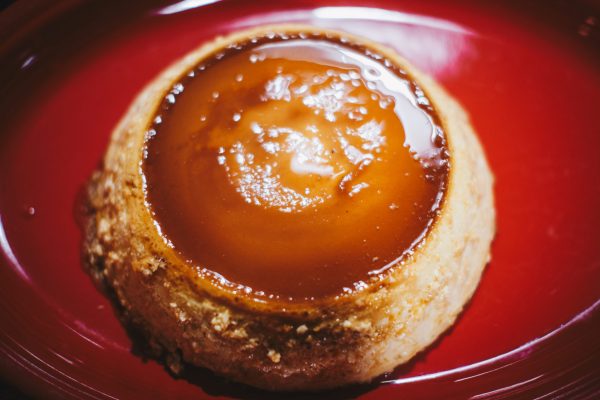 ---
I have already gone back since, and am actually going back again this weekend — I simply cannot get enough of this food. If this review, and the countless times I have eaten at this establishment isn't enough for you to get in your car and drive south to try this place out, I don't know what is. All I can say is — you won't regret it. And if you are intimidated by the variety, try a bunch of their small tacos that come in all of their flavors, so that you can find the flavor that you like best — then go ahead and get that in a burrito! Whatever you choose, it will not disappoint. I can't wait to see this place flourish and get the acclaim and patronage their combination of acumen and delicious cuisine deserves.
---
Photos by AlanAdetolArts, L.L.C. – Birdcage Studios – Buffalo, N.Y. 14213 –[email protected] 
© 2018 AlanAdetolArts Photography LLC. All Rights Reserved. All images on these pages are copyrighted. Use or reproduction without prior written permission is prohibited.