Read all about the woman behind Mundy Cakes, Amanda Bernardini, previously on Qween City.
---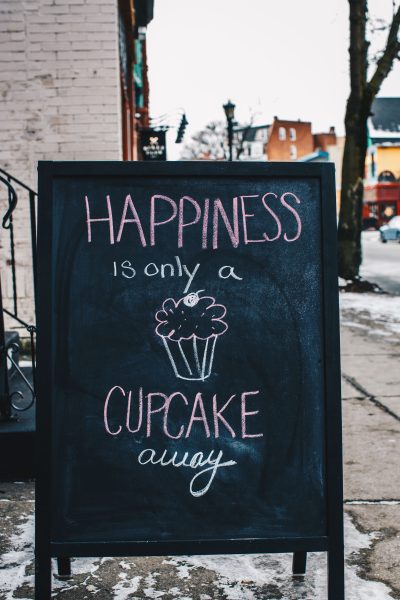 Jumping into this review I hadn't thought that, with the lion's share of the business coming from custom cookie orders, there would be many options that Mundy Cakes could offer. Or, for that matter, how many items would be available on any given day. I was shocked — and pleasantly surprised — to find such a large variety of cupcakes and cookies in the display case, available for purchase.
I'll just start off by saying that Mundy Cakes has made the best cupcake that I have ever put in my mouth, and I've eaten a LOT of cupcakes. While cookies may be the bulk of her income, I'm going to dive right into those divine cupcakes.
---
Chocolate Chip Cookie Dough Cupcake
This cupcake gets the top billing, and was the star of the day. I have never in my life had a cupcake that tastes exactly like cookie dough, from top to bottom. When biting into this cupcake, you immediately realize that the frosting has a texture to it — it's grainy, not smooth. I realized quickly that the frosting was grainy because it was made with granulated sugar, not powdered sugar, as in most buttercreams.
It's those grains of sugar that have not yet baked into the cookie that gives cookie dough its specific mouthfeel. That choice was brilliant — it was the detail that knocked it out of the park. The rest of the cupcake was perfect as well. The inside had a giant lump of chocolate chip cookie dough inside, and, I don't know how she did it, but the dough remained unbaked, while the cupcake was perfectly baked around it. That's a level of timing and baking magic I don't know that I could master. Between the real dough inside, and the dough-like frosting, this was an out-of-this-world experience, and one of the best, if not the best cupcake I've ever eaten. It is tied only with the following cupcake.
---
Almond Cupcake with Raspberry Cheesecake Frosting
"It tastes like springtime," said Alana, our fabulous photographer, after her first bite of this creation. This cupcake was vying for top billing as well, and, depending on my mood, could steal the crown. This cupcake was more delicate and dainty, where the cookie dough cupcake was bulkier, and more binge-eating worthy. The almond-flavored cake was delicious, and felt dense but not heavy. There was still a fluffiness to the cake, but there was enough body to make the small cupcake satisfying.
This balance in baking is incredibly difficult — things tend to either be too fluffy and spongy, and feel like they will fall under the weight of heavy frosting, or they are so dense they feel solid and lose their spring. This was the perfect consistency. Occasionally crunching on raspberry seeds in the frosting was a pleasant reminder that it was the real deal. It was not overpoweringly fruity either, leaving a lot of the sugary, creamy cheesecake flavor to shine through, with the raspberry being the subtle top note. Together, this pairing was absolutely perfect. This would be a great cupcake for a high tea, a fancy dress birthday party with sparkling wines, or a super classy wedding that had a jazz band or orchestra for music instead of a DJ. That's the feel of this cupcake. Sure, you can eat it on the couch in your sweatpants, but I feel like this cupcake deserves better.
---
Blueberry Lemon Cupcakes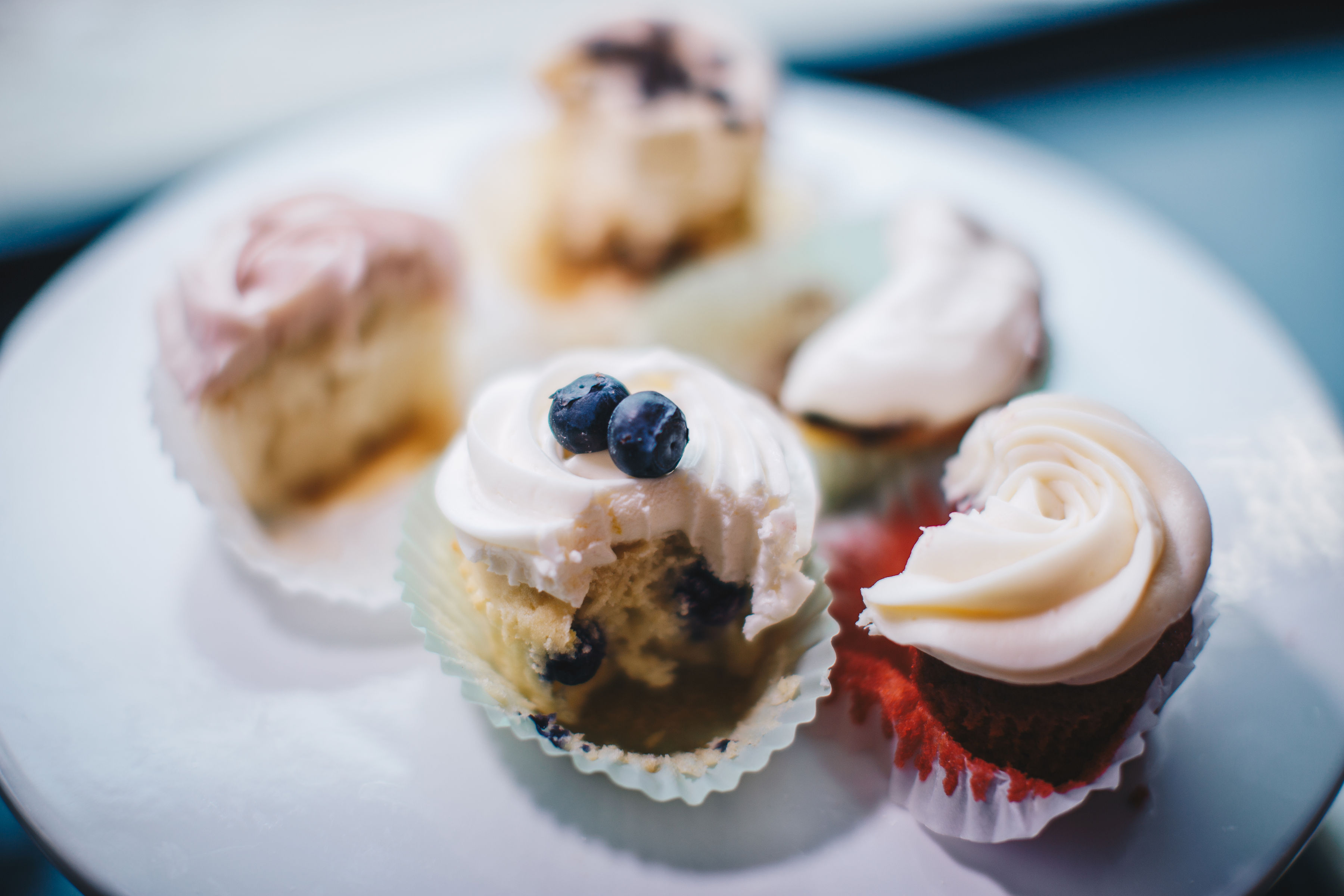 If you've read my reviews before, you will know that I am not a huge fan of lemon-flavored desserts. While I can appreciate them, they're not my thing. That said, I do try and be objective in my reviews. Even with my proclivities about lemon, this was a delicious cupcake. The lemon was not overpowering, much like the raspberry in the almond raspberry cheesecake was not overpowering. You knew lemon was there, but it wasn't stealing the show. The cake allowed the blueberries to shine through, which were on top of the lemon frosting. Again, the frosting was not overly lemon, but a light lemon flavor. Blueberries are such a subtle flavor, the least tart of the berries, with a quiet sweetness that can easily be overpowered by something tart like lemon. Mundy's creation lets you taste both in equal parts, subtle but flavorful, and not cloying. She did a wonderful job with this one.
---
Red Velvet Cupcake
Red Velvet is a flavor that is difficult to pull off, but Mundy did it. Much like her other cupcakes, the cake part was moist, not too sweet, and had the right consistency to it. The signature cream cheese frosting that topped it really got to sing. Red velvet often ends up too sweet, too red, and off the rails. In short, it ends up being a tryhard cupcake. Not here. She lets the simple elegance of this classic stand on its own, and it holds up to the spotlight.
---
Cinnamon Bun Cupcake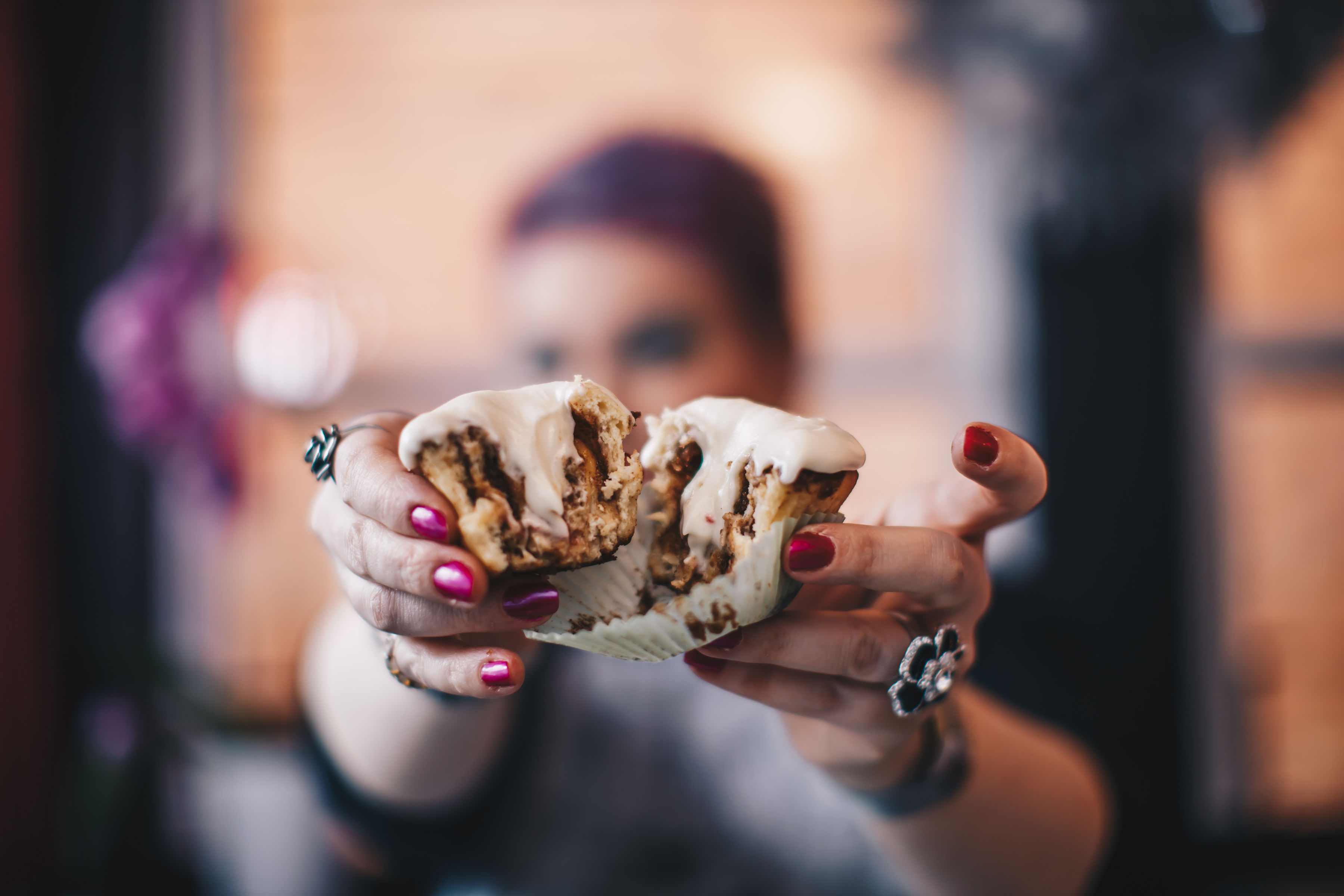 Biting into this 'cupcake,' I was astounded to see the layers of cinnamon and fluffy pull-apart dough that I would expect with a regular cinnamon bun. That is because it IS a cinnamon bun — baked inside a cupcake wrapper, then frosted! Whether this is an actual cupcake, or a cinnamon bun, is a debate all on its own. So it is a cinnamon bun? Yes. Is it served and presented like a cupcake? Yes!
There's no neat way to serve a cinnamon bun, or carry one. Mundy has taken those issues and made them disappear by simply serving them inside a cupcake wrapper and allowing this classic breakfast treat to be eaten on the run, in your car, without disaster. The dough is perfectly fluffy and not overly sweet. The sugary sweetness of the cream cheese frosting isn't piled high as with cupcakes, but is spread in a medium thick layer on top, pairing perfectly with the subtle cinnamon of the bun and creating a not overly sweet but sweet enough breakfast treat.
Since it is served as a cupcake, you are actually eating what a proper serving of cinnamon bun should be, not the monstrous, three days' worth of calories that a Cinnabon offers. You can eat one, with the right amount of frosting on it, and not feel (too) guilty about it. As a result, you can also get a cookie for dessert later!
---
Mixed Berry Pop Tart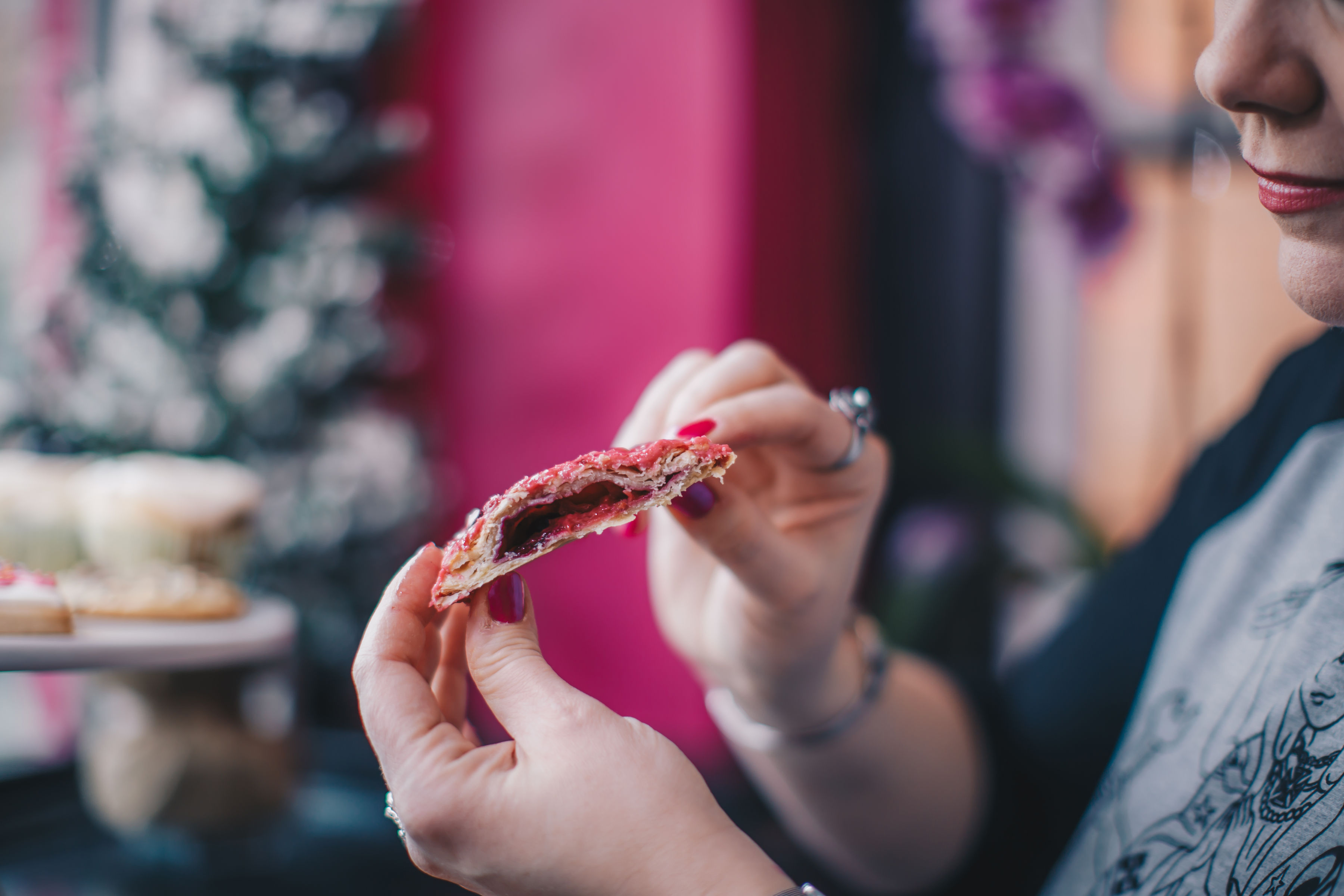 One look at Mundy's fresh-baked golden pastry covered in haphazard pinkish-purple frosting, and you know that it is going to taste amazing — NOTHING like the jam-filled cardboard pop-tarts from the store, chock full of unpronounceable ingredients. There's something about a homemade version of a mass-produced classic that just gets to me.
The crust is incredibly buttery and flaky, with a flavorful mixed berry filling. Since it was so concentrated, there was not too much filling. It was mostly dough, which is good, since any more filling would have ruined the balance and taken over. The sweet frosting on top gave the last bit of sweetness to the overall pastry. Without the frosting, the insides would feel slightly anemic, but with the frosting, you had just the right amount of sweet and tart to go with the buttery, flaky dough.
---
Chocolate Chip Cookie
This cookie can be eaten alone or in twos or threes, preferably with a glass of milk. The chocolate chips are the right size and amount. The batter bakes down so it's slightly thinner, leaving the chocolate chips to stick  up, proudly. They had the right amount of chew, with no over-baked crunch, but also not so soft they mush. These were baked just right. You should probably get more than one, just saying.
---
---
Italian Meatball Spice Cookies
I had some idea of what these cookies would taste like based on the name, but I was still intrigued and not quite able to wrap my head around it. I knew it was chocolate-based, but the nuts and spice surprised me!
This was the most different flavor I tried that day, with a mixture of sugar and spice. The chopped nuts also added a good texture to offset the surprisingly soft inside of the cookie, so it wasn't just a soft, chewy cookie with no substance. The powdered sugar on the outside worked in harmony with the spice flavor inside. I could definitely taste the cinnamon and nutmeg, with some other spice in there giving it another dimension. It was a nice change of pace from the parade of sugar, and a temporary reprieve from overt sweetness.
---
Russian Tea Cakes/Mexican Wedding Cakes
I still don't know how a cookie can have two incredibly disparate and specific names such as this one, but here we are. These, unbeknownst to Mundy, are one of, if not my favorite, cookie. It's the closest thing you will get to a marzipan cookie, without actually having a marzipan filling. Consisting mostly of a mixture of several different ground nuts, and some flour, butter, and sugar to hold it all together, these small, nutty, dense little sugar-coated treasures are heavy but satisfying. They are jam-packed with nuts and sugar, which is why they are so small. You don't need that many to get full, and you probably shouldn't eat that many of them in a row either.
These are baked to perfection as her other treats are, and taste exactly like the ones I used to get in Christmas cookie exchanges with friends. If you've never had one and like nuts, I recommend you try one today.
---
Sugar Cookie Cut Outs
Popping all over the Internet you will find adorable, detailed sugar cookies in every category under the sun. Mundy can give them a run for their money.  The creations she makes are intricate and exacting, and she can knock out any shape and image. She had an assortment of adorable Valentine's Day-themed cookies when we visited, including couples-themed peanut butter and jelly cookies, eggs and bacon cookies, and the punny 'Netflix & Chill' cookies.
On her Instagram feed you can check out some amazing custom cookies like her red plaid work shirt, buffalos, antlers, and Timberland boot cookies that were made for a birthday party at Hatchet & Hops, or some pineapple and flamingo cookies that made me swoon when I saw them.
I was given a beautiful three-tiered birthday cake cookie, complete with sprinkles and pink frosting. The cookie itself was not overcooked, and had an even consistency throughout. The color was constant, from top to bottom. The frosting was super sweet — I mean, that's what royal icing is made out of,  so it's a sugar punch. If the base of the cookie had any more sweetness than it does, which is a bare minimum amount, the frosting would be too much. I honestly couldn't eat more than one because they are so sweet, but you probably shouldn't anyway. I imagine they'd be great to dip into coffee or hot chocolate. That would be next level cookie enjoyment for these. They are gorgeous, and since you can't really eat more than one in a sitting, the perfect favor for a party.
---
Next time you pass Mundy Cakes on Allen Street, step inside and see what she has on offer. You will probably be out of luck for the Pop Tarts or Cinnamon Buns, since they sell out in the mornings, but if you are lucky enough to have a case full of cupcakes before you, do yourself a favor and try some.
---
Photos by Alana Adetola Arts Photography, L.L.C. – Studio North – Buffalo, N.Y. 14201 –[email protected]
© 2019 Alana Adetola Arts Photography, LLC. All Rights Reserved. All images on these pages are copyrighted. Use or reproduction without prior written permission is prohibited.