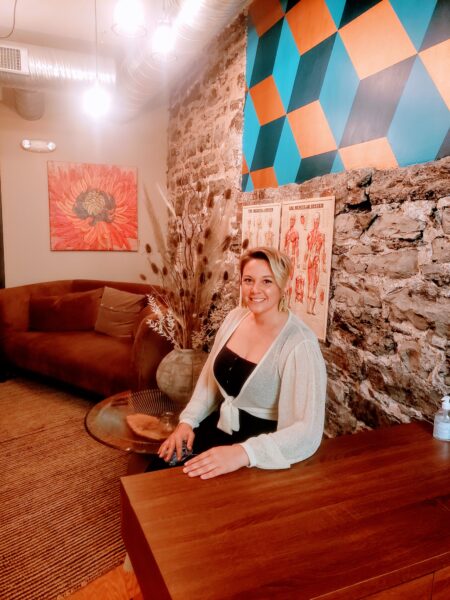 Erika Felicetta has always been interested in the human condition, striving to make connection and hear others' stories.
This interest ultimately brought her to where she is now, an inviting and modern massage and bodywork salon in a turn-of-the-century manufacturing facility.
She celebrates 10 years as a business owner this year, having ushered her business of touch through an evolution of constant growth and learning.
Phoenix Rising Therapeutic Massage & Bodywork retains its warmth in its latest digs at 500 Seneca, the industrial complex development on the edge of Larkinville, where Erika has now housed her massage and bodywork salon for the last 6 years.
---
Erika didn't always plan to be a massage therapist, and certainly not a business owner. She had followed her passion for human interest stories to Medaille College, studying Media Communications. It was there that she joined the volleyball team at the collegiate level, another deep passion of hers.
"[Volleyball] was a really big focus of my life at the time," she said. "It was soon after that that I realized there was a different calling for me. I was thinking about getting into journalism; I had some really wonderful internships with Artvoice at the time and the Buffalo News and NPR-WBFO local, and I just realized, 'I love this…I love human interest stories, I love talking to people and getting their stories,'" she said. But there was something else calling her via her work in athletics.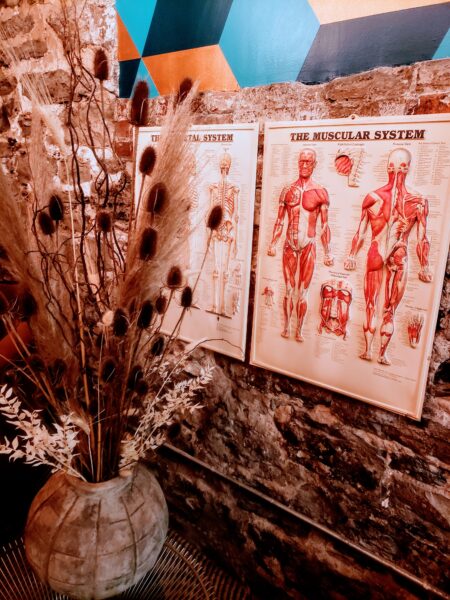 "I've been massaging my whole life, and being in athletics since I was in middle school, I was always interested in injury prevention and assessing injuries with other teammates on my teams…Even when I was a little girl I used to go around the table at family gatherings and massage shoulders, hands… In class, in study hall, people were always like, 'Uhhh, rub my hand, rub my arm,' and I would, and I loved it. It was just something intrinsically that ran through me that I was very interested in," she said.
After finishing her studies with Medaille she decided to go to massage therapy school directly afterward. "It was a year-long program at the New York Institute of Massage, which was the best school at the time," she said.
Erika finished the program in a year while supporting herself with work in the restaurant industry. After she completed the program she was set up with a job at a chiropractic office in West Seneca owned and operated by a friend's father, Dr. Denecke. It was there that she spent 7 years learning the business and art of massage.
"It was wonderful. I learned a lot; I built up my clientele pretty swiftly, and once I felt that I couldn't grow anymore in that practice, I knew I needed to branch off and do my own thing, but I didn't ever think there would be a part of my story where I would be a business owner," she said. "I didn't see that for myself, you know?"
After her 7-year tenure with the chiropractor, Erika set off to find a space in the Elmwood Village in 2011. An opportunity to rent with Fierce Fitness at Bryant & Ashland presented itself, offering Erika four therapy rooms in their building. "And I made the leap," she said.
She hired three independent contractors — an acupuncturist and two other massage therapists. It was here that Phoenix Rising Therapeutic Massage & Bodywork came into being.
---
Prior to leaving the West Seneca practice, Erika polled her clients and asked, 'Would you follow me if I decided to do this?' I was transparent with everyone," she said.
About half of her suburban clientele did follow to the city, while Erika wrangled city folk into her doors.
After four years at Fierce, an opportunity to grow even more came into her purview. "It was time for me to grow again," she said.
Savarino Companies was looking for commercial tenants for their new development at 500 Seneca, offering custom build-outs to businesses, which also include crown bflo, Animal Outfitters, Winkler & Samuels, and Tommyrotter Distillery, among several others. After moving into her latest space 6 years ago, Erika noted that people from her first 7 years in operation were coming back to her practice. "It's a great area, it's very community-oriented," she said.
"[The space] was raw; it was not built out yet. I met with [Savarino Companies], I told them what I would need from the space, and we worked together very collaboratively," she said. "The Savarino Companies have been amazing; they've worked with me so well every step of the way. I just think they're very generous and they were very open-minded. It felt very professional, they took me very seriously, and I have a lot of respect for that. They let me have a lot of freedom with building out the space."
---
In 2020, as we watched the world slowly shut down and back away from each other, Erika fled to South Padre Island, TX. Her partner lives there and they used the shutdown as time to truly get to know each other thoroughly.
"When the world kind of shut down in mid-March, I was in Texas on an island that was just getting news from New York. The crew that I had at the time was just like, 'Don't come back. We're pretty much shutting down here.' So I was like, 'Okay.' I got to be with my partner in a very new relationship and it was great. We got to know each other very well in time periods that didn't feel like a vacation," she said.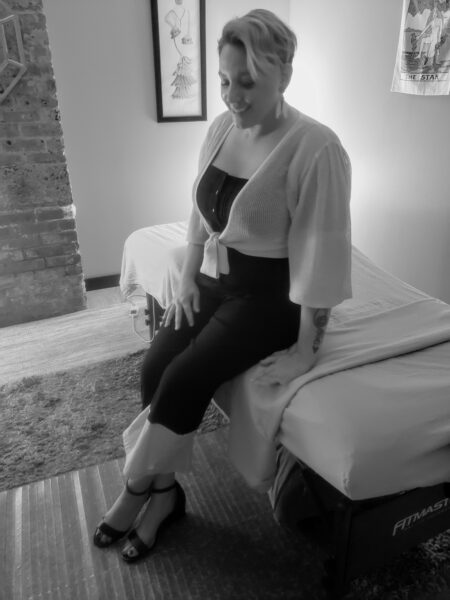 "[The year] was really good for me emotionally, because here I am on a beautiful island with the person I love, and we were just like, 'You know what? Nothing you can do about it up there.' Everything actually went really well for me, emotionally," she said. In fact, the time in Texas motivated Erika to get a dual massage therapy license so she could practice while there, a place she now calls home 3 months out of the year. She works out of a yoga, massage and meditation studio, and volunteers at an alligator and birding sanctuary.
Although she deeply missed working with her clients, this forced time off was also physically good for Erika. "I got to heal," she said. "Aches and pains from doing this for 15 years; your hands are your tools, but also your posture while you're working. You learn great body mechanics, but it's been 15 years, so you can't always keep that up," she said. "So I was taking care of myself, physically. I was eating well and also resting, and I was in really great weather with someone I love; I actually had a really easy go of it compared to a lot of people I know. That was not their story," she said.
While holing up on the island, Erika watched for news of reopening. She came back to WNY in mid-May 2020 with the thought that they'd be able to open in June. However, it wasn't until July when salons were able to come back online, qualifying as healthcare thanks to the in-house chiropractor.
"I went right back to work and nobody was afraid to come back to work," she said. The clients came back, they staggered schedules, and the bodywork resumed. "We are in the profession of touching people," she said.
---
Everyone currently working out of the salon rents their space as independent contractors, including Covell Chiropractic and three other therapists. "It's a very family-oriented atmosphere; everyone helps each other out," Erika said. "We all answer the phones, we all switch laundry, we bring each other up to speed, we help each other cash out and schedule clients. I'm glad that this place has fostered that communal feel. We all help each other, but you also have to be self-sufficient too and very accountable for your stuff."
Erika is currently looking to add to the crew, seeking one more therapist at this time.
"In 2020 people weren't getting massages; we had to close down for a while, for 4 months. Now people have all these gift certificates that they bought for Christmas in 2019 and they're now calling trying to redeem these certificates," she laughed. "We had a huge influx of new people calling, which I'm very grateful for," she said.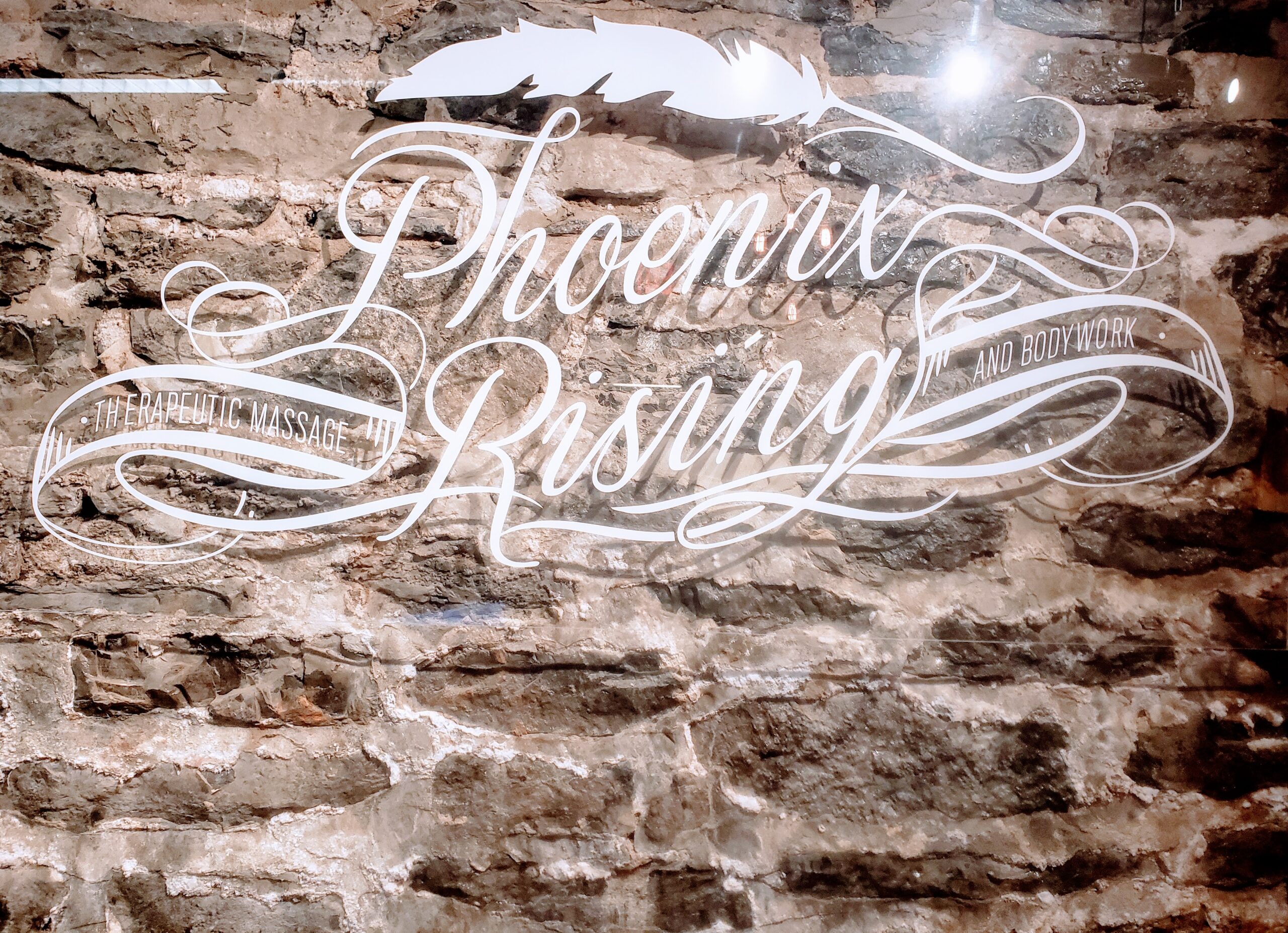 "We're very lucky, everyone here is very busy. I'm always saying, 'I'm as busy as I want to be,'" she laughed. "It's a good place to be, but I do wish there was more of me, because I can be a little bit more of a workhorse and a generator. I really prize a good work ethic — you show up, you show up to work and do the best you can. I try to do that with every client and hope that translates," she said.
Erika credits her current crew with much of the success of the salon. "It really just comes back to surrounding yourself with really good people and a good support system and a good crew that you work with. It's definitely not all on me — everyone shares in the load, especially here. Everyone gets it."
---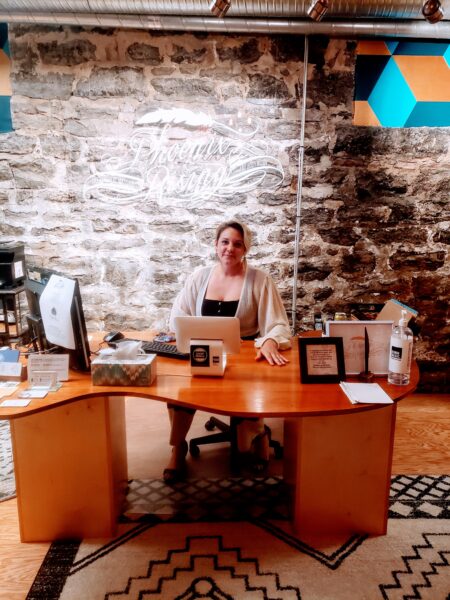 Erika is a huge proponent of bodywork professionals taking the time to take care of themselves in the same manner they take care of their clients.
"I think of massage as an extension of myself. I don't really see it as work, and I think that's been key to me doing this for 15 years. I know a lot of therapists have that 10 to 15 year lifespan, but you have to try to stay healthy, try to keep yourself in shape, and get bodywork done for yourself. That is huge for anybody. Massage therapists: get a massage monthly," she said. "Get a good crew of people that can take care of YOU. Because if you're not taking care of yourself you're not going to be able to take care of your clients the way they deserve."
Recalling her love of story, Erika likens bodywork to the act of listening, truly listening, to a person.
"I'm not just moisturizing people on the table, I am working. I'm working hard, I'm reading you. I'm trying to figure out what your muscles are telling me; it's an ongoing conversation with your tissue, with your muscles and your connective tissue," she said. "And also a little bit of their psychological background: how do you feel about touch? Are you injured? What have you been through? How can I help you not guard against touch or massage? It's very much like a dance and a conversation within that."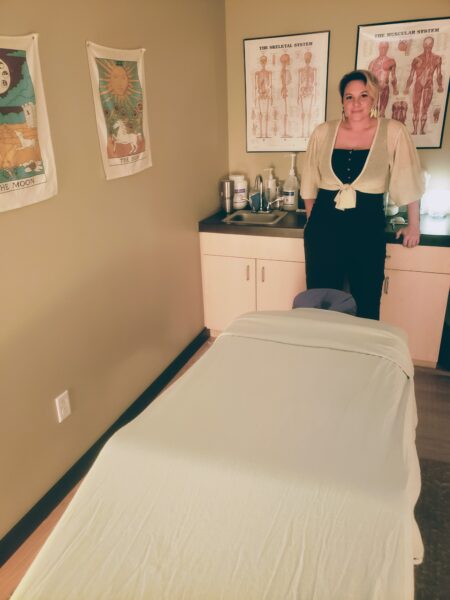 Erika doesn't claim to be a miracle worker or "healer" in any sense of the term. "I'm just a tool in someone's arsenal. 'I'm just a tool!'" She laughed. "I say that for fun because I don't like my people saying I'm a healer, or 'I need you,' or 'help heal me.' You are the only one to decide to heal yourself if that's what you want. I am just a tool in the arsenal of things that you should be doing for yourself…I will educate you, but you have to definitely help yourself and change up your lifestyle a little bit. I'm not healing anybody, I am helping you figure out the best way to go forward to help heal yourself," she said.
---
Erika's passion is apparent in the way she talks about bodywork, and in the way she wants to assure folks who might be hesitant or not informed on what is actually going on when you "go for a massage."
"The benefits of massage are so vast. You get to know yourself better. You get to see where your muscle imbalances are that you didn't even consider…it's more about educating yourself on your body, and being able to maybe see those things that you're not aware of," she said.
"It's not just, 'Oh, it increases oxygen to the muscles,' and all those things," she said. You're working with a whole amalgam of psychological and emotional and physical things; you have to take the whole person into account.
"This isn't a routine-oriented profession, it is a people-focused profession," she said. "This is a connection…there are many layers to bodywork. You can touch on all of them if you want to, and that person's going to feel it on all levels."
---
Although most comfortable behind-the-scenes, it's no surprise that Erika is people-forward, a long hugger with a genuine smile for all she encounters, with a particular skill for holding eye contact and engaging in meaningful conversation.
"I'm definitely extroverted and gregarious and can get a lot from interactions with other people…I like to ask the questions, and get to know someone. 'What makes you tick?' Humans were put here to connect," she said.
And while she emphasizes that we all have to do our own work to live our best lives, she gets a giggle in knowing that an hour or so with her will do loads to improve one's general outlook. "I'm not a miracle worker, but I do understand that a massage will probably be the best, most restorative part of your month," she laughs.