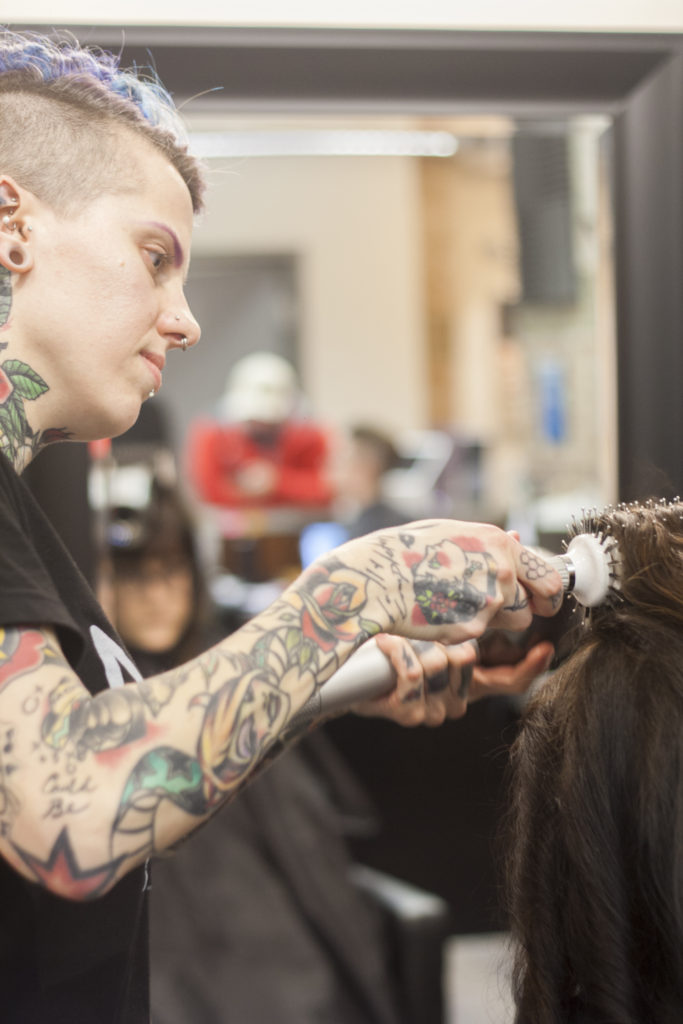 "I'm so old-fashioned I can't even get a massage from the dude next door [at business neighbor Phoenix Rising]," laughed the girl with the mermaid mohawk, full sleeve and throat tattoos, and elven-shaped ears.
Erin Moser, 33, has been in the business of hair for 15 years – at least as a licensed practitioner. She's been intensely interested in the craft since about 12 or 13. "There was a lot of ruining my sister's hair," she laughs. Her sister, Grace Moser, is at the front desk chatting with a few friends who have been hanging out in the shop for a while.
"I don't drink, I don't party, I'm usually in bed by 10 p.m., I hang out with my parents, and I do this. I'm such an old lady," she said, taking a load off from another day on the floor of crown bflo, a full hair service salon tucked into the back corner of 500 Seneca, a turn-of-the-century downtown warehouse conversion that teeters on the edge of South Buffalo, neighbor to the burgeoning Larkin District.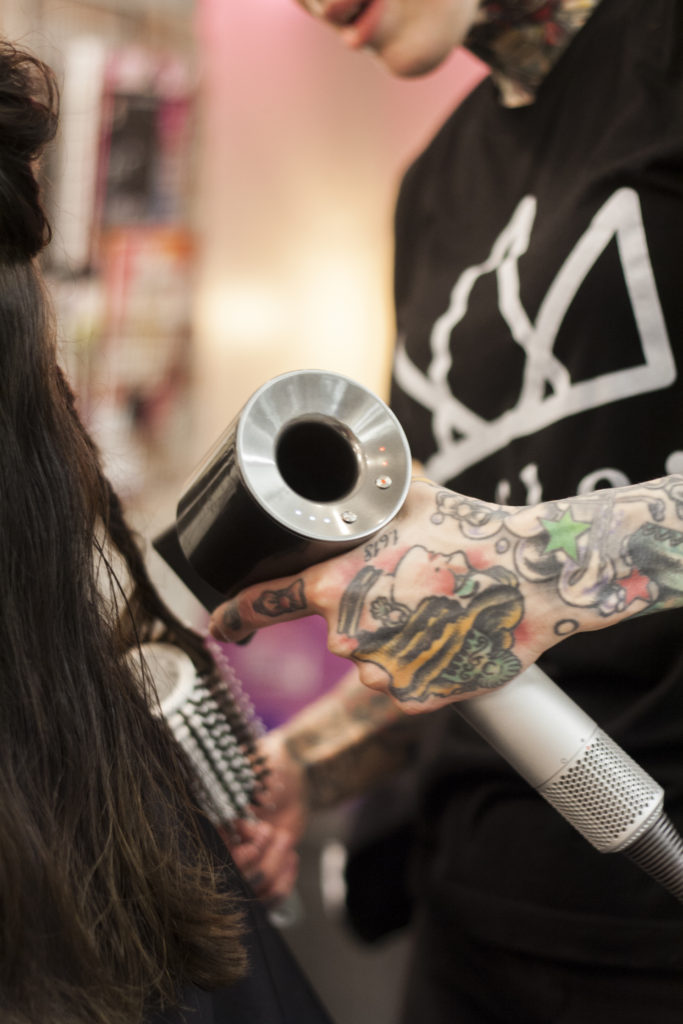 "I started doing a lot of my friends' hair in middle school – just in my bedroom. Then in high school my parents wanted me to concentrate on school and wouldn't let me get working papers, so I asked them to buy a tarp and I put a tarp on the floor in my room and I cut hair in my room and charged friends like $5 for a color and then we would go to Denny's and eat fries," she said, recounting those early genesis days of the passion that has carried her forward two decades.
"I remember I would have my sister in the chair practicing putting foils in her hair, and she'd be nodding, just falling out of the chair, and I'd be catching her, and I'd sit her up, and I'd do foils, and my parents would be like, 'It's 2 a.m.! She's going to school in the morning!' and I would be like, 'So am I.' I would get in trouble, keep her up all the time. I ruined her hair a few times," she laughed.
This passion has led to many good things for Erin. Indeed, the very first mohawk she ever did was for a boy she was friends with when they were 14 or so. They've now been together 13 years.
---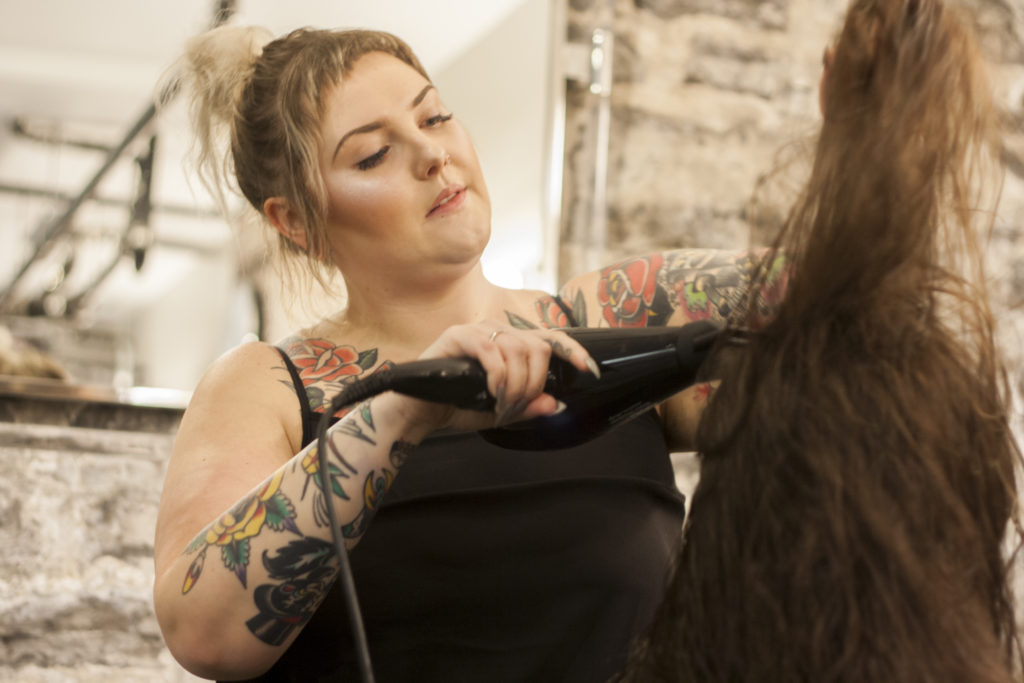 A year before she walked through the space where crown is currently situated, Erin was approached by Sam Savarino, developer of 500 Seneca, to gauge her interest. "I was then trying to buy a building…I continued looking for a year off Niagara Street, Connecticut Street, Allentown, South Buffalo, everywhere. Couldn't find anything. I called Sam. 'Do you still have space?'" A year after Sam's initial query, Erin finally walked through. A couple months later she signed the lease.
Crown is Erin's first salon, and she knew she couldn't — nor wanted to — do it without her team. She and Tyler had been working together at a spot before crown came into being, and they quit out at the same time. Prior to that, Erin, Grace, Chelsey Merrill, and Sarah Hickey all worked together at one place, then disbanded for a bit. This was not going to fly for Erin for much longer.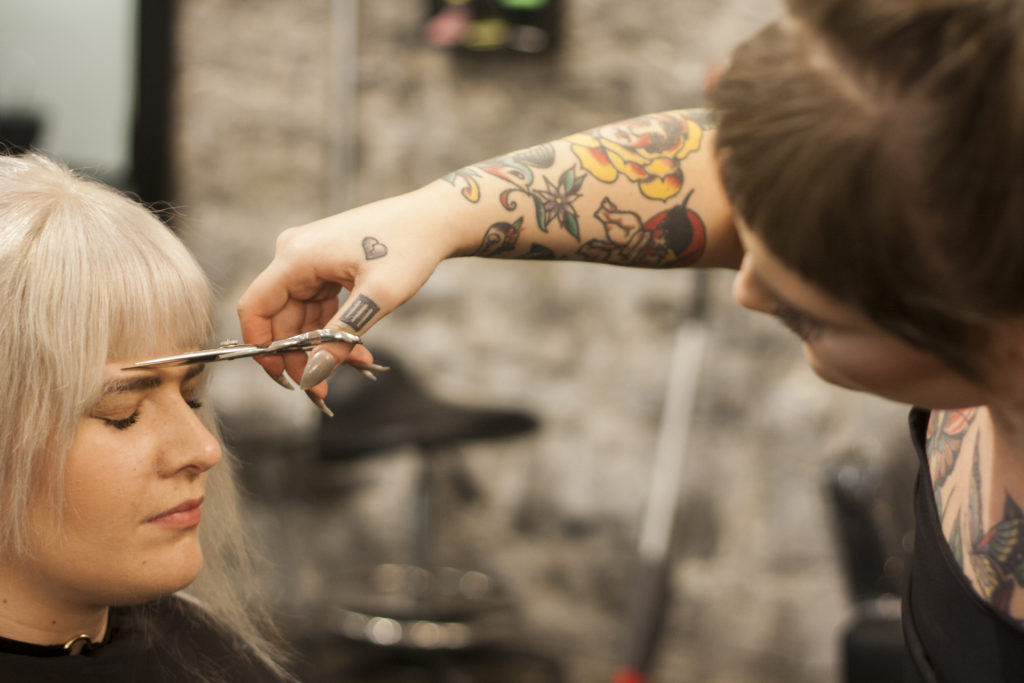 "I couldn't be apart from these people anymore…we're a fam. I love it," Erin exclaimed, grateful to see all of her favorite people under one roof again. "The industry is kind of weird, so we needed to be together."
She and her team worked on the build out, apart from drywall, electric, and plumbing. A friend built the desk, her boyfriend built the shelving, the team put down the floor, and designed, decorated, and painted everything. The shop was opened November 8 of last year, three months after the lease was signed.
---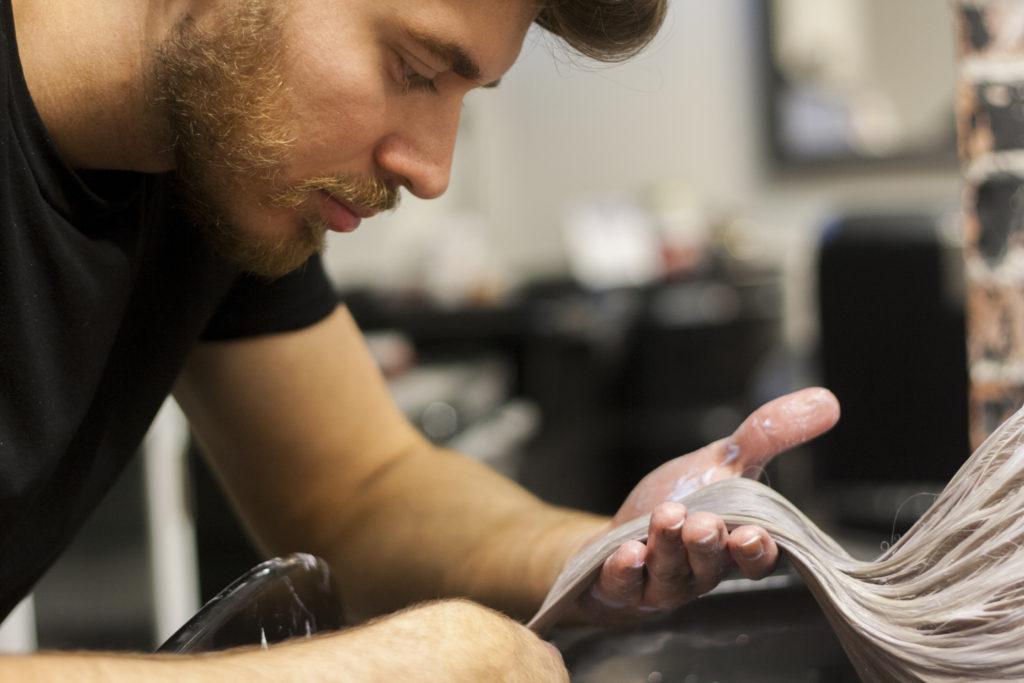 To glimpse the stylists that make up the team of crown is to presume that they work solely on glaring, glamming punk rockers and other leery ne'er-do-well-type youth. And while the alt/indie/funk-as-puck scenesters do frequent the joint for their weekly shave-ups and color-streaks, Erin is more thrilled to work on a nice, traditional '90s supermodel blow-out.
"Doing hair like mine is my least favorite thing to do…I'm so traditional in my education foundations. Nineties supermodels…round brush setting…really airy, loose. I'm into that," she said.
She gets it from mom, who worked for Peter Piccolo, who once apprenticed under Vidal Sassoon. "I feel like I was always around those people growing up," she said.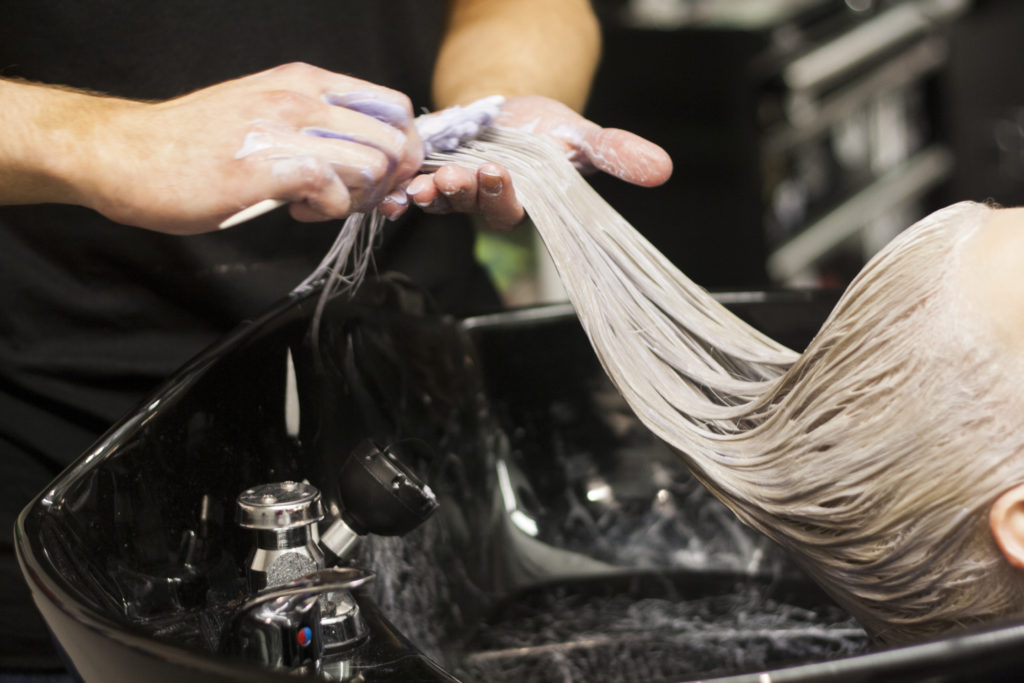 It's not a surprise that the rock n' roll lifestyle is a signature vibe at crown, however.
"Our dad ran a record promotion business out of Buffalo for decades and still kind of dabbles in it," Erin explained. As a salon family they consistently intercede with the Buffalo music world; even Erin works on Robby Takac of the Goo Goo Dolls, priming his strands for all of his tours.
---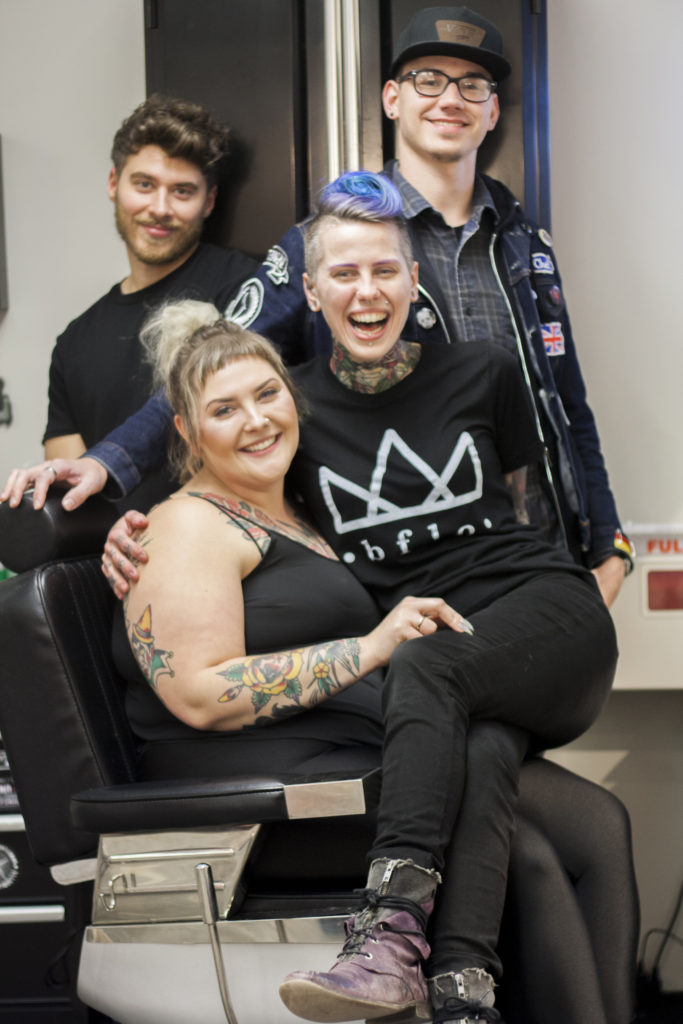 Crown carries
Bona Fide
, a product from a family-owned company out of California that cannot be found regionally until you get to New York City. They also work with
goodDYEyoung
Pro, a vegan hair dye developed by Paramore frontwoman
Hayley Williams
. This is the line of color they use to achieve the fantasy tints trending currently. Grace goes way back with the creator.
I couldn't be apart from these people anymore.
"We knew 5 years ago she was going to do this color line…We were able to get a pro account; hardly any salons get approved or have them. No one around here has it," Erin said.
Chelsey is also a certified Urban Decay make-up artist, and can style your face for any and all occasions.
In addition to full hair service (cuts, colors, waxes), there is also full barber service and bridal service.
On top of expert primping and priming, Erin and the crown team are also heavily involved in philanthropy. Back when she was working for Chez Ann Salon, Erin set up the event Styling for a Cure, to benefit Roswell Park Cancer Institute. "We raised like, $20-something thousand the first year. The second year we raised over $50,000," she said. Since being open, crown has partnered with Roswell Park, Pride Center of WNY, Veterans One-Stop Center of Western New York, Journey's End Refugee Services, and Planned Parenthood on a variety of charitable works.
---
In the coming year Erin plans to concentrate on being a business owner, on top of her 40-50 hour/week styling schedule. "I never wanted to do the business end," she said.
In her downtime (of which there is very little), she likes nothing more than to be in a dark room, off her feet, curled up with her pug, Monster. She can also be found in her kitchen dabbling in new recipes, if she's not on the couch with a good movie or some favorite podcasts.
"I just want to clean my house and pet my dog," she laughs. "I don't go to bars. My friends are out at bars and I'm home reading under a heated blanket."
As the last client of the evening gathers her things, Erin gushes over her and says her goodbyes. "It looks very good! Look at those ends! You can run your hands through them! So exciting! You deserve it. Everyone needs some you time."
Photos by Carmen Brown