Whether it was MC-Lyte leveling the playing field in the male dominated industry of the '80s or Queen Latifah promoting cultural "Unity" in the '90s to the Lil' Kims, Foxy Browns, and Trinas exuding sexual prowess in the early 2000s, women have always redefined hip hop. The historic storytelling of femcees spitting the struggles and luxuries which exist specifically at the intersection of blackness and womanhood has contextualized the genre into what it is today — an international phenom. With a growing, younger generation of women leading female rap's new school, it shouldn't be a surprise the Queen City has its own group of budding lyricists and hip hop hopefuls. Whether it's faith-filled testimonies or concrete jungle tales, Buffalo's female rappers present a quality and style that looks promising on both the local and national scene.
Part I of this series, featuring 7xve the Genius, can be found here, Part II, featuring Desiree Kee, can be found here, and Part III, featuring Ché Noir, can be found here.
---
---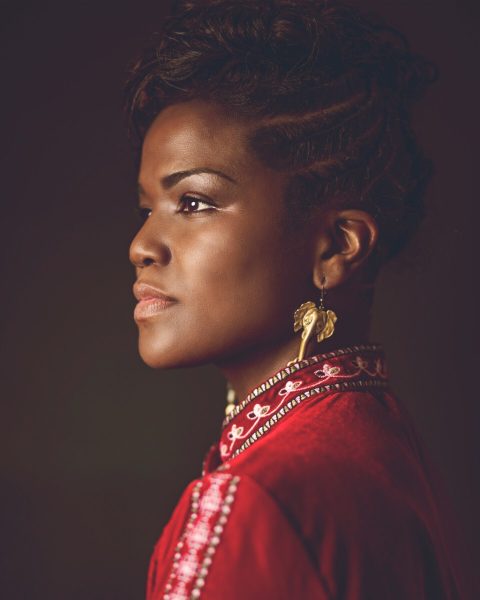 Aitina Fareed Cooke — a.k.a. "A.I. The Anomaly" — has masterfully folded Jesus into the art of hip hop. Proudly repping Buffalo's East Side, the Christian rhymer has been sharing her stories of struggle and faith through music since 2007.
---
Strongly involved in the community as a teacher, mother of two, and owner of her film and photography business, Get Fokus'd Productions, the talented rapper recently signed to one of the most popular Christian hip hop labels in the country, God Over Money. Transforming herself from beloved community contributor to rising touring artist, this multitalented femcee's message of hope and positivity is shifting more than just local hip hop.
"I know to do good and I know what's right, and I know what's wrong and I know that wrong is gonna tear me up, but it's so easy to do wrong…I was in a very dark space for a long time in my life," she said.
---
Aitina's powerful music was birthed from many unfortunate experiences when she was young. Losing her biological mother to a drug overdose at the age of 3 and moving within the foster care system as a child, Aitina suffered with grief early. Labeled a "failure to thrive" and "emotionally handicapped" at an early age, Aitina was hard to place within the system. She also had trouble coping at school and was constantly in and out of the principal's office, eventually being expelled, she recalled.
It was a few short years after the death of her mother, at the age of 7, that Aitina lost the man she had known as her biological father — only to discover he was not. The revelation sent her into a deep depression as a youngster.
"We had a lot of trauma. A lot of loss," she said.
However, some calm came into Aitina's life after these first tumultuous years, when her Christian foster mother made Aitina's adoption official.
This new matriarch kept Aitina and her siblings involved in activities in and out of church. Introduced to writing and photography soon after participating in a local program called "Yo! Buffalo," Aitina's interest in art became apparent. Traveling to different states like Arizona, Washington, and New York while learning about film and public speaking broadened her horizons as a kid.
"That kinda opened up my mind. Like, 'Oh, it's more than just Sherman Street. It's more than just Fox and Herman and the East Side of Buffalo.'…I held onto those things," she said.
---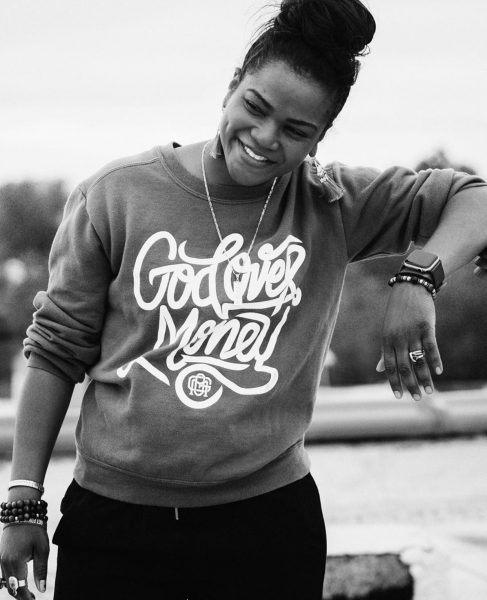 Although still devious as a teen, her eagerness to know and please God was always a constant — but it took time for her to get to that point, she said. As she became older, Aitina kept writing and would often find herself recording rap music from the radio. Inspired by her brother, who also rapped, Aitina would learn his lyrics and try to rap over beats.
"With a mother who was very COGIC, she didn't allow us to listen to secular hip hop so we had to sneak it…I would record Missy, Jay-Z, Biggie, Eminem…They were my favorites because they painted pictures…I was mesmerized by it," Aitina said.
While devoted to rapping, Aitina expanded her taste in music, listening to jazz and classical as well. Despite being underage, she became well-known for battle-rapping against grown men in the underground circuit. With a few recorded songs under her belt, Aitina was performing at popular Buffalo venues like Milkie's and Rendezvous — until she discovered she was pregnant.
"In order to be the best mom I could be and not make a cycle continue, I had to submit my all," she said. Giving her life to Jesus Christ in 2006, Aitina put music on hold but continued writing.
---
With her young son and new outlook on life, the introduction of Christian rap came at a serendipitous time in Aitina's life. She found popular faith-focused artists like Da' Truth and The Ambassador inspiring her newfound voice in rap — however, she still considered it just a hobby.
It wasn't really until she met artists from the Buffalo collective Rebel Against The World — Whoz Meech, Zaydok the Godhop MC, and King Shad, among others — that Aitina was empowered to take her music to the next level. Through funding and supporting each other in projects and shows, Zaydok and now Aitina are both signed to Christian record labels.
"We all just keep building, moving, shaking, you know? And they still my bros. I've been supported by a lot of guys in Christian hip hop, so it's dope," she said.
---
Describing music as her first love and the dark room her second, Aitina's obsession for the process of photo-taking soon led her from student to teacher. Aitina reminisced about one particular highlight from her often-troubled youth — having her photo appear in a local advertisement. The inspiration she felt from not only being acknowledged, but encouraged, led her to take a professional route with photography.
"This is my sacred place. No one can touch it, no one can deform it and shape it into what they want. I think that's what [photography] was for me," she said.
Teaching youth about film and photography, her sole purpose is to uplift her students. Studying greats like Gordon Parks, she helps students to pull their artistry from their experiences. Describing photography as a way to move out of vulnerability, Aitina motivates herself and others to move with purpose and not to live in fear.
"A lot of times the stuff that you think seems crazy, other people adore. I used to walk around thinking I was crazy taking pictures…In order to get a certain shot, I have to do stuff with my body. I might have to get on the ground to get a good shot," she said.
Culminating her love for music, photography, and writing as an effort to support the community is admirable, but for Aitina it's required. Her need to give and receive mentorship is what makes her a true renaissance woman. And with her tagline, "Go a.i." or "all in" she sticks to pushing her efforts in everything she does.
---
---
In 2011, Aitina reached out to popular Christian rapper and God Over Money spearhead, Bizzle. Introduced to him by Zaydok, Aitina looked to him for help and support with new music. After physically meeting him a year later during a series of rap concerts at her home church, their relationship as fellow artists began to take form. Citing that her song "Mommas" received radio play in Houston, Texas, Bizzle became interested in adding her to their roster.
"I never felt like I needed to be signed," Aitina said. "So it really depended on what their mission was…when [Bizzle] shared with me the mission, and I read it and I thought about the group, I'm like, 'This definitely aligns with what I stand for.' Putting God first before anything."
Officially signing to God Over Money this February, Aitina kept it a secret for almost 5 months before sharing it on social media this past June. Conveniently disclosed around the same time she dropped her most recent project, Blnknvs, her signing was the perfect preface to her current touring schedule with the notable record label.
---
"What do I want my audience to feel, what do I want them to see, what do I want them to smell. How can they get into this?…after all of your senses are heightened, what's your call to action?"
---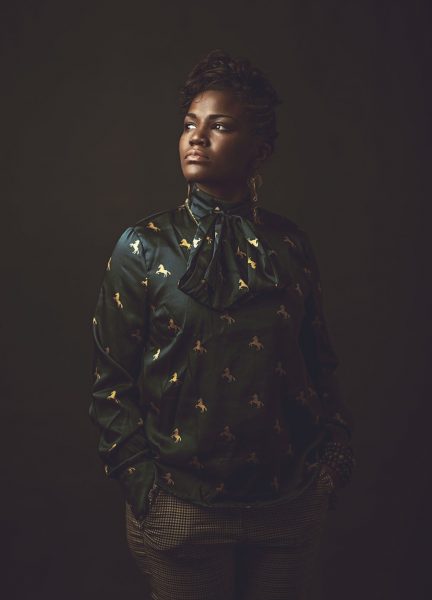 With a string of memorable, dynamic songs and standout hits this year, A.I. is skillful, not only as a wordsmith, but also with music arrangement. Popular singles like "Sippin' My Tea," "Weeping Woman," and "Eastside" all operate within a hypnotizing mid-tempo. Her ability to find undeniable pockets of grooves and add strong, self-reflective lyricism is what makes her so unique.
Referring to artists like Roberta Flack, Ella Fitzgerald, and Nina Simone, to modern acts like Tobe Nwigwe, KB, and J. Cole, it's no surprise that A.I.'s music has so much texture. Crediting her sense of sound to her grandfather who she recently discovered was a music professor, she also mentions Buffalo played a part in it, as well.
---
---
Nodding to local talent that's been receiving national acclaim like Westside Gunn, Benny the Butcher and Venzella Joy, A.I is excited to rep Buffalo while on tour and continue to contribute to the city. Her future endeavors include leading a showcase for the Anne Frank Project at Buffalo State College this fall, and to keep supporting her community and her family.
"I don't feel like I want to dominate as a woman in a space. I feel like I can coexist in a sense…I bring something to the table that's important in which we can work together as a team to make something great."