Whether it was MC-Lyte leveling the playing field in the male dominated industry of the '80s or Queen Latifah promoting cultural "Unity" in the '90s to the Lil' Kims, Foxy Browns, and Trinas exuding sexual prowess in the early 2000s, women have always redefined hip hop. The historic storytelling of femcees spitting the struggles and luxuries which exist specifically at the intersection of blackness and womanhood has contextualized the genre into what it is today — an international phenom. With a growing, younger generation of women leading female rap's new school, it shouldn't be a surprise the Queen City has its own group of budding lyricists and hip hop hopefuls. Whether it's faith-filled testimonies or concrete jungle tales, Buffalo's female rappers present a quality and style that looks promising on both the local and national scene.
Part I of this series, featuring 7xve the Genius, can be found here, and Part II, featuring Desiree Kee, can be found here.
---
---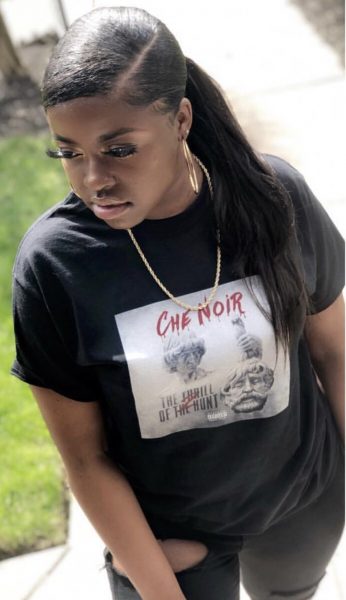 Giving a youthful energy to the gritty, iconic sounds of golden age hip hop is Marsché Lawshawne Black, a.k.a. Ché Noir. Starting out as a casual producer, the Buffalo native has made a major impact on the local rap scene in a very short time. Her effortless integration of expressive punchlines and thorough storytelling is almost overwhelming — especially when you consider that she's only 25. Pulling listeners into immersive street tales and hard truths with a superb flow, the fiery femcee's growing reputation in Buffalo makes her one to watch. 
---
"Flashin' back to '09, '09/ Put my pen up to that pad and wrote some dope rhymes, dope rhymes/ I'm just tryin' to get them Star-bucks so I express–so much of my life/ Hopin' these people relate."
---
Marsché Black's developing years as a teen and young adult is quite elusive. With 2019 being her breakout year, first with the album Thrill of the Hunt, and most recently, Thrill of the Hunt 2, her ascending star is burgeoning on prolific. Defining her youth simply as "a struggle," it's safe to say much of her life story is embedded in the music.
---
---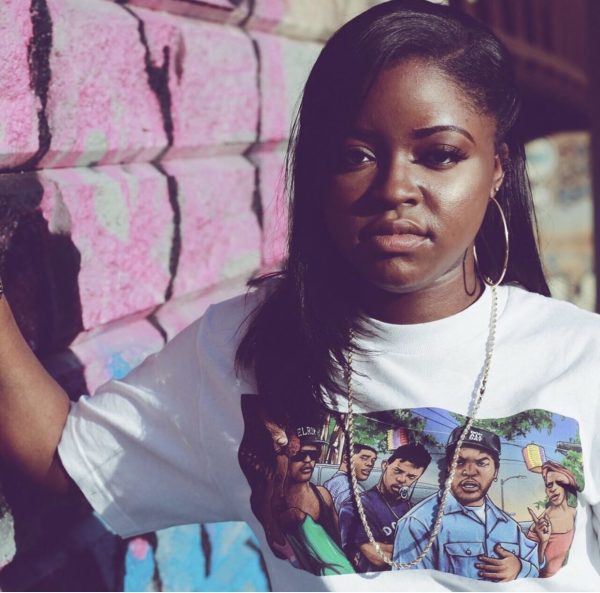 With a quiet transition from beat maker to rapper, Marsché was able to distinguish herself as a competent artist very quickly. Marsché credits her growth to the support of friends, family, and fellow counterparts, including one of her first major supporters, Benny the Butcher. Illustrating his faith in the rising rapper, Benny, a well-respected heavyweight in Buffalo's hip hop community, lent his flow as a feature on TOTH.
Sampling popular boom bap tracks and rhyming over them with ease, TOTH ushered in what the emerging emcee had always planned.
---
---
Racking up over 25,000 views on her visual for "The Fall of Rome," a popular single from her latest release, Thrill of the Hunt 2, shows how much growth the artist has made in just a few months.
Heightening the explosive lyricist's knack for metaphors and well-calculated banter, TOTH 2 received critical acclaim from some of hip hop's most lauded voices. From popular music commentator Wayno to hip hop veteran Rapsody, the impact of TOTH 2 brought classic rap music to the forefront. As an added accolade, DJ Premier of Shade 45 showcased Marsché's music on Sirius XM this past July.
"It felt good to have Rapsody shout me out. I've been a fan of hers for years. Someone told me she was familiar with my music, but to have her shout me out was dope," Marsché said.
---
Loaded with puns, double entendres, and a hint of eloquence, the blunt rhymer's verses are magnetic. Marsché Black's dynamic lyricism is assisted by very specific production from notable rapper/producer 38 Spesh.
Signed to 38's music label Trust Comes First (TCF) based out of Rochester, New York, Marsché's collaboration with Spesh, specifically on "Dying Breed," also from TOTH 2, awakened the somewhat dated style of cat and mouse wordplay. Marsché and Spesh's work with TOTH 2 is setting precedent to the evolving sound of upstate New York hip hop.
Above all, Marsché Black's gripping tales about gang life, hustling, and love creates a complicated yet interesting perspective. Her ability to evoke emotions of both conviction and fearlessness as a young emcee has elevated the local rap scene. Currently performing a string of shows in the Big Apple, stay up to date with Ché Noir at her website, IG, Facebook, and Bandcamp.