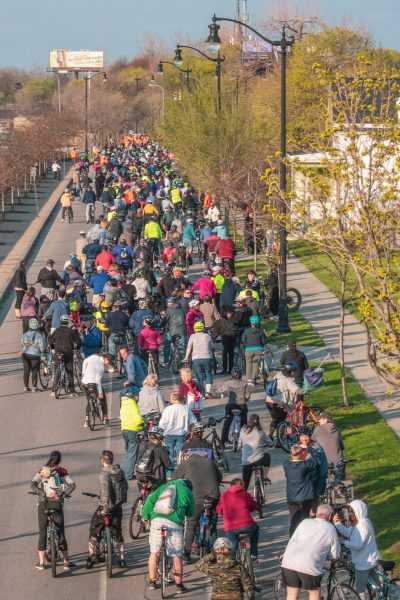 The bicycling community in Buffalo has grown exponentially over the course of the last several years, thanks in no small part to the efforts of non-profit advocacy organizations GObike Buffalo and Slow Roll Buffalo, and insurance providers Independent Health, who have fostered the wellness movement in WNY and sponsored the recent addition of a public bike rental system — Reddy Bikeshare — throughout the city.
The number of cyclists seen regularly on the streets of Buffalo — whether commuting daily to work, taking part in a weekly community ride, or out on a leisurely weekend spin around town — has dramatically increased with these advocacy efforts, in conjunction with efforts by the city to increase safety precautions for cyclists. These precautions come in the form of new bike lanes, "sharrows" (arrow stencils on the city's major thoroughfares to denote a shared lane with motor vehicles), and sponsored bicycle tours.
The result of such efforts is an overall larger number of folks venturing out independently on two wheels, as well as coming together regularly to ride bikes and celebrate a healthier, economical, and downright fun way to experience the city.
This Sunday, May 19, marks the sixth annual SkyRide, Gobike Buffalo's annual fundraiser event, which invites the public to see the city as they can only once a year — via the intercity highway system, beginning with the 100-foot-high Buffalo Skyway, and continuing onto the Kensington and Scajacquada Expressways.
Qween City chatted recently with three organizations working to bring visibility to bicycling in Buffalo, specifically in the women/-identifying space. With an overall increase in visibility comes a need for full representation in the community; these orgs are doing the work to make sure inclusivity is a continuous part of the conversation on cycling in Buffalo.
---
Explore Buffalo
Explore Buffalo offers bus, boat, kayak, walking, and bike tours highlighting architecture, history, food, art, and more. "Leading Ladies" is a women-centric tour celebrating the contributions of Buffalo's women leaders throughout history. This tour travels through Buffalo's downtown and Allentown neighborhoods, stopping to hear the stories of women who have made notable contributions to Buffalo and national history, said Brad Hahn, Executive Director of Explore Buffalo.
"These women have played a significant role in shaping our community, including many of our community institutions, and this tour will visit many of their homes and workplaces to tell their story and how they have impacted Buffalo and the nation," he said.

These tours — offered as walking, bus, and bike tours — were created with the support of the Junior League of Buffalo. "We recognized that there was a significant part of Buffalo's history that could be told through tours devoted entirely to women's history, and the support of the Junior League made that tour development possible," Hahn said.
Research for all of Explore Buffalo's tours is done by volunteer docents, who utilize a variety of sources, including the research libraries at the Buffalo History Museum and the Buffalo & Erie County Public Library. "Our docents unearth volumes of information about the tour topic that is then organized into a tour narrative that will be engaging for the public. One of the most difficult tasks is limiting the information to keep the tour within a 90-minute to 2-hour timeframe!" Hahn said.
Currently there are 10 different bike tours available throughout the season, offered on a rotating basis from May through September. Explore Buffalo has also partnered with Reddy Bikeshare to offer discounts for those who need to rent a bike in order to take a bike tour, Hahn said.
Stayed tuned to Explore Buffalo for their upcoming tour schedule, and mark your calendars for Doors Open Buffalo, happening Saturday, June 15. During the course of this one-day event, new to Buffalo in 2019, 30+ buildings in the downtown area will be open for free to the public.
---
FTW Cyclists of WNY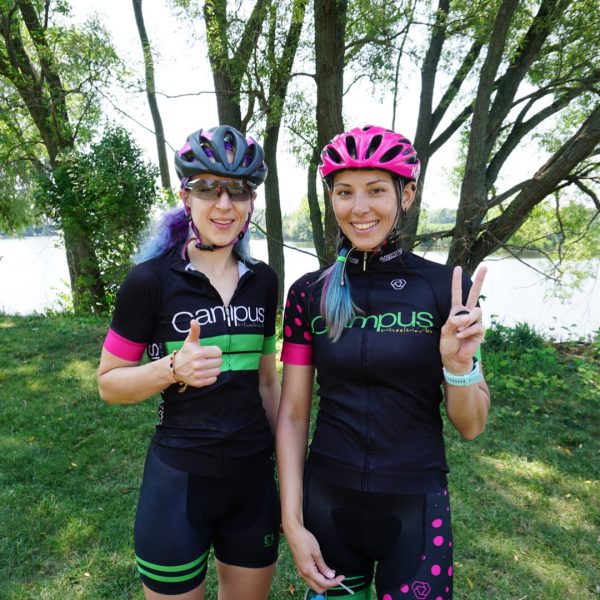 Jenn Kowalik — inventory manager at Campus WheelWorks and brand ambassador for Liv Cycling — is the founder of FTW Cyclists of WNY, an organization dedicated to cycling in the femme/trans/women ("FTW") community. Kowalik offers informative clinics during the slower season (such as bicycle maintenance), and group rides during the "better weather" seasons.
"The cycling world has really thought of womxn as an afterthought at best, and I'm really tired of that mentality. Womxn ride bikes! I want the industry and community as a whole to acknowledge and respect us," Kowalik said.
Although Kowalik didn't ride her first bike until she was in her 20s, she swiftly became engrossed in the community. "I get an interesting view on the cycling lifestyle since I commute by bike year-round but I still ride for fun. Plus, being new to cycling is NOT a distant memory for me so I feel for folx when they want to get started but get overwhelmed by it all," she said.
Although cycling can still be somewhat viewed as a "boy's club," the number of women/-identifying folx is steadily increasing, and Kowalik wants to be sure that an inclusive space is available to those new to cycling or simply tired of the status quo. "I want womxn to have the safe space to feel comfortable and confident with themselves (and their bikes!)," she said.
Join the FTW Cyclists community on FB or visit the calendar at Campus Cycling Collective to stay apprised of upcoming group rides that alternate between leisurely/casual and fast-paced. Mountain bike group rides will be offered beginning in June, Kowalik said. "I'm excited to check out the launch of the mountain bike trails at Outer Harbor on Memorial Day weekend," she said. "I don't have an official event planned, but figure I'd put a call out closer to the date to see if anyone wants to join in on the fun."
Look for Jenn at SkyRide this Sunday — the Campus WheelWorks crew will be leading the way this year.
---
The Buffalo Niagara Womxn's Bike Festival
The inaugural Buffalo Niagara Womxn's Bike Festival was held this past March at the Science Hall Commons at Canisius College, to great acclaim. Gobike Buffalo staff member and event co-producer Cindy Wood explained the scene: "The event was filled with workshops, networking, and discussions. Some of the different workshops we provided were fix-a-flat/basic maintenance, commuting basics, navigating workshops: their jargon and their intimidating factor, and cycling beyond pavement. We also had Georgena Terry, founder of Terry Bicycles, as a guest speaker," she said.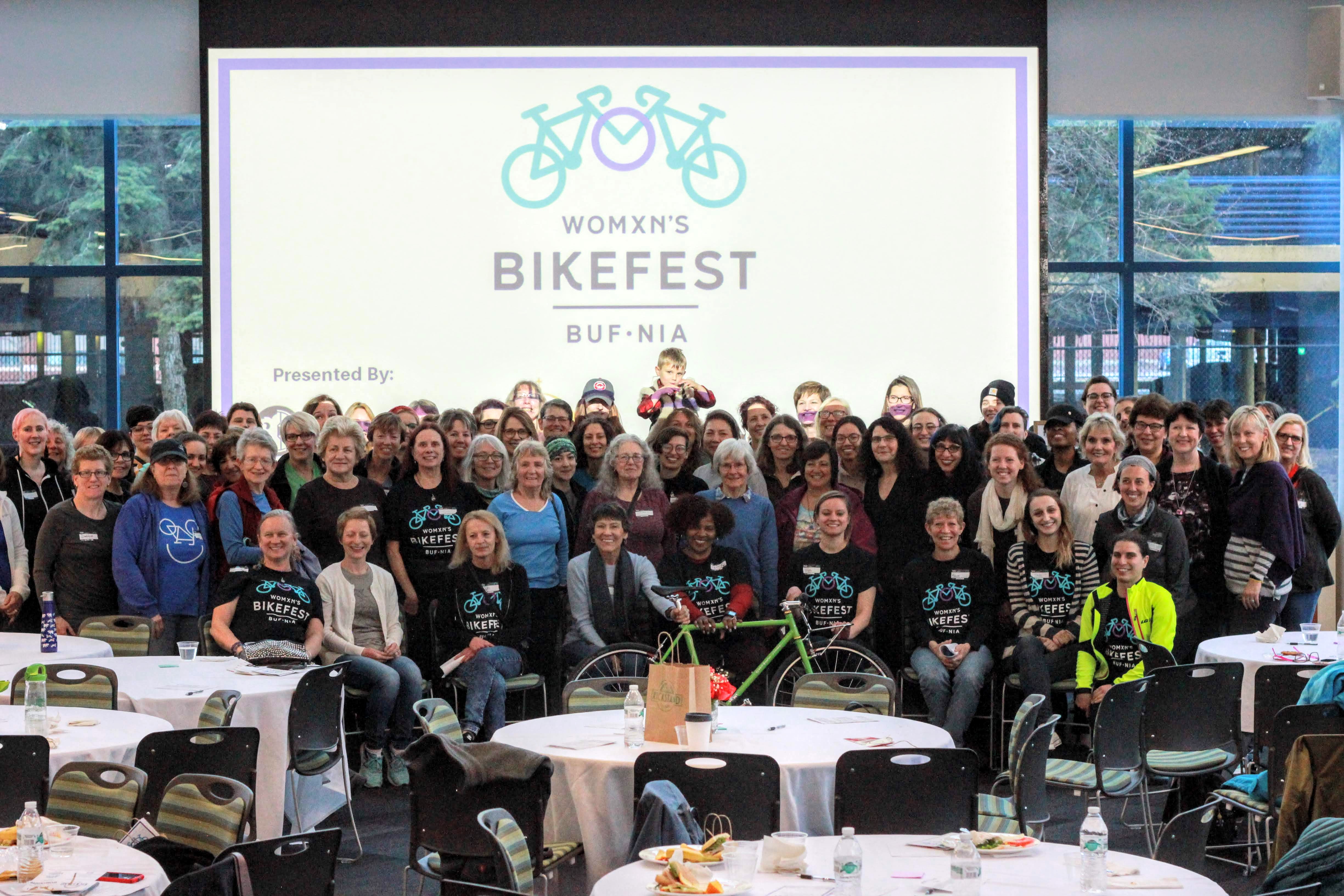 This festival, which hosted approximately 100 participants, was the first of its kind in the Buffalo/Niagara region, according to Wood. "There has never been an exclusive event to celebrate womxn and cycling. That needed to change," she said.
"We wanted to create an event that encourages those who identify as women, trans, femme, non-gender conforming and non-binary to feel safe and welcome in the cycling community."
Wood has advice for those new to cycling who might not know where to start: visit a local bike shop, she says.
"Gaining some sort of base knowledge about the type of riding you'd like to do is so important," Wood said. "Some local bike shops also offer rentals — this could provide an alternative perspective before you commit to buying a bike. For those who already have a bike and are just looking to network, I strongly recommend getting involved with local group rides to get to know fellow cyclists in the area and to figure out what your preferences are with speed and distance."
---
Colored Girls Bike Too
In 2017, activist Jalonda Hill founded Colored Girls Bike Too after she noticed a shortage of women of color in the Buffalo bike community.
"After much research, I learned that there were no intentional spaces for Black women who bike in Buffalo," she said. "Determined to connect with other Black women/WOC who bike in Buffalo, I created a Facebook group where Black women/WOC could connect with each other, gain support, knowledge, and empowerment. CGBT has now expanded its efforts to bike rides, bike workshops, and other community-oriented events!"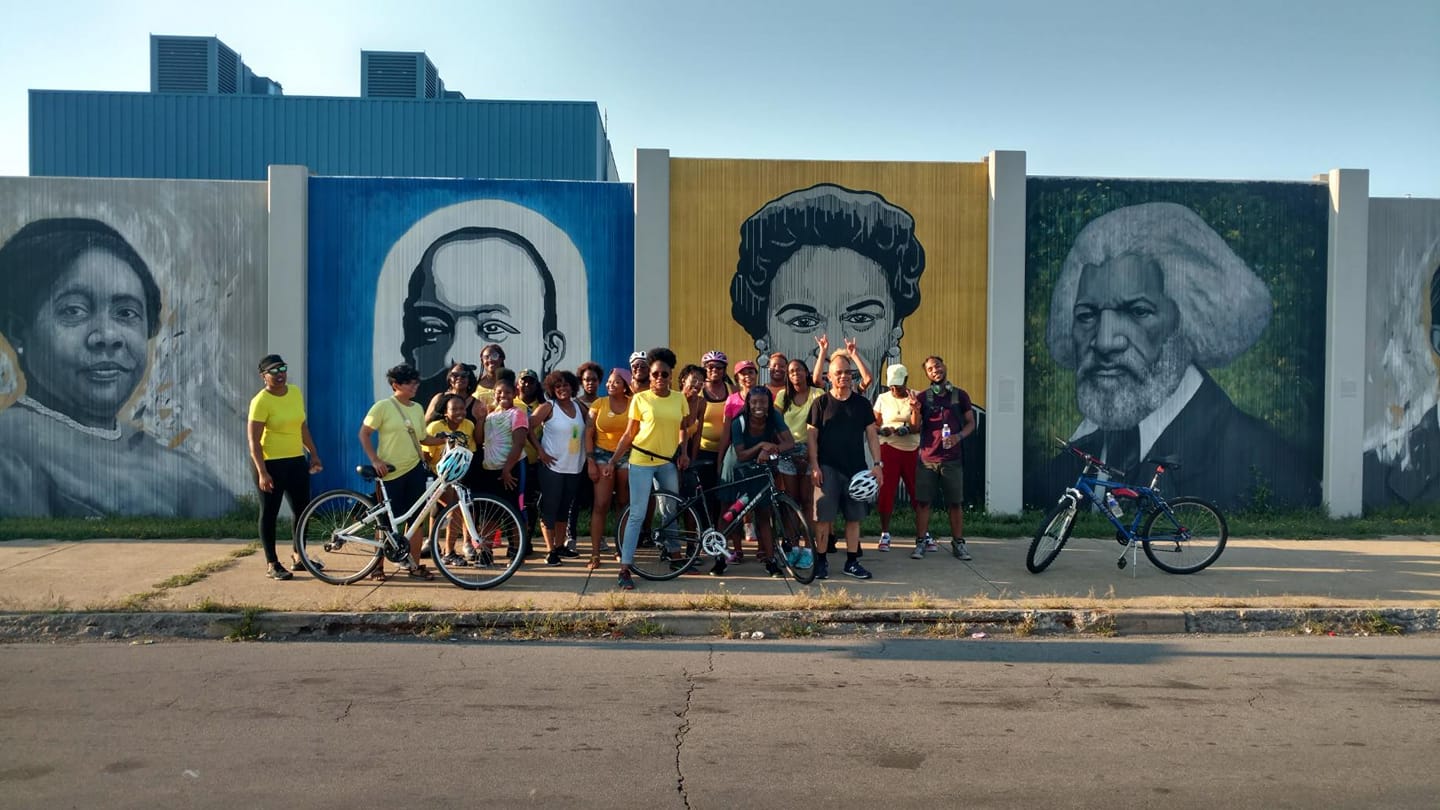 Hill is working to change the narrative about biking in communities of color, and specifically with women of color, with the goal of destigmatizing biking and increasing comfort levels in these communities.
"Colored Girls Bike Too seeks to encourage all those who identify as Black women/WOC and gender non-conforming folks of color/Black to use bike commuting as alternative transport, as a tool of empowerment and a tool for physical and mental health," she said.
CGBT will be giving away registration spots to SkyRide on May 19. "This will be great because it will give the women access to a bike experience they may not otherwise affordably access," Hill said.
Stay tuned to the CGBT FB group for upcoming events and rides, including bike commuting 101 and bike mechanic workshops.
---
To keep up with all of the cycling activities in and around Buffalo and WNY, be sure to connect with GObike Buffalo on FB and Instagram, join Slow Roll Buffalo on a Monday night and/or Campus WheelWorks on a Tuesday night, #askapunk about the Midnight rides on Sunday nights, join the guys of the newly formed Buffalo Bike Tours on one of their casual history tours, grab some pals and head over to Explore Buffalo for any one of their myriad tours available, or simply build a self-guided tour through the city's streets and trails, now more prevalent than ever in our own backyard.
It's not too late to register for this year's SkyRide, FYI. The ride sets off at 9 a.m. Sunday, May 19, from LaSalle Park. Online registration closes Tuesday, May 14, at midnight. In-person registration will be offered from 4-8 p.m. Friday, May 17, from 4-8 p.m. Saturday, May 18, and from 7-8:45 a.m., May 19, in LaSalle Park.
---
Lead & feature photo by Nate Peracciny, courtesy of FTW Cyclists of WNY.