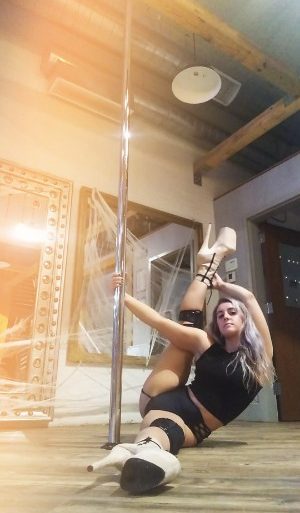 I was born and raised in Buffalo, NY. I am 23 years old, and I graduated from Nardin Academy and Canisius College. I have degrees in Finance and Economics. Apart from being a pole instructor, I am an analyst at a business valuation firm.
---
What is your primary role at SWEAT? How long have you been with the studio? Where else do you instruct, if anywhere? What is your major area of expertise?
I found out about SWEAT 716 roughly a year ago. I was driving down West Tupper (where the old location was) and saw a group of girls taking a pole class. I knew I had to find out more about this place because it was my dream to take pole dance classes. I went online and signed up for their Six Week Challenge, and about a month into it, I finally took a pole class. It was an instant obsession. I went to four pole classes a week for the remainder of the challenge and then for the next consecutive Six Week Challenge as well. I started pole November of 2018 and was asked to be an instructor in May of 2019. I currently teach Intermediate Pole. I also have particular interests in pole dance choreography, especially exotic style. 
---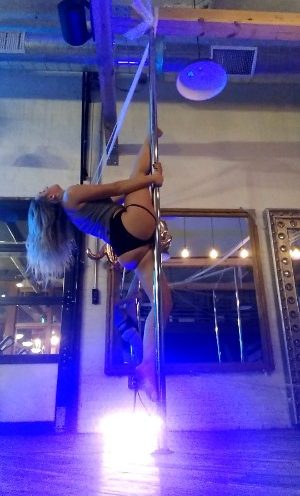 Do you have any other words of wisdom or advice you can share with people considering a new fitness journey in 2020?
As I am not the typical fitness instructor, I can really only speak to pole dance. I know there are many women and men who are nervous or too intimidated to try pole. To that, I say just take a damn class. Just do it. Bring a friend, too – the more the merrier. Pole dance is, in itself, an intimidating hobby to take up. In the long run, it requires upper body strength, core strength, and flexibility. But you don't need any of that shit to START – you naturally gain it along the way.
I can, without a doubt, say that since trying pole dance, my overall quality of life has increased. I am happier, more confident in myself, and I have gained muscle and flexibility. But the best part about pole dance is the group of amazing women I met. Women who empower each other to succeed not only at pole but in all aspects of life. We build each other up, and all of our individual achievements are celebrated by everyone. I have never found another sport or form of fitness that creates such an unbreakable bond between women. So if you have ever even considered taking a pole class, just DO it. It does not matter what your fitness background is, how physically strong you are, how flexible you are, or what your body looks like. EVERYONE looks good on a pole, and EVERYONE can be a pole dancer.