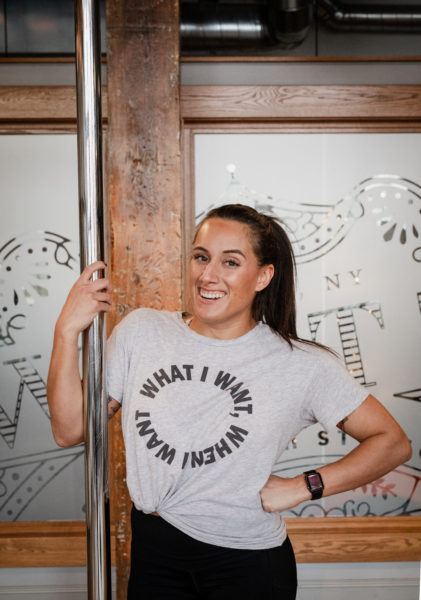 I was born and raised in Syracuse, where I went to an impossibly large high school, played sports, sang and danced in local musical productions, and learned how to drive first on ATVs with my baby brother. He's now 22 and also the reason I know how to change my oil myself. I have my BA in Adolescent English Education from Fredonia, and my MS in Higher Education and Student Affairs Administration from Buffalo State where I presented my thesis on collegiate athletes experiencing unplanned departure from sports. I live with my husband, our rescue dog and former subway cat, and I like throwing axes and practicing aerial arts and Brazilian Jiu Jitsu in my free time!
---
What is your history with the health & wellness/fitness world? How has your trajectory brought you to where you are today?
First and foremost, my mom is a physical therapist. As far back as I can remember, she was using me to practice mobility testing, normal range of motion, etc. It's strange that I didn't immediately follow in her professional footsteps; in retrospect that would have made the most sense! Both of my high school boyfriends are now physical therapists, and my now-husband is a strength and conditioning coach.
I was always very active: gymnastics for over a decade, soccer, track and field, yoga, every kind of dance I could get into (ballet, jazz, tap, ballroom, belly dancing, hip hop). But when you graduate out of organized sports, there are few outlets for competitive athleticism. I tried my hand at bodybuilding, learned a lot about anatomy, physiology, nutrition, and ultimately pursued some basic certifications. I started teaching group exercise classes and did a little bit of personal training in Buffalo before I moved to Philadelphia and really threw myself into the world of wellness.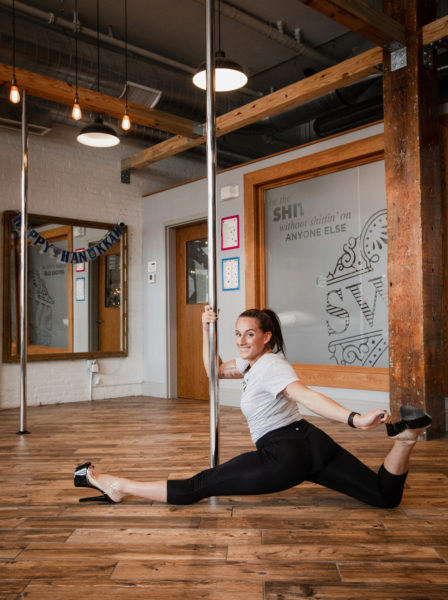 Being in a new city with new friends was so lucky for me; I became really close with my fellow coaches there (I still am), and grew more as a fitness professional at that time than ever. I was promoted to head coach at my gym there, and got my certification as a Functional Strength Coach, under Mike Boyle — one of the most well-known and influential living coaches. He works with major league teams and Olympic athletes. I've been following him for years now, and have had the incredible good fortune of attending his lectures, training at his gym outside of Boston, and grabbing a beer with him.
The lecture circuit I was exposed to while coaching in Philadelphia introduced me to fitness professionals such as Sue Falsone (a Buffalo native and the first female strength and conditioning coach of any major league team), Ingrid Marcum (former gymnast and Olympic bobsledder), Molly Galbraith (founder of Girls Gone Strong), and Dana Santas (mobility expert working with some of the world's top athletes). Each one of them is a prime example of a woman blazing an incredible trail in a male-dominated field. I eat up their research and literature and look up to them as exemplary fitness professionals.
Now, I'm a Certified Functional Strength Coach, a Precision Nutrition level 1 Coach, a USA Weightlifting Sports Performance Coach, Barre Intensity trained, and SafeSport and Fitness Instructor Certified through USA Gymnastics.
---
What is your primary role at SWEAT? How long have you been with the studio? Where else do you instruct, if anywhere? What is your major area of expertise?
I started with SWEAT as a pole instructor! After years and years of gymnastics and dance, I started pole dancing at Pole Haus in Philadelphia and was hooked right away. MJ and I had worked together before I ever started pole though, so she put me on the group ex schedule pretty soon after starting in March of 2018. These days I teach pole, glute camp, HIIT, sometimes barre, occasionally spin, and I have personal training clients 4-5 days a week as well. I am really into the longevity of training. I like to coach from the belief that my clients want to reap the benefits of a long and mobile life. Of course, some people come to me for weight loss or rehab, but at the end of the day, it all points to being able to move better, for longer. I design my programs to mitigate injury, and build longevity.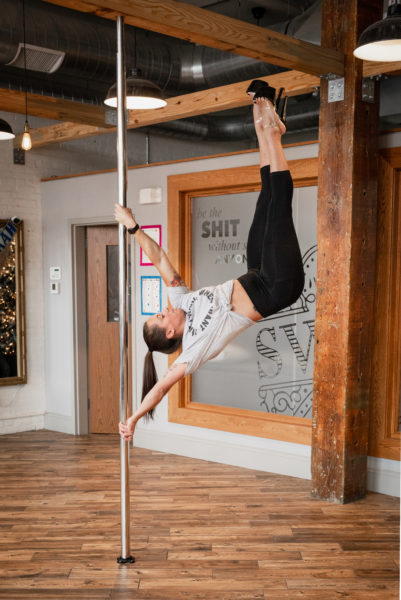 And just for fun, I also coach gymnastics in Getzville.
---
Do you have a particular ethos about health & wellness/fitness that you wish to share or that would be inspirational to someone coming into the world with no prior knowledge or experience?
I'm not sure I can characterize my own words as inspirational but here's why wellness is important to me, a non-religious person: you were born with an amazing body. No, don't argue with me here. If you are reading this, you have eyes that work and a brain that processes language. If you typed this website into your browser, you have hands (and opposable thumbs!) that allow you to grab, pull, embrace, etc. If you are breathing on your own right now, your body is already performing incredible tasks to keep you alive.
It's not just the athletic, Olympic bodies that deserve awe and praise. It's all the bodies that do whatever is necessary to keep you alive. That goes for differently-abled bodies as well. I grew up close to a boy in a wheelchair. His arms and legs don't function the way they should. That boy is now a man who lives in his own home and plays power soccer for the U.S.! His commitment to preserving and celebrating what his body can do is more than enough to remind me to never take for granted what my able body can do.
I'm not asking you to run a marathon or lift all the weights or only eat broccoli. I'm just asking you to thank your body for keeping you safe, and to treat it well. Drink water, eat veggies, and move your body from time to time. It will thank you in the long run!
---
Do you have any tips/tricks you can share on how to succeed in reaching personal health & wellness/fitness goals? What are some best practices you've developed or witnessed in your time as an instructor? Some of the biggest or most common mistakes one makes when embarking on this journey?
YES I DO.
Step one: find your "why." I'm paraphrasing Simon Sinek here, so if you're familiar, you know what I mean. Here's an exercise: ask yourself what your goal is. For example, let's say you want to lose 20 pounds. Okay, why do you want to lose 20 pounds? "Because I'll fit into those jeans I wore in high school." For the moment, we can suspend the conversation about why an adult doesn't need to even try to fit into the jeans they wore as a teenager, and instead ask, "Why do you want to fit into the jeans you wore in high school?" "Because I felt better about myself then." … "Why did you feel better about yourself then?" …. "I guess I was more confident."…. DING DING DING! So, is your goal to lose 20 pounds? Or is your goal to be more confident?
This exercise is one of the most revealing things I do with my clients. People's "whys" range from confidence, to marital happiness, to being able to raise children or play with grandchildren. It's an incredible privilege to learn what truly motivates people, but they have to figure that out themselves first.
Step two: do what makes you happy. If you FUCKING HATE Brussel sprouts, don't eat them… but do find a vegetable that you can tolerate. If you force yourself to the extremes that you hate, healthy habits will never last. If you HATE RUNNING (like I do), don't do it! There are 18,000 other ways to work up a sweat. Take up boxing, Bikram yoga, pole dancing, Zumba — literally anything that you can envision yourself looking forward to. If there comes a point when you stop looking forward to it, try something new. You can always come back to your beloved Zumba class later.
Exercise should never be a punishment; it's a celebration of what your body can do.
---
Do you have any other words of wisdom or advice you can share with people considering a new fitness journey in 2020?
I'll continue from my previous answer:
Step three: think critically, and demand evidence. This is just a good one for life. Don't believe that person trying to sell you saran wrap for your belly. If someone is asking for your time or money, you have every right to ask for their credentials. A good, qualified coach/trainer/dietician/etc. won't be offended; they'll respect your attention to detail when it comes to deciding what goes in your body, and what you put your body through. It's YOUR body, time, and money. You get to ask all the questions you want, and I encourage it. Investing in your health is the best money you will ever spend, so be selective and have high standards.