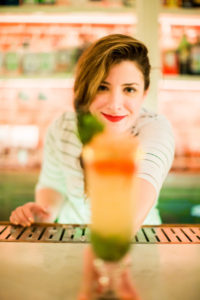 Rachel Herman-Gross has steadily made her way onto the city's list of placemakers in the two and a half years she's been home. And she makes a damned mean Queen's Park Swizzle.
"It's fresh, it's got a bitter note to it, it's got a sweet note to it, it's got a sour note to it; it hits all of the flavors and it's still refreshing and it feels luxurious to drink, which I think is important," Rachel said, describing her favorite rum drink of the season. "If you're dropping $10 on a single drink, it should be a luxurious experience from start to finish."
---
Rachel is the woman at the helm at the newly established Angelica Tea Room on Washington Street. You know, the old Club Diablo space. Yes. That space. And while the whimsical interior of artisanal wall prints, purple underlighting, and antique teaware of Angelica belies the prior metal bar's dark, blood red moodiness, the sense of communal tapestry remains intact.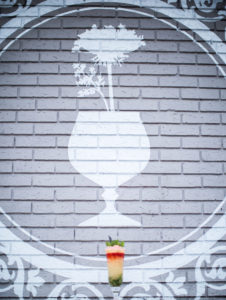 "What I like about places that are more bar-centric, like here, and your run-of-the-mill dive bar, is that they're more egalitarian places," Rachel said. "It's not really about social class and street cred anymore, it's really about being around people and being social, in a way that I think we've gotten away from in culture as a whole. The tech side of everyone's world is so much bigger than everything else. I just want to sit down in a bar and get a beer, ya know?"
---
This is the crux of Rachel's career ethos – creating a sense of place for people. Back in New York City, where she was for 13 years before moving back home to Buffalo, Rachel gleaned a respect for the industry under the tutelage of former boss Mark Quinlan. "I had been working in bars and restaurants for a while at that point, but he was the first person that really instilled in me the idea of this business as a hospitable environment," she said. "What you're really trying to do is make sure people feel relaxed, and happy, and at ease in the space, and it's much more important to do that than to make sure that they're dropping a bunch of cash."
She brought this philosophy back with her in 2014 when she moved home at age 30. It was the perfect time for her to be coming back; the proliferation of 'cocktail culture' was beginning to make strides and the city was eating it up. Buffalo Proper had just come onto the scene to join the likes of Vera Pizzeria in the art of the handcrafted cocktail, a relatively old/new art in this corner of the Rust Belt — Prohibition firmly in the past, the shadows informing a colorful modern day.
Negroni Week, a global movement launched in 2013, settled in Buffalo a couple years later. An "effort to raise money for charities around the world," the grassroots movement implored establishments across the globe to donate proceeds from sales of the classic drink – the ingredients: campari, gin, vermouth, fin – during one week in June. Immediately several local establishments were on board.
But it was after a Negroni Week snafu with an old employer in 2016 that Rachel had to call new friend and one of Negroni Week BUF's organizers, Kerry Quaile, to let her know they could no longer commit to taking part in the city-wide event. In fact, it was one of the reasons she left her employer.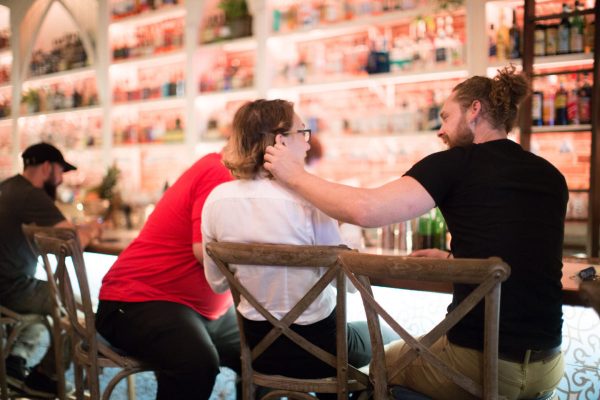 "Well, where are you going?" Kerry asked.
"I don't know," Rachel replied.
"So you're just quitting your job and you have no job."
"Yep."
"I'll call you right back."
That next Tuesday Rachel met with Jon Karel, co-proprietor of Buffalo Proper and soon-to-be co-owner of the Angelica Tea Room.
Jon told Rachel about the Angelica, and got her on board as a tender for his soon-to-be-realized spot. However, the space was still a year out from completion. She asked if she could do anything else in the meantime, which got her behind the pine at Proper for 10 months. Then Rachel and Jon started talking Angelica.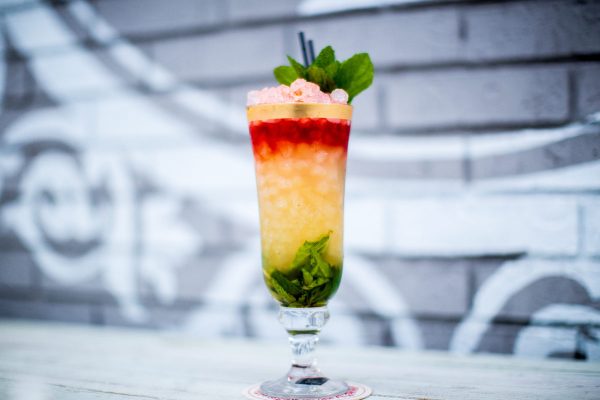 "That was cool because it allowed me to have a lot more input on the opening staff and a little bit of the decor…Jon and I did the menu together over the course of several months," Rachel said.
Throughout this process, a natural progression was occurring. In meeting with co-owner Harry Zemsky, Jon introduced Rachel as the manager of Angelica — before even telling her. "It totally caught me off-guard because we had been talking about how that position was going to develop over time and the right fit would evolve naturally. I totally blushed," she said.
"Luckily we were in a dark bar at the time."
---
We got rid of the descriptions on it on purpose to build a dialogue with the guests.
Classics got tweaks in their quest to become the most delicious versions of themselves. "Classic proportions aren't really suited to the modern palate anymore," Rachel explained. Certain drinks came through too sweet for the modern palate, or there were better quality ingredients that could be procured.
But what of these classics? A succinct list of throwbacks that pre-Prohibition tenders knew by heart, standbys that they had perfected for their clientele. In the 1920s, they had to stop. They went elsewhere.
"A lot of American bartenders were forced abroad because they didn't want to leave their profession, but they couldn't work in the States anymore," Rachel said. "They ended up in other places and had access to all this new, weird, different stuff, like absinthe and some of the more fruity liqueurs that they hadn't had access to, and it created this whole new set of drinks."
It's this set of drinks that has cemented itself into the classic Americana cocktail. A thing gained from the past, a memory, with ingredients of the future. A trust in a person to give one exactly what one needs in a particular moment – which you'll need at Angelica unless you just happen to know the make up of a Death in the Afternoon, a Vesper, or a Corpse Reviver #2.
"There's a couple of things that made it onto the menu because they're either so popular, or so iconic that we kind of let it slide, like: the history of the margarita is really murky still to this day, but if you want the most iconic tequila cocktail, that's it. Old Fashioned and Manhattans are definitely pre-Prohibition U.S. drinks, but they're just like, super standard. If you're going to have a cocktail bar, you have them on the menu."
---
This is a new concept for Buffalo, and people were hyped yet still a bit apprehensive. "It started off a little rough, because we were trying to do, like, a higher level of hospitality where it was seating only, which just didn't go over too hot with Buffalo's echelons of party-going, lively drinkers, which is cool!," Rachel explained with a laugh.
"We've morphed a little bit. We still try to, as much as possible, give table service at all the tables, and very intimate, personalized service in terms of describing the menu. We got rid of the descriptions on it on purpose to build a dialogue with the guests."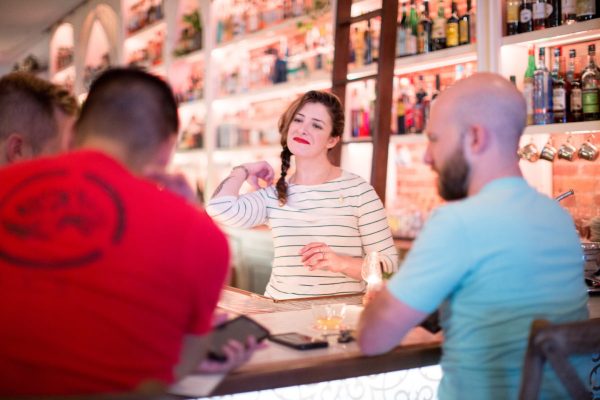 You don't need to Google, guys. It's here you can be personable, and interested, and take note. Rachel insists on such:
"I have definitely come to this place where I'll see people Googling, and just to sort of disarm them I'll say, 'I'm faster than Google. If you want to talk about it, I'm here for you.' As sort of a little bit high concept of a place, we're really going for the opposite. We want people to be comfortable asking questions and inquiring about things in a way that just sort of demystifies cocktails. I feel like people have this notion that they're like, this high society thing that isn't accessible to everyone, which is just not true."
 As for her scene 'wishlist,' Rachel is thrilled to see more women than ever before involved in the cocktail culture. "I was almost immediately sold on this project when Jon told me that he wanted it to be a more feminine environment. There's a lot of this dark wood, button-down, whiskey forward, mustached, aura to cocktails, that I think — not necessarily that it's over, but just that it's overplayed," she said.
"I'm also into the idea of cocktail bars becoming a little bit more casual and approachable, and having menus that have a little bit of something for everyone…It doesn't always have to be this precious thing. You can definitely still be making great cocktails and having a really great time and having fun with it and not being too serious. I think we're too serious as a culture to begin with, and where's the fun in that?"
---
Photos by AlanAdetolArts, L.L.C. – Birdcage Studios – Buffalo, N.Y. 14213 –[email protected] 
© 2018 AlanAdetolArts Photography LLC. All Rights Reserved. All images on these pages are copyrighted. Use or reproduction without prior written permission is prohibited.