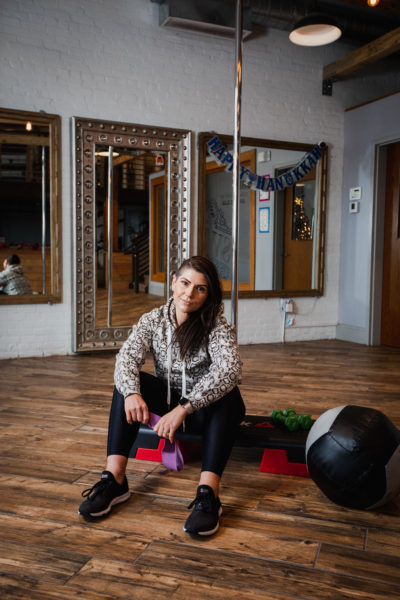 When MJ turned 14 in February of her freshman year in high school, she had only two gift requests — a gym membership and to hire a personal trainer.
"I was overweight — obese, as the doctor said. In fifth grade I was 200 pounds. Which was fucking terrible, to be 200 pounds in fifth grade. The worst thing ever."
MJ Karp, Head B-In-Charge at SWEAT 716, a boutique group fitness studio, strives to make fitness accessible, unintimidating, and FUN. Now almost 14 years into her career in fitness, MJ emphasizes that obsession is not the goal here.
"Don't be fixated on anything, working out included," she said, when asked to describe her personal ethos for the work. "Just make it something that you do, like brushing your teeth or taking a shower. Are you obsessed with brushing your teeth or taking a shower, and that's all you focus on all day? No. It's part of your routine. You get up, you take a shower, you brush your teeth, and you go about your day. That's how I feel like fitness and eating should be. Like, let's not think about it too much. You get up, you take a shower, you go to the gym, you eat healthy, you come home, and that's it."
---
Steadfastly resolute in her determination to uncover her strength, MJ trained from the time she received that gift of a gym membership and personal trainer in February through that following summer, losing 60 pounds by working out three days a week and cleaning up her diet, she said. After her training sessions came to an end, MJ continued the work, losing another 30 pounds between her sophomore and senior years.
"It's so funny because it seems like it was so long ago, but I still remember the feeling like it was yesterday," MJ said, remembering back to her 14-year-old teenage self, now almost 18 years removed.
The summer after high school, MJ set off to get a job before the start of the college year. "My mom said, 'Pick something that you can get a benefit out of. If you like to work out, work in a gym.'" She landed a gig behind the desk at the BAC on Niagara Falls Boulevard, effectively getting that free gym membership.
She began classes that fall semester at the University at Buffalo, seeking a degree in accounting, with a minor in Spanish and international business. Ironically enough, however, she still had to live that college kid life, constantly broke and looking to make a few extra bucks whenever possible.
"I would skip classes at school to pick up extra shifts at the gym," she laughed. "I wasn't even mad about it."
The ratio of working-to-studying soon started to tilt directly in work's favor, and come sophomore year she accepted the fact that school just wasn't her path. "I failed all of my classes. Like, failed out. Didn't just drop out. Failed. Because I never went," she laughed. "I was like, 'Okay, maybe I should switch gears. Maybe accounting isn't for me.'"
Irony of ironies — the accounting school drop out is now the owner of an already successful, exponentially growing small business in downtown Buffalo.
---
In 2009, MJ began working the front desk at Catalyst, a subsidiary of Gold's Gym at the time, making shakes for clients. Her passion lay in teaching, however, and soon she was able to shoehorn in a class here and there during a regular shift on the clock. "They didn't really let a lot of people do that, so I was really happy."
During this time she got certified in personal training and set her sights out West. "I was able to transfer to a Gold's Gym in Phoenix," she said. She spent the next few months in the desert, working and developing her personal training techniques, but soon found herself homesick and ready to come back to the Northeast. Her home gym was able to let her come back, and she resumed teaching and training clients.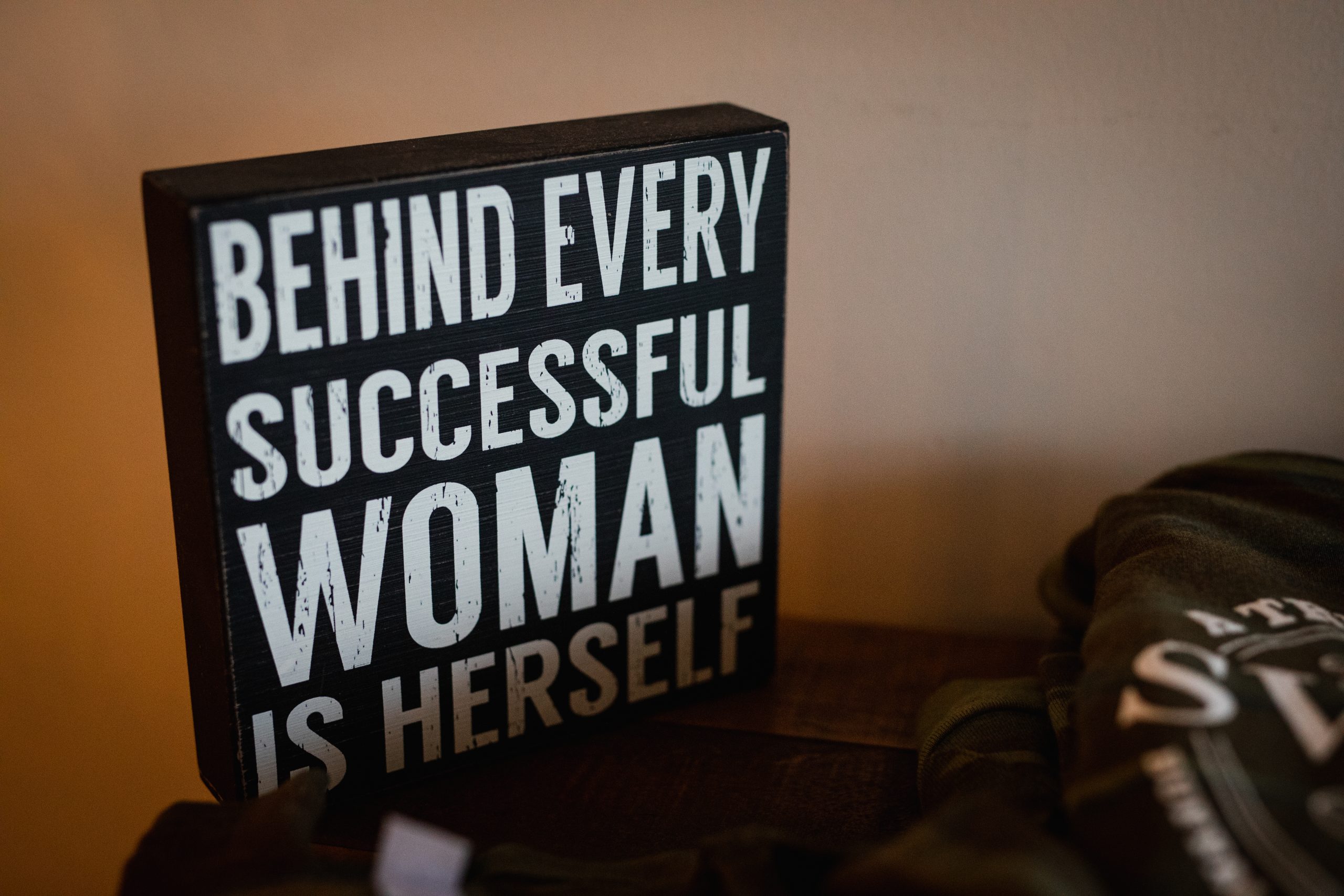 In November 2011, she left the company to pursue a freelance career, continuing personal training but also incorporating group training into her repertoire. She also had stints at several smaller studios in town, growing her network and developing relationships with more and more people.
"I would train people a lot over the summer at Como Lake Park and Losson Park, because you didn't have to pay overhead for a gym and didn't have to give anybody a cut."
She ended up partnering with a gym associate who had a good following and wanted to do the same thing. Needing to call this newfound partnership something, she landed on an almost too-obvious name: SWEAT.
"Once the summertime ended I had to move things indoors and was just teaching classes at the studio, so [the partnership] kind of fizzled out," she said. However, there was just something about that name, something that became an identifier for MJ's work and focus. She tucked it away for safekeeping, but didn't have to for long.
---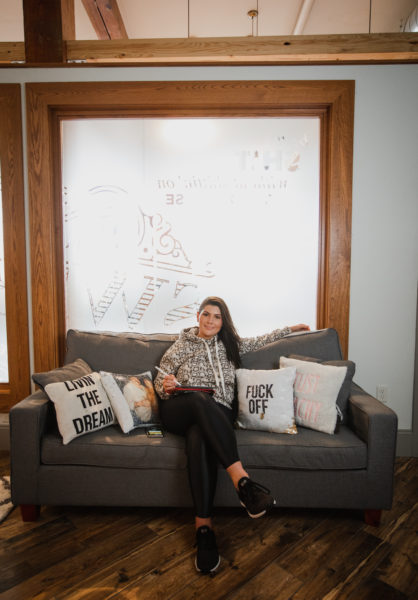 The first location of SWEAT 716 was a 750-square-foot space on West Tupper, just north of the Theatre District. "The second I walked in I was like, 'Oh, yes. This is ours. We have to have it.'" Although cautious about the future of her new business, the rent was cheap enough that if it didn't work out she could still keep the space for personal training, maybe split it with one other trainer to use as a co-op work space, she said.
Those fears were unfounded, turns out.
"My husband and I couldn't believe how fast it grew," she said. "I didn't think it wasn't going to work, I just didn't think it would work that quickly."
They had gotten the keys to the space in November 2017 and opened January 1, 2018. By 9 months in, all of their classes were waitlisted regularly. "Great problem to have, but not great for business," she said. In order to ensure that all members had a chance to take their choice of classes from week to week, MJ knew she needed more space to accommodate the growing clientele.
By the time the snow started blowing in November 2018, students would not only be mat-to-mat during classes, but the next class's students would be lined up outside waiting to get in because there wasn't even a foyer to accommodate overflow. The enthusiasm for the studio was great, but this also presented a large problem. Less than a year after opening on West Tupper, it was time to look for new digs.
---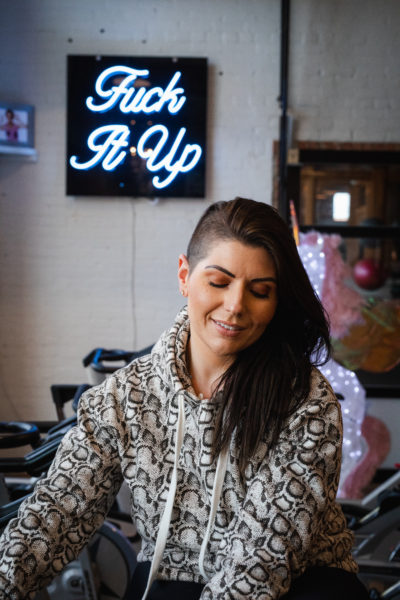 MJ's then-fiancé, now-husband, had a friend in real estate who had been asking them to come in and look at a newly available space at Swan and Michigan for a few months, even though they had declined several times. "I know the city, but in my mind I was like, 'I don't know what's over there.' I just kept saying no, I couldn't picture it in my mind."
Finally the agent sent some photos over to her husband, who then passed them along. Upon seeing the space, MJ finally agreed to a visit. "The second we walked in I looked at the agent and said, 'We have to have it. Can we get it? We have to have this.' My husband was like, 'Okay, let's talk numbers,' and I said, 'No, no, no. We have to have this,'" she laughed.
The agent then mentioned there was another prospective party interested. "'No, no, no. We have to have this. This is ours. It can't be anyone else's.'"
Just like the first time she walked into West Tupper, she knew for a fact that the space on Swan Street was the spot. "I got that vibe, right away," she said. They didn't look at any other places, and in February 2019 the doors were open for business three days after move-in.
"I didn't want more than three or four days of being closed."
---
When asked to describe her personal philosophy towards fitness, and how this belief system fits into her business model, MJ explained: "I think that, because I've been in the fitness world for so long, I almost want to say that I'm over it. I've been around every single type of fitness person, and worked with everybody, and I have just been immersed in this — I almost feel like it's a bubble, the fitness world? I just want to be like, 'Okay, it's not that serious.'
When people outside of the "bubble," as it were, peer into that world, they may end up quitting before they even begin. It's hard to imagine being a part of "fitness" if fitness is portrayed as something for only the most dedicated and serious participants. MJ wants to break down that barrier, to show that fitness is for everybody, for every level. Indeed, it should be of the same caliber as other daily activities, she believes.
"So that's kind of my philosophy, and I just think that, when you're in that world, you forget that there's a lot more going on than just, 'Gotta get to the gym.' I want people to know that that's not what we're about. You can be a part of it, you can exercise daily and eat healthy and not have to be a fitness guru, not have to talk about it all the time. You just do it," she said.
In her capacity as a trainer and teacher, MJ has encountered many people brand new to the world of fitness, some who have never stepped foot in a gym or taken a group class. To those currently wanting to begin but feeling lost, MJ wants to reiterate: "I say this to people all the time — when somebody's new, they feel like they have a big bow on their head that says, 'Hi, I'm new here,' and they feel like everybody's going to look at them. It couldn't be more true that everybody's just worried about themselves," she explained.
"Nobody's concerned with this other person that's walking in the door that might be new, they're just worried about how they're going to do in the class and what they're doing. It's really hard to think outside of that, but again, it's all about taking a step back. 'Okay, everybody's kind of got the same feeling going on, everybody's just got shit going on in their lives, everybody's just trying to make it.'"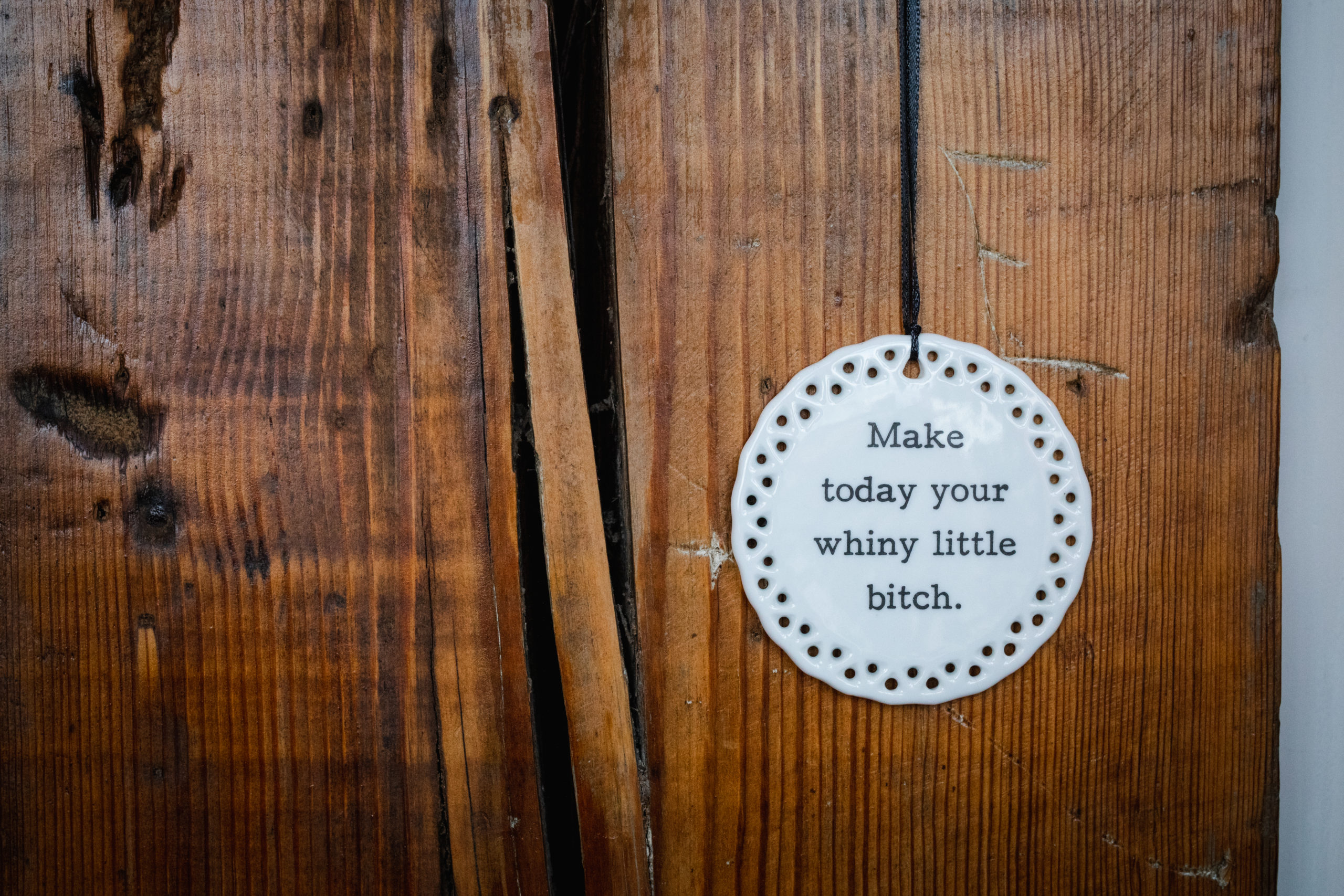 When asked to describe SWEAT to a 2020 newbie coming in for their first class, MJ didn't hesitate to mention the people. "You're going to notice the connections that other people have," she said. This does not mean it's cliquey, however. "All of these people met through SWEAT. They met because they were new, and they came in, and then somebody else said hi, and then they just kept coming to classes and seeing each other at the same classes, and now they're friends.
"People are shocked at how friendly everybody is with each other, which I love. I think it's great."
---
In addition to the regular class schedule, which offers approximately 40 classes per week in areas ranging from step, to barre, to TRX, to spin, to pole dancing, to HIIT training, to glute and core-intensive courses (and more), SWEAT also offers regular 6-week challenges, in which participants pay a flat rate for 6 weeks of unlimited classes, a private challenge-only class once a week, a meal and food journaling guide, mini-challenges throughout the week, and a group chat with two SWEAT instructors, who review and guide participants' activities and food journal. The November challenge welcomed 85 participants.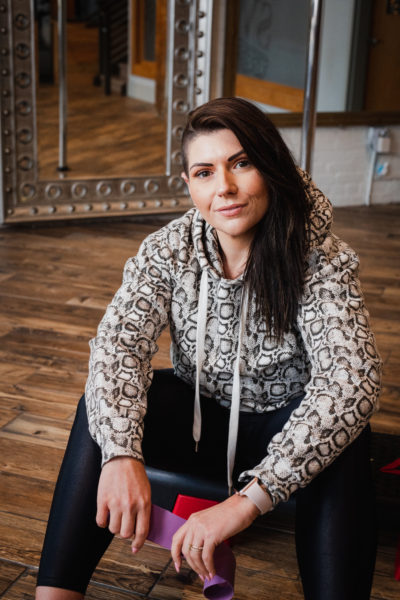 "We have people who just keep doing the challenges. It's the sense of camaraderie… Everybody wants to feel like they're not the only person going through whatever it is. And a lot of times in health and fitness, that might be something that you struggle with, so if you know that, okay, there are 84 other people struggling with it too, you know you're not alone."
As if keeping a full IRL schedule wasn't enough, the studio will soon be offering a new online service: a Sweatscription, in which long distance students can take part in the myriad activities happening in the Swan Street studio. "You'll be able to log on and stream different workouts," MJ explained. The workouts will be pre-recorded, with the majority focusing on body weight routines, no equipment needed — perfect for an at-home workout.
This past November they introduced the precursor to this new service — "Straight Outta Excuses," a 30-day program that offered students a group chat with MJ and instructor Cristy Orozco, a meal plan, a weekly workout schedule, and a regular check in. When she first devised the program and launched it, she said to her husband and their friend they were visiting, "'I'll be happy if I get five people. I just want to test it.'"
They had 90 people sign up.
"We had people from California, Texas, North Carolina, West Virginia, Rochester," she said. "A lot of them were SWEAT people who had moved away, or they were people who just follow us on Instagram who kind of always wanted to be a part of it. That's when I realized that people want to be a part of what we're doing in any way possible."
---
Indeed, SWEAT 716 offers an opportunity for both the uninitiated and fitness regulars alike to unite in a space that has the vibe of your cool friend's apartment, the one you go to visit when you just need to laugh and have fun for an hour after work because it's not quite time to go home yet. There just happens to be the added benefit of getting a good-ass workout in amongst all the merriment, and of course, getting that sweet detox release of sweat, sweat, sweat.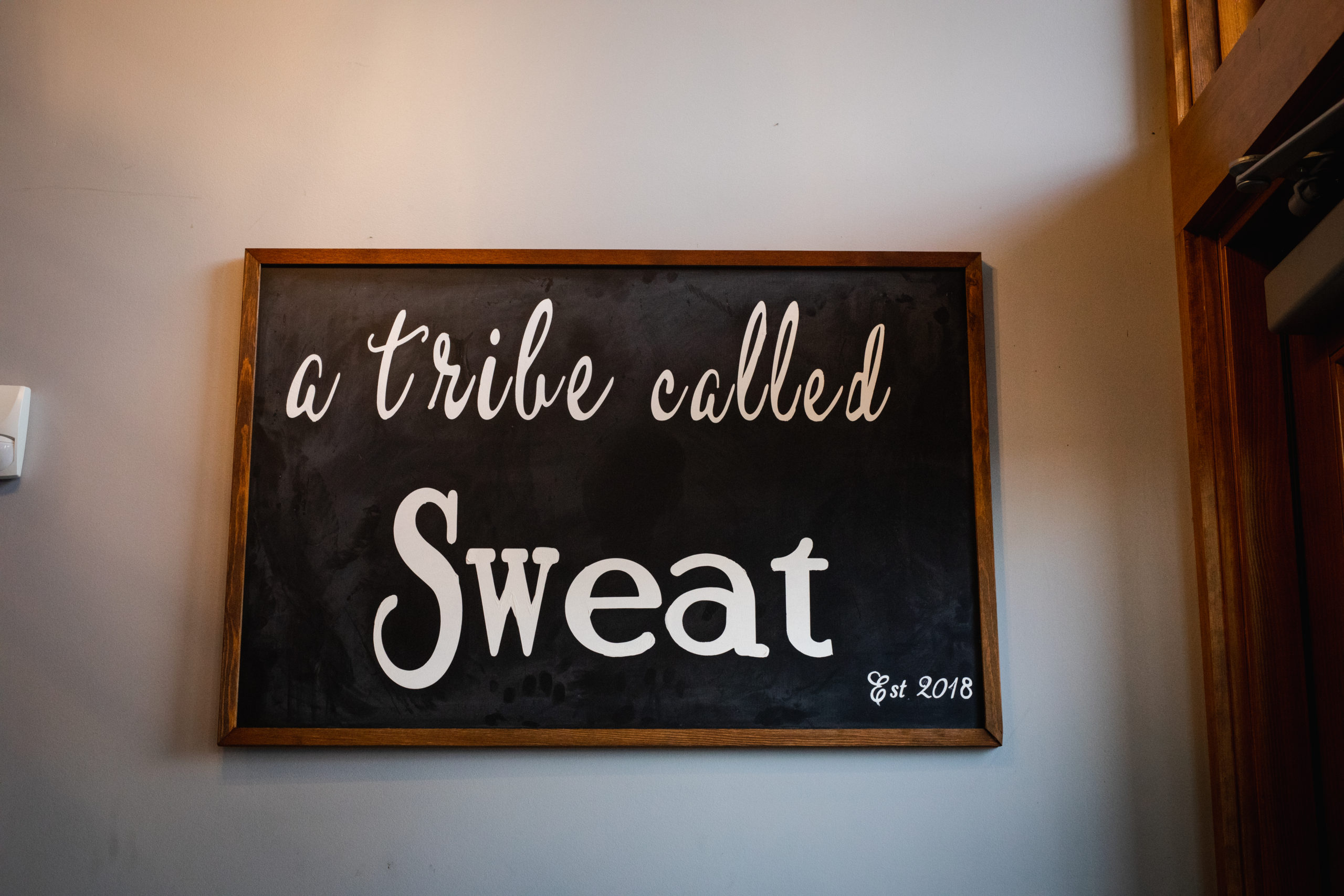 "I say this all the time, and I don't know if it sounds cliche or not, but we just want to make it as fun and as chill as possible," MJ laughed. "Like, it's not something that you're dreading. Sure, the workout might be fucking terrible in a hard way, but at least there's a 6-foot tall glitter unicorn and a sign that says Fuck It Up, you know?"