Food lies at the heart of our bodies and our culture; it is there for celebrations and sustenance. NOMaste features a local fierce foodie each month, in four weekly segments. First, an interview, then a top 10 list, followed by a recipe to share, and finally a food review. This food corner will not just feature local chefs but also restaurateurs, buyers, suppliers — any woman involved in any aspect of the food chain, from farm to food truck. Join us each week as we get to know another Foodie in the city. Part I of this month's series can be found here, part II can be found here, and part III can be found here.
---
The Teddy Roosevelt. The Dutch Smuggler. The Tim Russert. What sets Undergrounds apart from any other coffee shop I've been to is the care and creativity behind their menu. Most coffee shops would have the various standards, salads and paninis or wraps, a bunch of coffee drinks, a few baked goods, and call it a day. Maybe they'd have some quirky names, but that's the extent of the thought behind many a cafe sandwich. Not here.
Each menu item started from a deceased person who was either significant to the Buffalo area or to the world of coffee. Each item gets its name from the famous deceased, and then the ingredients are just as carefully thought out. When standing in front of the menu, you get a small biography and history lesson, as the person and their significance is explained. Since I can't do it justice, I will simply give you the full menu description for each of the items being reviewed here.
I had everything you could get: a coffee drink, a salad, a sandwich, and a dessert. I think of this as a perfectly balanced meal.
The Kaldi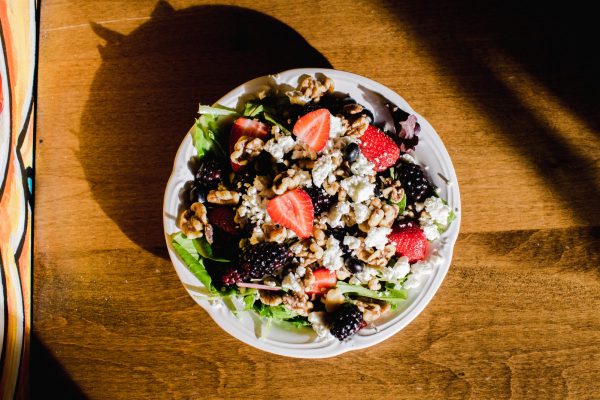 "He's the goat herder who started it all! Credited with the discovery of coffee in Ethiopia & having a bada** name."
Assorted greens with goat cheese, mixed berries, walnuts & a housemade honey vinaigrette.
This salad was so beefy I could have filled up on this alone. The berries in this salad were so plentiful, it felt like it was half of the salad itself. There were strawberries, blueberries, and blackberries crammed into every corner of this salad. They didn't scrimp on the goat cheese either, big puffy clouds of the stuff was all throughout the dish. Did you catch the fact that there is goat cheese in the salad because Kaldi was a goat herder? Pretty clever, right? The walnuts gave a nice crunch and contrast to all the softer ingredients, while the housemade honey vinaigrette was so delicious, I might have to ask them to sell me a bottle to bring home. It was super sweet with a touch of tang. I like my sweet dressings, so this was perfect for me. If you have less of a sweet tooth, you can even try the salad plain (the dressing comes on the side) which I did for the first half of the salad. The berries were so fresh that the sugar in them and the juices acted like a dressing on its own. Or you can add on the vinaigrette to taste, as little or as much as your tastes demand.
---
The Grover Cleveland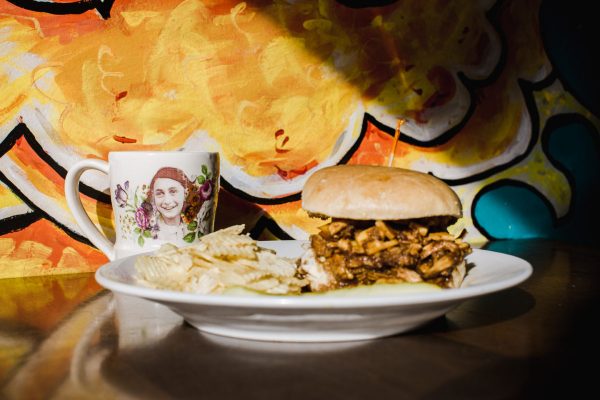 "Leader of the pro-business Bourbon Democrats, who opposed high tariffs on businesses & gave us a reeeeeal good sandwich idea."
BBQ bourbon pulled chicken piled high on a toasted sandwich roll with gouda cheese and housemade honey aioli.
This sandwich was a revelation, and it was a tough call on what was better — the sandwich or the salad. It was so good in fact, that our Photographer took a bite of it (as I am wont to do, demanding everyone who is with me partake in the deliciousness) and immediately placed an order to go. The BBQ bourbon sauce that the chicken is marinated in and served with is sweet and tangy, a perfectly balanced sauce. The sauce is made with local bourbon from the Buffalo Distilling Company. Yet another great way they are keeping all of their ingredients local. There's a generous amount of sauce, but not so much it's falling all over the place, making it messy to eat. The meat is also piled high, like a NY deli sandwich.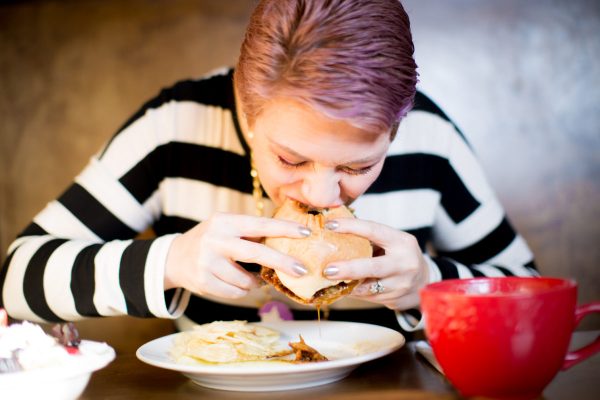 You better have a big mouth to take a full bite of this bad boy! The sandwich is topped with some gouda cheese — not too powerful so it takes away attention from the meat, but not too weak that you don't know it's there. The condiment here is their housemade honey aioli. I just love homemade condiments — it brings things to another level. Anyone could have put some mayo and honey, or just not put anything at all, but this homemade sauce was the last little bit of sweetness this sandwich needed to push it over the edge from pretty darn good to just perfect. The sandwich is served with kettle cooked chips and a pickle spear — classic sandwich pals adding saltiness and crunch into the mix. If you have room afterwards, it's a great way to finish the meal. I could only get one bite of pickle and a couple of chips — but appreciate that they were there.
And then, why not round it out with a little something from the kids menu? Since children don't have the same attention span or reading skills as adults do, their menu doesn't go into details on the people behind their menu treats, but Undergrounds has one of the largest kids' options of any cool coffee shop I've been to. I recommend adding any number of these kids' treats as a side (or dessert) to your meal.
---
The Lil Russert
This was perhaps the best thing I had. I realize it's from the kids menu, and it's not technically dessert (although I later came back and enjoyed this for breakfast!) but it was an ideal dessert choice and rounded out my meal. This is a perfectly-sized cinnamon bun that is grilled and topped with cinnamon and icing. It is everything the Cinnabun isn't and everything you want your cinnamon bun to be. It is small enough that you can eat it guilt free, and not so slathered in icing that you feel like you are eating a cake. It has sparse icing — which is perfect for children, so they're not bouncing off the walls from a sugar high. But from an adult perspective, it's just enough sugar to make it feel sweet, without it being heavy and giving you a sick feeling halfway through like a piece of cake would. I absolutely loved this. What can I say — I like simple things!
---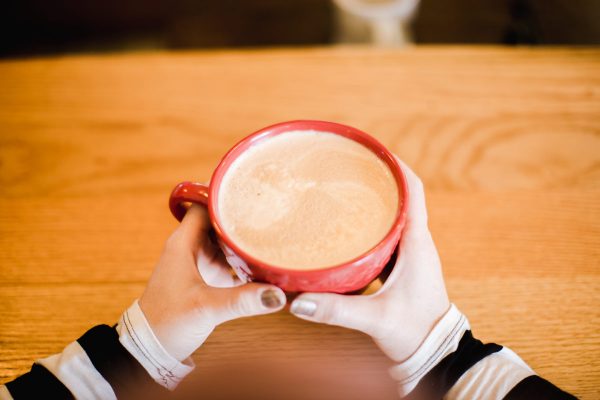 And how could it be a food review at a coffeehouse if there was no mention of coffee! I got a classic drink — the latte. Perfect for people who want a big drink but not a ton of caffeine. A shot of espresso and a big cup of steamed milk, nice and frothy at the top. It was perfect — not boiling so I couldn't drink it, and not so sweet or caffeinated that it was overpowering. They have an adorable 'fixings bar' full of sugars and creamers to make your drink just right. I added some sugar to mine (I always add some sweet to my coffee!). The mug was a gigantic red ceramic delight that I could cradle in my hands easily. I absolutely love that — getting a REAL mug at a coffee shop, something solid and heavy, for you to hold. Paper cups to me are for to-go only. I hate it when I get things handed in a take-out cup when I am going to sit down — it always makes me feel like I am being rushed out of the door somehow. Even looking at that cardboard that I know will go into a garbage can or recycling bin just makes me sad. The cup is a powerful thing, and I am very glad I can have a nice heavy mug to enjoy my hot delicious fresh coffee in.
---
Since I went there for the initial food review and photo shoot I have gone back and ordered another Kaldi, Lil Russert, and latte. Recently I had a friend visiting from out of town and we were both up fairly early one Sunday, so I asked him if he wanted to come with me and check out a cool new coffee shop, and he of course said yes. He loved it just as much as I did. I plan on bringing many future guests to this neighborhood gem that is just a few minutes down the road from my house, and I will most likely start with a Lil Russert, but next time I'll widen my horizons and try something different — there's a whole menu to explore!
---
Photos by AlanAdetolArts, L.L.C. – Birdcage Studios – Buffalo, N.Y. 14213 –[email protected] 
© 2018 AlanAdetolArts Photography LLC. All Rights Reserved. All images on these pages are copyrighted. Use or reproduction without prior written permission is prohibited.