Food lies at the heart of our bodies and our culture; it is there for celebrations and sustenance. NOMaste features a local fierce foodie each month, in four weekly segments. First, an interview, then a top 10 list, followed by a recipe to share, and finally a food review. This food corner will not just feature local chefs but also restaurateurs, buyers, suppliers — any woman involved in any aspect of the food chain, from farm to food truck. Join us each week as we get to know another Foodie in the city. Part I of this month's series can be found here, part II can be found here, and part III can be found here.
If you told me I would be excited about ordering cauliflower a week ago, I would have looked at you like you had three heads. Cauliflower is not a delicacy — in fact, it is often the item left on a crudité plate that no one touches, and I honestly believe it's put there to give some contrast to the other veggies on the plate. It is one of only three things my husband doesn't like — and he has been lovingly compared to a goat. How
the Terrace
turned this lowly vegetable into a delicacy I couldn't stop eating is a mystery for the ages, and I love them for it. I can't say with 100 percent conviction that the cauliflower was the best thing on the table, only because the other food was desperately trying to take that crown.
I had ordered probably just the right amount of food that two people could reasonably eat. Anymore dishes on the already crowded table would just have been too ostentatious to bear, and being honest, there would have been leftovers, a sin I would not commit.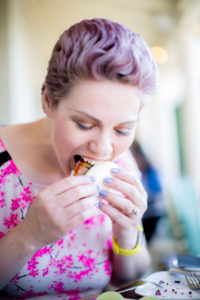 The Terrace is designed in part as a modern American take on the tapas bar. There is a variety of small plates and larger main course-sized entrees all designed to share, but let's be honest, you could solo them if you wanted. They also have a nice array of mussels and a raw bar selection. They have soups and salads and some sandwiches, but don't think for a second these are plain stand-bys. Like everything else on this menu, the dishes share a complex set of flavors to each item, all thought-out with care. There are a lot of items with ethnic flavor influences to them, from Asia, to the Middle East, and so on.
I opted to stick with the small plates, and got a wide selection. What I ordered was more than enough for a complete dinner for two. If you love the idea of tasting a dozen different things with your friends, this is the place to eat. They have figured out that the most fun part of dinner is sticking your fork over a friend's plate to try what they're having. With this format you don't even have to feel guilty about it, you all are sharing everything (or should be!).
After putting in the full order, items were brought up to us as they were ready, hot and fresh. This great format allowed us to eat slowly and get surprised every few minutes along the way, instead of being overwhelmed with everything all at once, and running out of table space. When we were almost at max capacity at the table, an empty plate would be taken — only to be refilled by yet another delicious dish.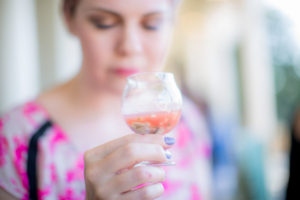 Before we dive into the meal, something should be said for the place itself. The renovations to this once closed-to-the-public space were expertly done, and the ambiance added so much to my experience. The large doors that open to the wrap-around covered dining area outside make the entire restaurant feel both connected and airy. The roof covers most of the outdoor dining space but not all; with two-top tables lining the whole deck you can still have a drink or a meal in the glorious sun.
Dark wooden details shine against bright white walls, allowing all those warm wooden details to really stand out against the clean, crisp white. The bar is a glorious centerpiece that is dazzling and large enough to accommodate a big group of guests, but not so large that it takes over the restaurant. The entire place feels old-timey but modern, a tough balancing act to pull off. And let's not forget the backdrop — Hoyt Lake, giving the entire back porch of the restaurant an impeccable waterfront view.
Now, onto the food!
OYSTER SHOOTERS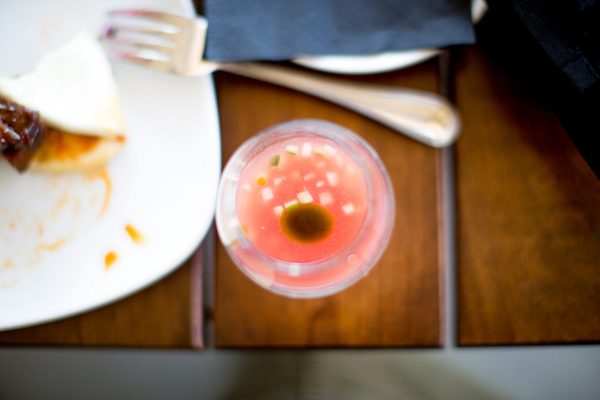 Tomato water, cucumber, basil, and vodka
The most creative and, I'll be honest — terrifying – thing I ordered, was the oyster shooter. I have to admit, up to that point I had only had a raw oyster ONCE in my life. It was on a recent trip to California, and under the pressure of family and being the only one aside from a 4-year-old to not partake in the delicacy, I joined in. This oyster shooter came in the most adorable glass — it looked like a brandy snifter in shape, but it was a shot glass by size. It had enough liquid in it that I was unsure if I should swallow it or chew it. Not wanting to look foolish, or risk choking on the oyster if I tried to drink, then chew, I opted to shoot it — as the name implied. The flavor was intense, but also light. The intense part was from the vodka (which I forgot was in there!) and the basil oil that sat in a nice circle atop the liquid in the cup, giving it that certain botanical quality that lasted for several minutes after I took the drink. It had a tomato base, light as opposed to a thick gazpacho, and small bits of fresh cucumber. It was as refreshing as it was bold, and I was very glad I tried it.
ROASTED CAULIFLOWER STEAK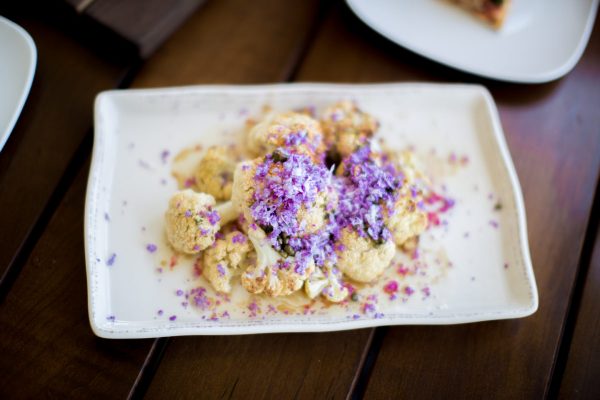 Charred cauliflower, lemon brown butter, capers, and petite greens
This was my honest to goodness favorite thing I ordered — and like I said, I hate cauliflower. I don't know what I loved more: the colorful presentation (that matched my outfit) or the flavor. It had crunch but wasn't raw — you had great mouthfeel, with crisped edges, but something soft enough to enjoy eating. The shaved purple cauliflower sprinkled on top was a nice touch, making it as visually appealing as it was delicious. And as always, 'butter makes it better.' The rich in flavor, lemon brown butter — maybe that was what my cauliflower of old was missing? The capers gave some welcome salty bursts that took the otherwise savory yet static dish to the next level. I don't have the words – ironic, since I am reviewing the food. You will just need to heed my warning: get to the Terrace and enjoy some cauliflower. You can thank me later.
PORK BAO BUNS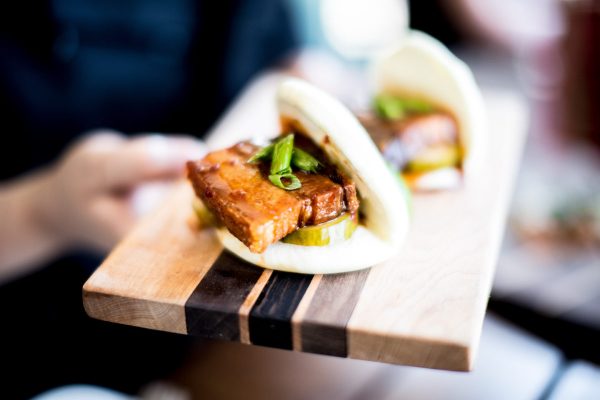 Crispy pork belly served with kalbi sauce, house pickles, and scallions
While I am not traditionally prone to ordering thick pieces of fatty pork in a sandwich, this was small and manageable to eat. The pork was very generous — super thick, with a large layer of fat on one side. I personally did not eat the fat (I know, I know) but rather enjoyed the pork on its own, enveloped in a fluffy semi-sweet bao bun. The pickles — while standing out with their tartness — weren't distracting, and the scallions gave me that wonderful aromatic element that I love in thoughtfully prepared food. It was a great starter to share — you could cut each one and turn the plate of two into a tasty bite for four people. They are definitely small enough to still enjoy one (or two) entirely on your own, but since the fun part of this restaurant is trying as many things as you can, I suggest cutting them in half so you have more room to try even more items.
FLATBREAD SPECIAL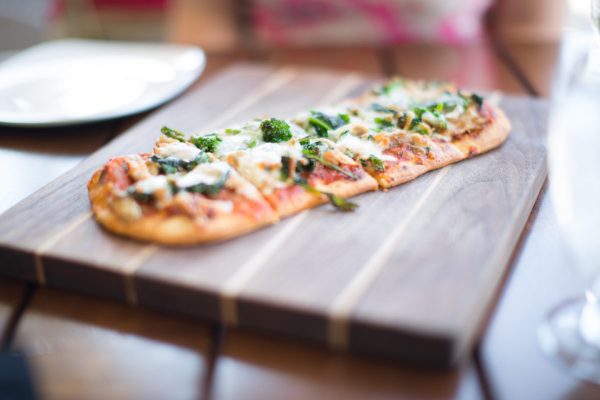 Pulled pork, broccoli rabe, mozzarella, and marinara
I went with the special flatbread for the day, instead of the traditional tomato and mozzarella. The bread was the perfect thinness — not too doughy or thick as to make you feel like all you were getting were carbs and no toppings, but not so thin that it was too crispy. It had chew, but a crust to it as well. The flatbread was topped with a generous enough serving of pork and broccoli rabe. It was not so sparse that you were left wanting more, but not too much that it was unwieldy. The entire bread was well-balanced, with ingredients equally spread. There was a consistent, even flavor throughout, something I look for in a flatbread. The classic flatbread that is on the everyday menu looked good as well, but when something is a special, it's special, so don't miss it!
SEARED TUNA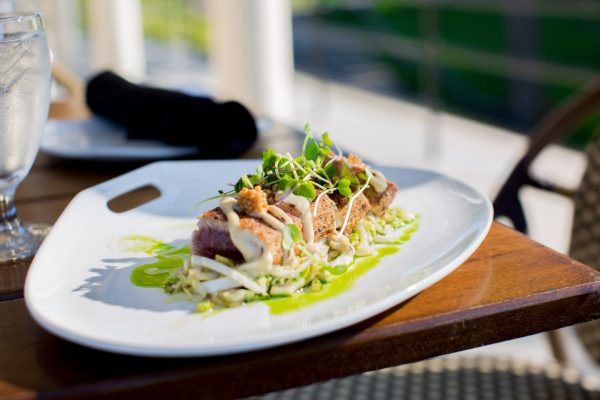 Pastrami spice Hawaiian ahi, pickled cabbage, caraway aioli with black mustard seed
Fish is something of a treat for me in this city. Growing up on a coast, and going to school further down the Atlantic but still on the ocean, I have had access to fresh-off-the-boat scallops, mussels, crab, and a variety of fish. It's something of a sore spot to me here, living on a lake instead of the ocean. As a result, I don't find a ton of high quality, reasonably priced seafood here. I won't name the few spots I can always count on to fill that void, but I can tell you that the Terrace should be added to YOUR list for your fish fix. The head chef has fresh fish flown in from Hawaii every day, and this is evident when you take a bite of their seared tuna.
Encrusted in pastrami spices, the dish is then seared perfectly, an even white trim on the edges and a delicious deep red-pink center of super fresh melt-in-your-mouth raw tuna, served atop pickled cabbage. I could barely focus on the cabbage bottom because of the freshness of this fish, but the vinegary tang of the pickled cabbage was a great complement to the light and mellow tuna. The aioli was another layer to the flavor that was perfectly paired with the seasonings on the outside and tang of the cabbage bed. The entire pastrami-theme was such a twist on what is usually a plain, or fairly plain seared piece of fish. This was some next level tuna, and one of the most delicious pieces of fish I have eaten in this city. I am hard pressed to pick a favorite — this is fighting with the cauliflower something fierce!
CHEESECAKE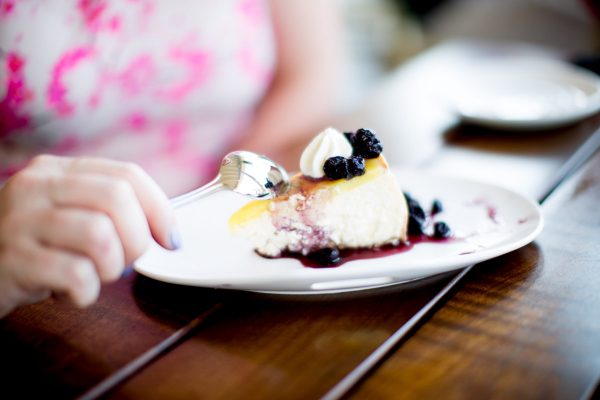 Meyer lemon cheesecake with warm berry compote
Typically I like to keep my citrus fruits out of my dessert, but being incredibly impressed by what I already ate and knowing I wouldn't be let down, I got the lemon-infused cheesecake. It was a hard decision, up against a chocolate cake that had a salty and sweet element to it. The cheesecake, with warmed blueberries dripping from it, was the perfect creamy thickness, not cake-like or too mushy. It stood on its own and held its shape, and gave a delicious creamy texture that you had to almost chew, but melted in your mouth if you gave it a few seconds. The warm blueberries were perfectly paired with the lightness of the lemon in the cake. It was a match made in heaven. This was simple and refreshing yet still decadent, and a wonderful way to end a well-balanced, flavorful, and complex dining experience.
---
Photos by AlanAdetolArts, L.L.C. – Birdcage Studios – Buffalo, N.Y. 14213 –[email protected] 
© 2018 AlanAdetolArts Photography LLC. All Rights Reserved. All images on these pages are copyrighted. Use or reproduction without prior written permission is prohibited.