Food lies at the heart of our bodies and our culture; it is there for celebrations and sustenance. NOMaste features a local fierce foodie each month, in four weekly segments. First, an interview, then a top 10 list, followed by a recipe to share, and finally a food review. This food corner will not just feature local chefs but also restaurateurs, buyers, suppliers — any woman involved in any aspect of the food chain, from farm to food truck. Join us each week as we get to know another Foodie in the city. Part I of this month's series can be found here, part II can be found here, and part III can be found here.
---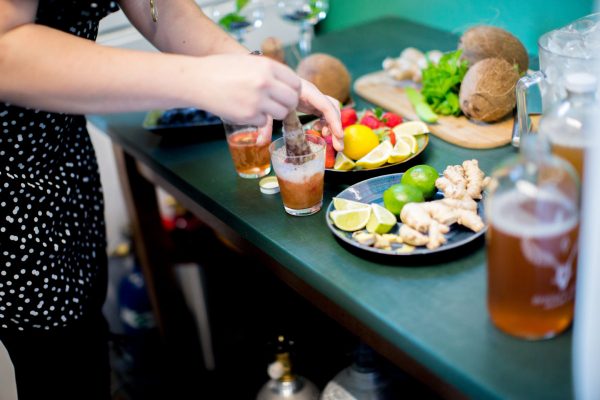 You cannot be prepared for what you encounter when walking into the mammoth building that is the Barrel Factory. A large brick building seated in the industrial stretch of the Old First Ward, there's Lakeward Spirits, making gin, vodka, and now rum, and Elevator Alley Kayak, where you can rent a kayak and buy anything kayak-related. There's a corner under construction that is going to offer brick oven pizzas and hard cider. Upstairs is an event venue for weddings and large functions, and soon there will be lofts to rent as well. This place seems to have it all. The Barrel Factory is also home to Snowy Owl Kombucha.
You can take your pick on seating, with tables and chairs interspersed in the lobby that caters to all of the businesses on the first floor, or you can sit out front on the patio. There are even stools right at the counter if you want to sit and chat with the proprietor. However you decide to enjoy your kombucha — whether seated with a tumbler, or taking a keg to go — its refreshing taste will have you back.
Up top: I was hesitant on kombucha. Hearing it was fermented, and having tried some in the past, I was bracing myself for a super tart, extremely vinegary flavor, but I was so incredibly surprised. It had such a light flavor and paired so well with the other ingredients that I had no idea I was drinking a fermented beverage.  
Lavender Lemonade Kombucha with Blueberry, Mint and Lime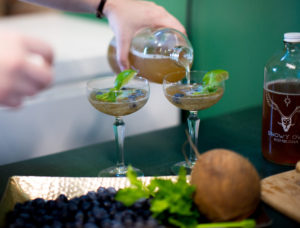 Served in a beautiful croup glass, this gorgeous and refreshing drink was bright but subtle. Again, as with all of Tara's perfectly balanced kombuchas, there was no overt tartness from a kombucha base that was too acidic or vinegary — it was blended with kombucha that was fermented to the exact right flavor, not too strong but not too weak. This combination was a perfect summer drink, especially with its floating berries and some green mint leaves.  
Strawberry Lemonade Kombucha with Strawberry, Ginger and Lemon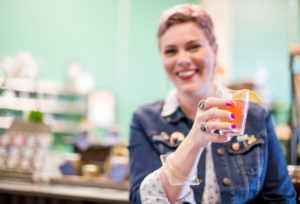 This drink vied for the 'Best Summer Drink' title, along with the Lavender Lemonade concoction above, and may have stolen it for the win. This was the boldest-flavored drink served, with intense flavors of strawberry. I think I had about 3 glasses of this that night — I kept coming back for more. Having the fresh strawberries muddled right into the drink intensified the strawberry notes already in the kombucha. This was a great example of less is more — just adding the already-present flavors of the drink in a different version — the liquid essence mixed with whole fruit — brought this to the next level. It was the most flavorful of the drinks I sampled that evening, and I was brought back by its singular flavor that kept standing out — strawberries.
Haterade with Coconut Water and Tart Cherry Kombucha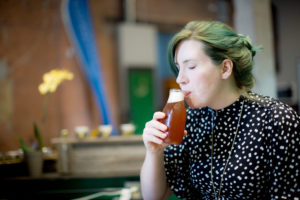 Tara's fun name for this beverage is a nod to energy drinks, but also gives them the finger. Such drinks are often filled with a lot of sugar, so she came up with this mocktail to add electrolytes to your system and give you that boost of energy without having to down a bunch of sugar that will leave you with a sugar crash. This simple mix of coconut water and tart cherry lemonade kombucha was the lightest of the mocktails. The coconut water really calmed down the flavor of the kombucha, slowing it to a crawl. It was the quiet acoustic set to the loud New Orleans jazz style concert that was the Strawberry Lemonade. Served over ice, this intensely chilled beverage seemed like something you would definitely want after a nice long run. There was a hint of the tartness but a lot more of the cherry flavor, leaving it the perfect balance for a thirst quenching and energizing drink. You could down multiple glasses of this like water.
---
Photos by AlanAdetolArts, L.L.C. – Birdcage Studios – Buffalo, N.Y. 14213 –[email protected] 
© 2018 AlanAdetolArts Photography LLC. All Rights Reserved. All images on these pages are copyrighted. Use or reproduction without prior written permission is prohibited.