Food lies at the heart of our bodies and our culture; it is there for celebrations and sustenance. NOMaste features a local fierce foodie each month, in four weekly segments. First, an interview, then a top 10 list, followed by a recipe to share, and finally a food review. This food corner will not just feature local chefs but also restaurateurs, buyers, suppliers — any woman involved in any aspect of the food chain, from farm to food truck. Join us each week as we get to know another Foodie in the city. Part I of this month's series can be found here, part II can be found here, and part III can be found here.
---
There is nothing in the world I love more than desserts and candy. Those cheesy signs that say things like, "Life is short, eat dessert first!" might be basic as all hell, but they SPEAK to me. They get me on a visceral level, in a way that no mushy movie, sad novel, or photo of a big mush face puppy with huge eyes ever could. So to say that Mallory's whole business was meant for me is the understatement of the century.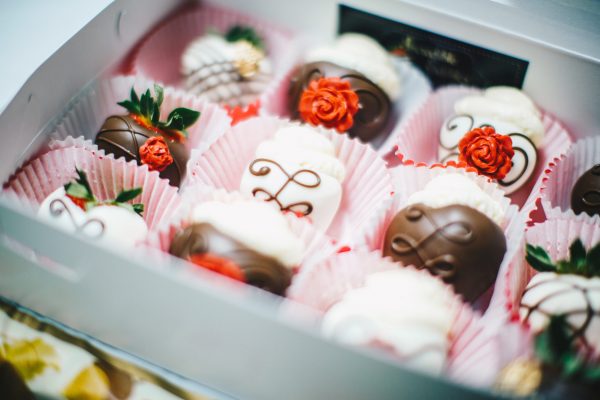 I ate a dozen chocolate-covered strawberries in one sitting — that sitting lasting about an hour and a half. During our fabulous photo shoot, I must have eaten a half dozen strawberries, a half dozen chocolate-covered raspberries, several chocolate-covered Oreos, a candy apple, a chocolate-covered pretzel, a chocolate-dipped marshmallow, a chocolate-decorated Rice Krispy treat, and I'm sure I'm forgetting some other deliciousness. I can't even use the excuse that I'm pregnant and craving sugar, because this would shock no one that knows me if this had happened pre-baby.
But let's get down to business here, and let's talk CHOCOLATE. The key to Mallory's treats is that they are all basically coated, dipped, rolled, decorated, or submerged in chocolate in one way or another. At least, everything that I ate was. The chocolate she uses is creamy but not so creamy you can't eat your weight in it, and retains a nice shine to it. It's applied thick and generously — but in what seems like the perfect amount. Any less and it would be anemic, anymore and it would take over. I have no idea what kind of chocolate it is, or where she gets it or how she makes it — what I do know is that it is her secret weapon and is the reason everything tastes incredible. It is the unifying theme of her treats, and why it is easy to mix and match many different kinds of custom desserts. The texture and flavor of the chocolate is uniform, so everything 'matches.'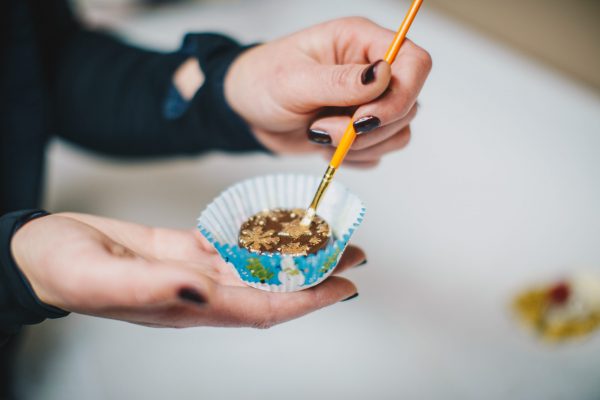 Let's now talk strawberries. These are her staple — her bread and butter — her most popular item. She uses so many that her supplier will set aside the biggest, juiciest, brightest-looking strawberries just for her. And it shows! They are thick, big, bright, perfect-looking strawberries. Each one is hand-decorated with whatever your theme happens to be. I have seen Beauty and the Beast ones with yellow dresses and blue coats, or more romantic ones with chocolate roses and gold. I tasted both white and milk chocolate-covered strawberries, with beautifully drawn on patterns in delicate, thin lines. The flavor was perfect — the crunch from the chocolate was not too thick or hard that it was difficult to bite, and the ratio was spot on. I basically eat the whole thing in two bites — you could probably stretch it out, but I'd be worried that some of the chocolate might fall off. If I could eat the whole thing (OK, I did have a few that were 'one bite') I would recommend that only because then you get the perfect ratio of chocolate and berry in your mouth — but you need a pretty big mouth to do that.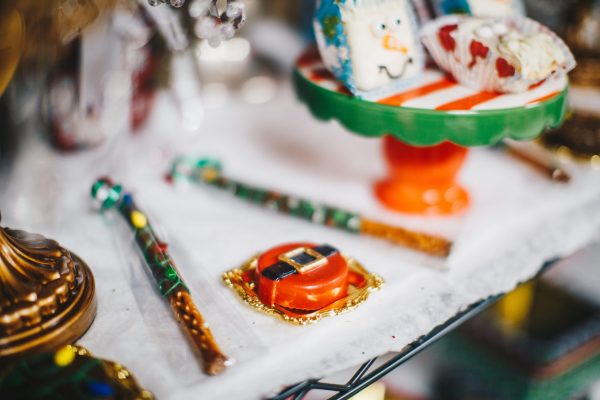 Now, you may think the chocolate-covered strawberry could not be improved upon, but you would be wrong. Imagine a chocolate-covered strawberry, FILLED with cheesecake! You read that right — she has chocolate-dipped, cheesecake-filled strawberries. These berries are slightly hollowed out so that she can fit a blissful amount of cheesecake inside — and it pops out of the top, they are so stuffed. This adds a level of creaminess that I had heretofore never experienced with a chocolate-covered strawberry. It's not too sweet, but then again, nothing is for me. These you might get slightly messy with, so eat these with a napkin handy; the gooey cheesecake can pop out of the top depending on how you bite. This is such a creative and decadent twist on what is an already iconic staple.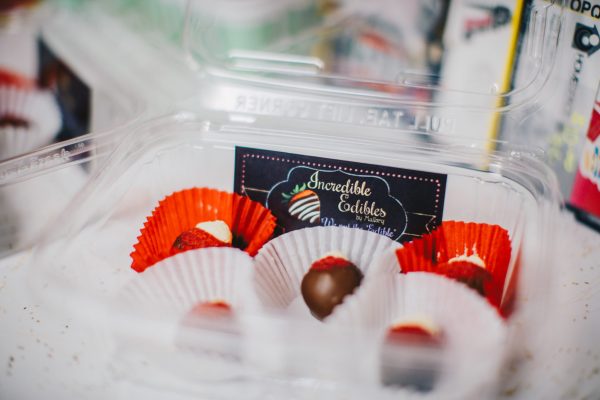 Next up was chocolate-covered Oreos. Now, I will share this little known fact: I do not like Oreos. I've never purchased them for myself to eat, I have no ritual for eating them, and could care less how others chose to eat them (with milk, without, twisted off, icing licked off, etc). These sre by far the most stunning item she has (second only to the Rice Krispy treats). These are the perfect size to display her talents, but not an overwhelming size where you look at it and think, 'I can't eat all that.'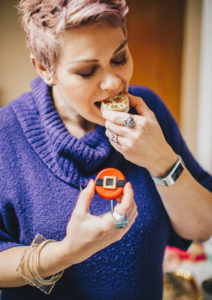 The chocolate surface is shiny — how, I don't know, but the surface is mesmerizing. She has hand-painted silver or gold leaf on snowflakes or Santa's buckle, Christmas lights are strung along the tops of some, and a bunch of other designs were displayed for us. When you bite into it, you do taste the cookie, but it's really about the chocolate. There's an equal amount of chocolate to cookie in my opinion — which is great for people like me. The Oreo did not take away from the chocolate — you got the crunch from the cookie, but it's hidden under the chocolate, kind of like a super chocolatey Kit-Kat. If you are an Oreo fan, you can still taste the cookie part, but if they are not your favorite, the Oreo flavor doesn't overwhelm or take away from the treat. I think it would hit all the notes for every type of dessert person.
After the Oreos were the large and impeccably decorated Rice Krispy treat squares. These are larger, so the options for decorating are even greater. There were full on snowmen and reindeer staring back at you, along with Christmas lights and other patterns. These are great — the airiness of the treats allows for you to be able to eat a much bigger piece. I would say maybe one chocolate-covered Oreo is about the equivalent to one of the Rice Krispy treats, in terms of what your body can handle, sugar-wise. These are the most impressive decorating-wise, due to the larger canvas she has to work with; perfect to display Mallory's talents. You take a box of any of her treats to a party and you will bask in the affection that comes with bringing the coolest, most beautiful desserts.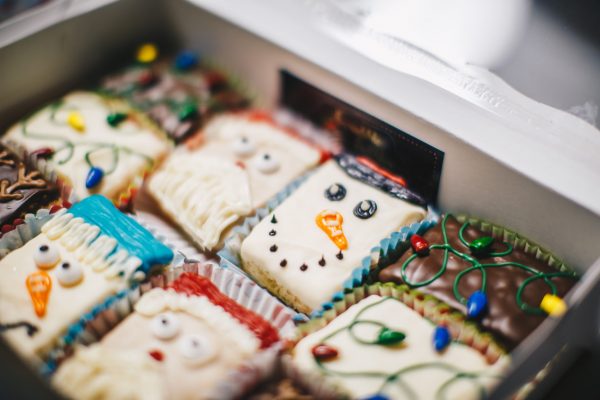 Next we tried the candy apples. She had made a Turtle apple — covered in caramel, chocolate, and pecans. It was amazing! I don't think it's physically possible to eat this alone on the stick because the toppings were so thick. We cut it into wedges mostly for the sake of logistics. There was about a 50-50 ratio of topping to apple it seemed — maybe 60/40. Candy apples are my weakness, and I adore them, so this review for them is slightly biased. The amount of toppings were right — there were more than you get from typical grocery store bought versions, but on par with the kind you'd get from the Great Candy Mountain company.  This was almost the most decadent treat she made because the amount of toppings was so outrageous. She also made a strawberry cheesecake candy apple, which was even thicker and fuller than the turtle apple. I can't decide which was better — the two flavors were equally magnificent and completely different. I guess it just depends on what you prefer: cheesecake and fruit, or chocolate, caramel and nuts.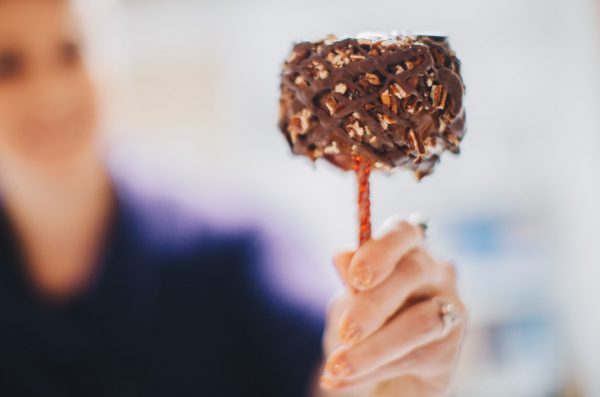 In addition, I also had the opportunity to sample chocolate-covered pretzel rods and chocolate-dipped marshmallows. Each one had her signature delicious chocolate, and beautiful decorations on top. Both were a more simple version of her super adorned treats described above, and would be perfect for occasions where you either want a party favor mixed with other goodies or non-edible items, or to just have extra sweets to go with something else you would order from her to fill out the table or tray.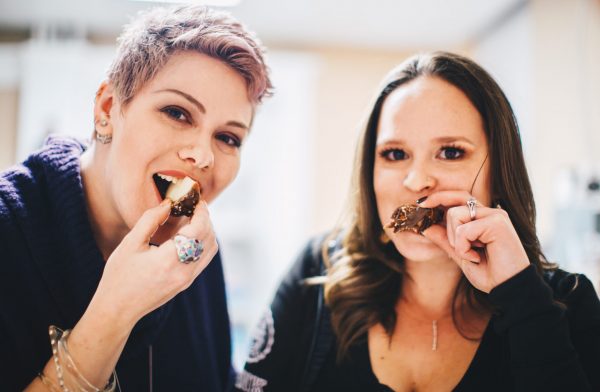 I cannot recommend Incredible Edibles highly enough both for the quality of the product and the care and skill each item has in terms of visual appeal. Everything on offer is made with love, chocolate, and packs a visual punch. I dare you to try something and stop at just one piece and not house an entire box of whatever it is you ordered. Good luck!
---
Photos by AlanAdetolArts, L.L.C. – Birdcage Studios – Buffalo, N.Y. 14213 –[email protected] 
© 2018 AlanAdetolArts Photography LLC. All Rights Reserved. All images on these pages are copyrighted. Use or reproduction without prior written permission is prohibited.