Food lies at the heart of our bodies and our culture; it is there for celebrations and sustenance. NOMaste features a local fierce foodie each month, in four weekly segments. First, an interview, then a top 10 list, followed by a recipe to share, and finally a food review. This food corner will not just feature local chefs but also restaurateurs, buyers, suppliers — any woman involved in any aspect of the food chain, from farm to food truck. Join us each week as we get to know another Foodie in the city. Part I of this month's series can be found here.
---
This week, Mallory gives us her top 10 favorite desserts & where to get them locally! I don't know about you, but I know what I'll be binging on for every sugar craving from now till forever!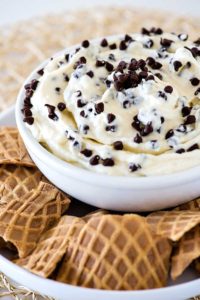 Wegmans always has these trays ready for on-the-fly party snacks. You can never go wrong with cannolis that don't make a mess & can be shared among friends. Just make sure no one double dips!
This cake is to die for!!! The fresh raspberry pieces in the frosting make the cake that much better! My favorite cake hands down.
It's hard to come by a fluffy piece of perfect peanut butter pie. This place has one of the best I've ever had.
Not only can you get it at their location in Lockport, Wegmans also keeps pints stocked for a fast fix. If you are from Buffalo you know all about the deliciousness of Loganberry; making it into ice cream was pure GENIUS!
The almonds around the side of the cake make the cake perfect. Always fresh & delicious.
The only donuts I'll eat, so delicious. I can't even pick a favorite, I seriously love them all.
The perfect way to cool down on a hot summer day. I pick Italian ice over ice cream any day, but unfortunately they are only a seasonal place, so ice cream in the winter will have to do.
Banana cheesecake topped with whip cream & fresh bananas, you can't go wrong there.
My favorite candy by far. The spongy center cased in chocolate. Omg I want some just thinking about it.
Perfect heart-shaped, light & fluffy pastries topped with a sweet icing. Definitely the way to my heart.