Food lies at the heart of our bodies and our culture; it is there for celebrations and sustenance. NOMaste features a local fierce foodie each month, in four weekly segments. First, an interview, then a top 10 list, followed by a recipe to share, and finally a food review. This food corner will not just feature local chefs but also restaurateurs, buyers, suppliers — any woman involved in any aspect of the food chain, from farm to food truck. Join us each week as we get to know another Foodie in the city. Part I of this month's series can be found here, part II can be found here, and part III can be found here.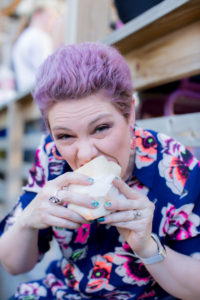 A picky eater should probably not be a food critic of any sort, but I have come a long way. I started off as a kid who only ate cereal and candy, needed her food not to touch, who took the cheese off her pizza, and thought vegetables was a fate worse than death. Now I eat all sorts of soft cheeses, all kinds of greens, I proudly eat pizza with cheese, and my food can comingle with the sides. Now that you know a little bit more about me, let me tell you about the Amy's Truck meal that I had.
As an Amy's Place devotee who had certain typical orders (a swiss burger with caramelized onions and a cola, or a grilled cheese with coffee and some wet shoes) I was more than happy when the Amy's Truck came to be.
Larkinville was bustling as you would expect it to be during Food Truck Tuesday. Lines were long and the sun was out — perfect food truck weather. Being the expected food critic, I was given the ultimate honor: skip the line and climb aboard the truck! I had front row seats to the making of my meal, and felt like a kid in the cockpit of the plane — but instead of getting a plastic set of wings, I got something much better: Veggie Wet Shoes and a Margie Meal.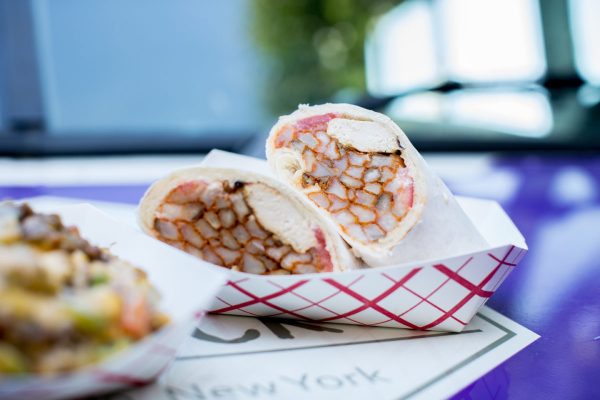 I chose the veggie version of the classic Wet Shoes that day. What is that you ask? It is a giant pile of curly fries smothered in delicious toppings. The moniker could be from their appearance, which resemble a pile of wet shoelaces. It was something I have had since my first trip to Amy's Place, and never thought more of it. Regardless of the origins and meaning of 'wet shoes,' this is a delicious appetizer bordering on a main course for any meal, and I was ecstatic to see it on the Amy's Truck menu. Perfect for either sharing with friends or eating your feelings — this hearty and well-portioned item could be called a side, an app, or a main course, depending on your inclinations and company.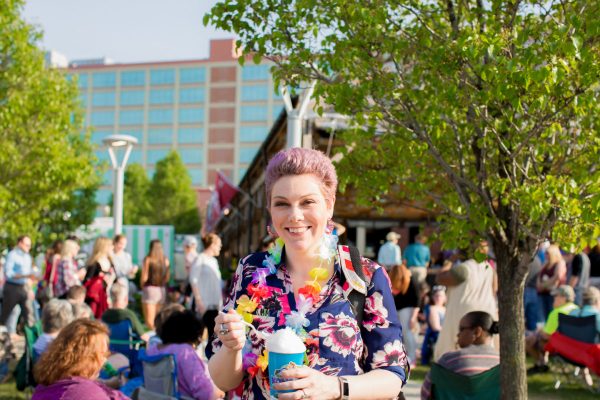 The pile of curly fries is covered with either their signature spicy lentils (if you got the veggie version, which I did) or beef, and topped with grilled onions, peppers, tomatoes, cheddar, and sour cream — talk about filling. This dish is the ultimate crowd pleaser, because in a city below Poutine-World (Canada), and above Disco-Fries Land (The Tri-State Area), Buffalo is a city full of diners who appreciate their smothered and covered fries. It's like they say — every culture has its smothered potato — Buffalo has Wet Shoes. The fries are the perfect consistency, not mushy after being soaked with lentils and cheese, but not so crispy they feel like work to eat. It's amazing how they can still keep their curly-fry-ness while having a giant pile of cheese and peppers atop them. I have had my fair share of Wet Shoes, and the Amy's Truck delivered the goods perfectly. It will remain a classic and a favorite of mine.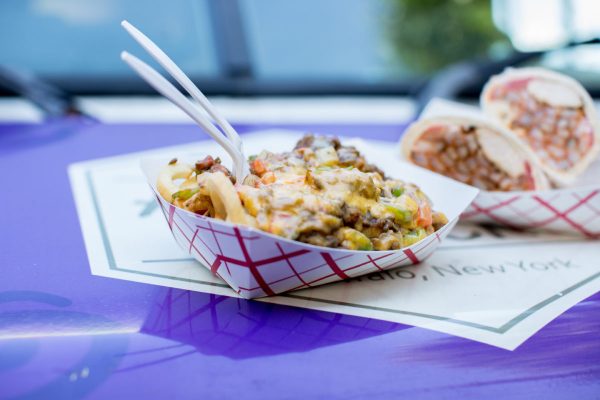 Next up was the main course: the Margie Meal. This was my first time having this classic, signature Amy's sandwich. I had seen it on the menu every time, but always ended up ordering my old stand-bys. This was such a great item and I am glad I took the suggestion of ordering this wrap and went outside of my comfort zone of 'usuals.' The Margie Meal is an all-inclusive meal that has the side stuffed right inside the sandwich! It's a wrap filled with charbroiled chicken strips, fajita fries and tomatoes. It has a delicious creamy garlic spread and hot sauce inside as well. It is the perfect amount of heat and spice — as in garlic — and enough fries to make it interesting but not overpowering or boring. The sandwich itself is beautiful — one look at the perfect cross section and you are almost afraid to take a bite and ruin it. I promised myself I would keep half for lunch the next day, but kept eating until I looked down at an empty wrapper and garlic sauce covered hands. I had no regrets.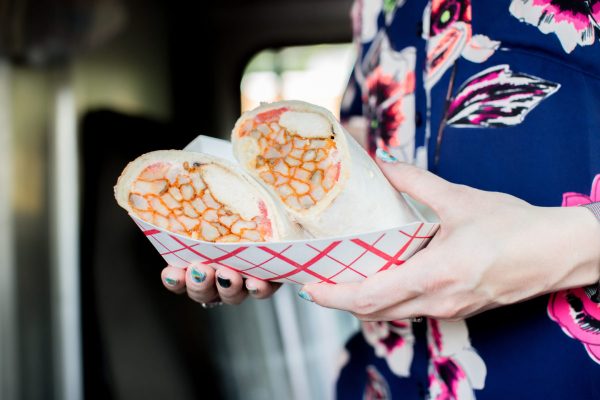 These delicious bites of greasy heaven were served in your classic food truck paper tray/holder, and I found a place to sit on a ledge next to the stage. An incredible performer was singing; Nikki Hicks & Momma's Biscuits. What a powerful voice Nikki has, and I cannot forget it. She held notes for such a long time and they remained steady and strong. It was the perfect backdrop for a hot summer meal under a tree, amid the bustle of other diners. I was lucky that the Amy's Truck was parked right next to the stage, so I was able to hear Nikki loud and clear.
Food Truck Tuesdays runs every Tuesday at Larkinville, from 5-8 p.m., through October 3. Live bands are scheduled for every week, and you can find the Amy's Truck there, every Tuesday night. There are no assigned parking spots for the trucks, so Amy's might be in a different spot week to week, but there will always be wet shoes waiting for you!
AlanAdetolArts, L.L.C. – Birdcage Studios – Buffalo, N.Y. 14213 –[email protected] 
© 2018 AlanAdetolArts Photography LLC. All Rights Reserved. All images on these pages are copyrighted. Use or reproduction without prior written permission is prohibited.