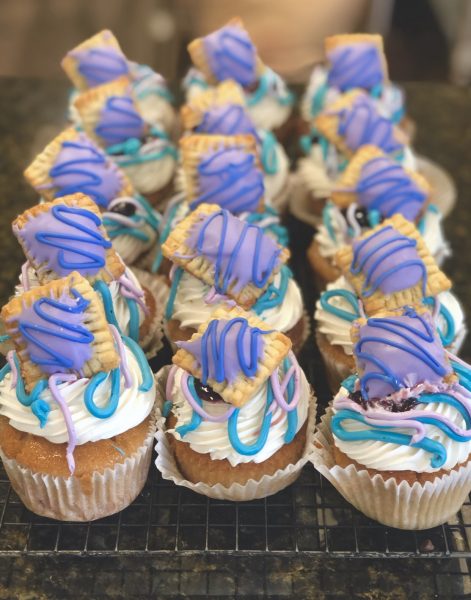 Artist Bio
Courtney Justus, a.k.a. That Vegan Baking Betch, is a baker of vegan, gluten-free, and allergy-friendly baked goods. She began vegan baking over 8 years ago and has even recently branched out to recipe writing, in hopes of one day having her own published book full of recipes.
---
How long have you been an artisan? How did your particular skillset develop over time? 
For as long as I can remember I have been a home baker! When I went vegan 4 years ago though, I didn't know where to find delicious vegan baked goods so I started making my own. First I started by following recipes, then I started making all of my own that I still use to this day! Then, as I started to venture into the world of gluten free, I found there also existed a void in Buffalo and I set out to fill it. The thought of helping others with food allergies was a huge plus and is definitely my mission as a vegan, gluten-free, and allergy-friendly specialty baker!
---
Please describe your work / product.
I am a vegan home baker turned allergy-friendly baker for the Buffalo masses!! I specialize in vegan, gluten-free and allergy-friendly baked goods of all kinds, and vegan recipe-making!
---
Who are some of your favorite artisans / makers in the region? Who amongst your peers inspires your work?
My number one peer that I look up to in the Buffalo baking world is my partner-in-crime Natalie of Fig Tree Patisserie!! She inspires me to be a harder working, more passionate, more inventive baker daily! And she went to culinary school so she can teach me all the cool pastry school techniques she knows! And I teach her all of the marketing stuff I learned for my degree!
---
How long have you been a business owner in WNY?
I have had my business for two and a half years but I haven't been in a physical brick and mortar location until I partnered with Fig Tree Patisserie for the shop at 3062 Delaware Ave. in Kenmore!
---
How long have you been a part of Buffalo Women's Gifts? 
This will be my first year!
---
Where can people see / purchase your work year-round?
I'm inside of Fig Tree Patisserie at 3062 Delaware Ave in Kenmore! We're open Wednesday-Saturday 7-7 p.m. and Sunday 7-1 p.m.
---
Where else will you be representing your wares this holiday season?
We very rarely do events anymore but our location on Delaware Ave. is open 5 days a week! And come the new year we may be in your fav local shops…so stay tuned. <3️