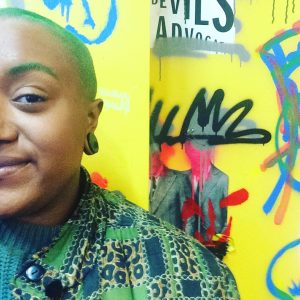 Singer, dancer, composer, poet, actress, multimeda artist, carpenter — these are just some of the components that make up Zoe Scruggs. A true queen of all trades, the 26-year-old performer has been enveloped in the world of performance since she was born.
"My mother [Lorna Hill] owns Ujima Theatre. She's been doing that for now 40 years. My brother and I were raised in what we call, on the stage," Zoe explained. "All of my performance, and discipline, and honing my craft have been underneath my mother's wing and on her stage.
"I wasn't always trying to be a singer, but later in life I realized, maybe somewhere around 15, I realized that yes, this is actually what I do want to do. I had dreams of other stuff, like people always do; ignoring your purpose and your calling, but when I accepted it I was happy that I did," she said.
---
For Zoe, music and performance is a family affair. Being brought up in the world surrounded by myriad talents, she and her brothers discovered their own talents early on. Brother Amilcar Hill, also known as DJ Milk, was in a rap group during Zoe's adolescence, produces music, and dabbled in videography for a time. "My whole idea of what music is and how much I love it and listening to it in a specific way happened very early," she said.
At the age of 4 Zoe attended a rehearsal of the Buffalo Philharmonic Orchestra with her mother, who was to perform in the show. Young Zoe was heard singing along by the maestro, who walked right over to Zoe's mother and said, 'Do you know your child has perfect pitch?' "For my mother that was a turning point," she said.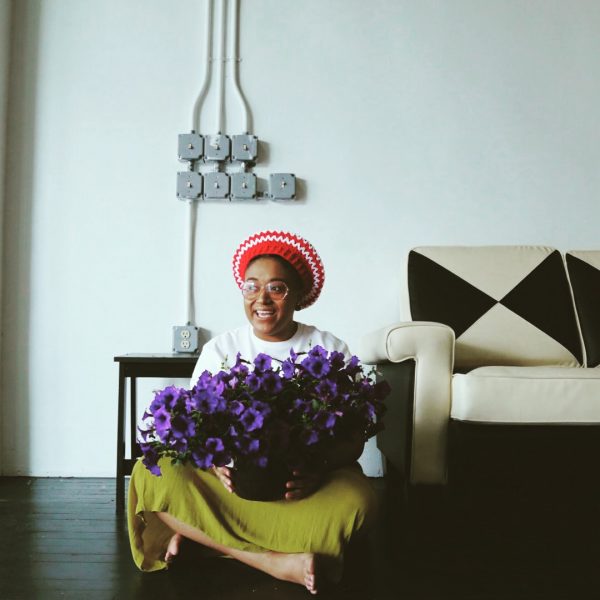 After that, Zoe's mother began heavily nurturing her young daughter's talent, while also giving her room to discover her voice and passion. This translated into a lot of stops and starts — tap class; piano lessons. Then high school happened — the Buffalo Academy for Visual and Performing Arts.
"I'm not a scholar; I'm not an academic by any means, so it looked like I was going to go to Lafayette. My mother intervened and [dance instructor and teacher at BAVPA] Yvonne James Brown intervened…she got me an audition, and I got accepted to the school…that was a savior for sure."
As Zoe grew up, she found herself consistently busy with performance. "There was a whole lot of gigging. There was always a show I was in at the theater; that was keeping me busy," she said. Although her musical work was couched in cover work, she began producing original music with her mentor and uncle, Rodney Appleby. When he moved, however, the writing stopped.
"Which was fine for me; it was a very sacred thing — I'd rather only do it with him anyway," she said.
---
About three years ago she decided to try her hand again at making music. "I decided that getting a band was too much f—ing work…So I decided, well, how bad would it sound if I imitate these instruments? If for nothing else, I'll have the groundwork so that, when I give it to a musician, they'll know what I want. Then, as I moved further into just doing it because it was saving me time and helping me make a song I realized, 'Oh no, I like this way more than I like working with a musician. I like the sound.' So I bought myself a loop pedal on Amazon, taught myself how to use that, and that's my rig now. An amp, a loop pedal, and my microphone."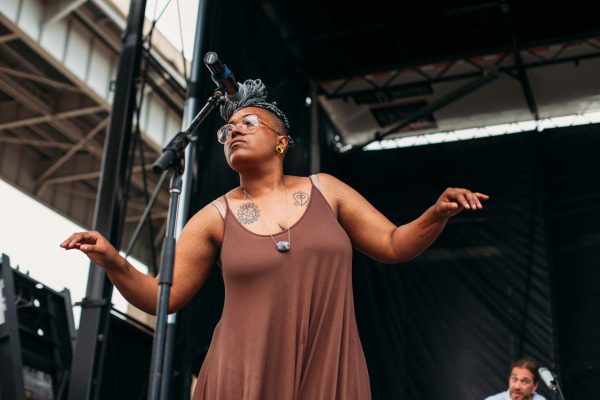 It was right around this time that Zoe found herself in a conversation with her brother and another fellow musician, Preach Freedom, during a run of Topdog/Underdog at Hallwalls. She was the stage manager; the men were performing in the work. "One night we were all just bullshitting, listening to Fela Kuti, and the next thing I know we were having what I thought was just an innocent conversation about a pipe dream: 'You know what would be cool? If we did a tribute concert for Fela Kuti. No one's doing those.' Then my brother was like, 'F— a tribute concert, we need a band!' That's when I left the conversation," she laughed.
And that's how the 16-piece Buffalo Afrobeat Orchestra began. So much for not joining a band — instead she founded one of the biggest ones in the city.
"Like anything that's got to do with other people, it's nerve-wracking, because it's a lot of work. But what makes it beautiful is that we all want to do it…we're certainly not gigging for the money, because the money's not there. And in my opinion, considering how good we are, and how good the musicians are, how hard they work, we should be getting paid more than what we get paid, but that's not why we do it. We do it because we are believers in building the beloved community, and we believe this is something y'all need to hear.
"If Buffalo right now had a political voice, for me it would be to the rhythm of Fela Kuti," she said.
---
When Zoe Scruggs takes the stage, she becomes a different person. "Zoe Scruggs is not who I am on stage. So, like most performers, I was trying to figure out what my name was going to be. You want it to be something catchy, you want it to be something dope. You want it to be something that when people say it, somebody else is like, 'Ooh, what the f— is that, I wanna go see that shit!'," she said. After taking several nascent forms based on childhood nicknames, Zoe wrote out the middle names of her parents one day. She looked at them separately, and then put them together. Curtis (mother) and Lovell (father). 'That's it. That's it!'
And so Curtis Lovell was born. "What I like about it is that it's very androgynous. When I say it to people, or when people hear it, and they tell me what they thought, it's never the same. When my aunt heard it, she was like, 'Sounds like some brother who used to sing with the Temptations, like he's on a reunion tour.' I was like, 'That's dope.' A friend of mine said, 'That sounds like a pimp name.' I said, 'That's cool, too.' Everybody's got a different idea of what it sounds like, because it's definitely that kind of name where you instantly get a visual, and I like that," she said.
---
Her musical influences growing up hold fast in her heart; as the years progress, she takes new lessons from old loves. "Anybody I've ever listened to I always find something new no matter how long I've been listening to them. I've been listening to Ella Fitzgerald all my life, and I find something new every time. I listen to Django Reinhardt all the time, I find something new every time. Fela Kuti, the same way…My musical influences have not changed, they are still the same. And I don't know if that's a good or a bad thing, but they are still the same," she said.
It was at this point that Zoe wanted to acknowledge a pinnacle influence – her younger brother Thapelo Hill, a talented drummer who was tragically killed this past December.
"My brother Thapelo, who passed away a few weeks ago, he was probably, and still is, definitely a pinnacle part of my inspiration and my influence in music and how I hear music," she said, a tear slipping down her face. "I consider myself someone who's always had a keen ear; I don't listen the same way that everyone else listens to music. People listen to enjoy, and I listen to study. What I loved about working with my brother Thapelo is that those things innocently and honestly melded together. You can hear something and say, 'Oh, that's all technique,' or you can hear something and say, 'Oh, that's all feeling,' but what I loved about working with him was that those two things came together. Now that he's gone, it's a different kind of inspiration."
---
Her growth as an artist still so young winds down myriad paths; she continues to work extremely hard, nurturing her passions. Every Sunday she rehearses with the Afrobeat Orchestra for 4 hours. She continues to write and produce her own music, with her second album coming out in the spring. And this Wednesday begins a 5-week run of Smokey Joe's Café at MusicalFare Theatre, where Zoe will join the ensemble in a 2-hour revue of the works of Leiber and Stoller. The show runs Wednesday-Sunday, with two shows every Saturday. Oh and she still has her job in construction and carpentry by day.
Where does Zoe see her path taking her in the coming years? Somewhere warm, she says. Sustaining herself with her own carpentry and restoration business. Maybe on tour once in a while.
"I've never had a real Rhianna goal for my music. I told myself I would pay attention to it, and give it what I got, and make moves as someone who wants to be successful in their music, but if I end up having a life where I'm on tour every now and then, or I got a spot on a TV show, or they ask me to come sing for the next president then I'll come; I'll do that. But really, my music for me has always been about healing, and the person I'm looking directly at in front of me, the group of people I'm around. It's never been for mainstream or to pay any bills immediately. I've always looked at music as a hub of healing, and I'm not a big believer, but I am very sure that what the Creator has given me is something that is for healing people. The older I get, the more I realize how important that is," she said.
December 2016 CreativeMornings/Buffalo talk, video by Urban Prairie Films
"People have told me all my life I have an old soul," Zoe said. "When people hear me sing, especially covers, they say, 'Wow, you've really got a deep, old voice. You've got a voice that is timeless.' So I've always paid attention to that. But for me I think where I see the most growth is in my lyrics. I don't think of myself as a poet, but I used to write poetry. I can definitely tell that I've become more honest. For me, what making my own music has been about, and even singing someone else's song, is how honest I can be.
"That is something I've definitely seen change and grow and progress…you're becoming way more comfortable, which makes you way more honest, which makes you way more vulnerable in a whole other kind of way. When you make the choice voluntarily to start expressing yourself, what you feel, how you hear your thoughts, that's a whole other kind of vulnerability."