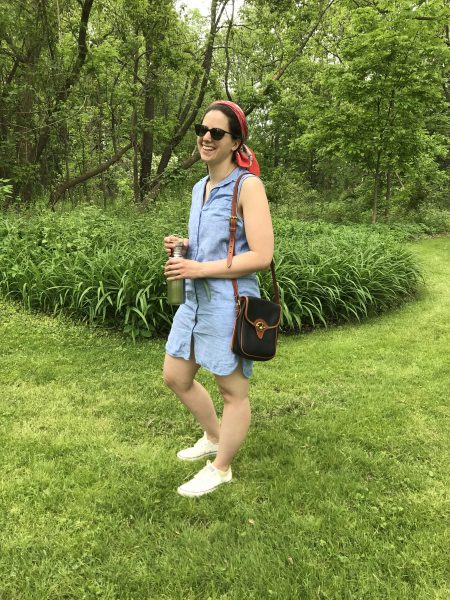 Virginia Leary, known on the socials as Zero Waste Buffalo, is bringing the local sustainability movement into focus, one picture-perfect mason jar at a time.
---
Growing up in Rhode Island with ecologically-minded parents, Ginny was enveloped with sustainability as a lifestyle from an early age. It was here that she cultivated her love of the ocean, and the inherent knowledge that Earth's natural landscape deserved protection and respect.
"Growing up, my parents were super sustainable. We would go on beach clean ups, picking up plastic bags we found on the beach and then picking up all the trash we found," she said. "I grew up on the ocean, so protecting it was really important to me, and to everyone around there. We recycled everything, so that was kind of ingrained in me, too — 'This doesn't go in the trash, this goes over here.'"
Continuing down the path set forth for her in her formative years, Ginny attended "Hippie School 101" — Ithaca College, in Ithaca, New York for Drama. After graduating in 2011, Ginny discovered author Bea Johnson, widely considered the godmother of the zero-waste movement.
"[I thought that] was so interesting, and I started following her website," she said. Ginny immediately felt a kindred spirit in this anti-waste maven, and sought further information independently.
---
While in the beginning stages of her zero-waste studies, Ginny moved to New York City and began working with the Broadway Green Alliance, a company dedicated to sustainability and reuse in the theater community of New York. She connected closing Broadway productions with off-off-Broadway productions, acquiring materials no longer needed by the big guys that may have been destined for the landfill otherwise.
Alas, after about 7 months NYC lost its appeal, so Ginny and her boyfriend regrouped. "We said, 'Let's move to Buffalo! A lot of our friends live there and it's cheap and there's a theater scene!'" Her guy is originally from Clarence, as well, so the move was a natural choice to be back by family.
By 2016, with her move to Buffalo and her new life securely in place, Ginny had started to accumulate the tools she would need to further venture into a life free from trash, beginning with simple things like dried food storage, reusable vegetable bags, a portable mess kit. After some professional frustrations that year, Ginny set her mind to doing "things that made me happy," she said. That's when @ZeroWasteBuffalo came to be.
---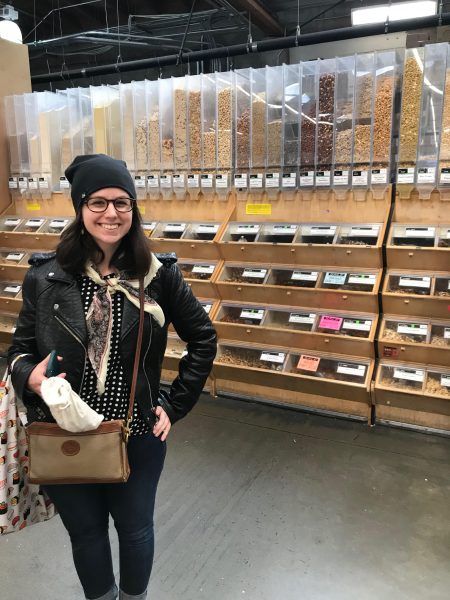 In an article published by Buffalo Spree in September 2018, it was reported that Ginny had accumulated a mere three pounds of waste in the first half of the year (not including her cat's litter). When asked if this was a personal record, Ginny said, "I've never really calculated it before, so I'm not sure how to measure that, but it's definitely gotten better every year."
It seems like a lot of preparation and near-obsession to live a zero (or 3 lb.) waste lifestyle from the perspective of the common person looking in from the outside, but through practice and dedication, Ginny's made it second nature.
"In the beginning I was super strict with myself…but that wasn't really mentally sustainable," she laughed. She was finding herself more obsessed with the little things rather than the big picture, she said. "I had to take a step back and say, 'It's okay.'" She now keeps a can on her counter, about 8 inches tall and 6 inches in diameter, where waste that cannot be recycled or composted is placed (not including the cat litter). This little vestibule accumulates about a month's worth of household trash, she estimates.
---
In addition to Bea Johnson, Ginny credits her inspiration to several others she's encountered while immersed in studies of the movement, including Polly from Green Indy Blog and Kathryn from Going Zero Waste, and Buffalo-based sustainability practitioners such as Kayleigh of NestingDoll.
"She mostly focuses on reclaimed material for bags and purses…I really like her side of it," Ginny said.
Collaboration with other individuals and organizations in town is deeply important to Ginny. Through social media she's been able to make connections that may not have come to light without this particular technology, including a collaboration that had Ginny working with local businesses in Allentown on a neighborhood-wide art installation last year.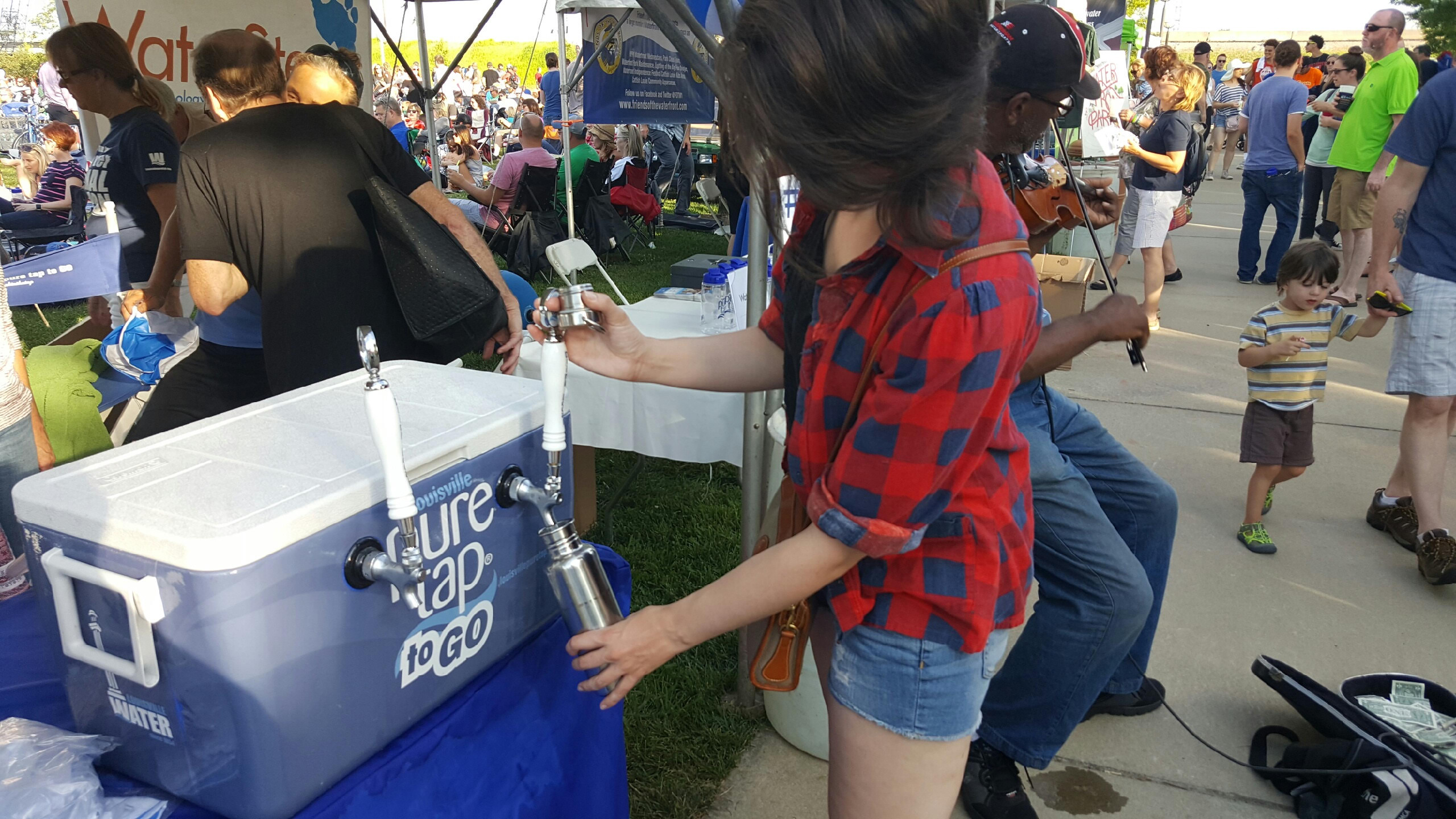 "When I first started [the Instagram account], I was mostly trying to follow local accounts and reach out to local people and connect with them, because that is super important to me," she said. In March 2017 she featured a different local business every day of the month on her Instagram account, highlighting the sustainability efforts of the company and its work in the community.
"It's also built my confidence a little bit, to reach out to and meet people I don't know," she said.
It was at a green business event at ShopCraft that Ginny was introduced as "Zero Waste Buffalo" to Kelly Atkinson of CreativeMornings, who immediately gushed at the meeting. "Kelly was like, 'Oh my god that's you! Hi!'" Ginny said. This meeting got the women talking about how they might be able to work together. Kelly told Ginny about Green Window City, an initiative Kelly brought with her from Edmonton, Alb. three years ago. This initiative had the women working with local businesses and artists in Allentown to create art from reused materials, to then be displayed inside and out of businesses in the neighborhood. They ended up collaborating with 10 businesses total on the initiative.
---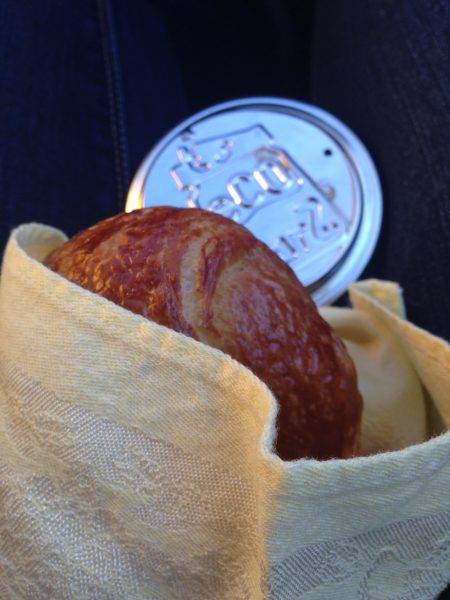 In studying local efforts to reduce, reuse, and recycle, Ginny recently came across a case study involving a zero-waste acquaintance of hers, Cassidy of Impact Earth, based in Rochester, NY. Cassidy holds educational events about sustainability in schools, with the aim of guiding young minds during their formative years and sending the education home with the students, who can affect change within their own families, Ginny said.
"They started in one school district, and they were able to, in three months, reduce the amount of garbage bags they used, so they reduced the amount of money spent on garbage bags, and then reduced the amount of times the dumpster was picked up, saving them about $40,000 a year."
The economics of sustainability is going to be the driver in years to come, as eco-technology comes in line with affordability, and more corporations adopt practices that primarily improve their bottom line, with a secondary benefit of good social and eco stewardship.
---
Ginny credits the Lexington Co-Op as being the number one place in the city that's assisted her in her journey towards zero waste, she said. She's also a huge fan of Canada's Bulk Barn, a veritable wonderland of all things bulk, as far as the eye can see (no exaggeration). Although proponents of package-free goods, the company did not provide or allow reusable containers — until recently.
The change came after a good ol' fashioned power-of-the-people movement, in which consumers effectively put a boycott into place, thus driving the company to alter its practice and provide containers (for a nominal fee) that customers could then bring back over and over. "I love that example; it's just one example of people actually forcing a business to change," she said.
---
Ginny hasn't quite left the confines of social media yet, preferring to keep a relatively low profile (for now). While she hasn't had any public speaking engagements (yet), it's a definite possibility for this burgeoning (no) trash queen, she said.
In the meantime, Ginny will continue being a social media influencer in service to planet Earth, continue administering the Buy Nothing group she started in her North Buffalo neighborhood (of which 150 people are now members), and hopes to someday soon snag a plot of land from the city auction and create a donation community garden, where she can practice her nascent green thumb and give the bounty away to her neighbors.
---
Holiday Recycling Tips from Virginia Leary of Zero Waste Buffalo:
Put your real tree out in the curb after Christmas completely bare with no lights/ornaments — don't bag it, and the city will recycle it.
Cardboard/white styrofoam/plastic bubbles or bags can all be recycled in Buffalo! The cardboard can be broken down and put in your normal recycling bin. The bags/plastic bubbles and all soft plastic can be taken to the plastic bag recycling boxes in front of Wegmans or Tops; clean white styrofoam can be taken to Thermal Foams at 2101 Kenmore Ave. Just bring it to the main office.
If you are a person who gives gifts often you can save all of these materials for reuse.
Wrapping paper: You can carefully unwrap and try to reuse again; ribbons can be saved and reused. If not reused these items should go in the trash, unless the wrapping paper contains no metal or mixed with plastic. If it's just paper it can be recycled.
Other alternatives: Use paper bags, newspaper, or magazine pages to wrap gifts. You can reuse gift bags, cut up last year's Christmas cards to use as gift tags, or cut off the back part of last year's cards and write on the back of the card.
Consider reusable alternatives such as wrapping gifts in a scarf using the Japanese technique furoshiki, or using the bag of another item to be part of the gift. My personal favorite is telling someone to close their eyes and putting the gift in their hands.
Photos provided.