"I usually have a two-hour chunk every day — well, at least one — where no one's crawling on me," laughs Sarah Knight, the accidental media maven behind the who's who online powerhouse ROC Girl Gang, out of Rochester, NY.
The site, started in 2016 out of a desire to find and learn about other creatives in her city, has become an evolving directory of the women business owners of Rochester and has expanded into a quarterly speaker event that now sells out 30 minutes after tickets go live.
"I just thought, I wonder if there would be something to this," Sarah said. "And then, you know, being a mom, and being a creative, and feeling kind of isolated, I started looking into creative conferences. I didn't want to fly to New York City, or Austin, or where ever, but I thought, 'I'd love just to go to a two-hour thing with like-minded women, just to reset, or to be inspired.' I started thinking about that stuff in my head. I think I mulled it over for a good year at least."
---
How could people find out about this?
Her first big outing into the world of creatives in Rochester was through a piece she designed for her own home. The piece represented all of the streets of Rochester, and it turned out to be a hit among her friend circle. "I made some for my friends and they loved them. So I posted them on my Instagram — I had like, 200 followers at the time. I thought, 'How could people find out about this?,'" she said.
"I ended up collaborating with this girl from Rochester; I didn't know her [at the time]." That girl was Paige Auber. "She has a beautiful Instagram account, 10,000 followers, and she had commented, 'Oh my gosh, I love this, I want this,' so I said, 'I'll GIVE you one, if you want to host a giveaway with me.' I felt really stupid, because I had never met her, but she was so excited about the idea, and we did it."
That collaboration was the impetus needed to kickstart Sarah's wandering thoughts into reality. "It went super well. It was really well-received. I got hundreds of new followers, all in my target market. Then I thought, 'What if there was something like this happening all the time?' I liked seeing the new people, I liked collaborating with another girl. I joked, 'I'm going to start a 'ROC Girl Gang,' and you're going to be my first member,' and she said, 'Yeah, I love it!'"
Paige has since been involved in assisting Sarah with promotional pushes for live events via social media. "It was just great — getting to know somebody new and helping each other. That's when I said, 'I think I'm going to do this.'"
---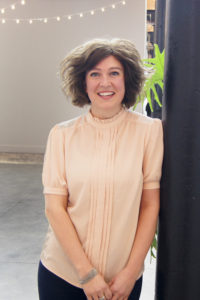 The burgeoning graphic designer and young mother of two boys from the tiny hamlet of Adams Center, NY, has been a denizen of Rochester for 12 years. Those first several years in town, a town she shuffled off to when her college sweetheart and now-husband got his first job post-college, were spent floundering.
"I did a million different things, because I didn't have any clue as to what I wanted to be doing. I started in admin, I nannied, I cleaned, whatever…Then I found that I really liked graphic design, through my admin work. So I went to Monroe Community College and took a couple classes, enough to get a minor in graphic design," she explained. Shortly after she began her own design business, her first son was born.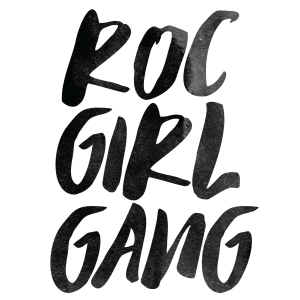 Fast-forward a couple of years, and Sarah's yearning for community became undeniable. The ability to connect with women all over her city, while being able to stay home with her young family, was the key to unlocking this hidden world.
"I love running the blog. I love being behind the scenes, coordinating it. I love getting all the information and compiling it, then formatting it, and then putting it out — that's kind of perfect for me. It's a really good merger of my talents," she said.
The blog itself is an excellent representation of talents from the area. Through the work, Sarah found other creatives who wanted to contribute to the pieces, including photographers and illustrators. In the beginning, however, it was just her. "I mostly didn't know anybody. I just emailed people and said, 'Here's what I'm doing,' and that was super scary. But it was really well-received. It does mean a lot to me — most of these women had no clue who I was, but just emailed right back and said, 'Yeah, I love this idea, and let's do it.'"
Since then, Sarah has formulated the style and look of the blog, cultivating a pool of talent that jives with her vision. "I created a style guide, and decided what I wanted it to look like," she said. Her experience in design was critical to developing the brand's aesthetic in partnership with the pieces the photographers and illustrators brought to the table. She now works regularly with approximately 10 to 15 photographers on a rotating basis, all who tend naturally toward the style and look Sarah strives for on the website.
---
This is new, I kind of don't know what I'm doing.
Becoming Boss is a quarterly live event that features a panel of local business owners and myriad powerhouses in the city of Rochester. Before this event, Sarah had no real experience producing live on a scale of this nature. "The first one was nice, because it was super low key, but it was still a lot of work. I had no clue how much to charge, I'm not good with numbers," she laughs. "But I really wanted to do it. I wanted to build a following a little bit first, so people kind of knew what we were about."
ROC Girl Gang was launched in May, and the first Becoming Boss happened the following January. "So it was nice. I felt like we had a decent following, we had about 5,000, 6,000 followers [on Instagram] but it's like, are they going to show up to anything? [Numbers on social media] don't always mean anything."
And indeed, the crowd showed up. "I really wanted to do it, kept it simple, had my dream team panel, emailed them, and everybody said yes. I was just kind of like, 'This is new, I kind of don't know what I'm doing, so please just, hang in there with me,'" she said.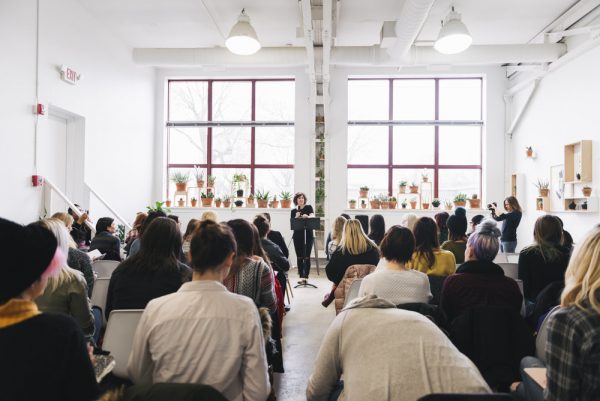 "It was a great panel, it was a great line-up, and that really sells it. I coordinated and stuff, but they want to see these women, they want to hear from them. Women want to get together and connect."
After formalizing all of the technical aspects of the event, Sarah shot it out into the etherspace a couple of nights after Christmas, and went to bed. "I woke up to emails and tags and messages asking if it had sold out," she said, incredulous. She had had 50 tickets available for the Rochester Brainery, and it sold out within a couple of hours.
The latest Becoming Boss (#6), scheduled for Saturday, April 7, sold out in 30 minutes, the quickest sell to date.
"And still, even after they sell — and they always sell so fast — I'm always like, 'Oh, no,'" she laughs. "I have that moment where I'm excited, but I'm also like, 'Now I have to do the thing.' Now I have to deliver. That always gives me a little anxiety."
Sarah coordinates the events from top to bottom, from choosing a different venue every quarter, to working with different event coordinators, to putting together the event booklet, to selling ads featuring the businesses of the ROC Girl Gang. "The events are so satisfying, but I am not an event coordinator. I would never, in a million years…I think that's something I would say I do not want to do. So, kind of funny."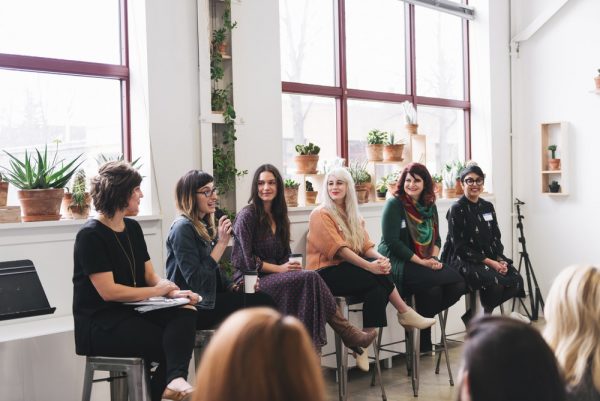 The events have given the women of Rochester and surrounding areas the opportunity to find each other, much as Sarah, too, sought these women out.
"I'm trying to tell the story of how these women business owners got started, and their journey to get them to that point. That's what Becoming Boss is. Some of the attendees are women who are starting out their businesses, but a lot of them are not business owners. They go to get inspired, go to network, go to meet new people. I have several stay-at-home moms who come because it's a great morning out. It's very interesting to see who's coming to these events, and it's like, why not? People want an excuse to come together, and to show up some place cool and meet new people and experience something different."
Sarah has seen a wide age range of attendees at the events, from women just out of college, to people in their 50s and 60s. "It's really cool to see them all come together," she said.
---
Besides her own RGG events, Sarah has also developed several one-off collaborative events with various groups in the city. One in particular was an art exhibition of featured artists, hosted by the Rochester Brainery. She's also hosted the documentary "Dream, Girl," in conjunction with The Little Theatre, as well as a mixer at Joe Bean Roastery to raise money for Sojourner House, a shelter for women and children. "I don't see ROC Girl Gang going anywhere, so I think there could be more of that in the future," she said.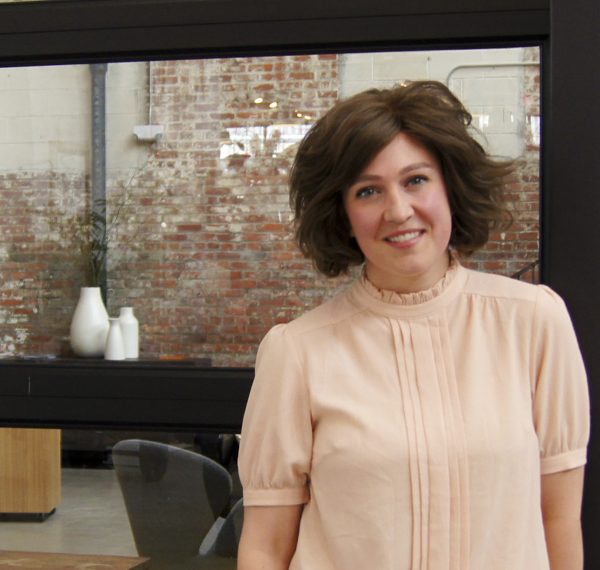 The project, and, especially, the Becoming Boss series, has afforded Sarah the opportunity to meet a plethora of like-minded women in her city. "It's nice to have this huge community now…There are always new ideas, people sending me people…There's almost too many," she laughs. "It's neverending."