NOELLE BEENAU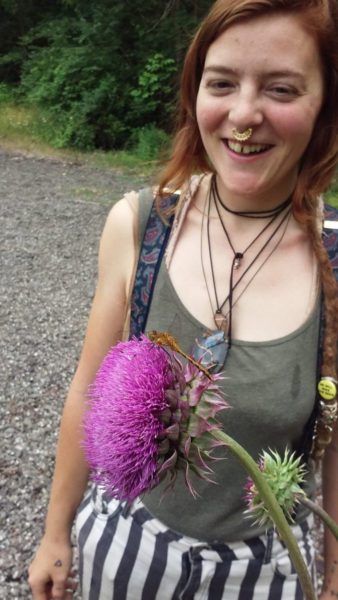 Noelle Beenau of PizzaDoughnuts is an interesting human with many talents, including but not limited to the ability to light a jazz cigarette with her toes.
Noelle has been involved in a number of projects, but explains, "Currently my main project is PizzaDoughnuts, where I'm known as StreetBrownie, the burping singing front human. 3/4 of the piedough, alongside Ian McPhail the painter, are involved in a noise project called The Ghandiz, a chaotic fart torn in twelve lanquists' on the harbouring mallow."
"StreetBrownie is the MC for PizzaDoughnuts. Consisting of two parts stage presence rendered in banana peels and polka dots, four parts raw emotion filtered in pure ecstasy, roughly 2 liters of water, and topped off with an expansive vocal range enriched with wavering tonalities."
In the past, she dabbled in Flying Machine Collective, based in Brooklyn, but that is far from all: "For many moons the late walls of College Street Gallery did echo with my rhythmic poems on Thirsty Thursday nights, performing under the name Betty Red. This was also the time of my solo project called Brutal Frugality, a low-fi explosion of everything and nothing."
While her life is full of music now, it has not always been the case. "Until the age of four I was speechless. Once the talking began, singing followed right after. Though I never stopped singing, it was in my late teens that a development for playing and writing came forth to blossom. By now it's been a good 8 years."
I asked her, "What kind of music do you like to make?" to which she responded: "The kind of music that is good. That stirs yah, makes yah feel, makes yah move, makes yah think and question this existence, or makes yah forget about it for a moment."
As I do with all the artists I interview, I asked what inspires her music. Noelle replied: "The unexplored notches hidden in potholes veiled with rat carcai. The enchanted ruins of our industrial playground. The steamed buns at the West Side Bazaar. The bubble man in Allentown. Bike rides to anywhere. Most importantly, my friends n family."
ISABEL GABRIELLA FONTANEZ-CIRILO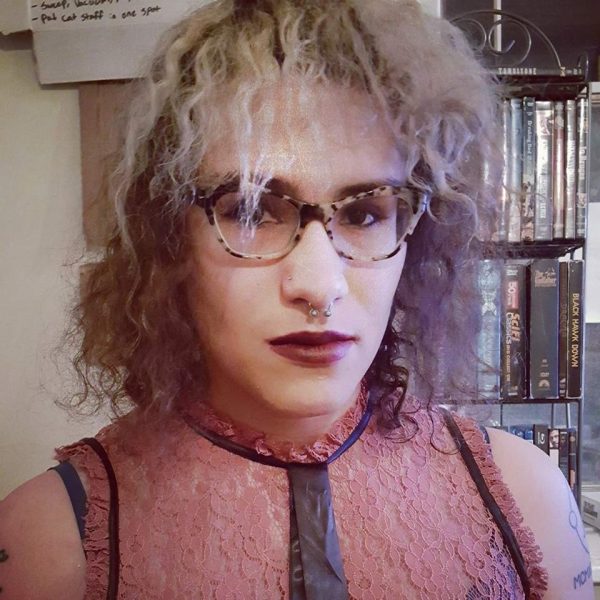 While Isabel has been involved in past musical projects, she says "Tina Panic Noise is my main squeeze." She started taking piano lessons at age 7, but didn't start writing her own music until she was a teenager. "I've been making music ever since." Now she focuses on bass and singing for TPN. Ironically, Isabel hasn't always been about the punk life. She tells me, "I once found a bio I had written about myself for a 7th grade class. In it, I wrote that I liked all music except punk music. Which is hilarious because that's the majority of what I listen to now."
When asked what inspires her, Isabel tells me, "The queer community in Buffalo is strong and angry and punk as all hell, so that's a huge burst of energy behind me and what I do. Also, the age and history of this place really gets in my head, so that comes through in our music a lot, too."
ROBIN KILLGORE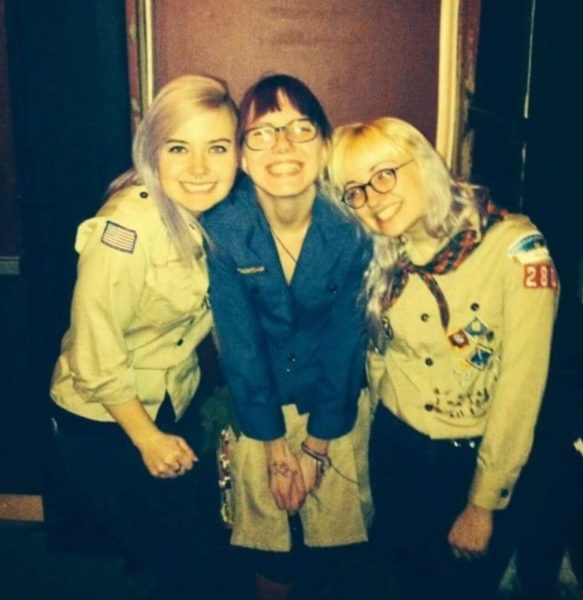 Robin played the trumpet in Robin and the Hoods, a punk/ska band, from 2011-2014. Recording with Aluminum Records, they ended up on a small Northeast tour in 2013. She has also played alongside Eva Falkenstein in Boy Scouts, recording on Drug Party tapes and Meow or Never tapes.  They were a feminist, punk, riot grrrl outfit, touring the Midwest in 2015.
Robin originally started playing the clarinet in the school band, and she still picks it up today. "I've only played trumpet the last several years…[and] I also play banjo," She says. "It doesn't feel like I started 17 years ago."
A fun fact about Robin is that she's outdoorsy AF. "I love bow hunting and am an avid fisherwoman. Being outside is my favorite."
Shows, especially house and small DIY venues, inspire Robin. "There's so much energy in those spaces."