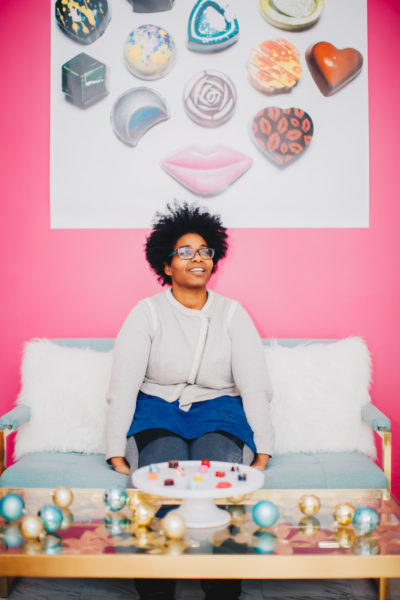 When you look at one of Michele's creations for
Whimsy Confections
, you can fully realize the artistry and talent required to be a great chocolatier. It is not just following a recipe to bake a cake or make a batch of cookies. These shiny, perfect, hand-painted (yes, I said HAND-painted) chocolates are more than just a labor of love from a masterful craftswoman. Each chocolate is a unique creation, and if it is not part of the permanent Dream Collection, you will never see it again. It is as fleeting and beautiful as a spring bloom or a gorgeous ice sculpture — here for a moment in time, then gone forever.
---
Even though she had a sweet tooth her entire life, artisan chocolates just weren't in her worldview. Growing up, she had the classic loves that every child has; cake, ice cream, and cookies. Like many children, her favorite desserts growing up were family recipes that she was able to gobble up each year at every party. As a self-described 'Cookie Monster,' it makes sense that on the list of favorite desserts are her father's sugar cookies, which she makes every year for Christmas. Then there are those moments that stay with you forever. "Some of my first memories are having my first slice of red velvet cake, and being totally in awe. My aunt Prinn makes it. I am able to do it but there's nothing like hers. If I was having a last supper and I could only request one thing, I would have to have that before I die."
So while candy, cookies, and ice cream were part of Michele's life for the celebrations that are typically expressed through sugary confections, she had never truly experienced chocolate or desserts that were on the level of what she now makes. All that changed a decade ago when she was living in Washington DC. "[That] was really my first time having artisan chocolates and I just loved it. It [was] the best thing I have ever had in my entire life." And so the love affair with luxury chocolates began.
---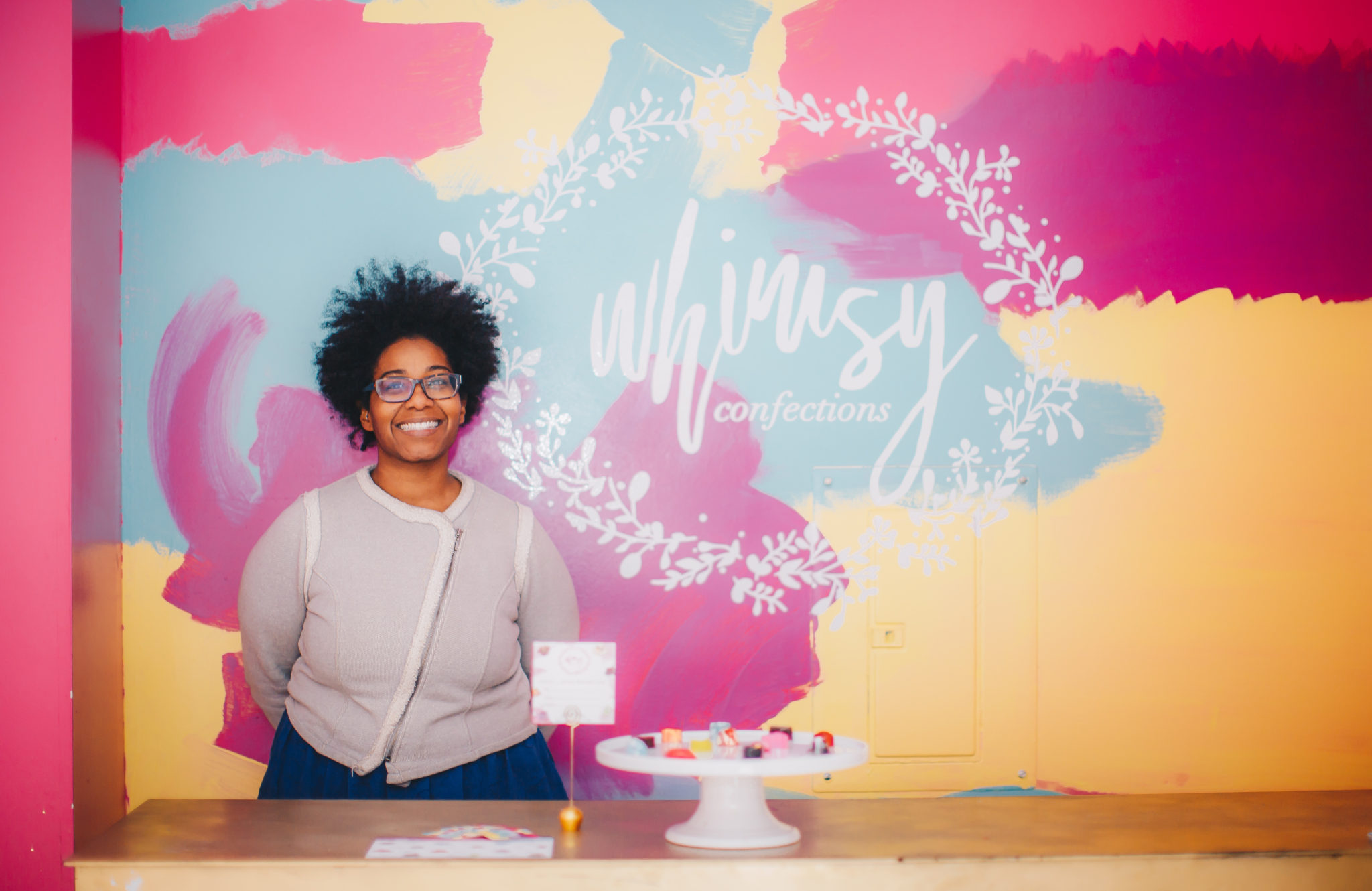 Life was not all chocolates and candy for Michele before Whimsy was created. Before Whimsy, she had a full-time job, whether it was here in Buffalo, Washington DC, or New York City. Michele has always hustled and worked hard. She knew, however, that desserts and sweets were her true passion and calling — but it had yet to become a full-time job.
Back in DC, after this chocolate epiphany, she jumped headfirst into a home business and also took a step towards gaining her professional chocolatier knowledge. She signed up for a course in chocolate making. However, it being a small course with many students, it didn't give her the hands-on opportunity she so desired. She got to see demonstrations and learned how to temper chocolate and make ganache, but she wasn't doing all the steps herself. She learned a little, but craved more.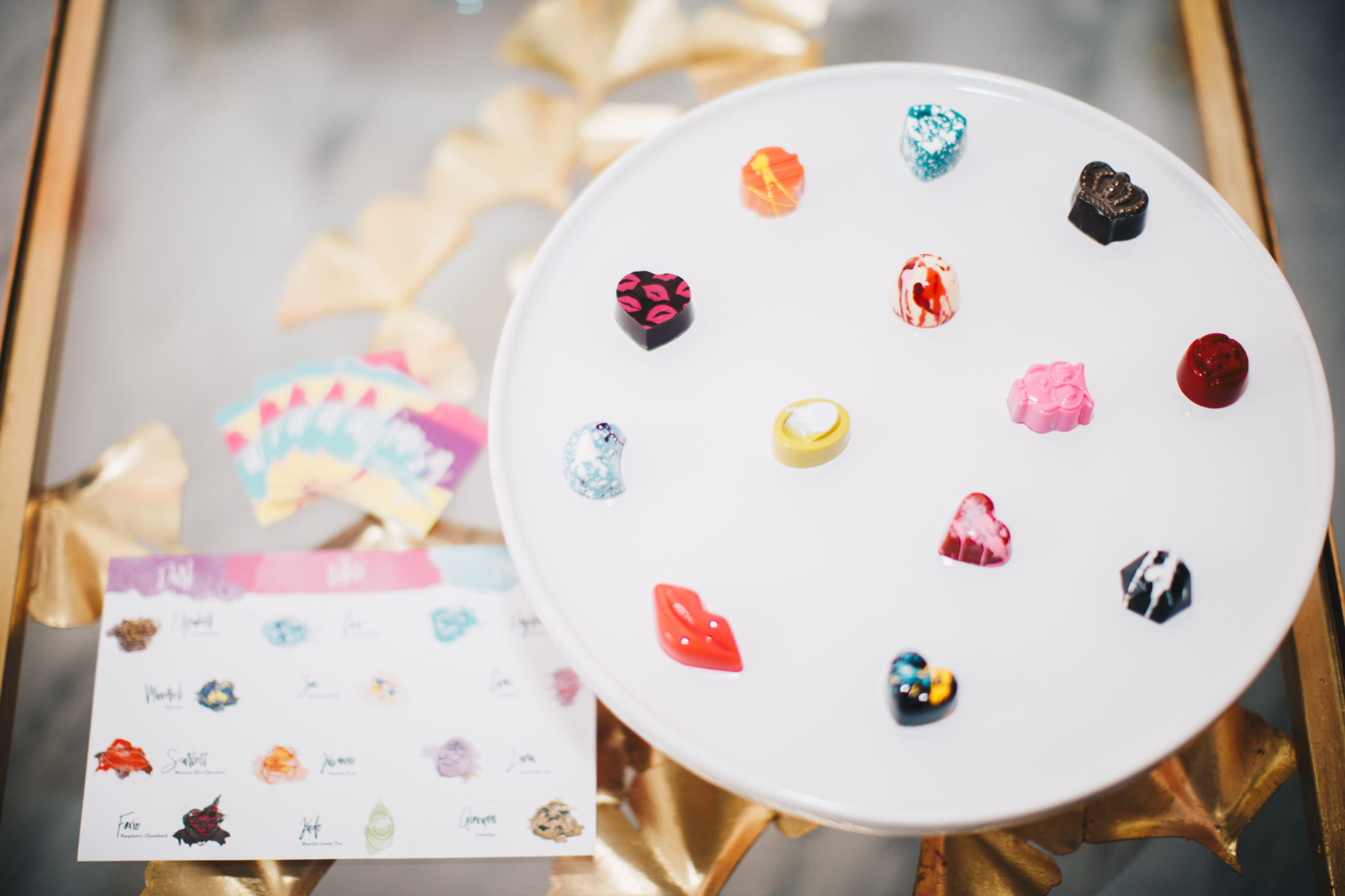 Meanwhile, her business went full steam ahead. She was making a logo, a website, and taking orders for baked goods and pastries. But this was a second job in addition to her full-time, 40 hour a week job. This side business was taking off, and she was getting orders from all over, but it was slightly overwhelming. "I just went ahead and started this business, [but] I wasn't really ready to jump into [it] – I didn't do a business plan. It was very much trial and error."
One day while reading a magazine, she came across an article on a Chicago-based chocolatier, and that was the first time she really saw being an exclusive chocolate maker as a career choice.  She had so many questions, so she reached out and emailed her. The woman was friendly, answered her questions, and gave her the stone cold facts. "I reached out to her and she […] gave me some hardcore facts about what it takes to do it, and didn't sugarcoat anything."
---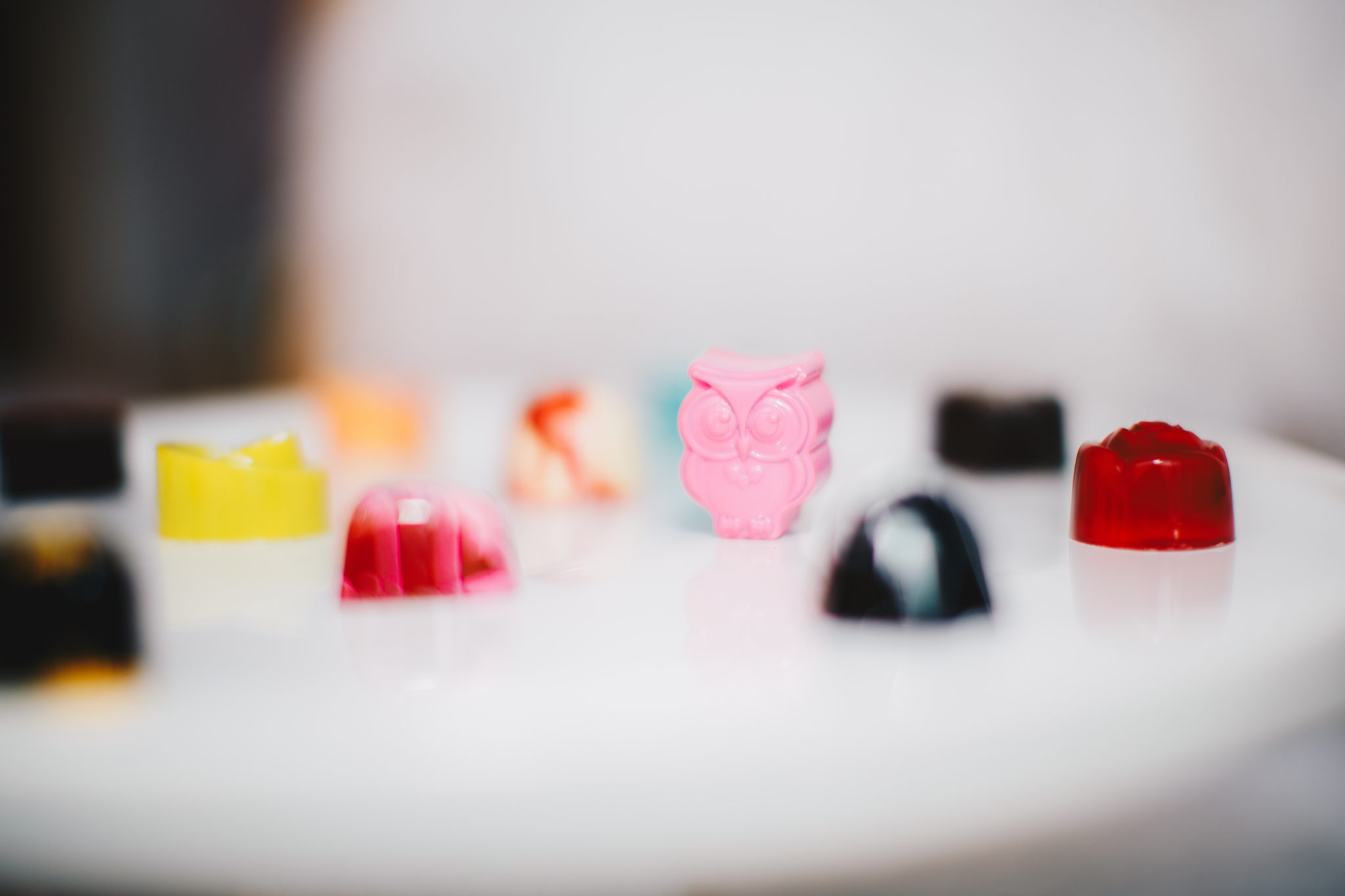 After the excitement of artisanal bonbons and starting her own business, it was time to move back to Buffalo. She got another full-time job, but never let go of her dream of becoming a chocolatier. Each year she would think about this dream and ask herself if it was time to take the next step. "Every year I would say, 'Am I going to take the training to be a chocolatier?' And every year I didn't do it. I would ask other people, 'Do you think I should do it?' And they would say 'No'. So I've learned not to ask permission […] because I wouldn't be here if I was still asking permission."
Two years ago it was New Year's Resolution time, and Michele decided to stop asking herself if she should take that class and instead signed up. It was a four-month intensive online course from Nicole Chocolate, a Canadian-based chocolatier. After the course, she was a certified chocolatier, and was ready to start planning her own chocolate future. The first thing she needed was a business plan, so she reached out to WEDI (Westminster Economic Development Initiative) who offers small businesses loans. They helped her with her business plan and did a pitch to the loan committee. She was awarded a small business loan in the fall of 2016 — everything was falling into place.
---
Originally she was not going to do a brick and mortar, but those plans all changed after a friend of hers had spoken to Brandy Mayweather, who runs the Queen City Pop Up Shop, and pitched Whimsy to be part of the Christmas Pop Up. Michelle was brought on board and once again swung into action, getting a display case that she upcycled and made sparkling new to show off her confections. She had decorations and made her corner of the pop up festive and fun. And it worked — she got a lot of great exposure and made a ton of sales. She worked around the clock right up to New Year's Eve, where she served champagne to her shoppers. That night, after the pop up, Michele was exhausted but energized. "I really wanted to […] start the [new] year living in my passion, […] doing what I love to do, and what I felt like what I was meant to do — which was my business." It was not just a dream, it was prophecy.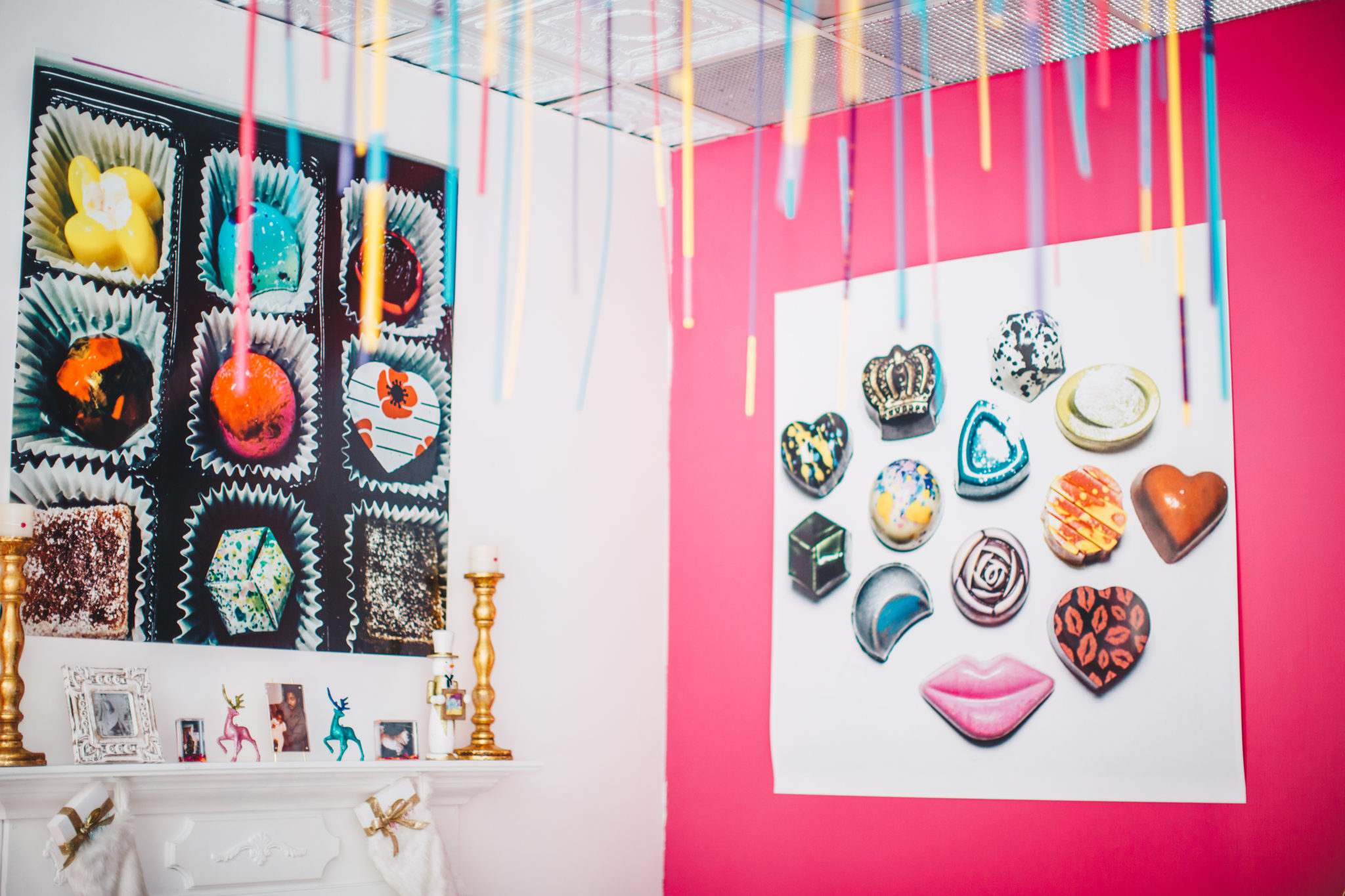 Soon after she received not one but two separate emails from Pop Up Shop alums who both have residences at the Market Arcade, saying that a storefront across the street on Main Street had just opened up and it was PERFECT for Whimsy. Two recommendations (from Rust Belt Love and Buffalo Barkery) coming at the same time was not something to be ignored. Michele got on the phone, set up an appointment, and saw the space the same day — it was perfect.
Within a week, she had signed the lease and started to move in. But Michele still had a day job in addition to starting up Whimsy. It was not an easy task to undertake and setting up the perfectly adorned storefront took both time and money. "I'd work, get a check, get some paint; work, get a check, get some tiles; work, get a check…" until the space was complete. A couple months later and she was ready to open the doors to her fabulous storefront.
---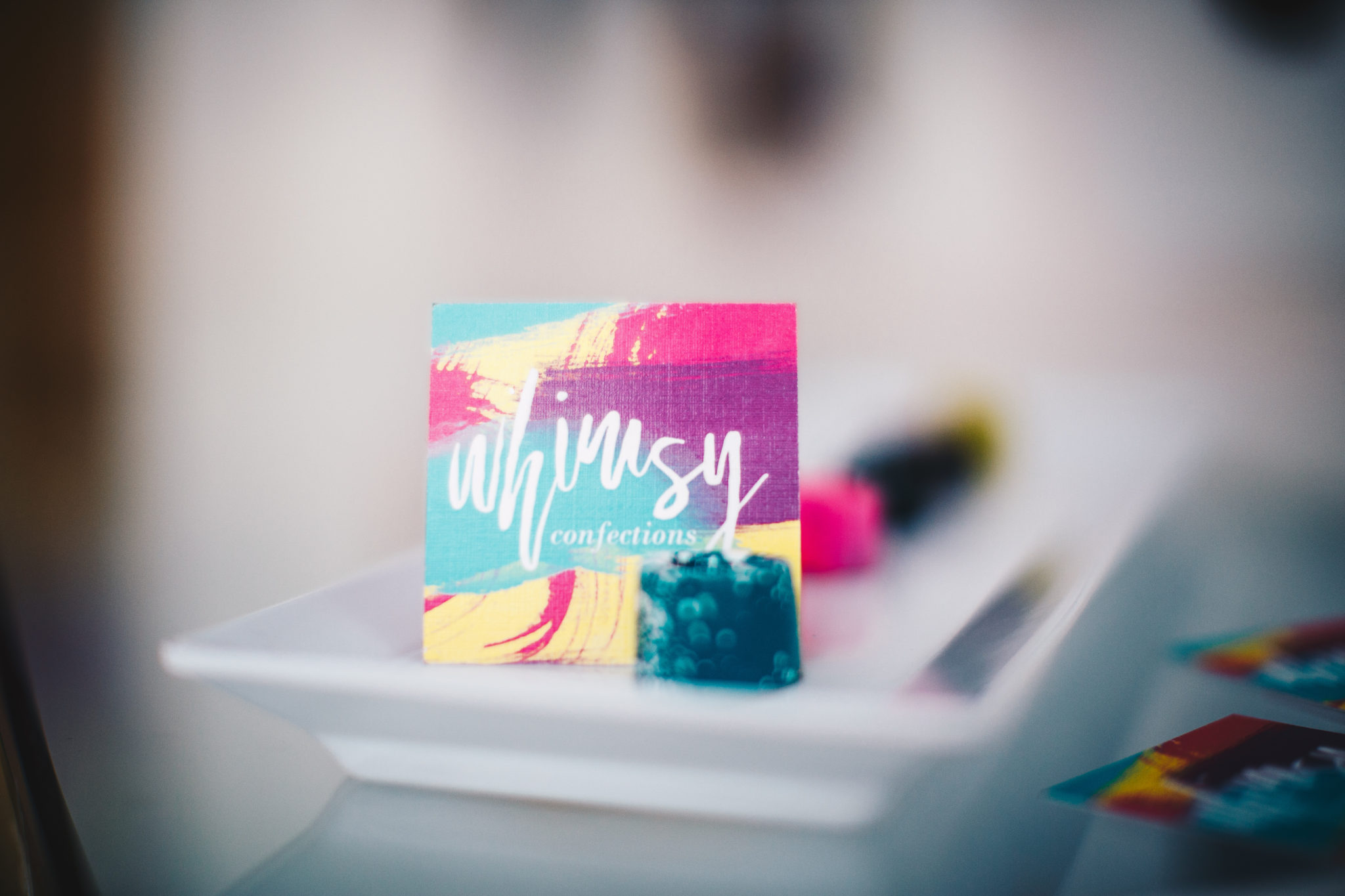 All the work she had put into the storefront, the pop up, the business plan — that pales in comparison to the work she puts into her chocolates. Each chocolate is designed and has a personality all its own. The Dream Collection consists of twelve pieces each based off of a different song. The flavors are selected to match the mood of each song, so is the mold, colors, and design for each piece. For example, 'SCARLETT' is flavored with Mexican hot chocolate, inspired by Beyonce's "Naughty Girl." "FOXIE," who is Michelle's Chihuahua terrier rescue she adopted while living in DC, is raspberry chambord, and was inspired by Prince's "Raspberry Beret."
Not only is there incredible care to the thought behind each piece, but there is the labor involved bringing these to life. "I'll make for an average set 1,200 pieces or more; one hundred of each flavor, and there's twelve in a set. If I'm doing an additional box, those are nine pieces, so you add another 900 onto that. You're talking about a couple thousand plus." There's no wonder that when she makes her batches, she can be in production for 20 hours a day, for several days at a time.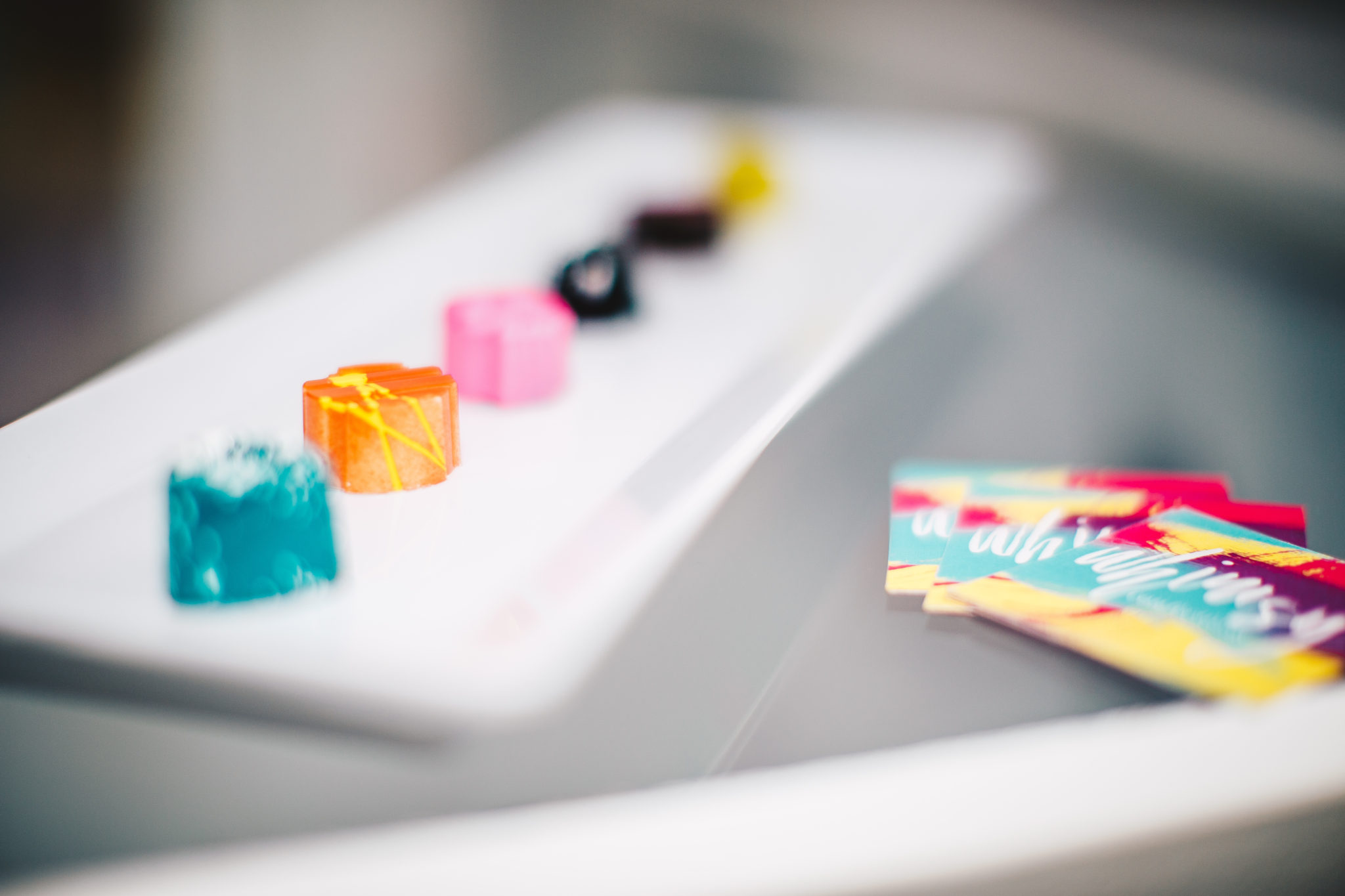 The Dream Collection can be purchased anytime, although for other collections, we are not so lucky. Each collection she's made gets her full attention, with every chocolate carefully designed with flavors to go with their unique name and each theme for the box, which is customized. The latest Holiday Box from Dec 2017 was inspired by holiday movies, so there were chocolates like the 'CINDY LOU' and the 'RALFIE.' In the fall, she came out with the Vinyl Collection, which was based off of various record album covers. Michele makes a collection, it comes out, and when it is sold out it is gone for GOOD. So when you see a new collection, you better grab it fast, like this season's Valentine's edition — the Goddess Collection. This latest box consists of chocolates all named after Goddesses, each with a flavor profile all their own, in a gorgeously illustrated pink and red box.
---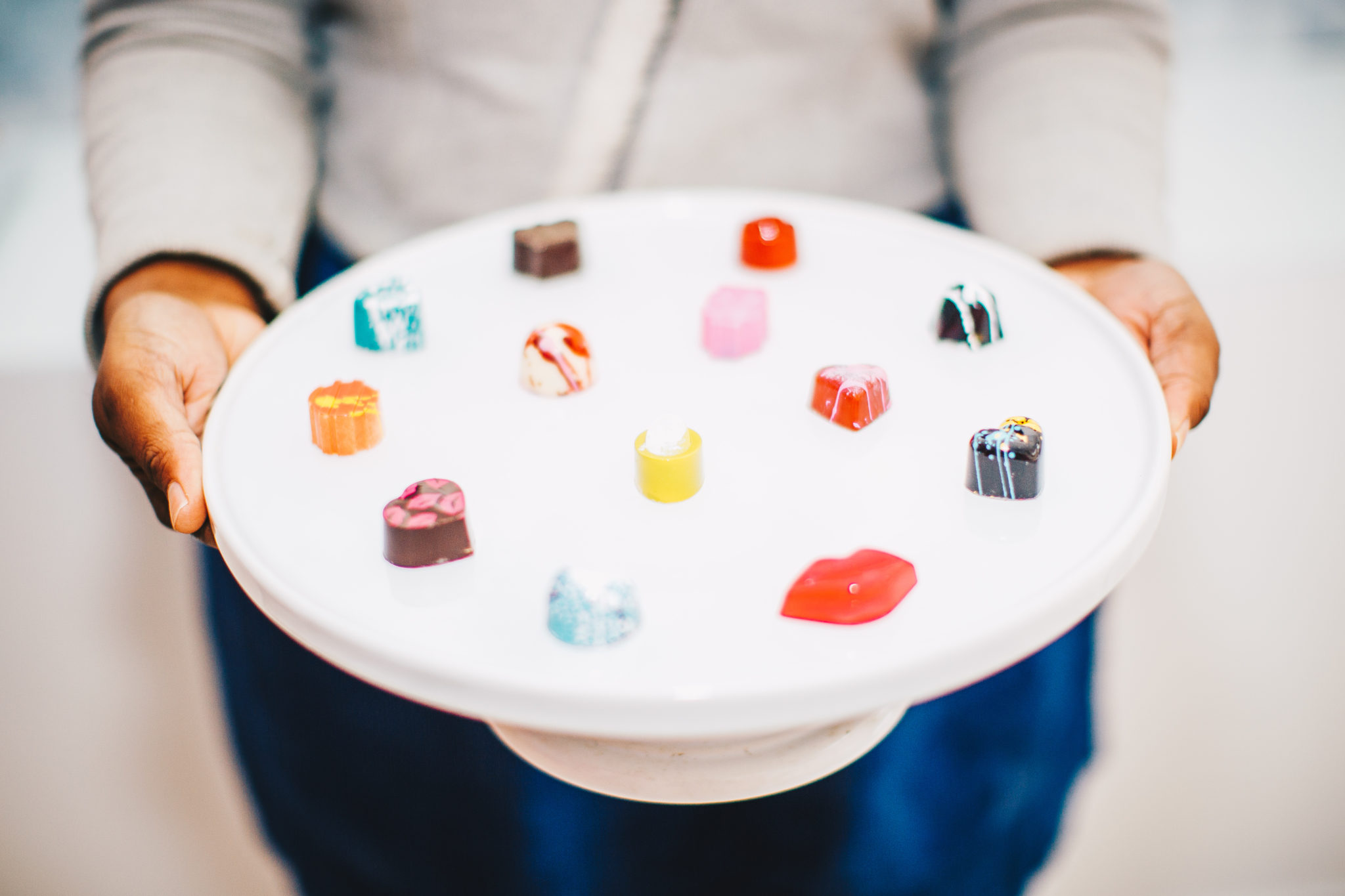 Whimsy has been blowing up in just the few short years since its inception. She gets corporate orders from places like DeLoitte, the Children's Law Center in DC, and Buffalo's own Evergreen Health (who was Michele's former employer and has supported her efforts from the beginning). Whimsy's website gets orders from all across the country, from Maine to California. With the success of her chocolates, I asked Michele what's next in store for Whimsy?
She is currently planning a new line of chocolates that are more high end than her current selections, with different kinds of chocolates and fillings. After that, she would love to bring her chocolates to pop up shops in other major cities around the country. She would love to include homemade ice cream in a future version of Whimsy (ice cream is her second biggest passion next to chocolate). She even has a dream of opening an urban winery someday. "You know how you have really fun cool brewhouses? I would really love to open up […] a cool, hip, urban winery. I am very big on urban neighborhoods and cities. I think […] it's good for people to live in a neighborhood that's walkable, not just for health purposes but also to get to know your neighbors. It's always good to have communal spaces to be together."
---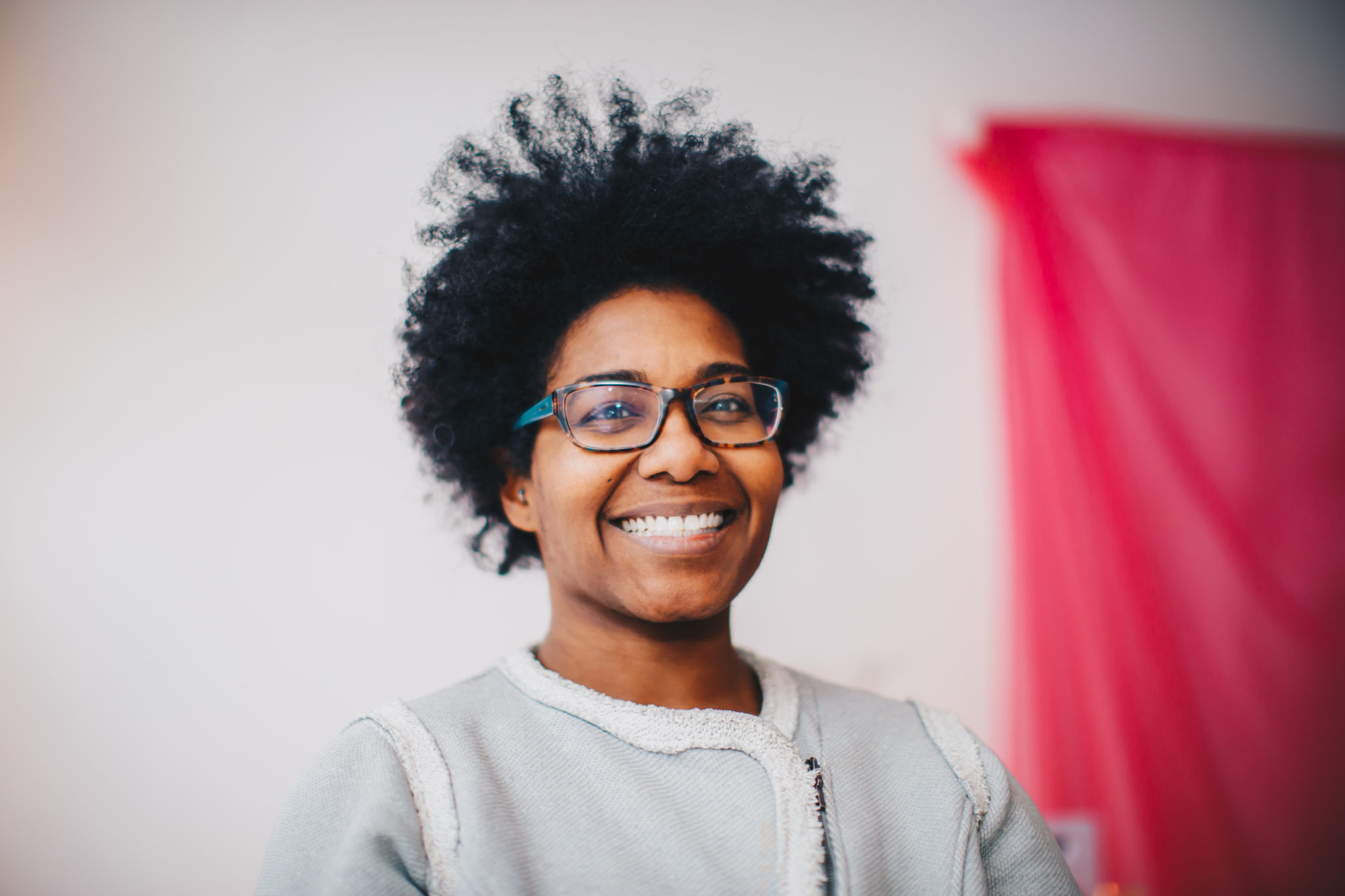 The core of Michele's desires are more simple than her complex luxury chocolates or her future dreams of an urban winery (yes, please!). She just wants to have her creations be part of those special occasions we all use sweets to celebrate, from birth through all of our milestones. "I want a lot of people's special memories to be around the chocolate that I make; I want to be a part of people's special memories." So keep your eyes open for her new collection coming out in the spring, and don't miss the current Goddess Collection, out now for Valentine's Day (or any day, really). Whimsy is ready to have a special place on your dessert table, for every occasion from birthdays to weddings, and that's what Michele's dream is all about. Go make some memories!
---
Photos by AlanAdetolArts, L.L.C. – Birdcage Studios – Buffalo, N.Y. 14213 –[email protected] 
© 2018 AlanAdetolArts Photography LLC. All Rights Reserved. All images on these pages are copyrighted. Use or reproduction without prior written permission is prohibited.