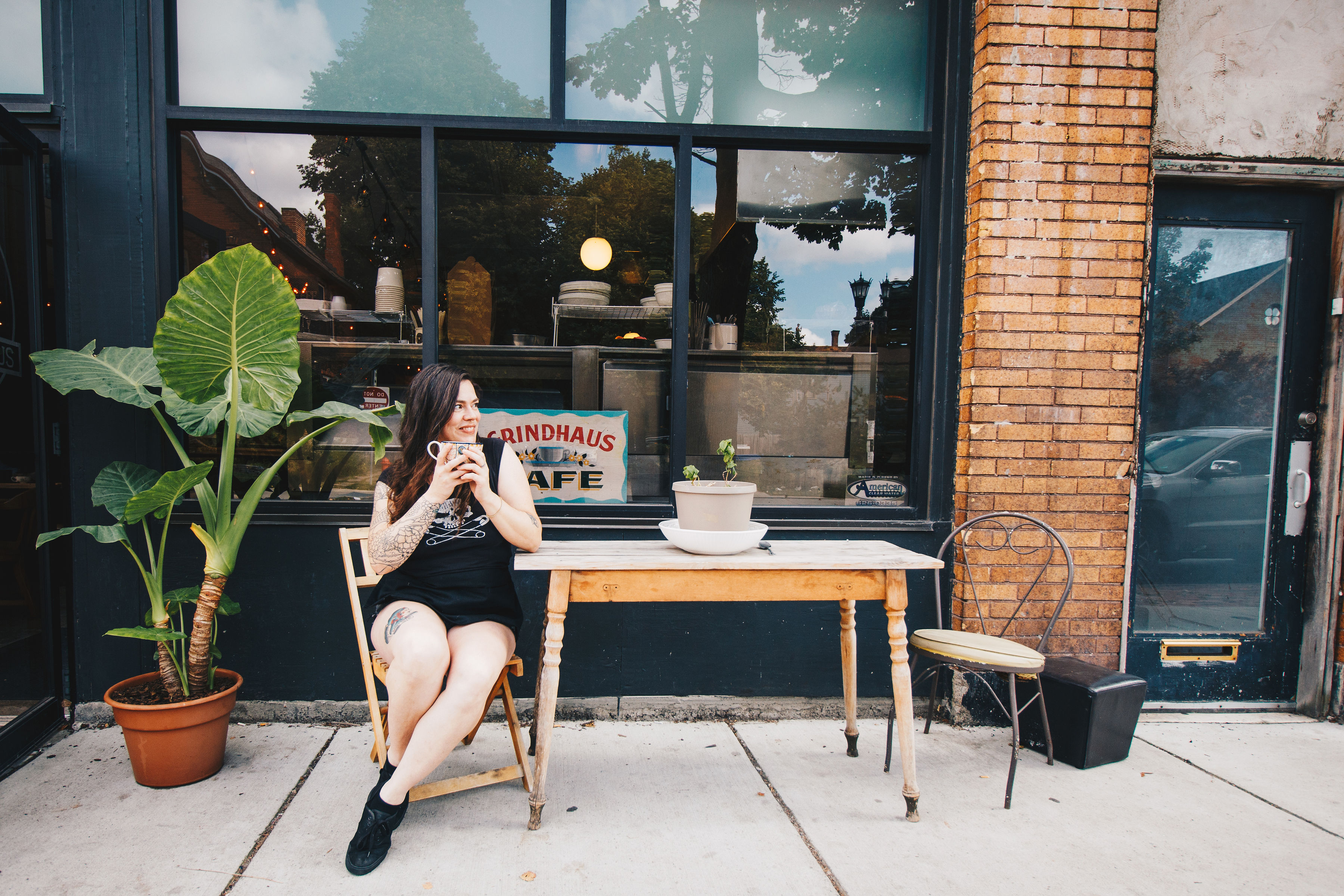 Megan Stewart is well-versed in the old adage, "It takes a village." The proprietor of Grindhaus Cafe on Allen Street has been on both the creating front and receiving end of the proverbial village. She has created a space for everyone, by making her dreams come true with the help of her village. When talking to her it seems like she was destined to come here, even though she hails from far away and originally wanted to end up someplace farther, still.
---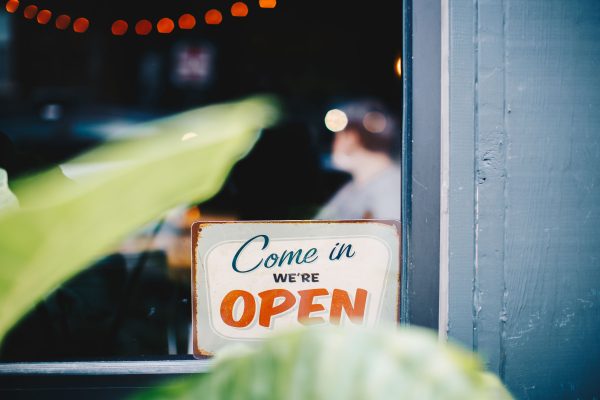 Many people do not make it through adulthood with their childhood dreams intact, let alone pursue them to the finish line. "I wanted to open a coffee shop from the age of 16…even though I didn't know anything about coffee. I didn't even know what a latte was!" Megan said.
How many people reading this can remember their first trip to a cool coffee shop? I know I can, and so did Megan. "My older, cooler cousin Rosie and I went to this place downtown, and I didn't even order coffee. I had Italian soda and tiramisu, and I fell in love with it. I wanted to be there all the time." She never quite let go of this vision, and, as she grew up, she kept that thought in the back of her mind as she acquired different skills that would eventually help her run her own place.
---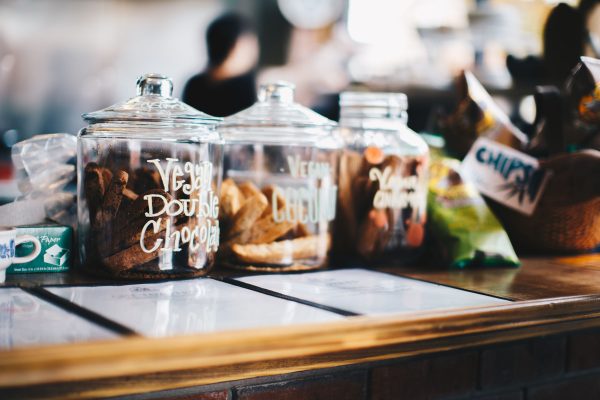 The most unique aspect of Grindhaus is that it is vegan. For those who aren't quite sure what veganism is, it's the very simple concept of not only abstaining from eating animals, but from anything that comes from an animal. That means not just cutting out beef, pork, chicken, and fish, it also means no eggs, butter, milk, or any other animal product.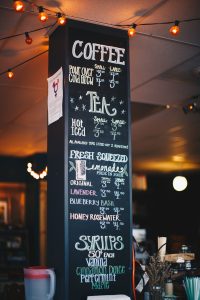 The food offered is not just vegan, but it's GOOD, which some people don't believe can be possible when cutting out a large portion of potential ingredients. However, it's something Megan has worked diligently to master. "I try to keep the menu accessible…it's good food, it's healthy food." So, how did the vegan aspect of the cafe come into the picture?
"Veganism happened [for me] in 2002," Megan said. "At the time I was working full-time at an animal hospital, and at the end of the day it was just counterproductive. I was working over 40 hours a week to save their lives, and then I was eating them. So at some point it just registered — maybe I should stop eating them.
"I worked with a girl who was vegan and she taught me the ropes, explained to me what it was. She said, 'I'm vegan,' and I was like, 'Is that a religion?' She taught me all about veganism, took me grocery shopping, showed me how to do all the things. I then took a full week to eat all of my mother's meals one last time — beef stroganoff, lasagna, chicken and dumplings — all my mom's staples. About 5 years later, mom learned how to veganize them all!"
---
Megan, a native Michigander, wasn't originally set on coming to the Queen City 10 years ago. She had her mind set on going to the West Coast, but after that fell through, a friend steered her over to the Rust Belt. "A friend of mine moved here for grad school. She knew that I wanted to leave [home], so she said, 'Why don't you just come live with me and [my] grams? There's a spot at my Starbucks you could inquire about.' So I came that weekend, worked a shift at that Starbucks, and, within 3 weeks, moved all my belongings and my two cats and was living on a farm in Marilla with a 90-year-old woman. It was really great, she was the best roommate I ever had. She was awesome."
Things really started taking shape for Megan in Buffalo. Finishing her degree in business at Buffalo State College, she started to make headway on her plans for the future. "I realized pretty quickly that Buffalo is a place of a lot of opportunity," she said. She wrote her business plan, got herself a real estate agent, and started to scout out places to set up shop.
---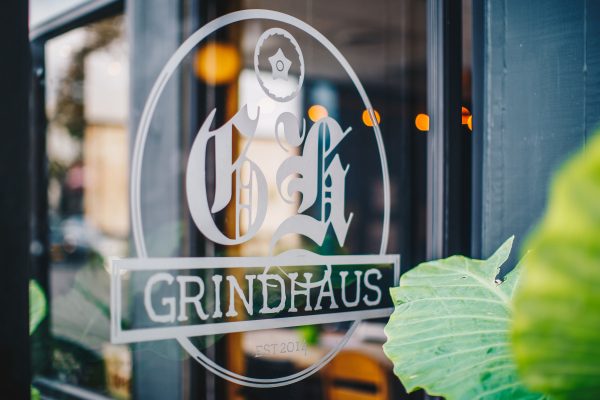 After a lot of hard work, and a lot of help from her friends, the doors to Grindhaus opened to the public in June of 2015 during the Allentown Art Festival. "It really did take a village to get this cafe opened — it still does."
It took 'round-the-clock work in the last few weeks leading up to opening day to get Grindhaus up to snuff. In the beginning, it was a small operation with a lot of potential. Only two things were on the menu those first few months – pour over coffee and loose leaf tea. According to plan, as the customers began rolling in, things were added to the menu one by one.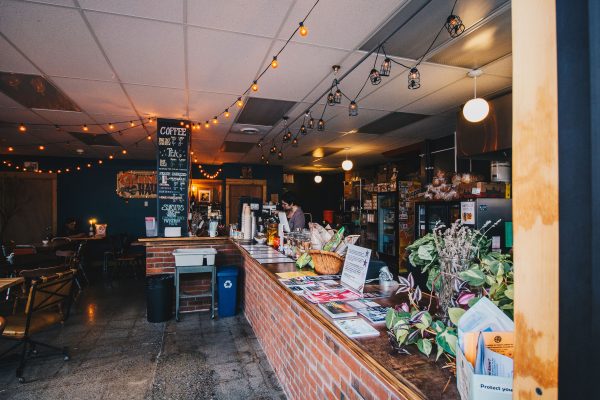 First came vegan biscotti from
Biscotti for Everybotti
. Then came the toast menu, which included some Instagram famous hits like the Avocado Toast. "We introduced this toast menu because we don't have pancakes, eggs, or bacon. One of our crew members was like,
'Hey, look what I can do with this avocado, I can turn it into a rose!'
People love it. People come in and hold up their phones and say,
'I want this thing,'
and it's a picture of our avocado toast."
After the initial growing pains of finding her footing in terms of operating hours and menu offerings, things started to take off, one piece at a time. It was soon time to have food other than toast on the menu. She collaborated with her then-chef to create an entire cold prep lunch menu in just a week's time.
"From Monday to Friday we became a restaurant," Megan said. "It was a lot of sleepless nights and a lot of money, but it was an investment that needed to happen. Going into the colder months of Buffalo, you won't survive with just tea and coffee. The initial goal with the menu was to do things that were creative, fresh, and nutritious, but [also] approachable, with appeal to a wide audience."
---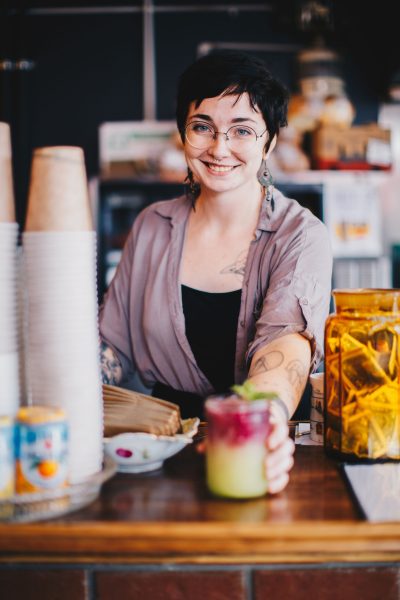 And that's the key to her success in running her business. It's not a turnkey operation with everything in place from day one, with matching chairs and lovely wallpaper. It's an eclectic mix of her village, which started with just two items, then toast, then food. Eventually she hopes to have a full restaurant in there, with hot dinner options as well.
"When we opened up, the process took so long and the funds [were] limited, so we really had to be creative and work within our limitations," Megan said. "I don't come from a restaurant empire family, I don't have a rich dead uncle that bequeathed a large sum of money to me. This cafe grows as we grow. We can add little things to our operation as our customer base grows, as the revenue grows, then it becomes something else. Every time we introduce a new item to the operation, that's when we level up, that's how it's different."
---
The inside of Grindhaus is a lovely hodgepodge of her friends and neighbors in every aspect of the place. Each table and chair has a story to tell, as do the plants in her little jungle corner and outside the cafe. Every item was donated or salvaged from a friend, neighbor, or local community place.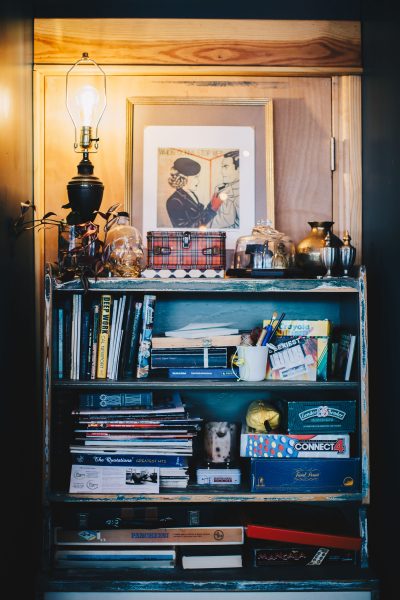 "This table was donated by some customers that frequent this joint and eat at that table every time they come in; it's adorable. The black one is a Craigslist find that a friend picked up, and it turned out to be another friend's table. So my friend bought it [from them] for my cafe." The showstoppers to me are the matching mid-century modern chairs, with the brown leather seats and backrests — and they happen to be Megan's favorites, as well.
"Those two are my favorite ones. The woman who gave them to us comes in annually, orders a tea, sits in her chair, spins around, says, 'It's a little squeaky,' pulls out a WD-40 bottle, and oils the chair!" Another woman in town, Bernie, takes care of the plants outside, and plants a patch of flowers on the curb each year for the Garden Walk. She stops by, excited to share her ideas for the plants she will be planting the following spring.
---
Megan clearly loves being part of the community, both the community that she creates, and the community that her cafe resides in. Her staff has become family. "The crew here, they are amazing," she said. "These are great people — I spend all my time with them. That's important when you have a place like this — these folks represent your business, these folks are the crème de la crème."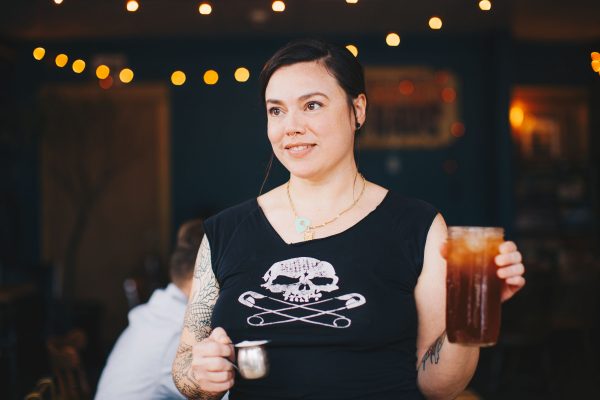 During our interview, Megan stopped to help someone outside. While taking photos on her patio area, she noticed a woman lying on the ground a little bit down the block. She walked over to her, helped get her on her feet, asked if she was okay. It turned out that the woman had had a few too many and just needed to sleep it off. She was clearly not in danger or in poor health, so Megan let her rest.
But that's how Megan is — she will not just look at someone down the block and not help. She had to go to her, check in on her, help her sit up, and make sure she was okay. This is the kind of community she wants — to help those around her, and have a safe place.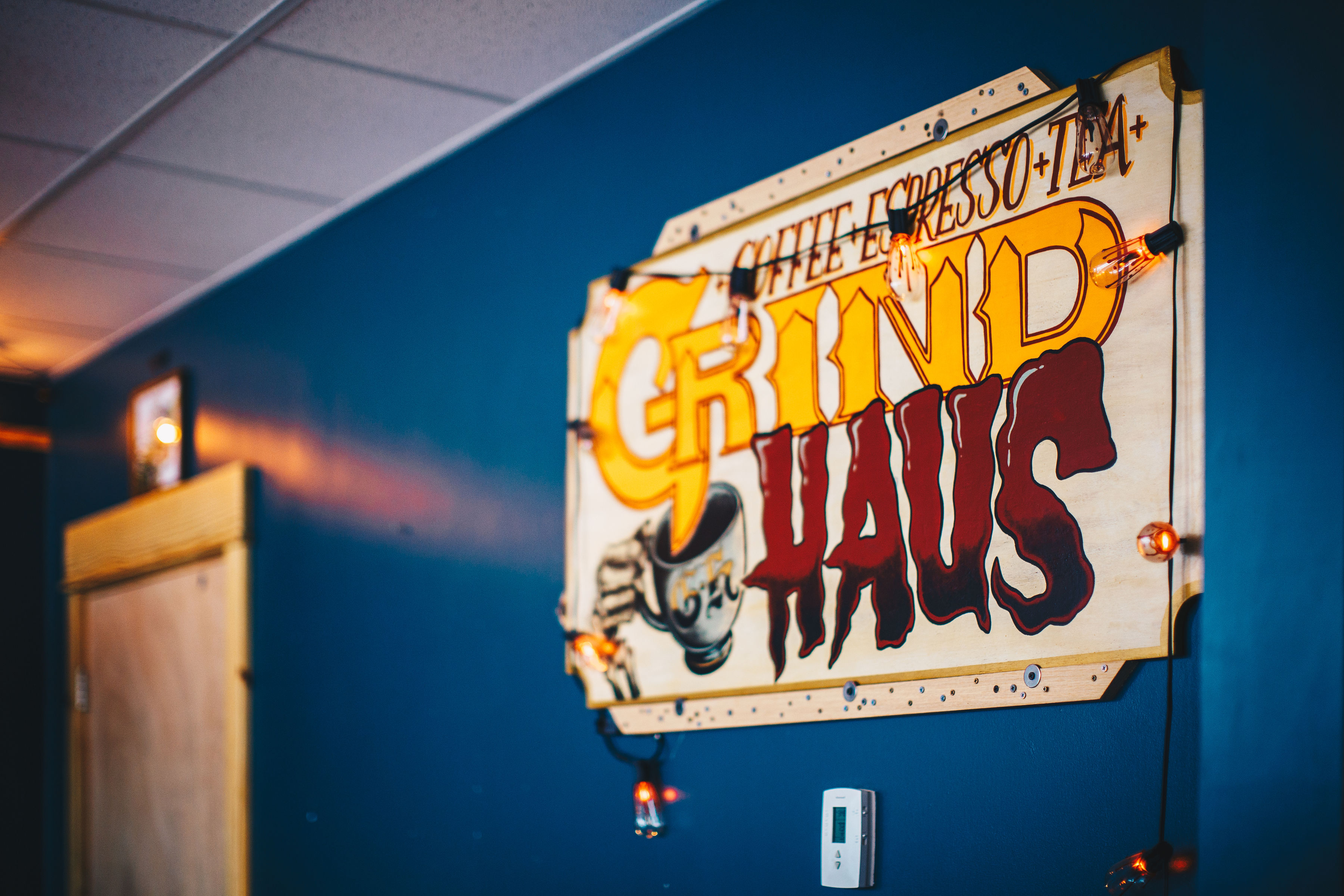 "What I love about this place so much that keeps me going is simply this: holding space. I love holding space, I have a space where people feel comfortable, it's like coming and hanging out in mom's kitchen where she cooks, everything happens right out there, everyone knows each other, this is pretty much a haven for a lot of folks that don't necessarily feel comfortable or welcome in a lot of places — the LGBTQ community, brown bodies, black bodies, anybody who is underprivileged or underrepresented. I think that's probably my favorite part – having a space, a space that gives a purpose. That keeps me going."
---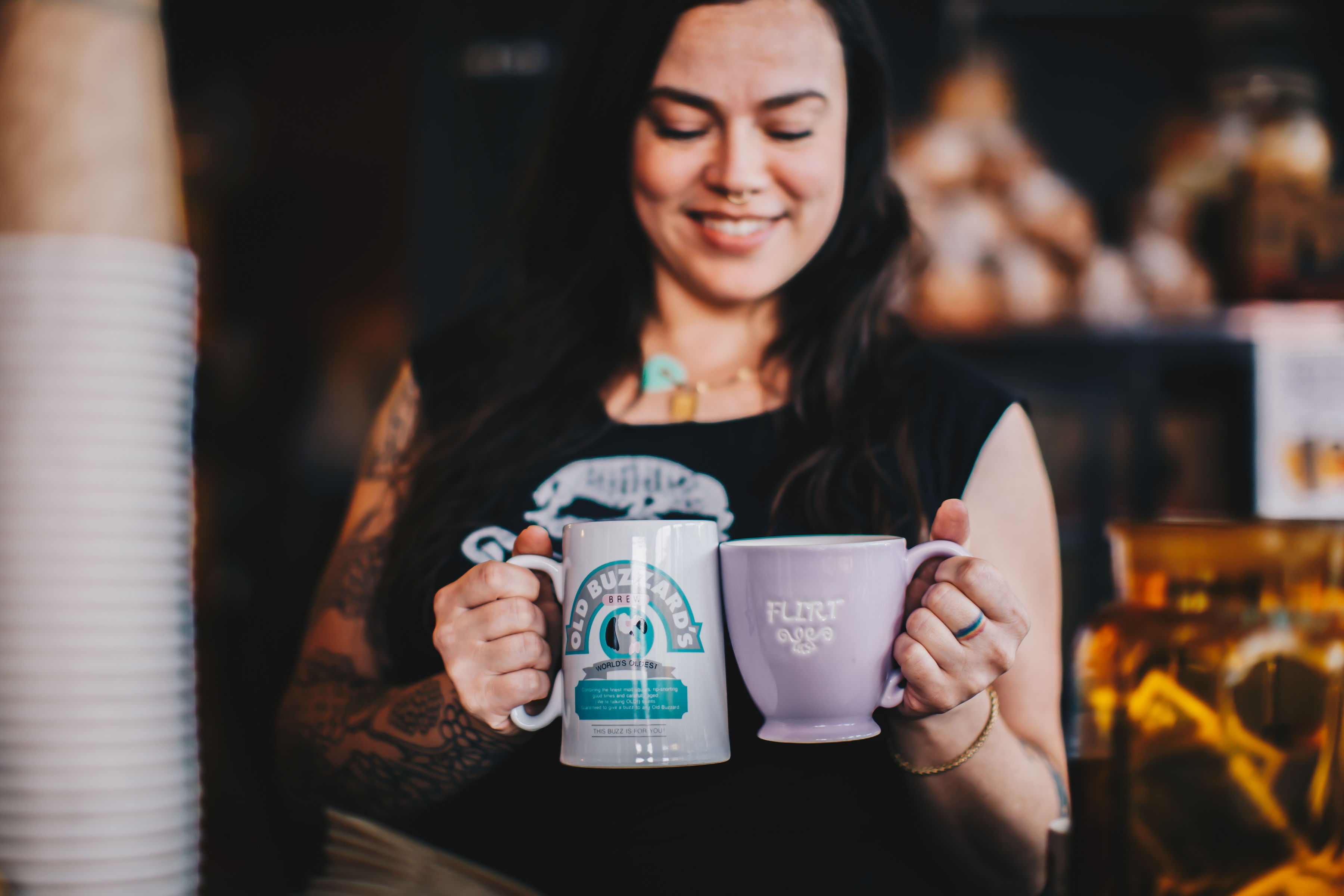 When you walk into Grindhaus you can tell that she means what she says. The place is welcoming, non-judgmental, quirky. It feels like your friend's living room, with a couch from AmVets and a table from an old friend, who doesn't have it all but shares it all with you. It's hard for any place to cultivate that, but it's the feeling you get in this place.
"I think that [Grindhaus] sort of took on an identity of its own along the way. I didn't make it this — my friends, community, and staff made it this. It's just the DIY punk coffee shop that I always wanted to hang out in, and that I now own."
---
Photos by AlanAdetolArts, L.L.C. – Birdcage Studios – Buffalo, N.Y. 14213 –[email protected]
© 2018 AlanAdetolArts Photography LLC. All Rights Reserved. All images on these pages are copyrighted. Use or reproduction without prior written permission is prohibited.