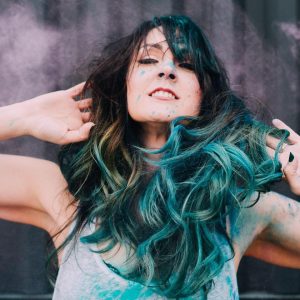 "Is this you?" Lindsay Robson glanced up from her place in line at Starbucks one recent Sunday morning to find a man looking at her, her Instagram account pulled up on his phone.
The social media maven is the creator of Nickel City Pretty, founder of the Buffalo Blogging Network, host of Nickel City Gritty, the social media director of Locations, go-to guest Instagrammer / Tweeter / Snapchatter for local media and business enterprises, and general gal-about-town, and she's becoming a public figure right before her very eyes. It seems to suit her perfectly.
---
Life hadn't always run at this pace. Four years ago Lindsay discovered that she was quite mired in some general ennui, and knew she needed to unstick, and quick. "I was in a job that I was not happy with. I was just kind of miserable, I didn't have a hobby, I didn't really know what I wanted to do, and I was just kind of lost," she said. Lindsay had been reading various fashion and style blogs at the time, and began toying around with the idea of starting her own.
"I did a little research and there were really no blogs in the area. So I was like, 'You know what? I'm just going to start one, I'm just going to go ahead and start a blog, see what happens.'"
Initially starting off with a fashion slant where Lindsay would post her "Outfit of the Day" and tips on "How to Get the Look for Less," Nickel City Pretty grew to encompass a whole swath of Lindsay's interests. "As I got more into going to events, and going to different restaurants and things around the city I'm like, 'You know what? There's something special here.'"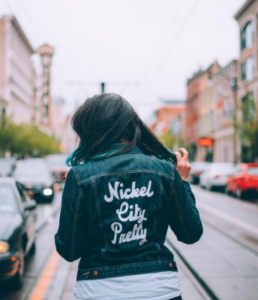 Things soon began to click into place. "To my surprise it just like, took off. I'm like,
'Oh my god, I think I might have something here.'
That was really exciting," she said.
Now that she was the founder and editor of a brand-new fashion & style blog out of Buffalo, New York, Lindsay began incorporating social media and was soon out on the streets, innocently Tweeting about a variety of things that captured her interest, including a new store opening at the Boulevard Mall. Shortly afterward, someone in the mall's administrative department contacted her.
"They asked if I wanted to come in and do a little bit of Tweeting about the mall, stuff like that," she said. About five months later, the position of Marketing Coordinator — one she's now held for the last four years — became available. "They offered it to me and I'm like, 'Absolutely. One hundred percent I will do it.'"
This turn of events floored Lindsay. "I never thought that I would get to do social media and marketing for a full-time job," she said. "When I graduated college, social media wasn't really a thing; Facebook had just come out. I didn't really know what I was going to do with my PR degree. It's cool to be doing something in the field that I went to school for, because not a lot of people get to do that."
---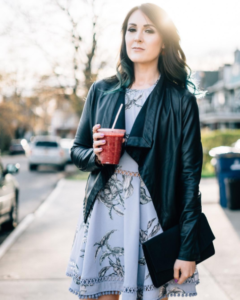 Not too long after those initial first years of Nickel City Pretty, Lindsay began elongating her wing span. Last summer saw the formation of the Buffalo Blogging Network, where Lindsay managed to successfully wrangle the majority of the Buffalo blogosphere under one roof. Since its inception, the network is up to almost 70 members.
"It gives me squishy feelings that people are connecting and people love talking to each other and love the connections that they're making, and it's just going to keep growing," she said of the pet project.
Recently she linked the network up to the Outer Harbor team in order to cover their summer events this year; this past April the Buffalo Blogging Network was the official sponsor of the press pit at the Buffalo State Runway 10-year anniversary showcase, "Remember | Imagine." She intends to continue establishing partnerships between the network and various local businesses and entities as the network grows.
---
If the written word is Lindsay's bread n' butter, the camera is her surf n' turf. The burgeoning social media starlet is often caught mugging for her Instagram followers in various settings, whether that be in front of iconic pieces of public art, modeling fine art jewelry of local artisans, or in boudoir.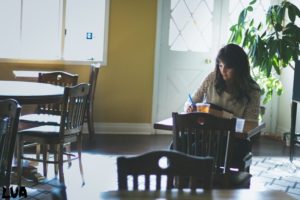 Her love of the camera doesn't begin and end with those mean mugs, however. She extends the conversation beyond the lens with some of her favorite purveyors of the art, highlighting up-and-coming photographers in a series of Q&As and portrait shoots on the blog.
"I'm trying to work with as many people as I can, because I think a lot of people need to be showcased," she said of the series. "I'm still growing and learning every day, and want to help someone who is also trying to grow and learn, work with them and help them grow their craft."
---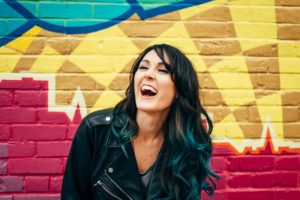 If you have spent any time at all on Lindsay's visual social media, it would be hard to miss the mark of photographer Ryan Kell, also known as seekaxiom. Unbelievably, the two have been collaborating only since January of this year, after e-meeting first through Instagram, then meeting IRL at a studio party thrown by Ryan and his studio mates Ashley Johnson, Rich Tomasello, and Chuck Tingley, whom Lindsay counts among her best friends.
As Lindsay recalls, that first conversation went something like, "I need to work with you! We need to do something; I don't know what it is, but let's just do something."
The first time the two sat down was for consultation on the Nickel City Pretty logo. "From there it just kind of like, spiraled, I guess!"
They then collaborated on their first photo shoot. "I asked him to take a picture of my dress because I thought it was cute," she laughed. "He took some pictures and then from there on, naturally a friendship just happened. He's amazing, I just love him to death. It's like we've been friends forever."
---
Work with Ryan continued with the formation of Locations, an outstandingly successful creatives mixer/party that brought photographers, hair & makeup artists, fashion stylists, and models together in a nightclub setting, wherein they then staged multiple live photoshoots in and around a throng of partygoers/interactive audience members. Lindsay was officially titled the Social Media Director of the event, but it was because of her that co-founders Ryan and burgeoning photographer Brandon Lua even met, so she might be better referred to as the Patron Saint of Locations, at this point.
They plan to continue the Locations event in different locations and with different concepts. "It will always be an area for creatives to come together," she said.
---
It will always be an area for creatives to come together.
Of course, all of this hasn't kept Lindsay busy enough, by her standards. Currently in production is the video series "Nickel City Gritty," which is also the name of a Q&A series on her blog, featuring myriad public personalities in the city. In it, Lindsay plays host, introducing the audience to one person of a specific neighborhood in each episode, who then extols their thoughts on the area, how it's changed over the years, and their favorite places for various services. Throwing back to her love of fashion, Lindsay also asks featured players about their personal style.
"It makes me laugh because it kind of throws people off when I ask them that, because you don't really think about your style, you just kind of do it," she said.
The debut episode was an introductory pilot starring herself and husband Nicholas Robson, who explore Hertel Ave. The second episode, to be released very soon, focuses on the business district of downtown Buffalo and features Chris Bissonette, also known as Buffalo Dandy.
The video series is produced in conjunction with Buffalo Above, LLC, who had initially approached Lindsay with the collaboration ask. The company mainly works in aerial photography, but wanted to expand their network and connect with influencers in social media.
---
Another photo series on NCP focuses on something near and dear to Lindsay's heart — the plethora of public art that can be found in all manner of nook and cranny throughout the city. She even acted as tour guide in one of the latest Billy & Pat vlogs about public art.
"That's one of my things; I love it," she said.
Traipsing about the city on these hunts has afforded Lindsay the opportunity to spend some QT with her mother. "My poor mother – I take her with me, drive around Buffalo…'Alright mom, I'm going to get out and you're going to take my picture,'" she laughs. "When we took the picture in front of the Buffalo Proper mural she stopped traffic to get the shot…She's my ride or die."
---
Lindsay thrives on activity, attempting to hit as many events as she can on the regular. "It doesn't matter whether it pertains to something that I'm interested in, or it could just be a launch party for something, or an art opening…I just love being out in the wild, I guess you would say," she laughs. "I want to know as much as I can, I want to know what's going on, what different places are opening up…There's always someone to talk to, there's always someone to network with, there's always someone to make a connection with…it's one of the most fun things, I think, about blogging – going to events."
In speaking or working with Lindsay, it's clear that things are not going to slow down anytime soon – rather the 180 opposite.
"You know, everyone always asks me, 'How do you do it? I always see you out, you're always doing something, and you must be exhausted.' And I'm like, 'You know what? I'm not.' Because I don't feel like it's work…It's super fun and really exciting."