Kristen Becker has been hanging out with a preacher, saving queer kids in the South, and spreading the good word of cannabis lately. And although she hasn't been a resident of Buffalo for going on 4 years now, Becker's impact on the city's entertainment culture is still in full effect, tendrils of past initiatives still alive and well.
"It's a very challenging thing to spend 10 years building yourself up in a market and then just walk away from it," she said. "Kristen Becker in Buffalo could be Kristen Becker in Buffalo, and it was kind of nice. I was the [general manager] of a club, I had some experience, I had run Dykes of Hazard (sketch and variety comedy) for three years, I'd opened for Ani DiFranco – I was fine in Buffalo. But, what do you do?
"I'm a comedian who didn't have an open mic stage when I moved there, and barely a club, and 10 years later I built a running weekly show, I built a running monthly show, I ran a second weekly show, I produced a tour out of Buffalo, I produced roasts of major athletes before they were doing all of that, and then I brought the investment of the club in and then I ran the club. What else could I do there?"
---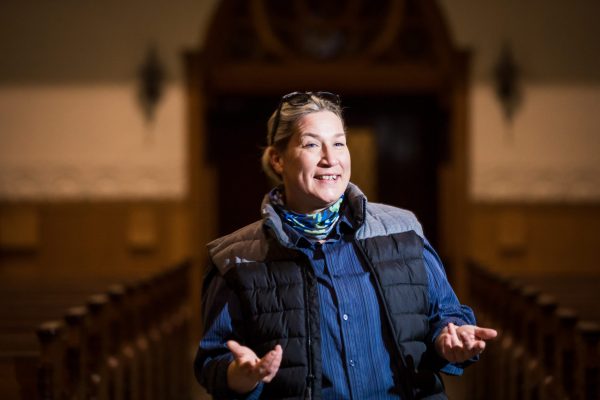 Much has been written about Helium's entry to the Buffalo market back in 2012, which, for comedy lovers in the city and region, was kind of a big deal. Prior to the club opening downtown, the city didn't have an A level room for nationally touring performers, or an anchor for the local comedy scene to pursue opportunities and experience in their hometown.
It took Becker two years to convince the club's owner, Marc Grossman, that Buffalo was a sure bet for their burgeoning comedy club chain; when the ink was dry they began build out over the course of 2012, and opened for business in December of that year.
"I will say that that is one of my proudest things – we put Helium down there at Canalside before anything, really. It created a bunch of jobs. It got an investment of construction and all of those things from out of town. We didn't ask the city for benefits. We didn't do any of that," Becker said.
Prior to the club opening, Becker had been producing a weekly comedy showcase at Allentown's esteemed music venue Nietzsche's, every Tuesday since 2006. This space gave performers of the small but blossoming local comedy scene an opportunity to perform to a regular audience, honing their craft and readying them to be future hosts and feature acts at the professional level. This showcase is still going strong, changing hands a couple of times among producers in the local scene and currently under the helm of comedian Dan McArdle.
---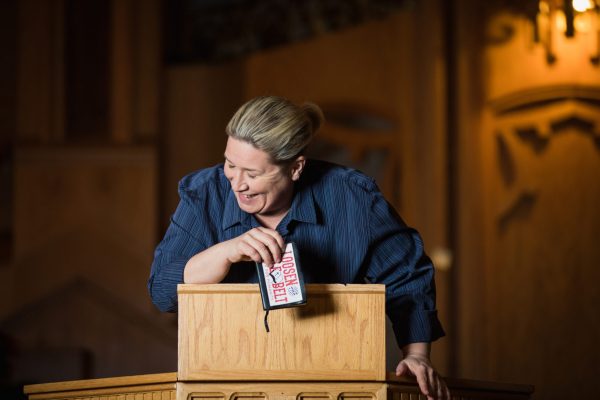 In 2014, an op-ed Becker wrote for her website, detailing reasons that Louisiana should head the progressive movement of the South, ended up getting shared and reprinted by a few mainstream media publications, including Advocate.com. This led to the Louisiana Democratic Party contacting Becker, requesting her testimony in support of the Louisiana Non-Discrimination Act.
"The appreciation of authenticity and diversity and the things that come from Louisiana as a culture made it prime for saying, 'Hey, Texas. Hey, Mississippi. Hey, Alabama – What's wrong with people being themselves?'" she said.
Becker set forth cobbling together a statewide tour to raise awareness about the bill and get active. "That kind of naturally progressed into Loosen the Bible Belt, because as I was doing this, I was encountering people who were just throwing Bible quotes at me," Becker said, referring to the genesis of her annual tour with preacher Jay Bakker. "I could justify what it was like to be a queer person, and what that experience was, and how it made people feel, and all of those things, but I could not argue Bible. And so, that put me on the path of trying to find a preacher that I could do a show with."
The tour, which married the talents of a punk rock preacher man and a brash LGBT comedian, sought to bring together the religious South and the queer community living in those states. Now in its third year, the production is a fully formed commodity currently seeking a manager/producer. There will also be a slight change in scheduling – instead of the 3-week runs of the last two summers, Becker hopes to lock in with organizations throughout the South that would like to utilize the performance package as a fundraising tool for their good works.
---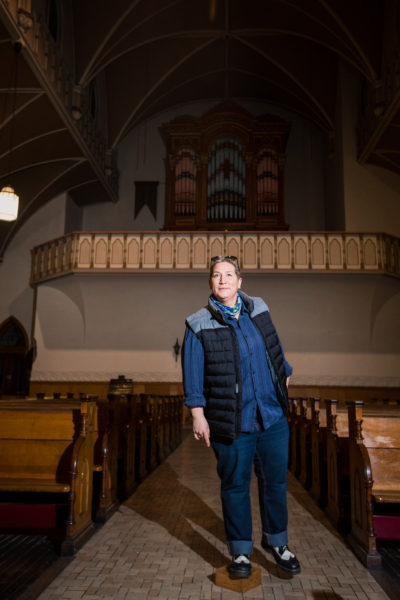 For the past 4 years, Becker has been setting a foundation as a year-round citizen of Provincetown, Massachusetts, one of the country's biggest entertainment and tourism destinations. Prior to becoming a full-time Provincetown resident, Kristen had spent the last 8 years as an on-season performer, producing and performing sketch, variety, and stand-up comedy on Commercial Street, in the heart of the entertainment district.
"I was fortunate to come here. People did kind of know who I was already…I think I just stayed because I needed a break," she said. "I needed 6 months, 8 months, to just process the last decade. Like, 'Holy shit, what did we just do?'"
Kristen's life on the beach has now rotated a full 180 from those club days in BUF. She's currently gearing up to write and star in a series of cannabis-related educational videos, in conjunction with a local distribution company, as Massachusetts is now one of nine states to legalize recreational marijuana. They'll also be working together to produce and promote live shows with a 420-friendly vibe.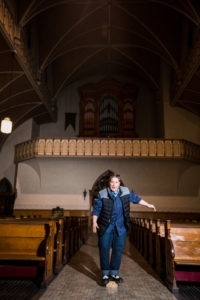 "We're really trying to find a creative way to dispel the myths about medicinal marijuana and to stop the stereotype that if you use weed you're a lazy stoner, and if you take a Xanax you're a productive member of society," she said. "I live in a state where it's legal, I have my license, and, like anything else, have you known me to shut my mouth when I feel strongly about something?" she laughed.
"I really believe that our country is in a battle with pharmaceutical reps and gun lobbyists. I really believe that. I live in a state that's going to let me be an advocate for marijuana, and so I'm going to use my talents to do that, and I found a company that's going to let me. Sergeant Roach, Cannabis Coach, will be our official sponsor of medicinal marijuana for Cannabis Crew, and he's going to make videos and produce comedy shows and redirect some of his money into the arts and education about marijuana. I'm super stoked."
---
Becker will also be ushering in a second Summer of Sass (SoS) season to her quaint beach town on the cape this summer. This program successfully placed three young adults formerly living in the South into housing and jobs in Provincetown last summer, offering an opportunity that may only come once in a lifetime for most young folks.
The program was a natural progression of the Loosen the Bible Belt tour; being on the road through the small communities that dot the American South brought Becker into contact with young LGBT adults that lived in a less-than-supportive (and sometimes even dangerous) environment. Back in P-Town there remains a worker shortage for the tourist season, and a declining year-round population. Putting two and two together, Becker sought to match qualifying candidates with housing and a job in the thriving service industry of this LGBT-majority summertime getaway spot.
 "I am happy to report that all three of those humans are thriving," Becker said of her three inaugural participants. "Khloe's got a 4.0 at nursing school, and Teddy and Sam have both moved back to P-Town as year-round residents."
https://vimeo.com/225490314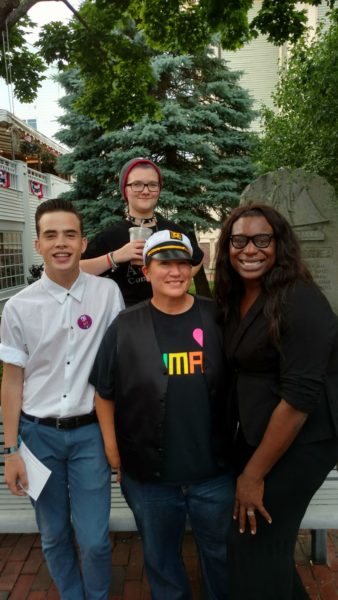 This year they are doubling the number, filling six spots in the program. Two houses will be rented through the program, and will include an on-site resident advisor. The age range is now 18 through 20. "I don't want to worry about people getting drunk. If they can't go to bars, then they have to do the right thing and be a teenager and sneak off and drink at the beach and have some appropriate boundaries, and I like that," she said.
"There is a history of the LGBTQ community using alcohol to cope, and there's a better way, and part of this program is getting these kids out of those oppressive situations where their only recourse is the gay bar, and putting them somewhere where the library is a safe space, and the coffee shop is a safe space, and everything is a safe space, so you don't feel like you have to be huddled in a bar in a corner to feel safe," Becker said.
"That's part of the overall wellness of these kids that's we're working on and trying to mentor to them. 'Listen: yeah, there's a lot of old, gay drunks, but there's a reason for that, and here's some other things. Yeah, go have a good time, everything in moderation, but let's look at the whys and hows, and who we are as a community.'"
Recently the Palette Fund agreed to match donations to the SoS program, up to $25,000. These funds will be used to secure permanent housing and to pay for the program's administrative costs, in addition to travel stipends for participants.
"At the end of the day, just walking around a town not worrying about someone calling you a name can make such a difference," she said. "We are going to tangibly change the lives of queer young adults from now until forever. I believe that in my core."
---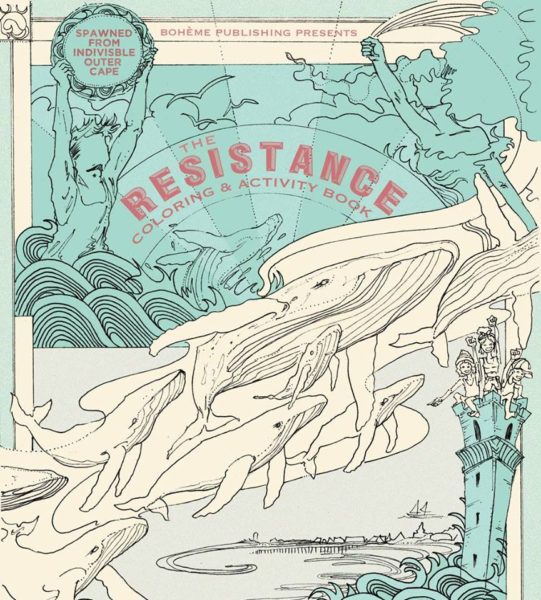 Becker, in conjunction with the family-owned printing company
Bohème Publishing
, recently developed the
Resistance Coloring & Activity Book
, as a means to raise further funds for SoS (and to offer a super fun, collaborative project to color-happy people everywhere). Locally the book can be purchased at
Talking Leaves Books
on Elmwood Ave.
"It was right after the inauguration [of Trump], and I was at an Indivisible meeting. I was sitting with these activists and these people who wanted to do good things, and they were talking about sending out press releases and I was like, 'But for what?' Let's look at our history and our culture, and what does P-Town have? We've got artists, by the hundreds. And we're literally the birthplace of America – they'll tell you Plymouth, but they landed here first," she said.
"We're known for being progressive; if we're going to lead things, let's do it. So I said, 'What about a coloring book? It's therapeutic, we could have artists design things, and we'll just try that.' Everyone thought it was a really great idea. I just thought of it as art therapy, a little bit of a bent on political activism, and a showcase of our regional artists."
---
Obviously Becker isn't quite busy enough with all of these irons in the fire; she's also been pinged to head up the new Lezbianati podcast, currently in production with a launch this summer.
Becker's trajectory over the last decade or so is anything but conventional, but one that somehow still ties together all of the various threads into a life moving forward by its own rules. Projects that start as a creative brainstorming burst develop out into a culminative body of work that illustrates the workings of a DIY artist at the peak of progress. This shit is mad fun, too.
"It looks like the next year is going to be me being able to create things like the podcast, and this character of Sergeant Roach, and these comedy shows, and also save some queer kids. It kind of looks like I'm going to have the best year of my life."
---
Kristen Becker can be seen live performing stand-up and sketch comedy this Thursday, April 12, 8:30 p.m., at Tonawanda's Raintree Bar & Grill, and Friday, April 13, 8 p.m., at Matinee, for a Dykes of Hazard reunion show.
Photos by Jill Barrile, taken at the former St. Clare Roman Catholic Church.