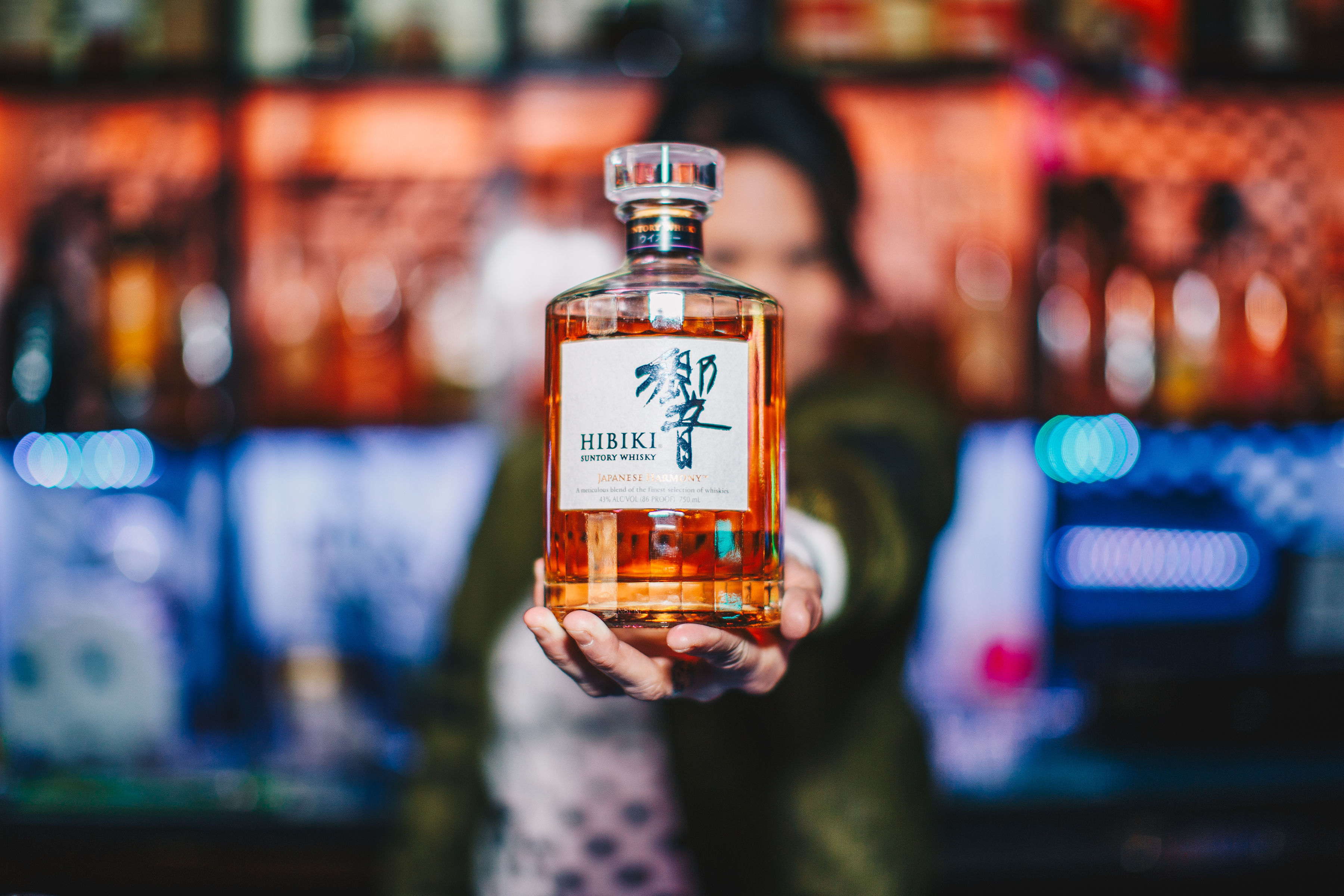 For the few who haven't experienced the incredible fantasyland that is Misuta Chow's, please allow me to fill you in. The two-story barcade and restaurant is an homage to all things Japanese. It is not a pastiche or an appropriation, it is a love letter.
Each floor has multiple areas, all with a different feel and theme. To understand it, you have to play the vintage video games in the neon-filled arcade, grab a drink at the shipping container bar, or dine in the restaurant that is a recreation of a Yokocho alleyway, complete with electrical wires, paper lanterns, and street awnings. This entire food profile encapsulates just that back half of the first floor — the restaurant portion of Misuta Chow's. But before I can even talk about the incredibly lip-smacking and otherworldly food, I would be remiss if I did not give some background on their Executive Chef, Dunbar Berdine.
Understanding the vision for Misuta Chow's, and working with a completely different and new-to-him flavor profile and culinary history, Dunbar researched his butt off. He wanted to make sure his menu was authentic in flavor, but new and avant garde. He wanted to honor the old time flavors, cooking methods, and culinary traditions of Japan, while also making new and exciting things, fusing both the cutting edge and the classical.
He knocked it out of the park with these plates; you can tell that he really took time to learn before diving in. Don't take it from me, take it from Christi and Chow themselves, who have worked alongside Dunbar for years, been steeped in the fare and setting of Japan itself, and brought him over to the Misuta Chow's team.
"He's probably one of the only people in my life that's going to the library and doing research and sitting there and reading books and books and books," Christi said. "The amount of research and time spent on this culture and food profile, what's current, what's from years ago…what he wants to take that's popular in Japan now and put his Dunbar spin on it… He's a really talented chef and we're so lucky to have him."
Their faith in Dunbar is not unfounded, and after this meal you can clearly see (taste) exactly why he was selected to create the menu at Misuta Chow's, and why he's given full control of the menu. His heart is in it, and you can taste that in every bite. "[Dunbar] is just so incredibly talented that, rolling with his inspiration and rolling with his palate, I trust him every time and it's never the wrong choice." Now, on to the food!
---
Bakudon Wings
"Whole boneless wing stuffed with pork, mushrooms, glass noodles, with chili hoisin."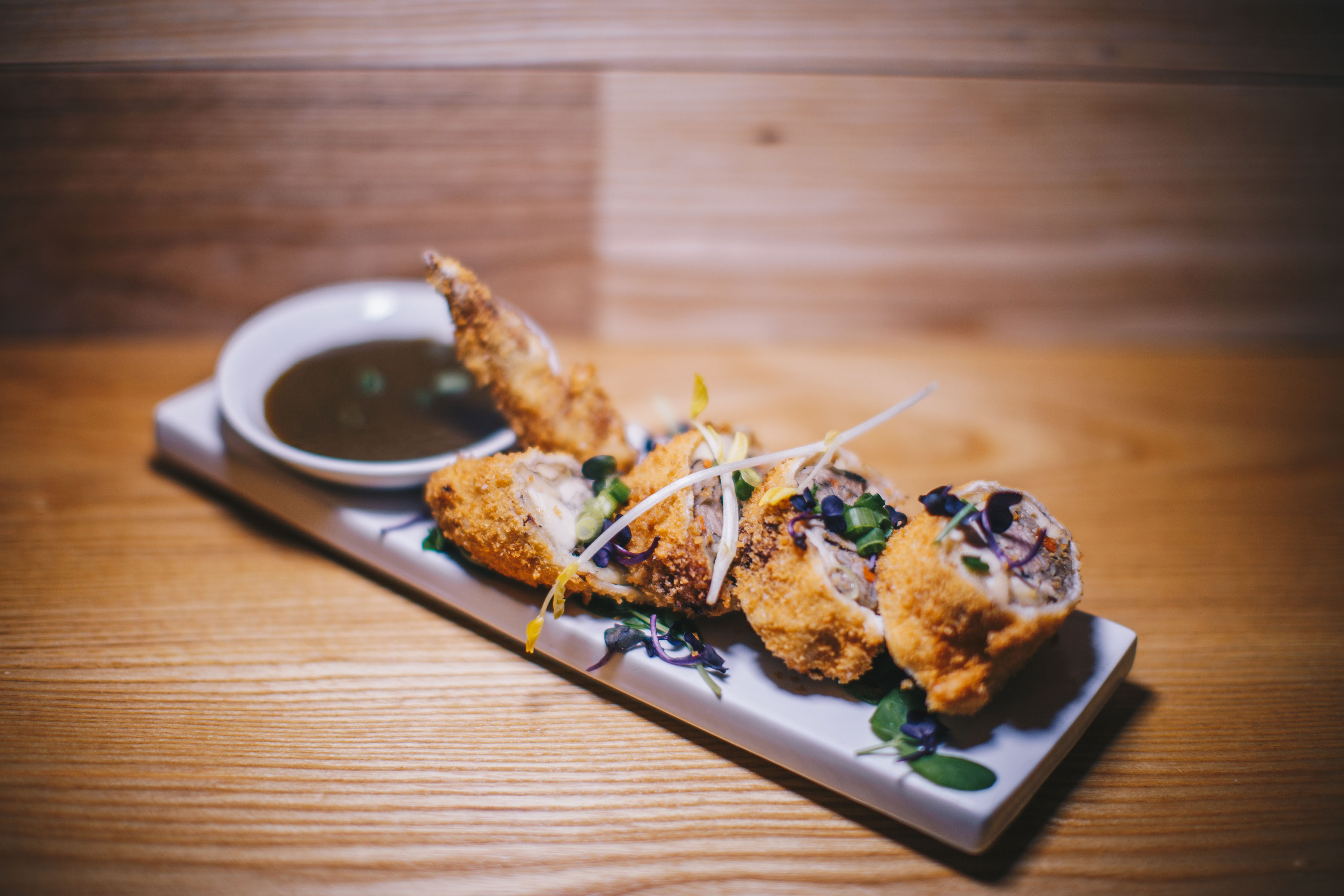 When reading the description, I had absolutely no idea what would be served. As Buffalonians, we know what a wing is, and we have deep feelings about boneless vs. traditional wings (and the sub-group divided on flats vs. drums, but that's for another article). I couldn't imagine what a wing stuffed with other meats and items would even look like, let alone taste like. This was the most curious item on the menu, and had quite the presentation. I am still not exactly sure how it was created, if it was wing meat or another part of the chicken, but it was a long, stuffed 'wing' with a wing-like point at the end, so it has the look of a wing, without it actually being a wing.
This is such a great concept — a sushi-style roll, made up of chicken, pork, mushroom, and the glass noodles. It was cut into slices, showcasing the layers of each ingredient. The outer layer had a nice crunch to it, so I am assuming it was fried. The chili hoisin sauce had a kick to it, which was a nice accompaniment to the wings and was an honorable homage to the classic Buffalo wing. Can't have a wing without some heat!
This was the most filling of the appetizers, and was very dense overall, so is a perfect item to share. One slice would be enough, if sharing a few plates. Great concept, wonderful execution.
---
Nikuman
"Steamed buns (3) with pork, mushroom & glass noodle filling with yakiniku sauce."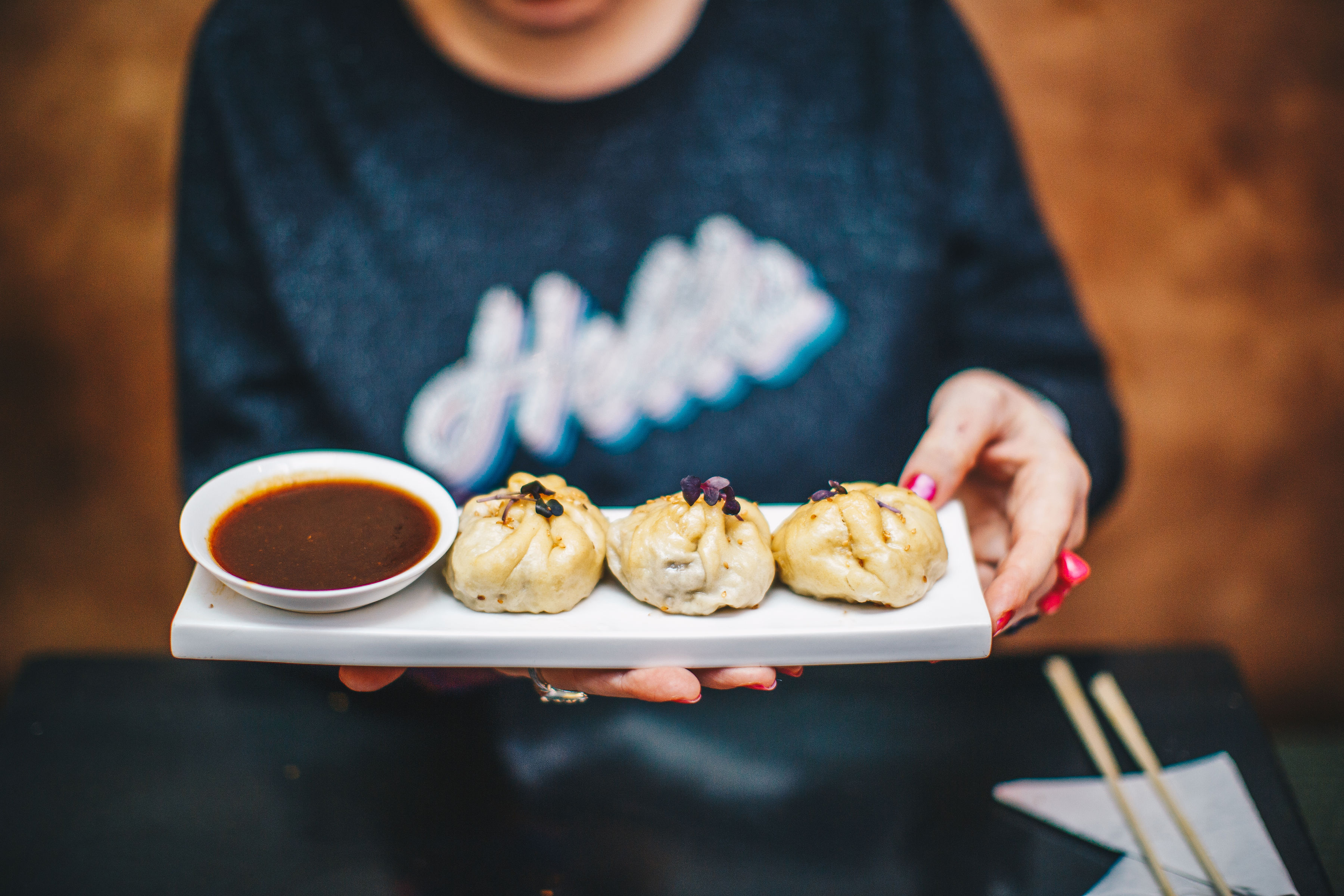 These three buns were perfectly cooked, with the right amount of bun-to-filling ratio. The dough was fluffy and had a beautiful sheen. The noodles inside worked well with the dough — an unexpected texture from the meat- and custard-filled buns I've seen before. The meat was perfectly cooked and tender. The mushrooms and noodles lent a moistness to the filling, leaving the bun soft inside and out.
The buns were served with yakiniku, a thick, slightly sweet dipping sauce, which was a delightful accompaniment. The sauce wasn't necessarily needed, but offered a wonderful tang and sugary notes. A great appetizer to share, whether splitting each bun in half, or enjoying a whole one on your own.
---
Nippon Yokocho Burger
"Tuna, avocado, radish, with special sauce on a sesame seed rice bun."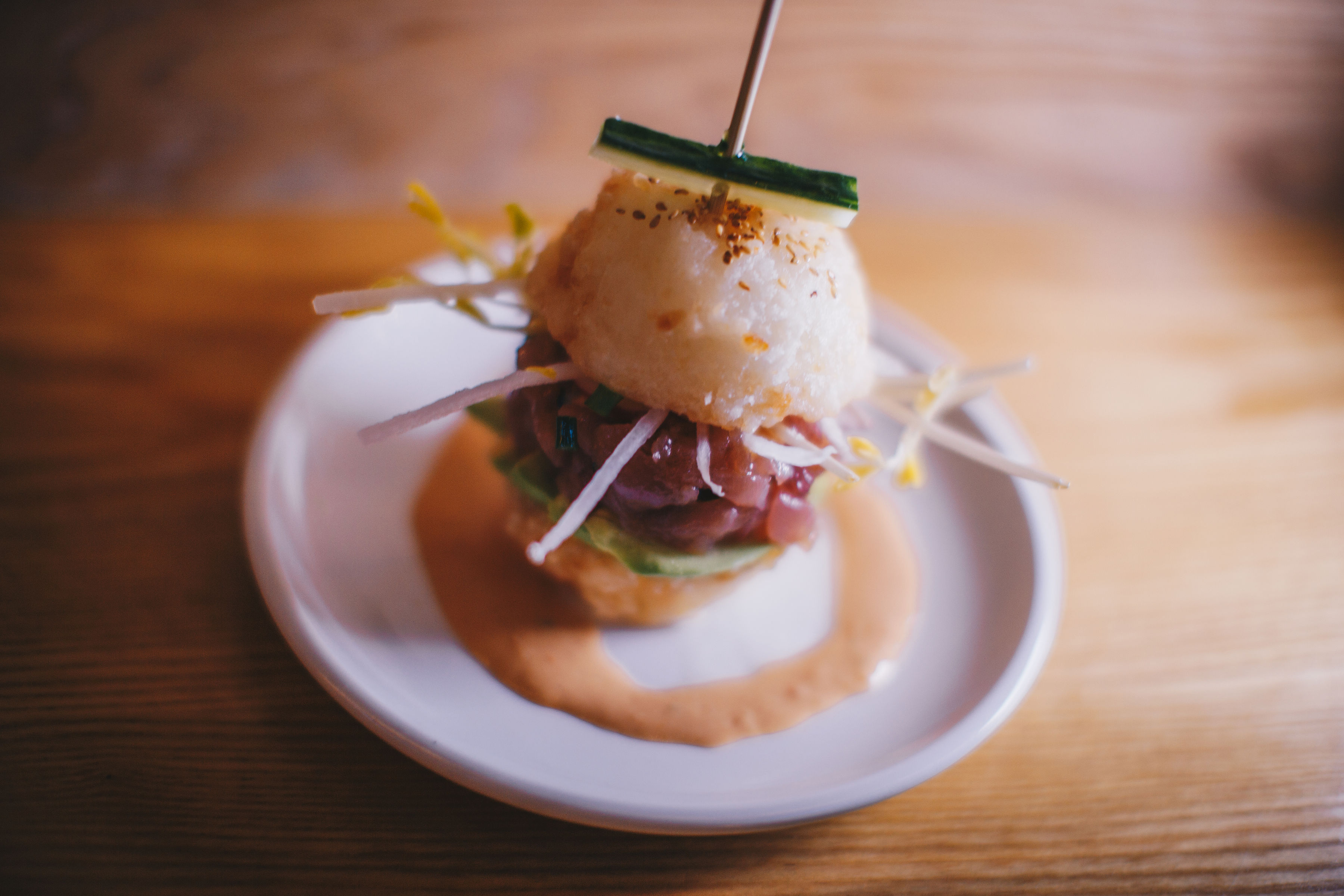 This was the most intriguing item to behold. It took my brain a moment to realize what I was looking at! This 'burger' has a bun made entirely of sushi rice, and is toasted on the outside to give it that bun texture and look. The sesame seeds sprinkled on top was another detail that kicked it up a notch visually.
The rice bun is served warm and cooked to perfection, and the tuna was fresh. There was just enough of it to feel like the 'meat' of the burger, without being overly fishy or taking over. The avocado was cut generously thick and added a nice creamy texture to balance out the starchy bun. The special sauce added a tang to brighten the whole dish and give some contrast to the otherwise mellow flavors, working well to bring the flavors together. The radishes added a crunch to round out the mouthfeel, giving another dimension to the burger.
The incredibly tall tower was nearly impossible to eat like a burger, because even with my incredibly big mouth, I couldn't unhinge my jaw to make it fit it there in one even bite.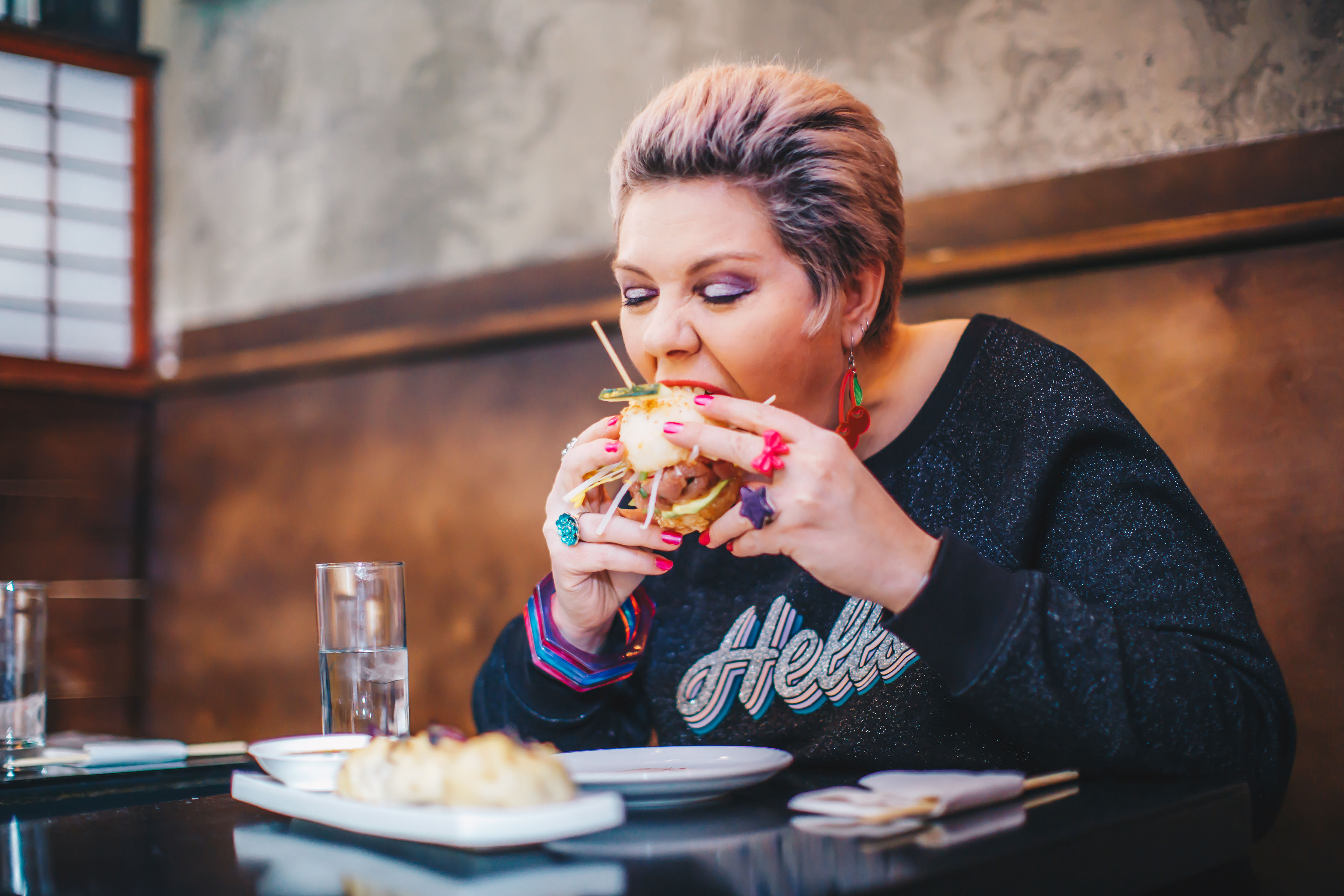 I have a thing where I like each bite to have an equal amount of everything, so every sandwich and burger bite must be perfectly vertical and even, ensuring an equal amount of each ingredient in the correct proportions. I know, I know, I have some bizarre food habits.
I could not do that with this menu item, but that was not an issue. I simply took 2-3 bites each time I dug in, which worked for me. A more well-mannered diner may request utensils to cut this up evenly. However you decide to eat it, it is a unique treat.
---
Shio Ramen
"Chicken & dashi double soup with sliced pork, half-cooked egg, bamboo shoots, scallion."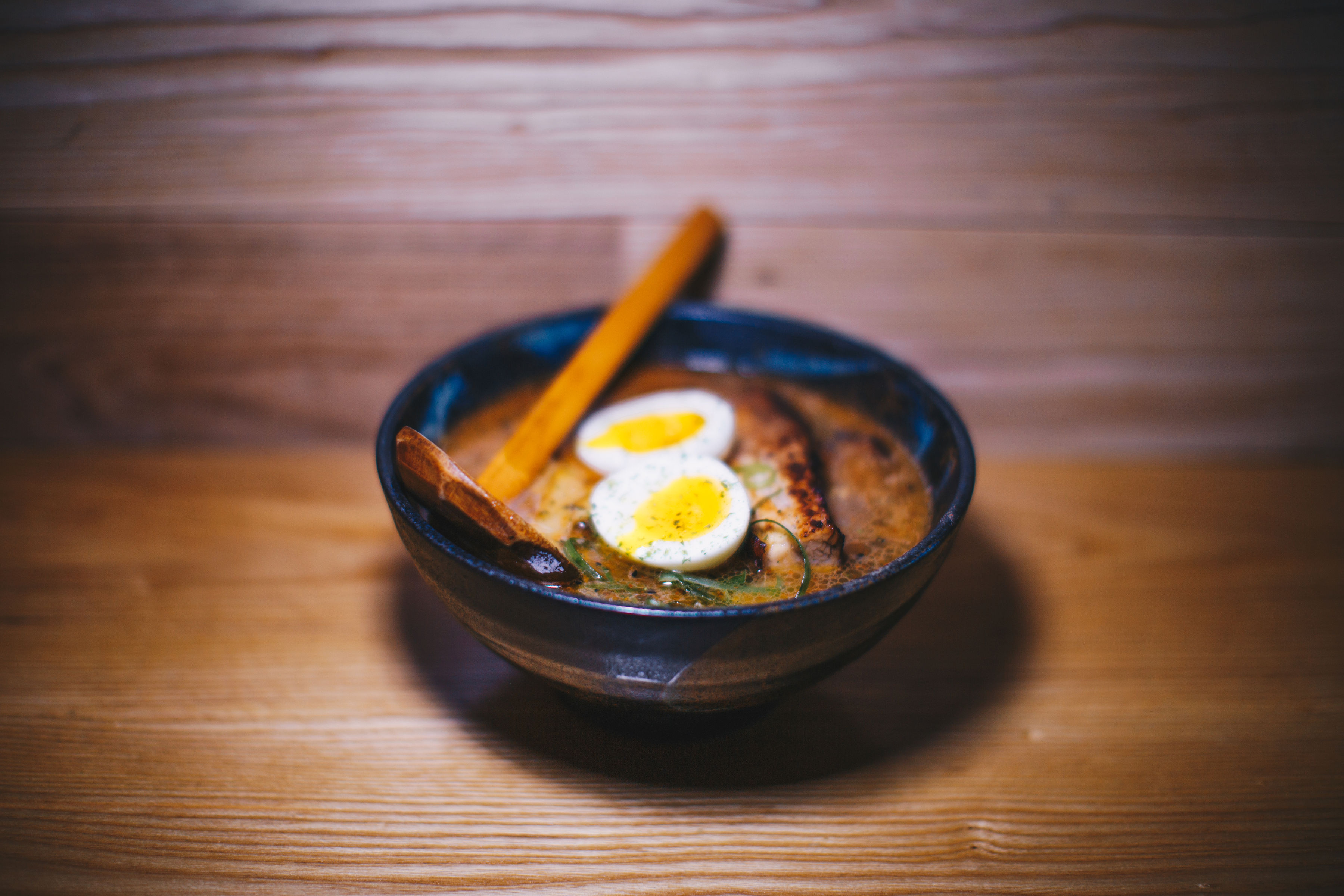 A diner with a larger stomach could possibly accompany this with some appetizers, but I am not able to. This would be it for me, a whole meal in and of itself.
The smell of the broth will hit you before you put the delicately carved wooden spoon to your mouth. The smokiness in the broth was out of this world and incredibly intense, and matched the flavor of the meat to a tee. The peppery-smokiness of the meat is prevalent throughout the dish, and is guaranteed to warm you up on a cold day. There was a slight kick to the broth, but that could be the pepper.
The pork was thick cut, with some pieces fattier than others. The eggs were slightly more cooked than soft-boiled, leaving the whites firm enough to hold their shape, but the yolks runny enough to swirl and mix in with the soup. The noodles were soft and delicate, but did not lose their shape or fall apart as you ate. They were prepared with expert attention — neither too al dente or too soft. This is difficult to achieve when a noodle is destined to float in broth for the duration of a meal. The presentation for this dish was also top notch, with that special spoon being the kicker.
---
Katsu Onigirazu
"Chicken or pork, napa slaw, wrapped with sushi rice & nori."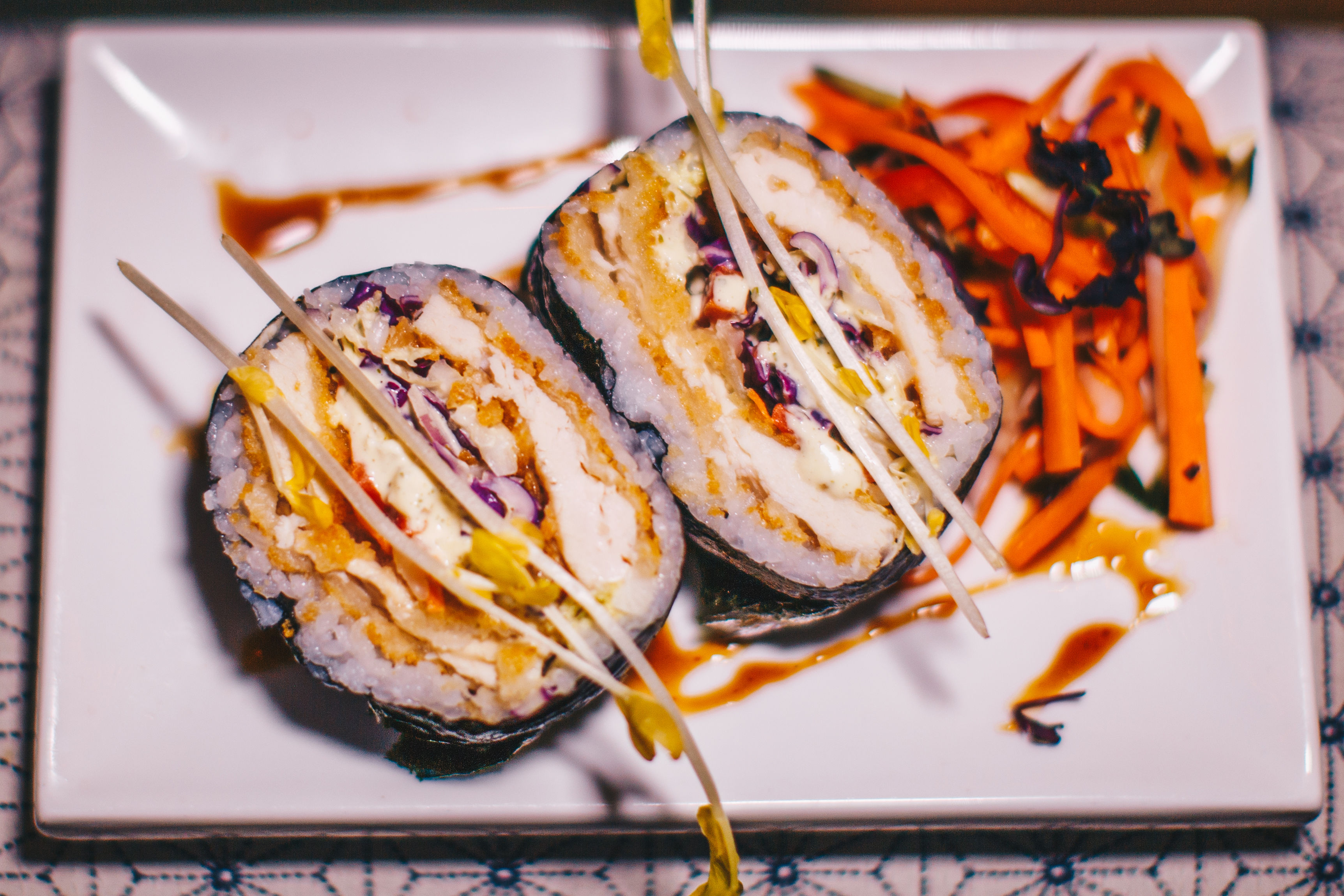 When I saw this beautiful mini chicken-katsu-sushi-burrito, I was gobsmacked. The shape was sandwich-like, but the ingredients were sushi-like. I was pleased to look up 'Onigirazu' to find that that's exactly what it is — a rice sandwich!
The seaweed wrapper on the outside provides the sturdy outer layer, allowing you to hold this while eating without getting anything on your hands. The flavor balance here was perfect for my particular inclinations. There was sweetness, tangy tartness, and savoriness, and of course, starchiness.  There were many different textures in this, containing everything from crunch, to cream, to chew. The small section of slaw was the best and most surprising part — that zing of vinegar kicked the more subtle notes up an octave and brightened the flavor. There was a perfect amount of chicken, which was breaded and fried before being rolled into this wonderful sandwich. A mini salad comprised mainly of pickled carrots accompanied this, serving as a refreshing palate cleanser between bites. I can't wait to come back and have this again. I could easily eat three of these and be happy and stuffed to the gills.
---
Sake Bomb
(I am not sure if this is on the 'menu' but it is available at the bar. A shot of sake, balanced on two chopsticks, atop a glass half full of beer).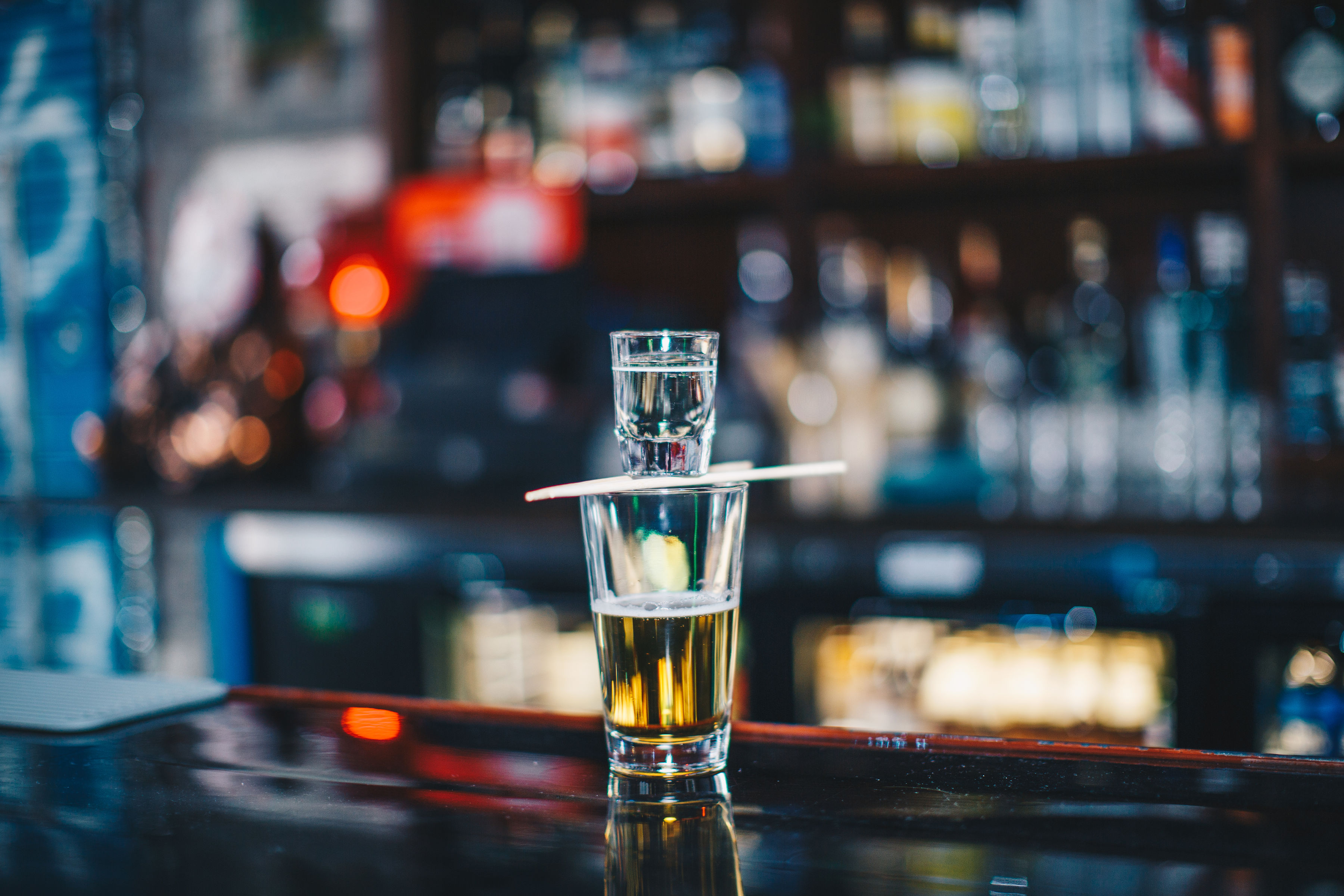 I was delighted to be asked to participate in a sake bomb, even though I had no idea it would be part of the tasting. It came about like this: the topic was brought up during our interview, and the ritual was explained. We thought it would be a great photo to see one on the bar, and since it was just sitting there, it was begging to be tried. I have only seen sake bombs done in large, tacky Sapporo glasses, filled to the brim, guaranteeing a frothy mess after the shot drops in. I have also only seen it done with cheap sake, in a dingy basement dive bar on the Lower East Side of NYC. Seeing this beautifully set up sake bomb, with the correct amount of beer, was a joy. (There is an art to boilermakers, Dr. Pepper shots, and sake bombs which is underappreciated.)
I was asked to demonstrate, and even though the glass was half-empty, I still managed to shoot foam everywhere! It was so much fun — best sake bomb of my life. Since there was not too much beer, and the sake was of a higher quality than what I had indulged in during my younger years, the end result was a pleasant, light drink. I highly recommend both the experience and the drink, they are equally awesome. A great way to celebrate just about anything, including a meal well eaten!
---
In the end, Misuta Chow's restaurant was a step out of the regular American food world and into something different. The menu is thoughtful and the food is well-prepared and cooked with heart and soul. The ambiance of the alleyway really puts you in the headspace to enjoy the flavor profile that you're presented with. Since the restaurant is inside a larger bar atmosphere, it feels vibrant but not overwhelming, and you don't feel rushed. Plus, you can either wait for a table at the bar, or while playing an arcade game, or enjoy those features after.
Whether you go to Misuta Chow's for a solo lunch, an intimate date, or a big group out, you'll be happy you chose this spot. Just do yourself a favor — order something you can't pronounce or have never heard of before. You will most likely be very pleasantly surprised.