Everything about Grindhaus screams local quirky coffee shop you want to while away the hours at, sipping a hot beverage and working on your latest tome.  From the mismatched chairs to the shelf covered in sprawling greenery, this space stole my heart at first glance.  It's the perfect home-away-from-home, welcoming you to sit and spend the whole afternoon, whether chatting with friends, working on crosswords, people-watching, or studying. But onto the most important part of any café, IMHO: food & drink.
---
Beverage
Iced Pumpkin Chai with Coconut Milk & Raw Sugar
What better way to say, "Hello, Fall!" than with a pumpkin-flavored beverage?  This drink is refreshing for those hot fall days (which may be completely behind us at this point), or perfect for spending the afternoon inside, wrapped in a cozy sweater.  The chai instead of coffee in this drink is a nice change of pace, while the coconut milk adds the milk element I personally require, but light, not thick like a creamer.  It has the flavor of a chai latte, but the refreshing texture of an iced beverage, making it the perfect blend of both worlds.
---
Blueberry Basil Lemonade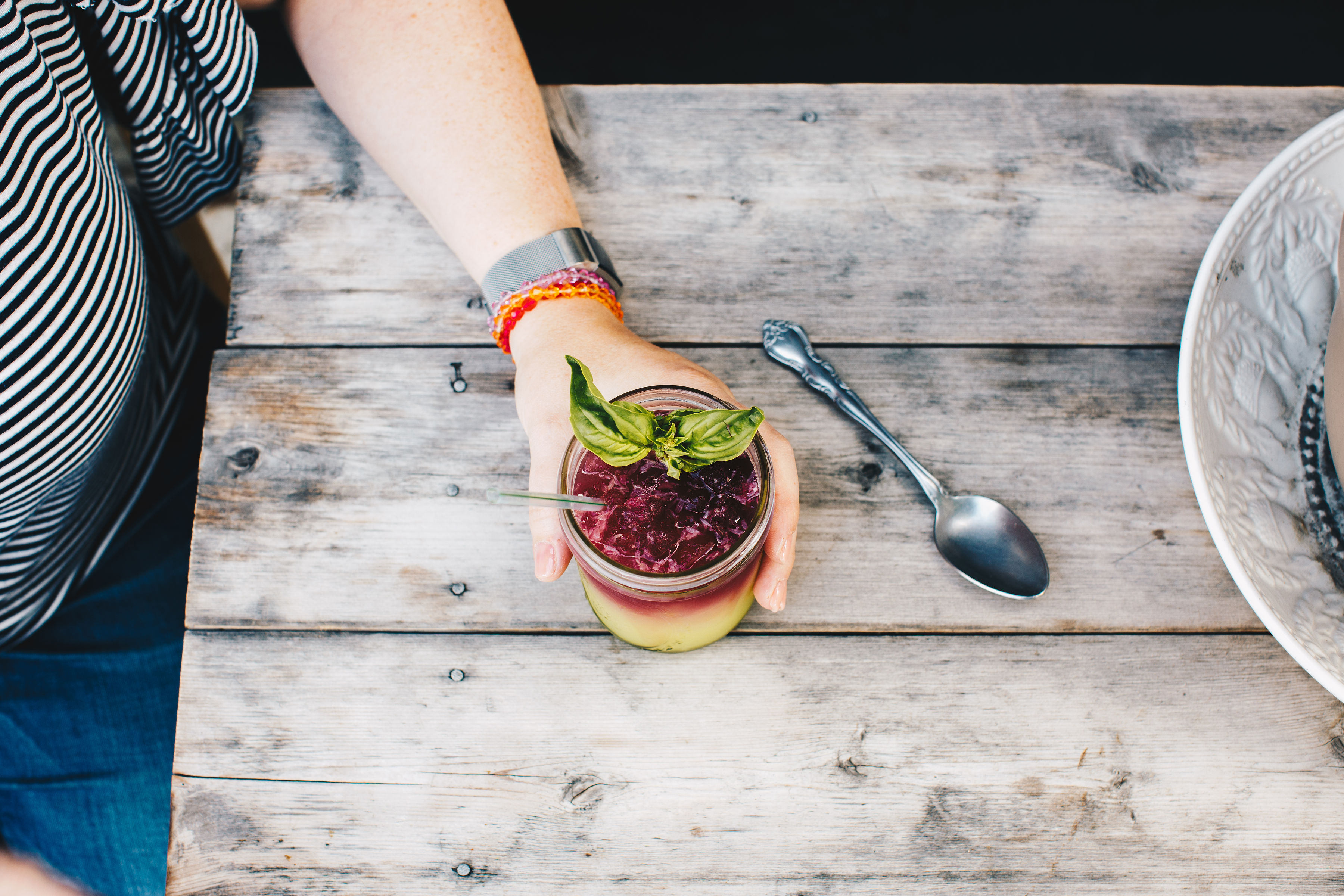 What a beauty! The gorgeous layer of blueberry basil syrup floating on top of the lemonade is so pretty you don't want to disturb it.  It broke my heart to mix it all up, but I eventually did. The basil syrup they use in this pretty potion is made with fresh basil from the 5 Loaves Urban Farm, just a couple miles down the road.  This is such an intense flavor – full-bodied, sweet, and satisfying.  The aroma of the fresh basil hits your nose while you take a long sip from the corn-based plastic straw, which happens to be biodegradable.
---
Lavender Lemonade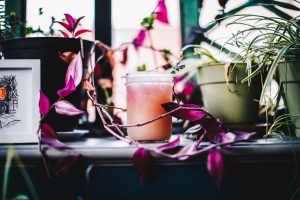 How to pick a favorite lemonade… This gorgeous lilac-colored drink even comes with a sprig of lavender for you to sniff while taking a swig.  Much like the Blueberry Basil, I didn't want to stir it, mixing up the darker syrup color that sat on top of the more subtly colored drink beneath it.  The lavender syrup is also made in-house and the flavor is subtle.  Less potent and tart than the blueberry basil, but still distinct.  You can taste the lavender, but it's the back note.  The lemons sing louder than the other flavors, striking a wonderful balance.
---
Honey Rosewater Lemonade
If I could add one thing to this menu it would be a flight of lemonades, because they are all so special and unique. I think they deserve to be tasted all together just like a wine or beer flight.  The honey rosewater was the most glamorous, with dried flower petals floating on top of this delicious potion. Not overly sweet, the rosewater took down the high notes of tartness and sweetness, making this the most subdued of the three.  The rosewater, like the lavender, was still in the background, but it was almost as if the lemon was hanging out with it in the back. The honey added some sweetness but was not overpowering — enough to make everything more mellow.  There's no way to pick a favorite lemonade. They are all distinct in their own way within a common thread, each special and wonderful.
---
Toasts
Cinnamon Toast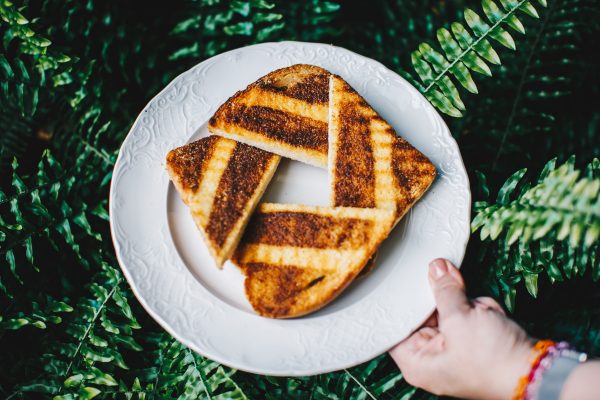 The simplest things are oftentimes the best, and this is no exception. I love that there is a toast menu.  Toast is possibly one of the most undervalued food groups (yes, GROUP) and I love seeing it being the star it is.  My mother famously cannot start her day unless she has some black coffee and toast — so I was raised with a healthy respect for toast. As a child, I would sometimes have cinnamon toast for dinner (or breakfast, or lunch) and it never disappointed. Neither did this. A couple slices of perfectly toasted bread, slathered with vegan butter, sprinkled generously with cinnamon and sugar. That is all — and that's all it needs.  No use fancying it up, it is perfect as is. It is so good in fact, that the first time I went to Grindhaus before this review, I ordered it and loved it so much that I ordered a second serving an hour later.
---
Avocado Toast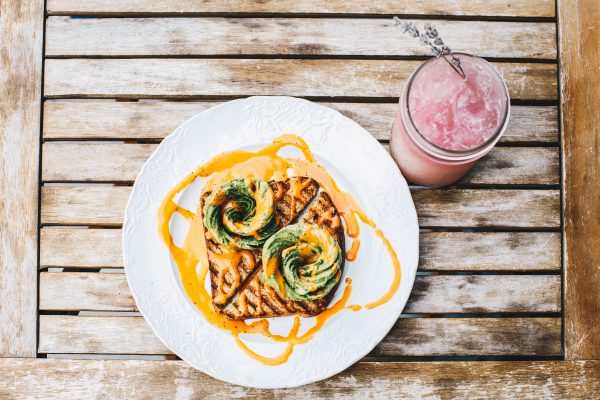 One should never a favorite menu item — it keeps you from branching out and trying new things. However, if I was pressed to do so, the Avocado Toast may just be it.  Its strengths lie in its simplicity.  A whole avocado sits atop a lovely piece of wheat bread, in the most beautiful sculptural rose. Drizzled all over is a spicy sriracha aioli, with a sprinkling of salt and pepper.  It was so good, so incredibly good.
The creamy, buttery avocado, which was perfectly ripe, worked beautifully with the spicy drizzle.  Normally I see sriracha and think, goodness, no, that's too spicy for me.  But because it was an aioli, and was not a singular spiced flavor, I was able to both eat it and be pleasantly surprised at how harmonious the two ingredients worked with each other.  In addition, those few salt crystals give the avocado just the depth and tang it needs — same with the pepper.  As you may well know by now, I am not a fan of pepper — but I must say, the pepper added a touch of zip in this case, and was surprisingly on point.
---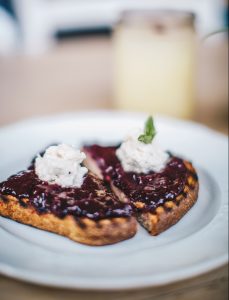 Ricotta & Jam Toast
This was something I was not expecting to like! I had never heard of vegan ricotta and wasn't sure what to expect. This toast was served with a thick layer of their dark, luscious, homemade Very Berry Jam, which is a four berry jam. Atop that was a scoop of the vegan ricotta, waiting to be smeared all over. The creamy texture of the ricotta worked very well with the super sweet jam, and ended up tasting close to an ice cream (maybe an ice cream sandwich).  The jam might be a bit much on its own in that quantity, but, paired with the creamy ricotta, it was a refreshing snack that ended up feeling like more of a dessert.
---
Toast & Jam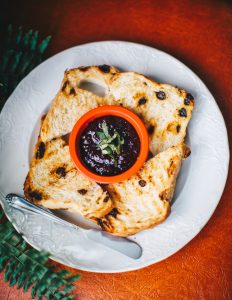 I was presented with something that people, including myself, have very BIG opinions about. Before me was a plate with raisin bread on it and their delicious Very Berry Jam.  I had never had raisin bread before, and famously pick out raisins in dessert, and even refuse carrot cake if raisins can be found inside. But writing food reviews makes me try new things, so I rolled up my doubting sleeves and tucked in.  I must say — I was surprised by how much I didn't hate it. In fact, I think I liked it. The raisins weren't jammed into every crevice, and they were inside white bread (my favorite of the breads), and it was not cinnamon raisin, so there was only one flavor to deal with.  The raisins were an accent, not a main feature. Since the jam was on the sweet side, the raisins worked beautifully with it, and I almost didn't realize I was having raisin bread at all.  I won't say for sure that I would order this in the future over some other favorites, but I will say this — I was surprised by it, and enjoyed my tasting.
So, next time you see raisin bread, instead of scoffing, go ahead and take a bite — you may be surprised.  For those of you in the pro-raisin camp — I can see some of your points, now.  Not in carrot cake, but in this, yes.
---
Entree
The Wrapple
The perfect fall wrap is thankfully not a seasonal item here, but a staple.  Made one afternoon by owner Megan Stewart on a whim after a friend dropped off some freshly picked apples, she fell in love and knew it needed to be added to the menu that day.  The Wrapple started as a special which then earned its spot as a regular offer.  Spinach, apples, balsamic dressing and their signature tempeh bacon are wrapped up in this delight.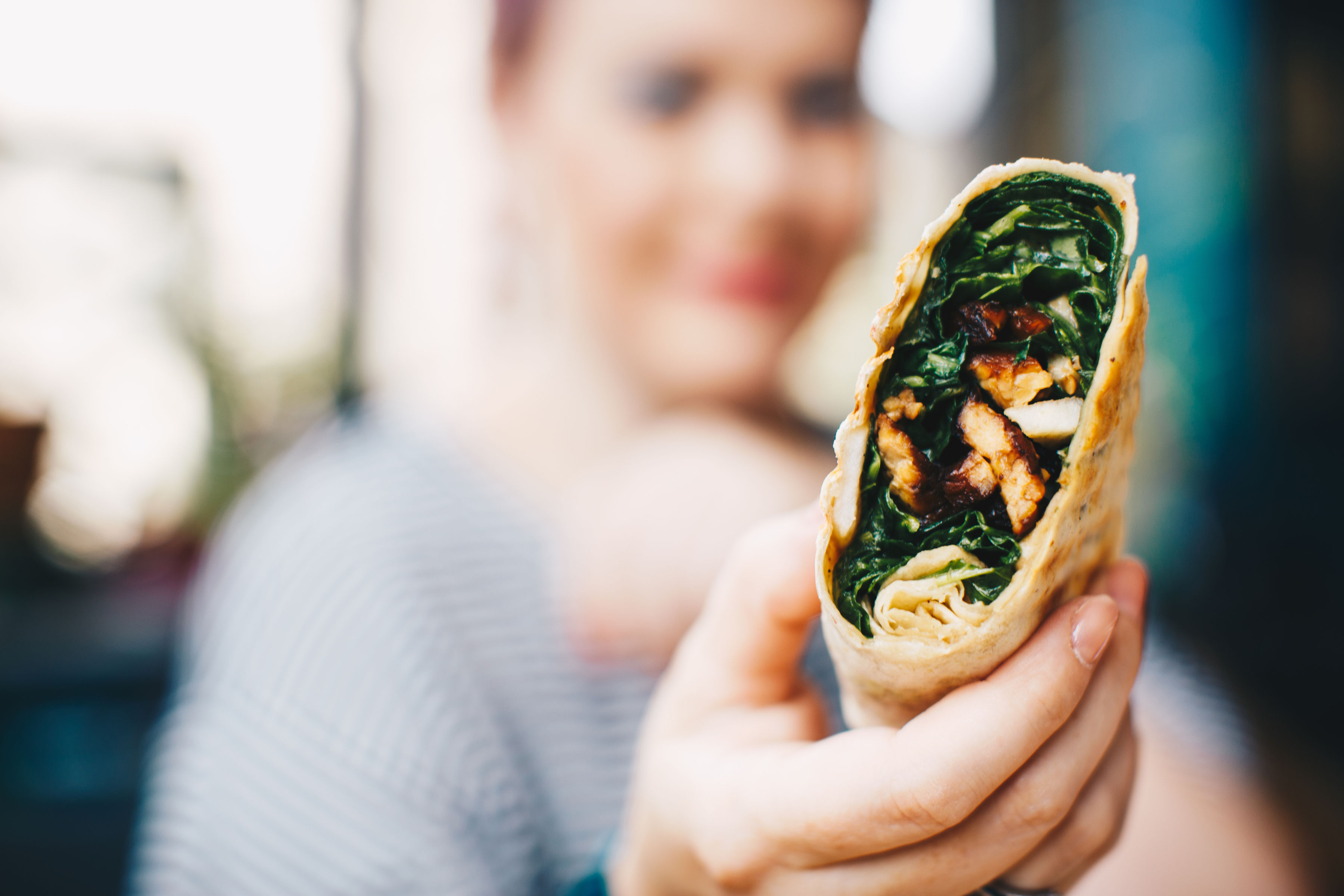 The tempeh has a smoky flavor to it, and, combined with the sweet and tart crunch of the apples, makes a perfect pairing. The spinach gives you that green, and the balsamic adds another sharp tang. The tempeh and apples work together to make a balanced mouthfeel — giving you enough to crunch and chew, so it's not a soggy, mushy wrap. I think a lot of vegetarian or vegan food get a bad wrap (ayooooo) because sometimes texture is not enough of a consideration when substituting meats out. This wrap did not forget that — you have something to snap into with your teeth and feel like you actually need them.  The flavor, as well as experience, is on point.
---
The Lorax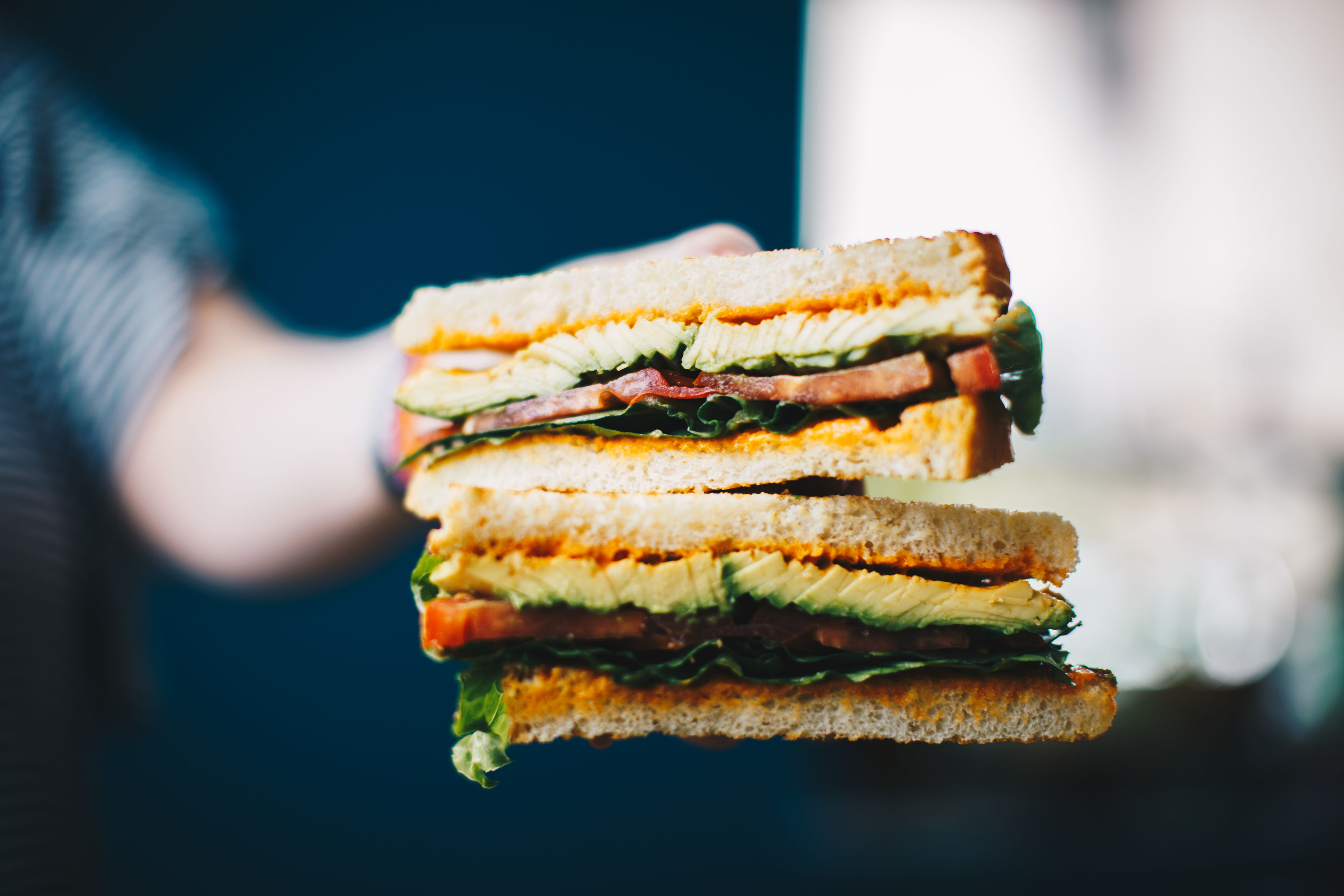 This incredibly simple and delicious sandwich is perfect for breakfast or lunch, or an in-between meal if you're having one of those days.  This sandwich may seem to be deceptively light, but is actually jam-packed.  Between the delicious, fresh bread is a whole avocado, thick tomato slices, romaine, and their housemade spicy sriracha aioli.  As someone who normally removes soggy tomato slices from sandwiches, I was thrilled to bite into a sandwich that had something to chomp down on.  The tomatoes held up their part of the bargain as being the number two star of the show.  The avocados still stole the show, and, just like with the Avocado Toast, the housemade spicy aioli gave the sandwich another dimension to round out the flavor experience, leveling it up to star sandwich status.
---
Mujadara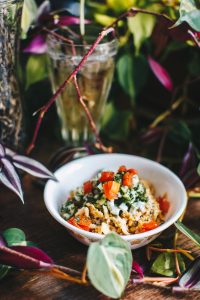 This was the most surprising item I tried at Grindhaus.  It was incredibly filling for a side, but that could be related to the fact that when I had it, I was three sandwiches in.  It's similar to a cold potato salad, but with a lot more going on.  The base of this is Lebanese-style lentils with brown rice, with a cucumber scallion salad layered on top of that, along with some crispy fried onions and a creamy dill dressing.  The whole thing was so filling that I couldn't finish it as a side if I had another entree item, but that's just me — I always leave room for dessert!  This even held up after being in the fridge for a day, and perhaps even gained more flavor as the lentils and rice were able to soak up the dill dressing overnight.  The presentation was lovely, with everything topped on top of each previous item, in a beautiful multi-colored bowl.  Since it's a bowl of grains, this could easily be paired with a lovely salad and delicious drink for a well-balanced meal.
---
Chocolate Avocado Mousse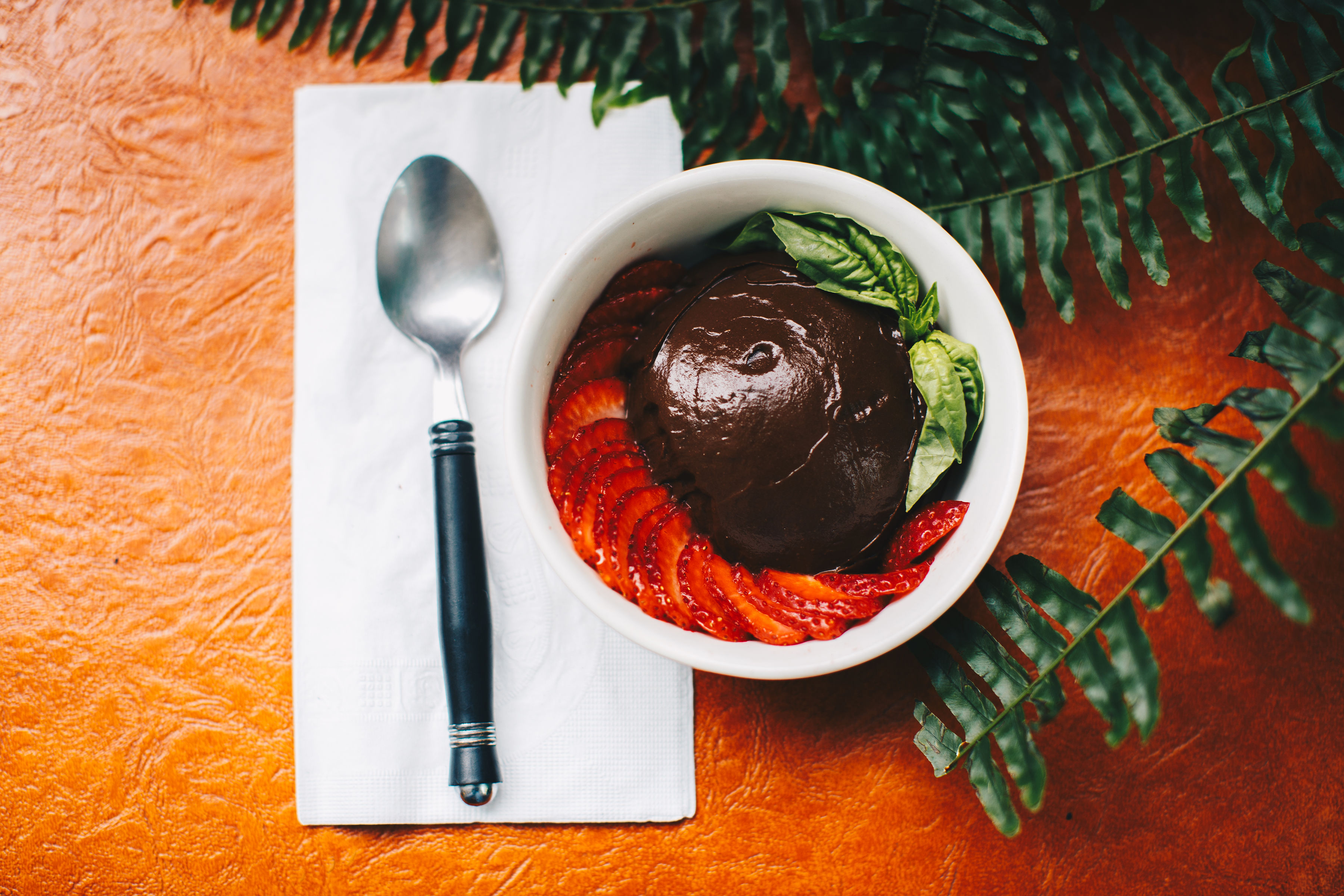 Holy chocolate, Batman!  This was the most divine chocolate avocado mousse I have ever had.  What makes this such an indulgent treat is fairly obvious, but it's the avocado. Because of this main ingredient, it gives it a weight and a fat content that is unlike other mousses or puddings.  Not only is it chock full of avocado goodness, it has dark cocoa, almond milk, and even maple syrup for added sweetness and surprising flavors. The fresh strawberries that are served with it are the perfect pairing.  I do love chocolate-covered strawberries above all, so I was thrilled to see those perfectly sliced beauties on there. This is a dessert so rich you could easily share it with a friend and still be satisfied.  Ultra-chocolatey, but thick in a way that I cannot describe. It fills you up and you don't need seconds — something that is incredibly rare for a dessert, at least for me.
---
At Grindhaus, vegan ingredients replace their non-vegan counterparts (butter, mayo, milk) with ease, and menu items are crafted with hearty, complex flavors that all just happen to be plant-based. Halfway through my food extravaganza I had forgotten I was even IN a vegan establishment!  To those who are wary of a vegan cafe, put your doubts aside. Come on down and give Grindhaus a try.
---
Photos by AlanAdetolArts, L.L.C. – Birdcage Studios – Buffalo, N.Y. 14213 –[email protected]
© 2018 AlanAdetolArts Photography LLC. All Rights Reserved. All images on these pages are copyrighted. Use or reproduction without prior written permission is prohibited.