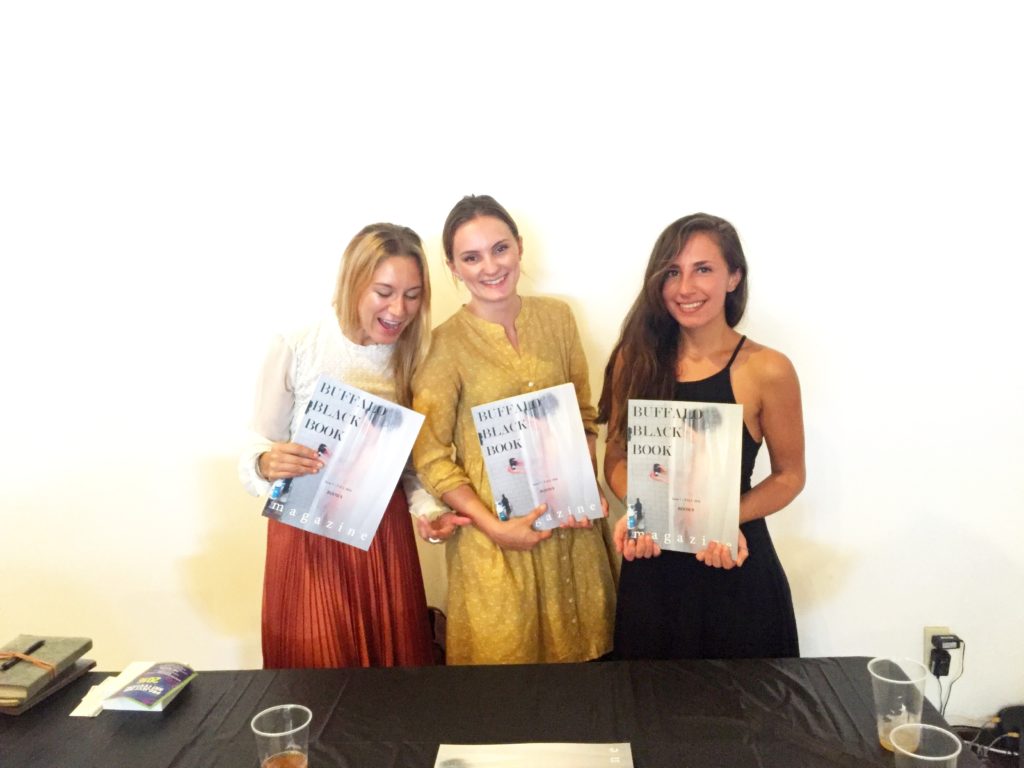 "If I can get through the year, I'll be happy. That's my goal: to see if I can get through the year. Even if I break even, if I can make it through the year and pay my rent, I'll be ecstatic."
Buffalo Black Book came into being in September 2016, with a launch at the crisp new Hydraulic Hearth in the Larkinville District on an especially torrential night. The frightful weather didn't stop a drove of people from coming out to celebrate the inaugural issue of this quarterly lifestyle magazine featuring the fascinating denizens of Buffalo, New York, of course.
---
Elizabeth Siematkowski is the one-woman show running this whole shebang, from the writing, to the photography, to the design, to the marketing, and plans to keep it that way for a full year's run. "I knew I could deliver the first one. I thought, 'I could use all my life savings, make this happen no matter what, I know I can do this,'" she said.
It was while working as a mental health counselor at Niagara University that Elizabeth found herself drawn to the printed word. She began a small creative endeavor in April 2015, the Buffalo Black Book (the "little" black book, for our purposes), which was an anonymous makeshift zine featuring short interviews and essays, stitched all together with gluesticks and love. There were 50 of each issue, four issues total. She distributed them throughout the city, randomly. People loved them, emailed to say so.
"It was so fun. Then I started an Instagram that was really mysterious, kind of creepy," Elizabeth laughed. "No one knew what it was, I didn't put my name on it, it was just like, 'What is this?,'" she recalled.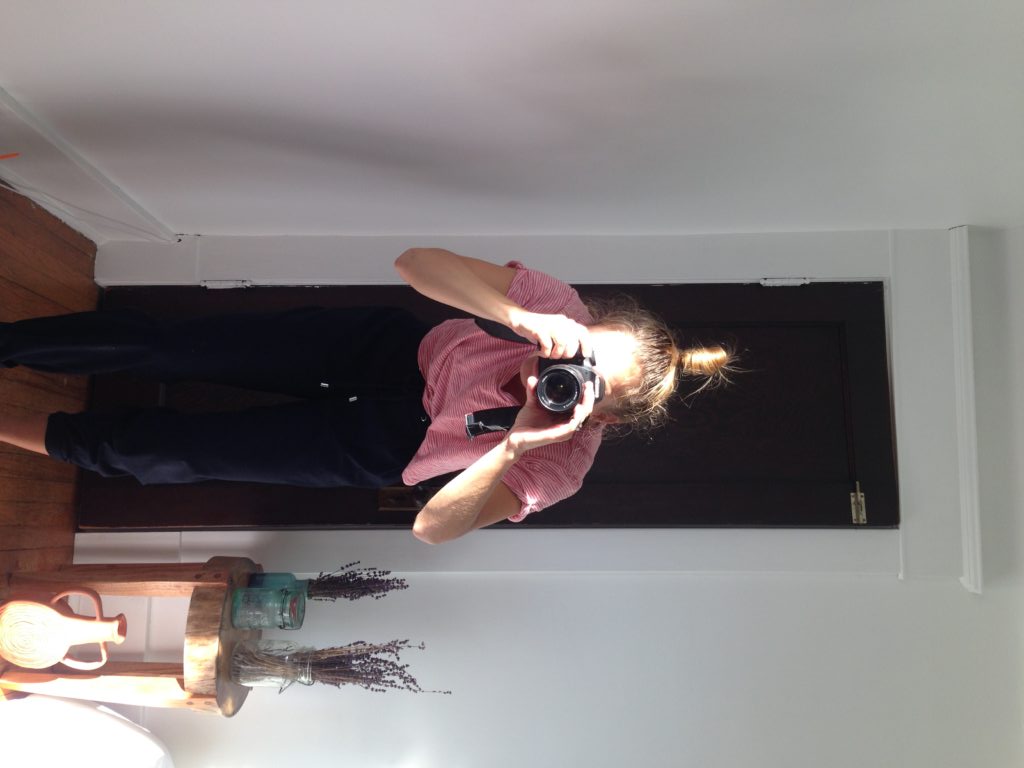 In November 2015 she compiled all of her favorite stories and essays into a more traditional booklet-style zine and presented it at the Sugar City Zine Fair. The seed for her transition to full-time Booker was now planted.
It was also about this time Elizabeth began contemplating a major change. "It was time to do something else," she said. "The seed was planted in my internal universe as well as the external universe. It was floating in me and around me but it wasn't a conscious, 'I'm leaving this job for this' thing.
"It was total agony leaving Niagara. It was a stable situation — summers off, benefits — but I felt like there was a lot of my personality and professional self that wasn't being utilized in that job; only parts of me were being touched on in that occupation," she said.
---
Turn the fear into empowerment.
However, the lessons she gleaned there would assist her greatly with her next endeavor. "I'm so grateful for the time there…I love my clients; it was the privilege of a lifetime to sit with them, and I learned a lot from them. I probably got the confidence from them to try this," she mused.
After leaving NU in January 2016, Elizabeth got a call from the National Parks Service in California with an offer to work in the Santa Monica Mountains.
She jumped at the chance to move to the West Coast. After a couple months of isolation in the mountains, however, Elizabeth soon began realizing how intertwined she was with the city, how deeply she missed it. She also missed her little black book. "I didn't realize how connected to this area I was until I left," she said.
As if by kismet, the person subletting her Buffalo apartment was no longer interested at almost exactly the same time Elizabeth was contemplating a move back home. She said to herself, "I have to do Buffalo Black Book. I don't know what that means, but I have to do it."
---
After returning, the reimagining of Black Book was in a full-on boil. Admiring the biannual and quarterly magazines she was seeing coming out of NYC, the UK, and Berlin, Elizabeth began dreaming of the Buffalo counterpart.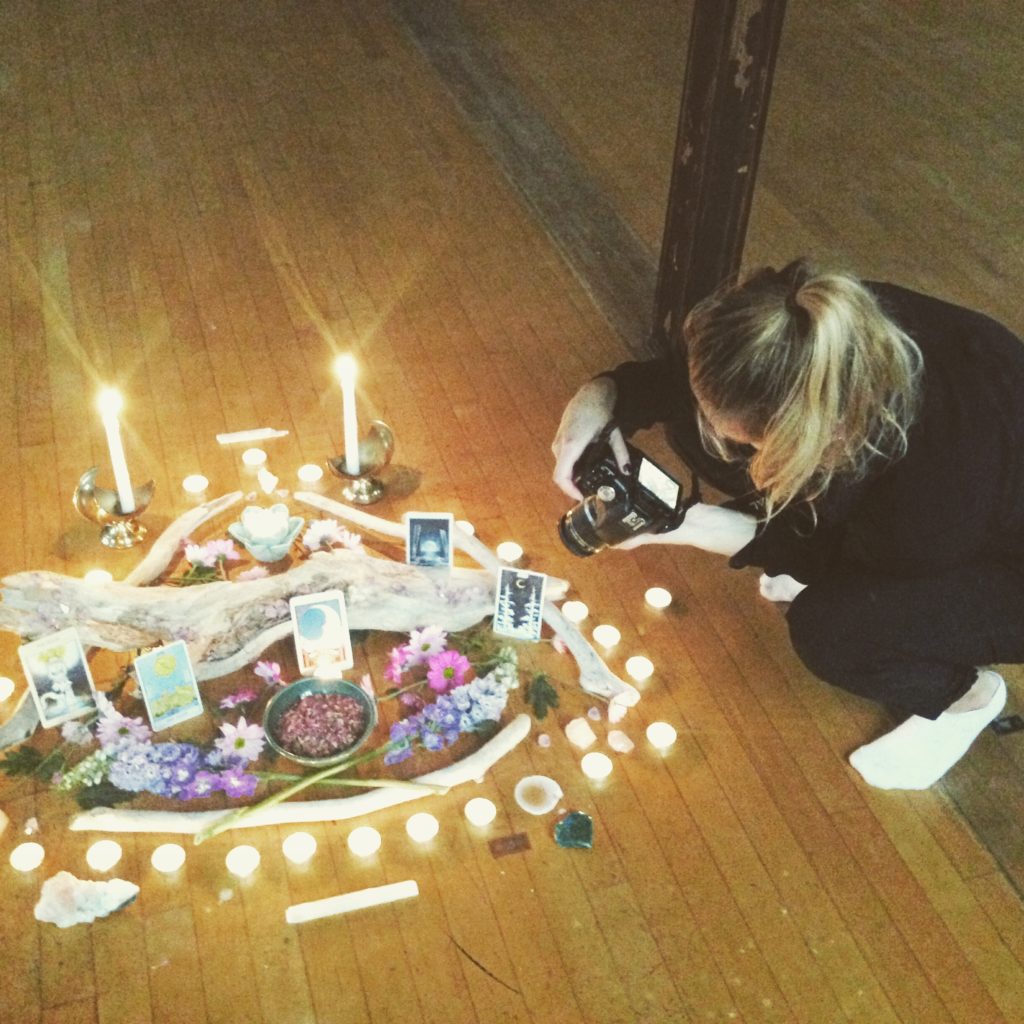 "I felt like Buffalo was ready for that and could really appreciate it," she said. Mulling this idea over, Elizabeth said to herself, "'
Let me try and create that, and make it as aesthetically beautiful as possible, so people will feel proud to have it in their homes.'
It's a lifestyle publication, but also, it feels safe to explore some things that maybe make people uncomfortable in their daily lives, that maybe make ME uncomfortable in my daily life," she said.
After this decision was firmly planted, Elizabeth headed off to NYC to stay with a cousin and crack the books. "I did a bunch of zine recon. I picked up my favorite zines and just studied them for weeks; I read a marketing book a day; watched YouTube videos; did anything I could, 17 hours a day," she said. This was April; in September, BBB was officially born.
Although the workflow and timeline of tasks were carefully laid out in the months leading up to publication, you can't plan for nerves. To psych herself out of anxiety, Elizabeth returned again and again to the word "empowerment."
"'Turn the fear into empowerment.' That was my motto. Any fear: 'Empower. Empower. Empower.' When it's all you and it's a creative piece, it's so exposing and terrifying, but if you hang out in that space too long you'll never do anything," she said.
She continued: "'Do the best that you can, and you can always get better.' Yes, you're scared, yes, this is terrifying, no, you don't know if it's going to pan out… You also didn't know if you were going to make it through September rent-wise, but ya did," she laughs.
---
Pushing boundaries, busting stigmas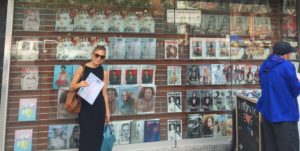 Elizabeth knew she wanted to play in the margins, in the places where people might not regularly tread. To open dialogues, to "bust stigmas." But lo, these lofty parameters almost brought the book to a screaming halt.
Elizabeth had been in talks with Mercury Print Productions out of Rochester, NY, who had agreed to take on the 9"x12" full-color, 80-page cardstock publication. The shop was founded by a single mother out of her basement in 1969. Currently, one of her son's owns the business.
"I had been in talks with them for months, everything was ready to go," she recalled. "Right before it went to print, they said, 'There's a problem.'" Apparently, some of the women on staff were uncomfortable with some of the content.
Elizabeth slept on it before responding, and with a clear mind the next day rang the shop. "I'm really saddened to hear this, but also really excited to hear this," she told them. "That is what this publication is about. Pushing boundaries, and making people think, and that's the power of print, and that's what you do.'" This phone call made its way to the owner of the company, who, according to Elizabeth, was flummoxed that there was even an issue. "'I don't know why we're talking about this, my mom would be horrified. Print the magazine,'" he demanded.
"I secretly love that that happened, because it reminds me that even in this day and age people have so many feelings – primarily women – about their own sexuality, and why does it make us uncomfortable, and what feels inappropriate about that?," she said. "It might raise some eyebrows, but I think that's why I'm doing it, because the message behind it is one of deep, human, compassion and basic being.
"For the most part people have been so receptive to it; I would say 90 percent of people have been beyond encouraging about it. But there's been a good 10 percent that's just been, 'Oh, dear,'" she said.
---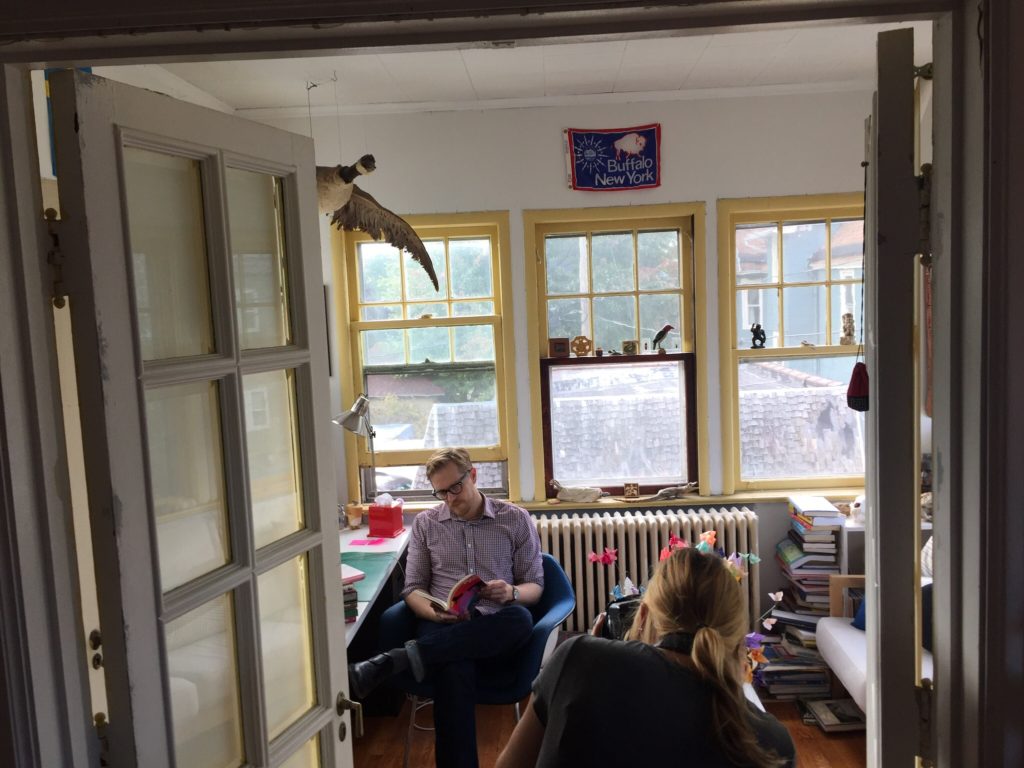 Pre-orders for the first issue did better than Elizabeth could have guessed; without knowing anything about it apart from the fact that it was a thing that existed, she received 90 orders. It's currently being carried in five shops in Buffalo, as well as all five Iconic Magazine locations in New York City, plus a shop in Brooklyn and one in SoHo, she said. "I'm really happy it's in New York City, because I want people to know how amazing Buffalo is, and how riveting culture and people and life is here."
She's also in talks with Urban Outfitters about carrying the publication in some regional branches – nothing secured yet, but talks seem promising. How did she even get that far? "That's me having no business [reaching out] but also having nothing to lose. Banging down doors, hopping in my Geo, talking to whoever I need to talk to – 'Please give this a chance.' I don't know where that came from," she laughs.
The experience of making Black Book had a great effect on Elizabeth. "To spend time with people who are so devoid of a mask, who are just, who they are, was the most inspiring and the most real experience I could imagine," she said.
"I feel like it's my purpose in life to try and build empathy in a culture. I think the most powerful way of doing that is through dialogue."
Watch for Issue 2 of Buffalo Black Book in December 2016, and connect on Instagram and Facebook. Only about a quarter of the limited first issue run remains, so be sure to get your copy soon.
Photos provided