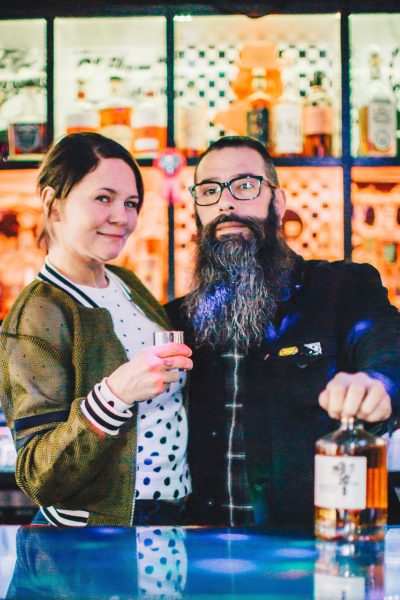 I cannot recall another local restaurant or bar in recent past that opened with the fanfare and fanbase that Misuta Chow's did. A selfie paradise in the heart of Buffalo, every nook and cranny has been posted online alongside smiling faces eager to be a part of the sensation. Walking into Misuta Chow's you can feel the Hollywood vibe. It's as if you are on a movie set, one that changes from room to room. Every detail has been thought through, and you truly feel like you're in a new place with each turn. Whether walking down the small alleyways of Japan to dine 'al fresco'; playing games in a neon-filled arcade; doing sake bombs at a super '80s bar with a skateboard vibe; or sipping wine slushies at a shipping container under a tiny Tokyo apartment complete with a billboard for 'Suntory Time,' you are transported without leaving your zip code.
---
Misuta Chow's is brought to you be super team (and "partners in business and life") Christi Allen and Johny Chow. An actress originally from the Dallas-Fort Worth area of Texas, and a badass bassist from the metal band Stone Sour, are the masterminds behind this local phenomenon. And once you hear their tale, it makes perfect sense.
They say that all of your life's experience eventually brings you to your destiny, and Christi is a great example of that. In no other case would you think that a career in acting, production, the restaurant world, and managing events would culminate in a neon-fueled Japanese paradise in Buffalo, but here we are.
Having been attracted to acting from her early years, Christi, a celebrity in our midst, moved to Los Angeles with her mother at age 13 after appearing on Star Search, then subsequently landed a recurring character on Married with Children.
After years in front of the camera, Christi decided her passion lay behind the camera. "My first passion was film. I was in front of the camera for a long time… and at about 18 or 19 years old I decided that the production side was really more exciting to me. And I don't want to be skinny — I love pizza and french fries!" Girl, we all feel you.
---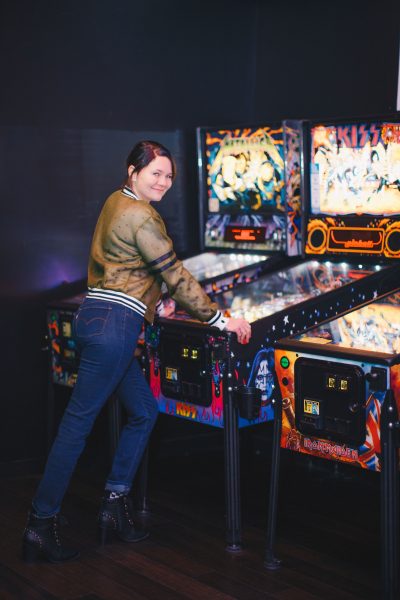 During this time of acting and producing, Christi gained a lot of experience in the restaurant world as well. "Because, you know, you always have to have another job when you're a struggling actor in Hollywood, and so […] I was working in the restaurant industry quite a bit." This experience would definitely pay off in ways she couldn't imagine when she was still out West.
After producing a variety of media from concerts, live events, short films, and movies, she ended up in charge of events and marketing for the famous Viper Room. "That's where Johny [Chow] and I [met], on the Sunset Strip. He was playing a show at the Whiskey, a friend of mine was the drummer for the band he just joined, we met one night and then that was that." They built a life together on the West Coast, but after several years and several writers' strikes, they decided they needed a change. Wanting a fresh start, and Johny having his home ties in Buffalo, they decided to come back east and settle in the Queen City.
Hailing from production, she landed at job at the Jewish Repertory Theatre, which was a perfect fit. "I ended up working as director of operations…which [was] super fun to be part of. There's a really special community here for the arts, so I was like, 'I can get behind this city, this is awesome!' I ran the theater for a couple of years and helped raise money to build their state-of-the-art theater in Williamsville." After accomplishing that, it was time to move on and branch out.
Johny, a.k.a. Chow, introduced her to the owners at Allen Street Hardware, where she started to host and meet the movers and shakers and, more importantly, cooks, in Buffalo. This is where their current Executive Chef Dunbar Berdine comes in. Christi and Dunbar met at Hardware, and started their great friendship and work partnership right there on Allen Street.
When the owners of Hardware made plans to open Black Rock Kitchen and Bar on Amherst Street, Christi was asked to be a big part of it. "I opened and ran that place with Dunbar, and our general manager here, Mark Bojarski. We were like the Three Stooges."
---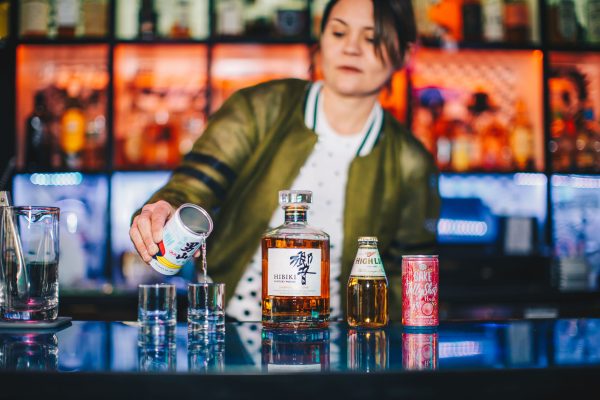 Christi was proving herself in the restaurant world in Buffalo, owing a lot of that to her experience back in Hollywood, working in the restaurant industry there. But her experience in town didn't end there. She later worked with Mike Shatzel, Buffalo's own genius restaurateur, on several projects.
The first would be the most telling, because she and Chow brought Allen Burger Venture to life. This would be their first taste at collaborating together on a completely unique restaurant experience in town, bringing new elements never before seen here.
"With Chow, and his experience and palate for the whole whiskey and bourbon movement, he really took that whiskey wall and kind of was a pioneer for that…. When we opened we had like 30 bourbons…now I think it has over one hundred. So it's really cool for a small bar like that to have such a special rare bourbon whiskey and scotch wall. We are kind of proud of that," she said.
They created an intimate and hip space, and, much like Misuta Chow's, was the talk of the town for some time after it opened. I remember going there for a date night and having to wait over an hour for a two top — and, I must say, it was totally worth it. I didn't even realize I had Christi and Chow to thank for that incredible meal!
---
Chow's band was set to go on an extensive tour for a while, and Christi was amping up her restaurant game here in town. The next enterprises Christi would work on for Mike Shatzel were Colter Bay, Thin Man Brewery, and the Terrace. She brought all of her knowledge and production experience into play for these places as well, and brought the same passion and fire as she did for BRKB and AVB to these new projects. These are all incredibly different food experiences, with a unique style and personality. She always manages to hit the nail on the head in terms of your experience, but remains incredibly humble.
"I wouldn't say I was in charge of all the design…it was a team effort. Mike Shatzel is the main brain child behind everything," she said.
But working on someone else's dream, while satisfying, is still not the same as building your own dream. This is something everyone with a ton of creative energy can understand. So it was perhaps destiny that Christi and Chow, along with business partner Lorenz Wustner, would open their own space. "Johny and I have always wanted to open a bar and restaurant after Black Rock Kitchen and Bar," she said.
They had an idea based on Johny's favorite culture and cuisine, as a result of touring the world with his music: that of Japan. They wanted to capture the different facets of Japanese life in one building, from the Mad Max neon frenzied style to the Yokocho alleys of Tokyo. This was quite a tall order, and they needed space to do it.
"We were looking for a concept and a place that could house both moments, where we could have this dining area that wasn't overwhelming, and also be able to highlight the '80s and the neon, and tie the two in. We had been looking at places on Allen, at places on Elmwood, but when we found this place [on Main Street] we knew it was the spot, even though it was abandoned and insane. We wanted to take a chance on an area of town that we know for a fact will be IT in five years, and we wanted to be a part of it."
---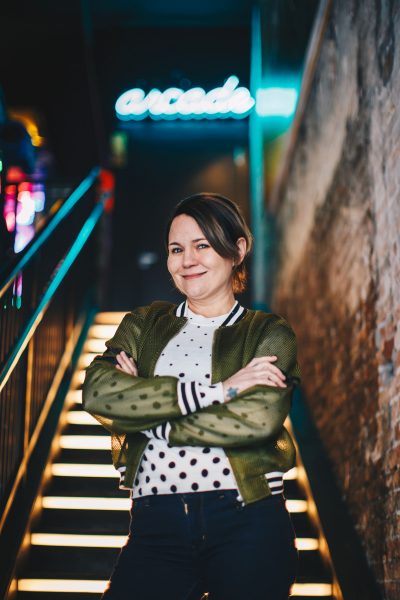 Christi put together a production book that nailed down every aspect of the atmosphere, which is why it feels like no detail as been left out — because it hasn't. Misuta Chow's is an assemblage of the best of Buffalo's local artists and artisans, who put in a ton of blood, sweat, and tears into creating this magnificent place.
"You know, me being in production, I had people from Los Angeles and Atlanta from the film industry working with me, putting together our production binders so that it was completely art-directed. I had a vision for every single building that you are seeing. We had a lot of incredibly talented artists that we brought on board to make our vision come to life," Christi said.
The food was created in the same vein. The kitchen was built and designed by Chef Dunbar, and put together with his own hands. "Back to me being from Texas, my palate was super uneducated when I moved to Los Angeles, and then I started opening it up and being more adventurous, and Japanese food was my favorite. Then Dunbar came into my life, and he would just force me to taste [his] food. He's just so incredibly talented that, rolling with his inspiration and rolling with his palate — I trust him every time, and it's never the wrong choice. The food is all Dunbar."
As a nod to Christi's film past, they thank everyone in a large Godzilla-esque movie poster that graces the upper part of the front staircase. If you didn't know what it was, you would think it was a cool item of Japonica, but it is in fact a large thank you letter to those who helped make Misuta Chow's a reality.
---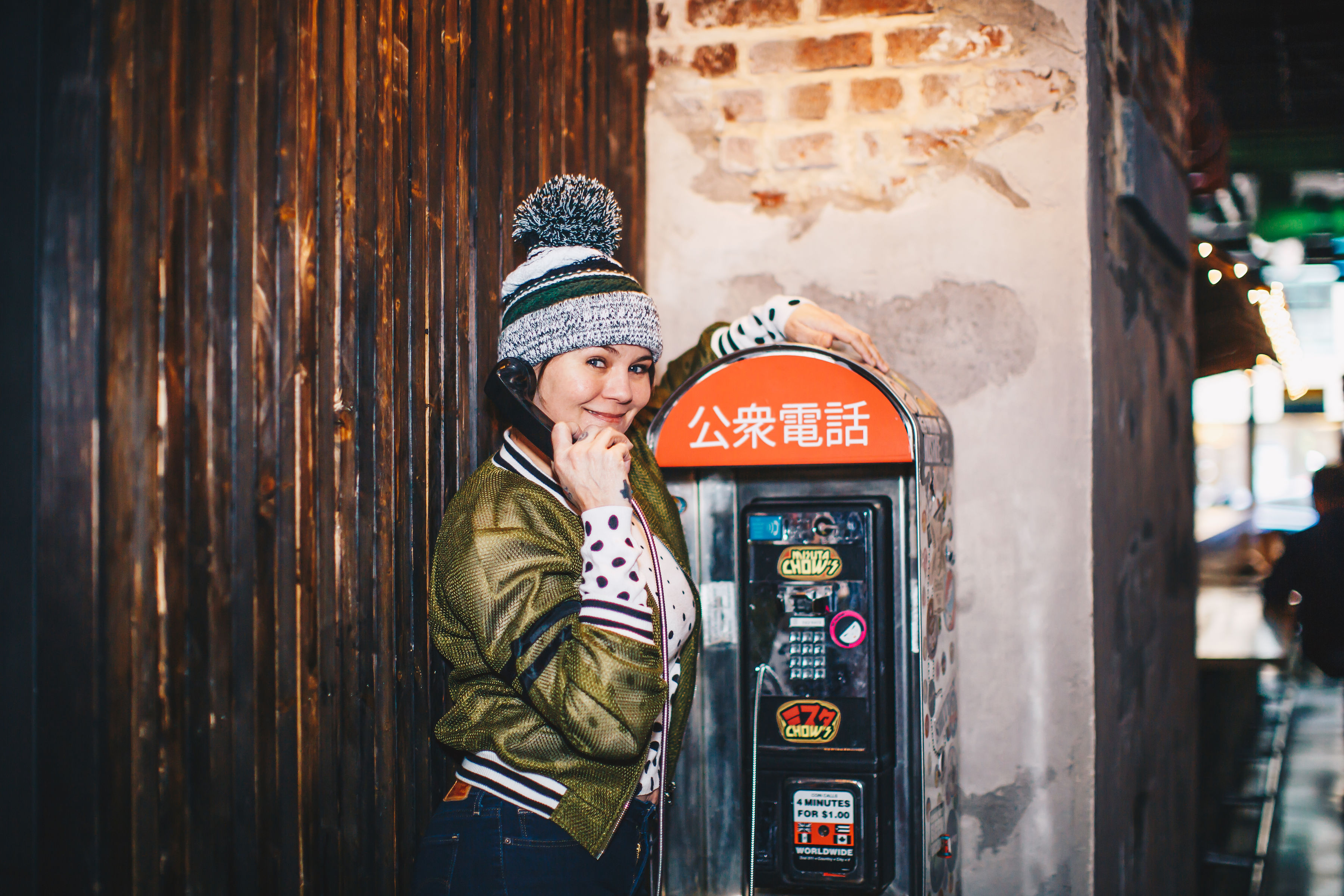 But Christi, being the perfectionist with attention to detail that only a producer could have, says there's more work to be done. "For me, this is still not done. There are probably four more spectacular moments that will be happening, that we won't talk about now, but you will walk in and be like, 'WOW.'"
We are already wowed, and can't imagine being wowed more. Misuta Chow's has managed to be a force of nature in this town, with everyone talking about the place before it even opened its doors last summer. Just try and walk in without making a beeline to the Hello Kitty pink glitter staircase in the back (created by the talented Leslie Andrews) to take a selfie with your squad.
This local phenomenon has received as many Google and Yelp hits as hot spots in New York City and Los Angeles — a thing almost unheard of in this town, to the point that even Google Corporate contacted Christi directly to ask what exactly was going on here in Buffalo to garner all this attention. The magic about Misuta's is twofold, since there isn't even a sign outside to mark its location. What draws you in, other than the word of mouth, is the neon that you can even see bouncing off the windows of the buildings across the street.
Christi and Chow are two of the most recent entrepreneurs to take a chance on Main Street, and their efforts are being rewarded big time.
"In Buffalo, people love a cluster. 'Let's meet on Hertel,' 'Let's meet on Allen,' 'Let's meet on…' We wanted the new one to be, 'Hey, let's meet on Main Street.'" Well, Christi, we'll see you there!
---
Photos by AlanAdetolArts, L.L.C. – Birdcage Studios – Buffalo, N.Y. 14213 –[email protected]
© 2018 AlanAdetolArts Photography LLC. All Rights Reserved. All images on these pages are copyrighted. Use or reproduction without prior written permission is prohibited