Dear Readers,
Thanksgiving wouldn't be Thanksgiving without certain foods. I am talking beyond just the turkey (or tofurkey, or whatever turkey substitute may be en vogue this year). But I will be circling back to that big bird before long!
For everyone, there are one or two things that just make the Thanksgiving meal what it is. For me, and please don't judge me here, it is Stove Top stuffing and canned jellied cranberry sauce. I, of course, have to have turkey and mashed potatoes, too, but those first two MUST be on my plate, or Thanksgiving is ruined. I know how peasant and déclassé that sounds and is, but to hell with classism and knowing better — power to the people! I love those two items, and having a piece of those two things on my fork, mixed with everything else, is perfection itself. A fork of turkey, taters, Stove Top, and cranberry sauce is music in my mouth. It could make the angels weep. But maybe that's just me.
---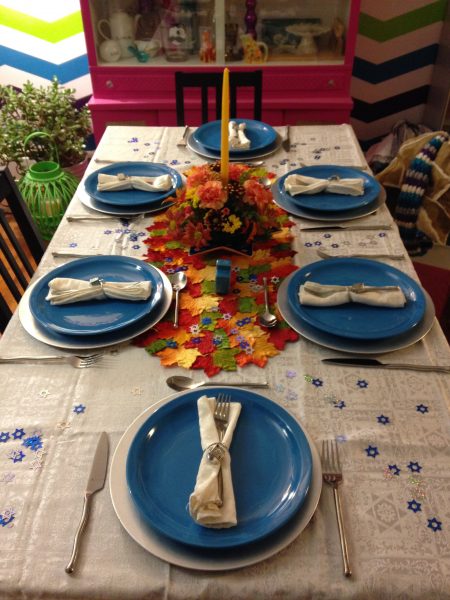 For more than two decades, Thanksgiving was always had with my mother and brother: Sometimes it was just the three of us; sometimes we had it in California with our cousins; and sometimes my mom's friends would join us with their family. But no matter what, it was always my mom and my brother. The first time I had Thanksgiving without my mom, it was traumatic, to say the least. After marriage, and not wanting to do the 'every other year' thing, or pick a favorite (spoiler, that would be my mom), my husband and I — now Buffalonians — decided to host. It was a big deal, for our families and for ourselves.
I take hosting seriously, and this is the mother of all meals. I pride myself on my cooking. The few times I've served what could only be called disasters still haunt me, and bruised my ego severely. Even though I knew the friends that were going to come would love me no matter how the meal turned out, I still wanted to make the best meal ever.
Over the years, my husband and I have honed our skills and have a few 'must haves', while still experimenting with new things every year. There is still Stove Top on my table, along with that jellied cranberry sauce log (with the rings!) but in addition, there are some new traditions we've cultivated. While only one of these is my own recipe, (although with only three ingredients, can you even call it a recipe?), the other two are so spectacular, I had to share them.
How can I not start with the turkey?! Being the hosts both my husband and myself are, we always have a turkey that is way too big for the number of guests who are there. We always have at least one vegan or vegetarian, and another non-poultry eater, and we still serve a bird big enough for a dozen hungry diners.
---
The first year we hosted, we did a regular run-of-the-mill bird. Covered in butter, then baked and basted until done. Blah. But the year after our first Thanksgiving-as-Hosts was Thanksgivukkah. For those of you who don't know what that phenomenon was, it was the coinciding of both Thanksgiving and Hanukkah for the first time in millennia, and won't happen again for several more millennia. It was something so big you just had to grab it with both hands and feet.
We stumbled upon some very tongue-in-cheek but still enticing recipes on Buzzfeed for this event. They had a recipe for a Manischewitz brined turkey
that we at first questioned but ultimately decided to try. And holy shit, did we hit the jackpot on this one. It was SO GOOD, we have done the bird in this style every single year since, will do it again this year, and will do it every year forward until we die.
The biggest challenge is finding a bag and pot large enough to hold all the liquid to cover the bird, and room in the fridge to store it for the required 24-36 hours. It is a ton of salt, wine, lemons and oranges, caraway seeds, fennel, garlic, and rosemary. You submerge your bird in the liquid, and let it soak.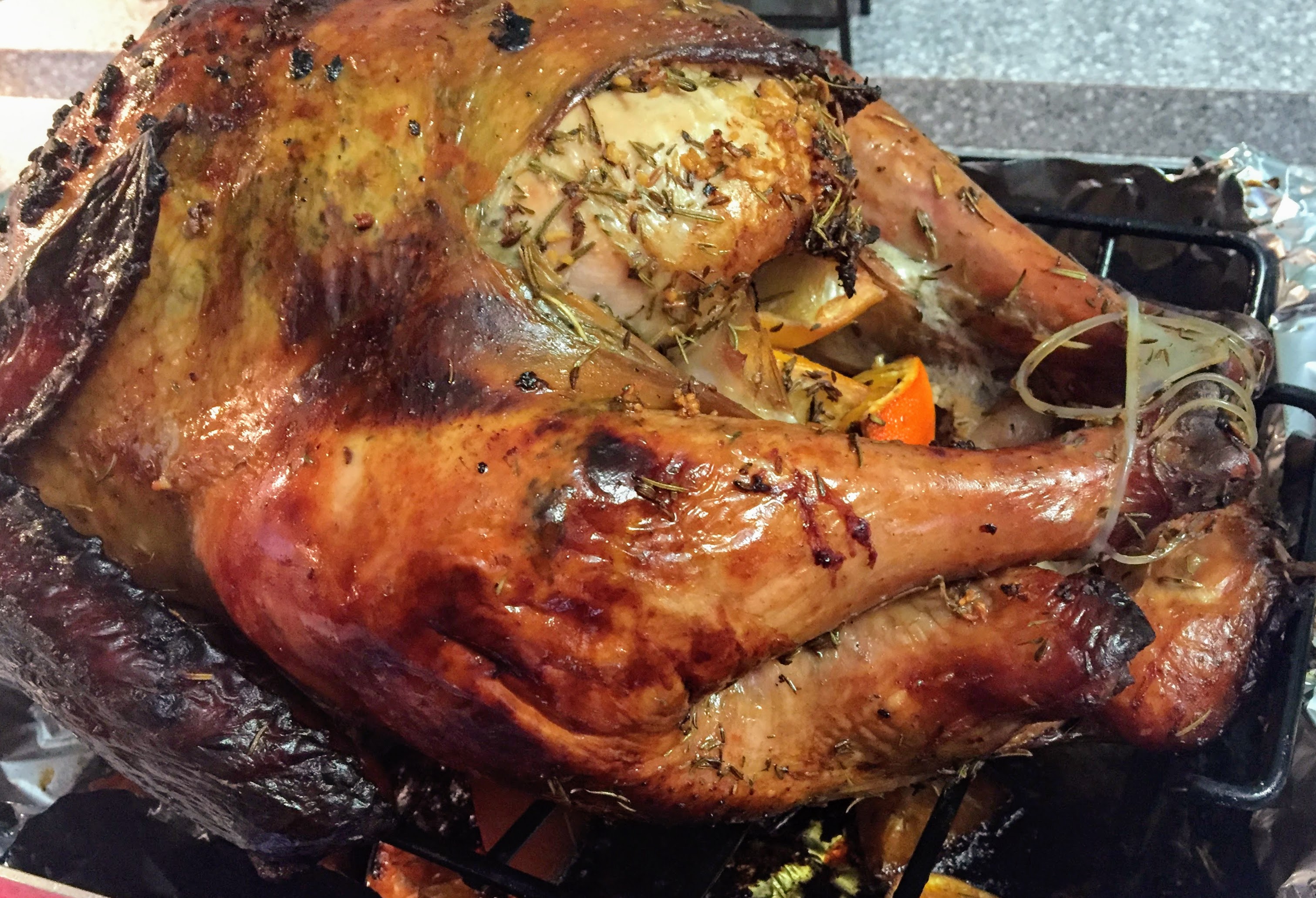 I always put the citrus inside the bird, and leave it in there during the cooking. When the bird comes out of the brine, it is straight up purple. That is no exaggeration — it is completely purple! But don't let that scare you, it will change to normal again. We always cook our bird breast side down, till the bottom is nice and brown, then flip it and continue to cook it until it is done. The turkey always comes out Betty-Crocker perfect. The meat glistens when you cut into it, like a Norman Rockwell painting. This is the turkey of legends — I cannot recommend this highly enough. Once you try this, you will then not only cook every turkey this way, but you will do this for more than a few chickens, too.
---
I make what can only be described as the most unhealthy mashed potatoes in the world. I believe a mashed potato is not a mashed potato unless you can flip the bowl upside down and it doesn't move. After put in the fridge, the potato amalgamation should become a solid block when cooled due to the amount of hardened butter and cream.
I do not have any recipes for this — it's all intuition, so every batch comes out slightly different but always delicious. All you need is as many red potatoes as you think you need for your guests, then a large container of heavy whipping cream, salt, and a pound of butter (you read that right). Boil the potatoes until they are falling apart and break in half easily. Drain the water, then toss the potatoes with the skins still on in your Kitchenaid mixer, or a big bowl if you need to mix by hand. (If you need to do this by hand, get a friend who is into weightlifting, because your arm will feel like it's going to fall off). You may need to do this in multiple batches if you make a ton, like I do.
After they are halfway mixed, but not too mixed (you want to keep some of those delicious lumps in there!) start to add the butter. A whole stick to start, but you should end up using at least two for a full Kitchenaid bowl size of potatoes. (Side note: when my mother-in-law said there was enough butter in a batch of potatoes I was cooking, the horrified look she gave me when I added another FULL STICK told me it was the right amount of butter). Then, thin down the potatoes with some heavy cream. Or, as my mother would say, 'Cut it with some heavy cream.' This is a phrase I grew up with, and had to be told why it was funny (since you usually cut something to make it less rich/fatty/etc. — not by adding something that is basically pure fat).
After you've added enough butter and cream to give it a nice texture (taste as you go) add your salt. I tend to go light, or leave it out entirely — this way my guests can salt to taste. I usually add a lot for myself. If you want to check on how your potatoes are doing, occasionally remove the bowl and flip it upside down. They shouldn't move at all. If they do, you may have added too much cream or butter — but honestly, I don't know how that would even be possible, since those two ingredients make everything better. The two wild card ingredients you might want to try for smaller batches, if you enjoy variety, is garlic or horseradish. Each lends a different dimension to the dish, and you'll know which you or your guests like in short order when the bowl runs out.
---
How can any meal not include dessert? I have a confession to make: I used to hate apple pie. Any fruit pie, actually. It wasn't until the recent past (I'm talking less than 8 years) that I even tried apple pie — and now I can happily say we are good friends. Me being me, I wanted to find an apple pie recipe that was totally different, totally unique, and with a flavor profile that was as unexpected as it was genius. I am talking about the Caramel-Pecan Upside-Down Chai Apple Pie that I stumbled upon on the Pillsbury website one fateful fall day.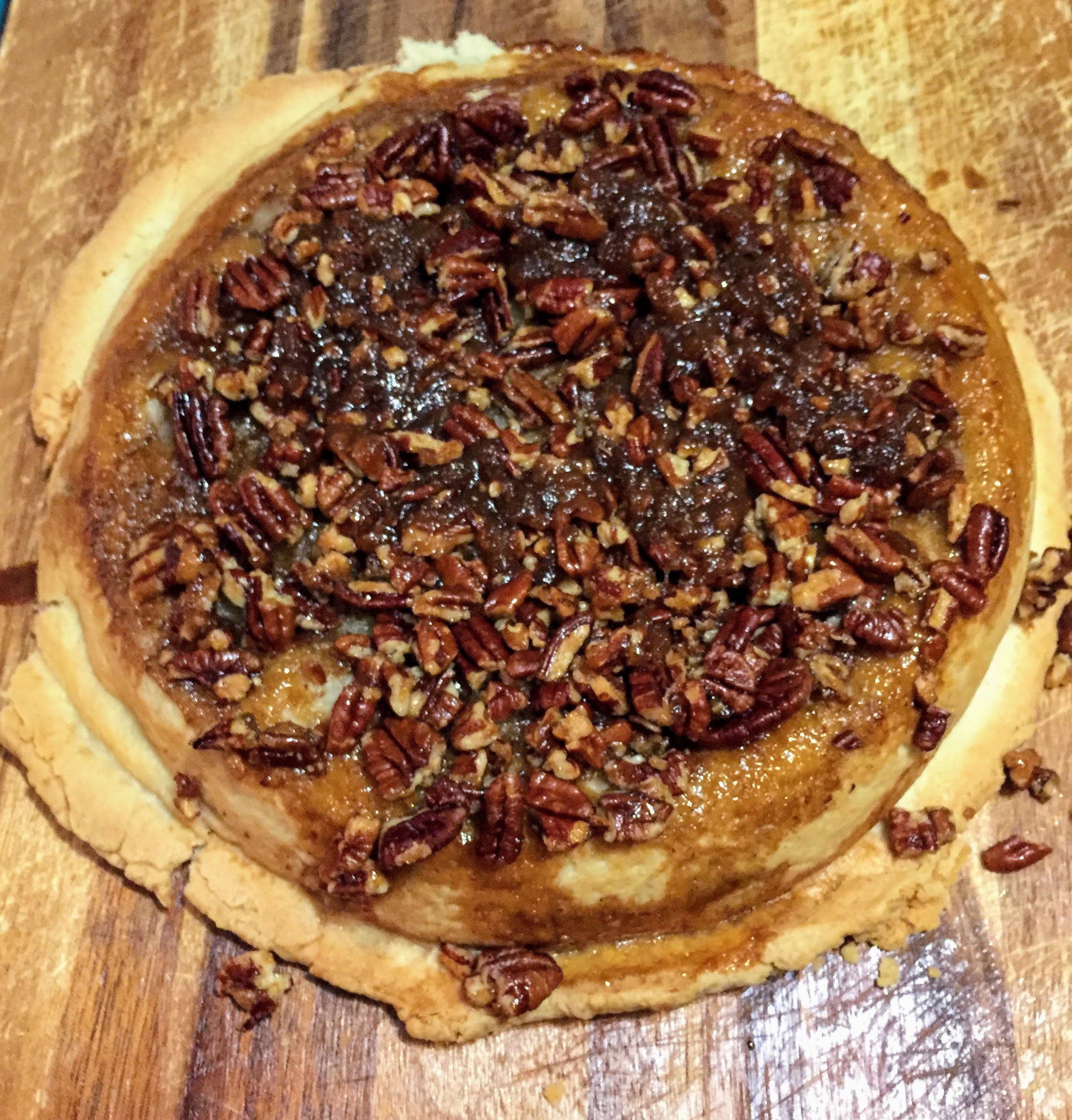 I've made a few errors over the years, like burning the pecans to the bottom of the dish the first time I tried this, or cooking it a touch too long, or not sealing the edges of my pie enough so that it leaked. Now I am a pro. I doubled the apple filling, and use a super deep pie dish, so that it can hold twice the apples. It's always a stunner, and even if it doesn't turn out pretty, it is still delicious. This doesn't end up looking as gorgeous as a beautifully shiny, perfectly baked apple pie, but the taste makes up for it. Everyone needs to taste it to believe how delicious it is — and don't forget a scoop of vanilla ice cream on the side.
Note: A baking secret for making the most beautiful apple pie you've ever seen. Before putting the pie in the oven, take a can of evaporated milk, and brush or rub a nice coat of it on your crust with a paper towel. Re-apply the evaporated milk every 15-20 minutes or so as it bakes. You will end up with a golden brown, super shiny, picture-perfect pie. If you are tired of seeing a dry-ass crust, and want to know how to make it shine like in a magazine: evaporated milk! My mom taught me this trick, and I've seen it work for decades.
---
Now you are armed with the best turkey, the best potatoes, and the best apple pie the world has to offer. Next, be sure you have some Stove Top stuffing and your jellied cranberry sauce (get your fancy whole cranberry bullshit out of my face!). Add a green vegetable (preferably cooked with a ton of butter and garlic, and then burnt a little bit for crunch) or a salad, and you have a perfectly balanced meal! Or just ask for the other sides and desserts from your guests. They shouldn't be showing up empty-handed, and should be happy to help bring something for the table.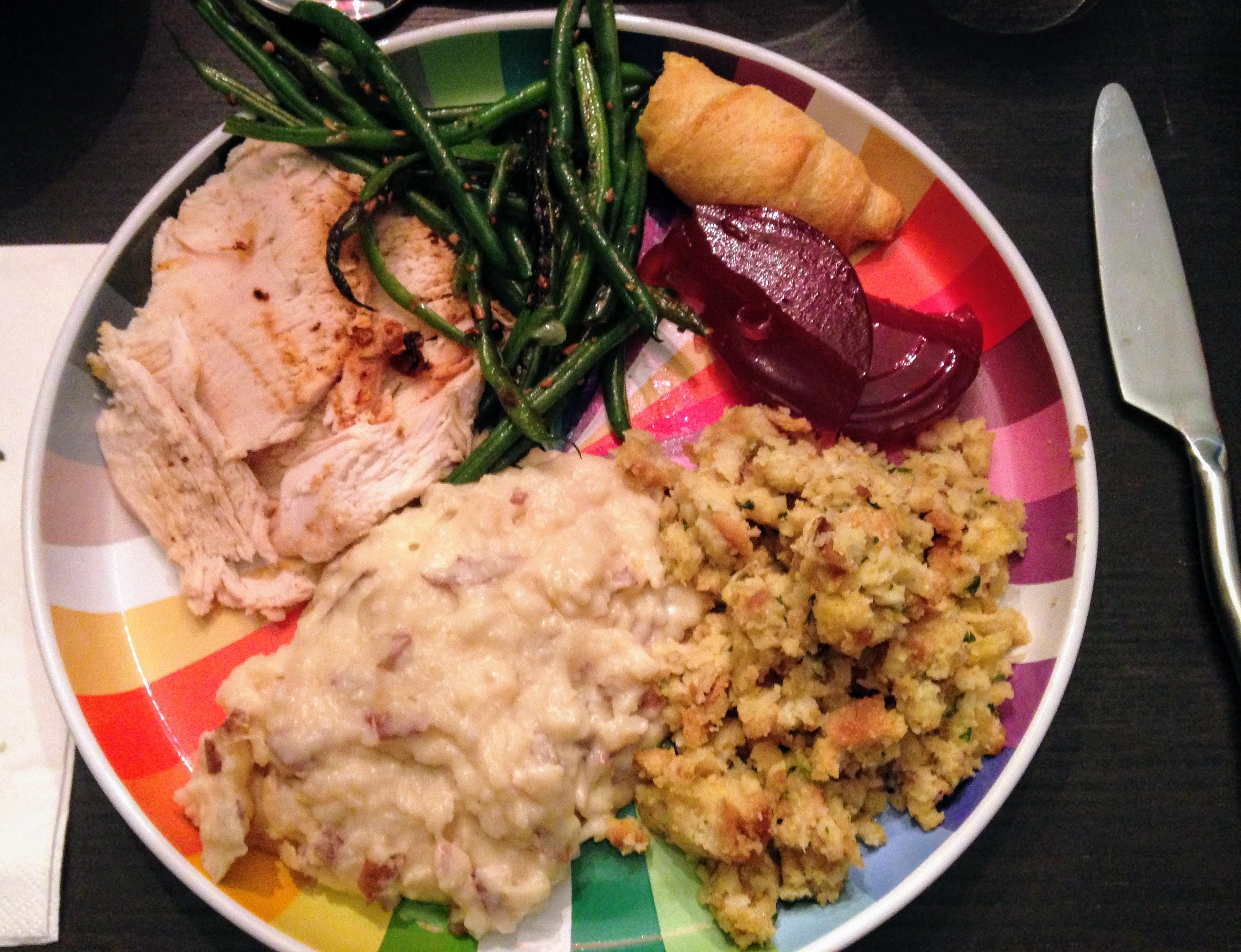 So this Thanksgiving, whether it's at a card table with close friends, or with a huge family of 20, try one of these tried-and-true recipes. Thanksgiving is Thanksgiving, no matter what food is served — but let's be honest, it's always better when the best stuff is served.
Happy Thanksgiving from me to you!
-NOMaste, everyone.