The collective known as West Side Stitchery — comprised of artisans Jillian Nowak, Carlene Derkovitz, and Heather Nowak — has been a creative force in Western New York for the last six years. The three friends-turned-business partners are now leaders in the artisan goods industry of Buffalo, as show-runners to one of the city's largest and longest-running craft markets — Buffalo Women's Gifts. We had a chance to have a conversation with the three women ahead of this year's market, and learned how the collective came to be, the ethos for their work, and the future of the market.
---
"Carlene tells the best West Side Stitchery story," Jillian laughed, looking over at her former college roommate and current business partner. "How we found out we both knitted."
"It was, what? Six years ago?," Carlene began. "We had moved in together but didn't really know each other very well. We played on a kickball team the summer before and knew each other through a mutual friend. We were both good friends with her, so we figured it would work out," she said.
"It was a shitty, cheap, cold ass place," Jillian laughed, recalling that first year as roomies. "We would find ourselves in the living room wrapped in blankets watching Jeopardy often," continued Carlene. At this time, Jill was a second-year law student; Carlene was working full-time; and Heather, Jillian's sister-in-law, lived two doors down from that chilly little apartment.
One particularly raucous Friday night hang sesh laid the new roomies up hard the following day. Crawling out to their respective couches in a haze from the previous night, the two women tried to shake themselves free of splitting skulls and impending doom. At some point in their joint pain, Carlene got a hankering to get out her knitting needles, perhaps looking for the peace of mind the soothing activity brought her.
'Alright, don't laugh at me, but I crochet a little bit, and I'm going to do it while we're watching TV,' Carlene said to Jillian. Upon hearing this, Jillian sat straight up from her horizontal position. 'You crochet, too?' Jillian asks her new friend, incredulously. They both then scrambled to get their supplies and proceeded to spend the rest of the afternoon covered in yarn and chatting about the craft.
They had already been living together for several months before discovering their mutual secret passion; it just wasn't something early 20somethings felt comfortable sharing at the time. "I think it was like, we were 23 and it was NOT cool," said Carlene. "You could tell there was a little bit of shame and stigma surrounding it…but now we do it excessively in public," she laughed.
---
After discovering their mutual love of the art, the women began spending much of their downtime from work and school working on pieces and sharing techniques. "There was one hat that I kept wearing that Jillian had knit, and Heather asked us for one made with specialty yarn," Carlene said. That hat, to be named "The Heather Hat," was the prototype of one of the first official offerings by the collective of women that came to be known as West Side Stitchery.
At this point Heather was merely a customer, but found herself more and more curious about the craft as she watched her friends share in the art.
"I never really did anything until the two of them, but I just get really obsessed and I wanted to be included, so I decided I was going to do it hard," Heather said. She set off to learn all she could about the art of crochet and practiced during every free moment of her day.
Although she learned the skillset a bit later than the other two women, Heather was able to slowly but surely perfect her techniques, and now finds that in learning a new skill later in life — after the "grooves in the brain" have been set, as it were — she is able to learn other things a bit faster than she would have otherwise, she said.
"I never did anything with my hands," she said. "I was a dancer and worked with the body, but never anything with my hands. I never wanted to play an instrument and my handwriting sucks," she laughed.
"None of us really have an art background," said Jillian, with Carlene seconding this assertion. Heather teaches ESL at Leonardo Da Vinci High School, grades 9 through 12. Jillian is an immigration lawyer. Carlene is completing her studies in chemical engineering while working full-time as an account manager. The beginning of their journey was fraught with imposter syndrome, the women said.
"At our first shows I thought, 'Oh, I don't belong,'" Heather said. "I had such an issue of feeling like a faker."
Still, yarn remained a common thread between the three friends. "When you look at the jobs we all have, they require a certain part of your brain to be active all day," Carlene said. "It's more stress than creativity," Heather concurred. "This is our release. This is our outlet," Carlene continued.
"I had a trial yesterday and like, half the trial I was thinking about this new pattern," Jillian laughed.
---
West Side Stitchery was formalized as a general partnership in 2013. "That was very hard to learn. We had no idea how to start a business," Jillian said. "My brother actually helped us a lot with that; he and my dad had gone into business for real estate…Carlene's good with numbers, but I don't think any of us are like, 'Yay, math,' she laughed. "Taxes, all that stuff — there's a learning curve."
Branding themselves on social media also turned out to be a struggle, Jillian continued. "A lot of that is still a work in progress…We still struggle with it, especially within this political climate — when to be political and when not to," she said.
Political messaging has remained a common thread in the collective's work. In fact, that aspect of the work was what first drew Buffalo Women's Gifts organizers Bernadette Hoppe, Carrie Marcotte, and Kathy Shiroki to the collective.
"Buffalo Women's Gifts was owned by a collective of three women, who had the show for years. One of the women [Hoppe] was also an attorney," Jillian explained. "She had bought one of our embroideries that said, 'My Body, My Choice.' She bought it and we didn't really think anything of it. A few months later they contacted us about considering taking over the show."
Although confused as to why they were being asked to take on this prestigious show, the WSS gals still agreed to meet with the BWG organizers.
"We went to meet with them at her house, and the piece was hanging in Hoppe's kitchen. We were like, 'Okay. This makes sense,'" Jillian said. After seeing their work on display in her home, their confusion and doubt as to why they were being asked to take over Women's Gifts dissipated. 
"That's how it all started," Heather said. The collective took over the market for the 2017 holiday season, with less than a year to plan.
"We had never done anything like that, but [Hoppe, Marcotte, and Shiroki] set the groundwork. They had a good thing going, they had a large following, they really spelled it out for us, and they gave us a lot of encouragement to keep what we wanted the same, to keep the tradition going, but still feel like we could make it something new…bring in new talent and change it a little bit, respectfully. We didn't feel like we were held back, in that regard," said the collective.
When asked if political messaging is still as prevalent in their work, Jillian mused: "Does the political stuff still play a role? For me, it's an outlet," she said. "I have very strong political feelings about everything, especially today…It's a difficult balance, though. We have had some dicey moments," she said.
For example, there was that one time that a gentleman noticed a piece that said, 'Film the Police' at a farmer's market, and proceeded to circle their table in a menacing manner. "That was kind of an intense moment," Heather said.
---
In the six years since they've become a collective, the women are still taken aback when people recognize them or they see their work out in the world, they said.
"There was one time I was helping out with selling raffle tickets at a Bills game, and so I was going up and down in the parking lot and there was this wild tailgate, so I got in there. I looked up at this girl and she was definitely wearing one of our York Street hats and I was just like, 'This is weird, can I take a picture of you? I'm just so happy to see that!' Carlene laughed.
Customers have requested replacements for lost hats, or new pieces to match current ones, or custom pieces to give as gifts. "I think that's how you know you have something. They don't just want to try it out, they continue to want it," Jillian said.
---
When asked to describe some of their biggest takeaways in producing Buffalo Women's Gifts for the last three years, the women were quick to mention their number one piece of learning: "You cannot make everyone happy. You are not going to," Jillian said. "And that's okay."
Change can be difficult to process for some, but the collective hasn't let some of the criticism from the old guard deter them from their goals. "We wanted to make sure that Buffalo Women's Gifts actually represents Buffalo, not one section of Buffalo," Heather said. "Not one race of Buffalo, not one age of Buffalo," Jillian emphasized. "That's been something that we're working on…That was a big reason why we needed to switch to a juried selection of vendors," Heather explained.
In 2017, it took the collective 6 weeks to fill 65 tables; in 2018 it took them 36 hours, they said.
"That's how much we grew the outreach of this event in that one year," Heather said. "This year was the first year that we juried it, and there was so much that went into consideration with that, between diversity of women and craft and age and everything, and I really think we've got such an amazing line-up," she said.
In the future the collective hopes to offer fee waivers for artisans just beginning their businesses, and has continued to offer discounted rates for artisans 25 and younger, as set by their predecessors. "We don't want to be exclusionary in that way," Jillian explained. "We are still struggling with how to navigate being a show that is all women, without excluding anyone who identifies as female, and still including the people who don't really understand that yet," she said. "That's been, I think, one of the hardest things for us to navigate."
"We want to make sure that we're being inclusionary, because it is, by nature, an exclusionary show. It's limited to women and people who identify as women, and that's hard to promote because that isn't equitable, necessarily. But that's still something that we try to really make sure that we're being mindful of. It's really important going forward," Jillian said.
"If changing the 'E' to an 'X' makes our vendors uncomfortable, if having performers who represent a diverse demographic makes you uncomfortable, then this isn't your show anymore…And I think just getting comfortable with that has been a struggle for us personally, but now it is what it is. This is where the show is going, and we're going to end up with a better show because of it."
Carlene continued: "Because we care. That's what it is. It's a better show because we care that much about it, to address those issues."
---
Attendees at this year's Buffalo Women's Gifts can expect to see performances by Saranaide, Curtis Lovell, Astraea Beaming, BWG favorite Kathy Moriarty, and the Dynamic Drum Arts of WNY, who will be closing the show. A pop-up cafe will be in place for all of your caffeine and sweet needs, featuring Fig Tree Patisserie, That Vegan Baking Betch, and Cycle Coffee & Tea, as well as a cash bar and The Cheesy Chick food truck rolling up for the lunchtime crowd. There will also be a free gift-wrapping station, where your tips will go directly to Compass House.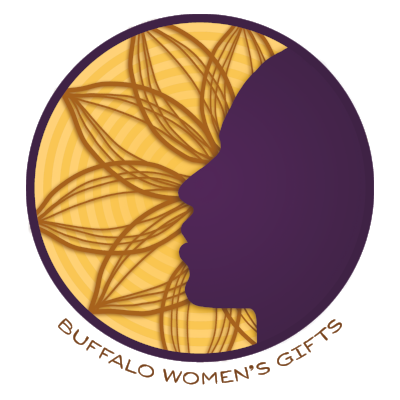 With more than 60 vendors offering an array of hand-crafted goods ranging from fine jewelry, to folk art, to organic skin care, to woodworking, to interior design, there is sure to be something for many on your list this year — and maybe even a small gift to yourself this holiday season.
"My favorite thing is the sound that my boots make when I walk on those floors," Carlene mused. "Sometimes I'll just run up the stairs and look over everything. It's just a gratifying feeling. I think I cried at one point that first year when I realized, 'We did this.'"
---
Buffalo Women's Gifts is this Saturday, November 30, from 11 a.m. to 5 p.m. at Babeville, 341 Delaware Ave., Buffalo, NY. Admission is free.
Photos provided.