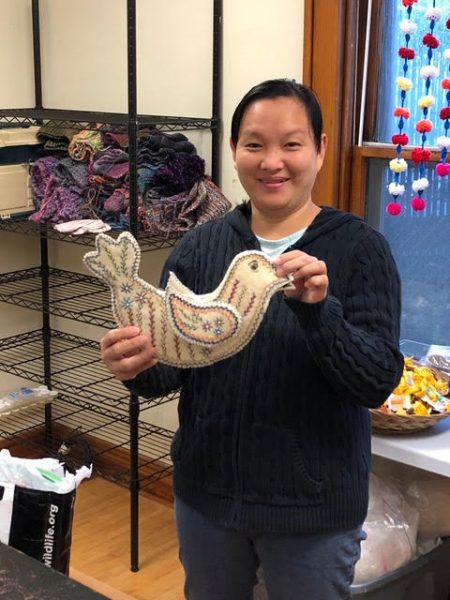 How long have you been an artisan? How did your particular skillset develop over time? 
Stitch Buffalo was founded in 2014 and began with the simple desire to gather and create. We have grown into a thriving community of over 55 women from Bhutan, Burma, Nepal, Thailand and Angola. Each week these women come together to form a Refugee Women's Workshop, sewing handcrafted goods for sale within the community.
In the Refugee Women's Workshop, the artists come learn new stitch techniques, gather supplies for new projects and drop off finished projects for Stitch to sell. It is a time of laughter, socialization, curiosity and learning. Colors and patterns are chosen, beads are strung and women from around the world build bridges of confidence and community.
---
Please describe your work / product.
Each piece made at Stitch Buffalo is one of a kind. Our products and clothing are made from recycled and donated materials. We make every effort to be inventive and resourceful. Many hours of handwork goes into Stitch Buffalo pieces. Between preparing materials, stitching and then finishing a piece, at least two sets of hands have helped make each piece. Examples of the handcrafted work at Stitch Buffalo include kantha scarves, woven scarves, embroidered and embellished bags, pillows, peace and heart pins, birds and elephants.
Stitch Buffalo's mission: To advance social justice for refugee women in Buffalo, NY, by creating opportunities for cross-cultural exchange and economic empowerment through textile arts.
---
Who are some of your favorite artisans / makers in the region? Who amongst your peers inspires your work?
Clearly, the women who participate in the Refugee Women's Workshop are inspired and motivated by each other. It is not uncommon to see someone taking the time to admire and examine the work of her peers.
The Founder and Executive Director of Stitch Buffalo, Dawne Hoeg, was inspired by women wearing traditional dress as they walked down the streets of Buffalo's West Side. Because of her education in textiles, Dawne intuited that she shared a common language with the resettled refugee women: the love of fabrics, embellishment, and sewing. This realization led to the initial steps to what would become Stitch Buffalo.
---
How long have you been a business owner in WNY?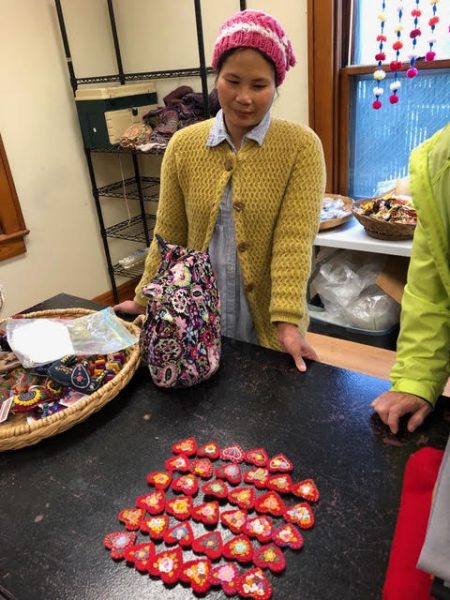 Stitch Buffalo was founded in 2014. We aim to empower refugee women of Buffalo by providing meaningful work and a fair wage. Like the domino effect, this small but powerful financial independence infuses each woman, her family and in turn, her community.
---
How long have you been a part of Buffalo Women's Gifts?
This will be our first year!
---
Where can people see / purchase your work year-round?
Our storefront and Women's Workshop are located at 1215 Niagara Street in Buffalo.  You can also find Stitch Buffalo products at local shops including: Second Chic, Elm Street Bakery, Wild Things, and Frame and Save. We also have a shop on Etsy.
---
Where else will you be representing your wares this holiday season?
Stitch Buffalo will be represented at the Hotel Henry Holiday Show, AVA Collective x Resurgence Holiday Pop-Up Market, the Minnesota Textile Center and at our store at 1215 Niagara Street.
---
Social Media