Artistry and titillation are the crux of humanity right now. Or at least, they play a big factor in how we're going to get through all of… THIS. The Glam Vamps, a Buffalo-based burlesque troupe who have been entertaining the masses for more than a year as an ensemble, have stepped up to the plate to help us all manage this ordeal in the sexiest, stay-the-fuck-homeiest way possible, with an online outlet for all needs thereof. We wanted to chat with Vanessa Oswald, a.k.a. SugaTush, about her group's pivot from live-performance auteurs to the digital shake-and-grind show that we never knew we needed until now.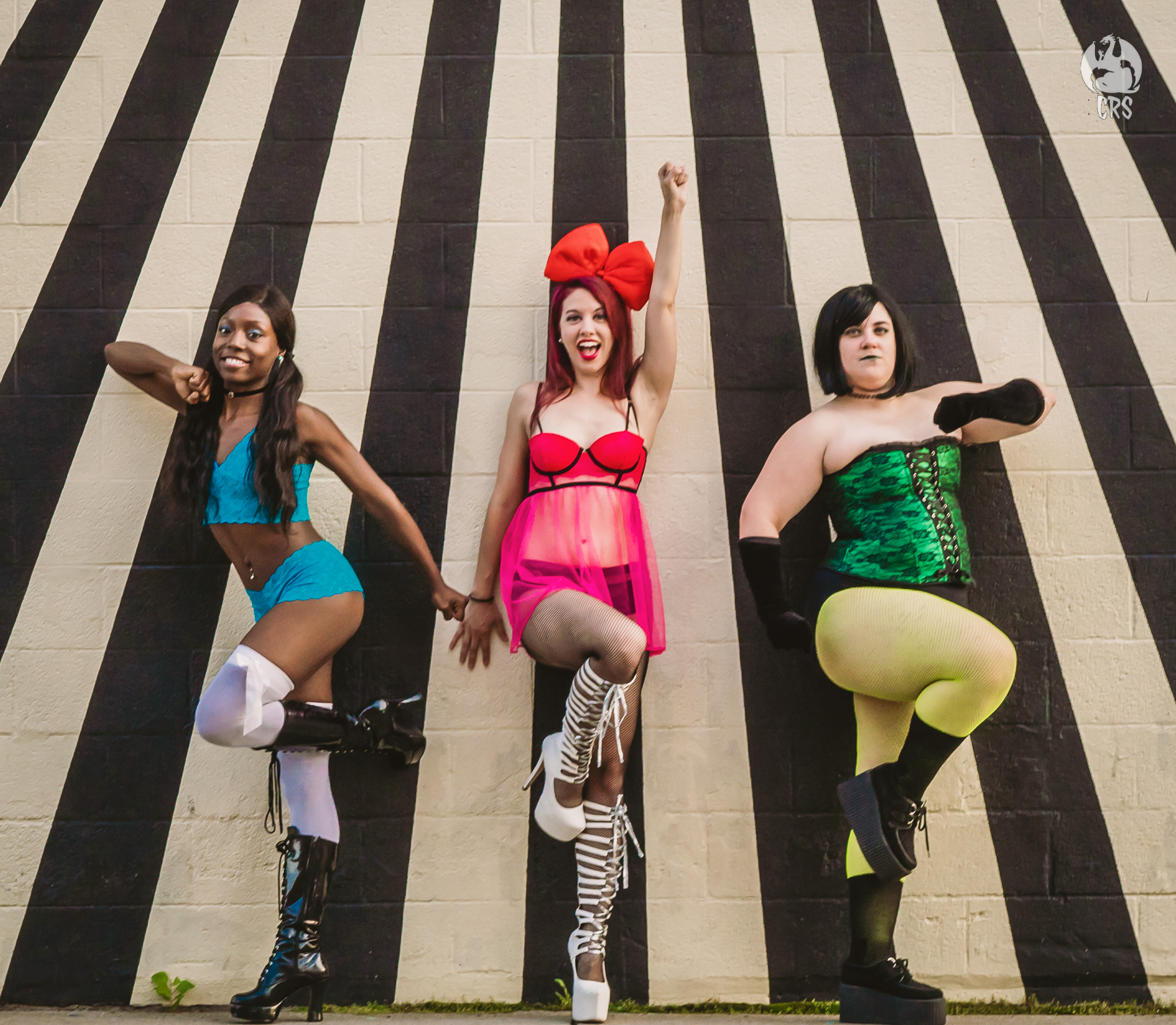 "After the threat of COVID-19 set in and everyone was advised to quarantine themselves, all the burlesque shows we had booked were cancelled. This bummed all of us out because we love to dance and perform for people and each other, but now we were all stuck at home and prohibited from putting on events and gathering with people," Vanessa said.
---
It was then that Vanessa started formulating a plan to bring her group's work to the people, to answer a need in response to one of the most halting and traumatic experiences of our lifetime. That need, of course, was entertainment. Levity. A little shake, a little shimmy.
"I started seeing various artists, such as musicians, dancers, and DJs, posting live shows online, and that's when I got the idea that we should perform for our fans online, except I wasn't a big fan of doing a live show. I wanted our show to be filmed like episodes of a series. I wanted all the performers to film and send in their own videos they were proud to showcase," she said.
"As the director of the Glam Vamps, I've never wanted to limit the performances to only burlesque dancing. I've always welcomed performance artists from all different artistic backgrounds to share their talents in our shows. I've been welcoming musicians, singers, drag performers, comedians, and others on this virtual show as well," Vanessa said. "I enjoy the variety and I think our audience appreciates it, too. I decided to pick the virtual landscape because it gives my dancers and I, and other performers, a platform to perform and to do it safely, despite the threats posed by COVID-19."
---
This new show, called Nude World Order, is now airing its third episode tomorrow, Saturday, April 18, at 9 p.m. The show is available to Patreon members who are at the $5 level, and will remain online for patrons to tune into at their convenience. They're also adding several new elements for patrons at the $15 tier, including behind-the-scenes content, instructional burlesque dance videos taught by SugaTush, and bonus shows with several of the members of the troupe, including "Clit Talk with Sapphire SeaQueen" (a show in which she'll answer people's questions on sexual health and wellness, and sex and dating advice), "Quaran-tini" (Ana Galactic will demonstrate making different martinis and cocktails), and "Storytime with Fiona" (with Fiona Fatale reading seductive stories).
When asked to describe just what the audience might be able to expect from this newly crafted digital variety show, Vanessa explained: "People can expect a lot of burlesque dancing, music performance, comedians, drag performances, boylesque, hula hoopers, and other kinds of dancing — basically any type of performance art is fair game," she said.
"Most of the people I invite to perform on the show are friends of mine or the other main performance cast. It feels great to showcase our friends and give them an outlet to be creative during this time, when a lot of us may feel depressed from the lack of human interaction, losing our jobs, filing for unemployment, or having to be stuck in the house for long periods of time.
"Also, we have our brilliant host Fiona Fatale who takes hosting a virtual burlesque show to another level. On every episode she places herself in a new area of her apartment while doing things, such as reading a book or watering her plants or baking cupcakes, but seductively."
Although the challenges of recreating the magic of a live burlesque performance are daunting, it sounds as though the Glam Vamps are up to task.
"Filming a virtual show may seem limiting, but if you think about it, it actually opens up new challenges for artists to incorporate and use their surroundings in unique ways, and almost gives us more options to work with that a stage show wouldn't allow for," Vanessa said.
---
The first episode of Nude World Order was released on April 4, to great acclaim. Vanessa described the scene to those of us who might have slept on it, and boy, does it sound like a fun time was had by all:
"For the first show we sort of rolled with the apocalyptic theme due to the state of the world right now," she said.
"Sapphire SeaQueen filmed her burlesque dance on the beach in NYC. It looked like a music video and was so eerie because no one was on the beach except for her while she's dancing and rolling around in the sand. She danced to 'One of the Living' by Tina Turner, the song from the Mad Max soundtrack. It was so cinematic. I was afraid to have her travel to the beach, but she was safe about it," Vanessa said.
"Next we had local singer-songwriter (who is also a Glam Vamp) Kerry Fey sing her song 'Pandemic, Baby,' which is a reprise of her 2017 song 'Apocalypse, Baby.'
"Ana Galactic performed her burlesque dance to R.E.M.'s 'It's the End of the World as We Know It (And I Feel Fine)' in her apartment, complete with stacked toilet paper rolls on the fireplace mantle.
"Next we had singer-songwriter Jenn DeSantis sing a cover of the Cranberries' 'Zombie' as she played piano, which was so good!
"Then SugaTush (me) finished the show out dancing to the Queens of the Stone Age song, 'Make It Wit Chu.' I decided to crawl out of my fireplace with a gas mask on, along with a few other surprises. It was super fun!"
---
The challenge for all of our live performers during this time of quarantine is in recreating the vibe of a live performance, without the vibe. People need their people, on both sides of the stage. How can one reasonably fulfill their calling as performance artists when their audiences are absent? But, they're not absent. They're at home, looking to their performers to help alleviate stress, and anxiety, and depression – even but for a 20- or 30-minute stretch. Just something to break up the day, to lend a bit of normalcy to an otherwise completely NOT normal time.
Vanessa echoed this sentiment, when asked about her experience performing for a virtual audience.
"It was pretty weird at first and felt more like rehearsing a dance in front of a camera, as opposed to performing for an audience, since there was no one there except for me," she said.
"There are usually people cheering and throwing money at us during our performances at venues, so the quietness and lack of hearing people cheer was the weirdest part.
"In burlesque I feel like our energy levels as performers are really affected by how the crowd is responding to us. It's a back-and-forth, give-and-take type of relationship," she said. "If we hear people cheering for us, we play up our characters that much more. I definitely miss the energy that is created between the performer and a crowd."
---
Although the landscape for connection has changed (temporarily?), there are silver linings to extract from this humbling and trying human experience. From Vanessa's POV as a burgeoning leader of a performance troupe, she is grateful for the grace it has brought.
"I've been dealing with this pandemic one day at a time. It feels really surreal to be experiencing all of this right now," she said. "It's a lot of emotions all at once that constantly keep hitting me. I'm currently out of a job for the moment, so I'm dealing with that, but I was also dealing with wondering when my dancers and I would have the chance to perform again.
"I couldn't bear to think that it would be months from now, so I took the initiative to figure out a way for us to perform, and now we're doing it every week! It has honestly uplifted my spirits immensely. I get to produce shows still, dance, and do the thing that makes me the most fulfilled and happy, which is burlesque and performing."
She continued: "Many of the other dancers have said preparing and filming for their videos is now the highlight of their week, too. It brings me such joy to know so many talented and wonderful artists, and I'm so happy I get to showcase them and hopefully help to encourage them to tap into their creativity during this time of uncertainty.
"I know a lot of artists have temporarily lost their motivation to create due to setbacks caused by this pandemic, but I encourage everyone who is an artist to use this time to speak on what's happening. This is such a wild and crazy time, which will be talked about in history books. Pandemics are not an everyday occurrence. When tragic times occur, many of us turn to artists to uplift us," she said.
"I strive to be one of those artists and hope that our show can cheer up those who watch it and help them to realize that we are in this together and will get through this."
---
To check out the next Nude World Order, subscribe on the Glam Vamps' Patreon page and tune in for episode 3 — Nude World Order: Flexin' on Your Ex. This show will feature burlesque dancers Ana Galactic, Kerry Fey, and SugaTush from the Glam Vamps. The show will also be featuring guest burlesque performers LouStealYurBalls and newcomer Queen of Hearts (her debut performance). In addition, they will be welcoming local drag performer Alessandra Diamonds and local comedian Shannon Dawn.