The trials and issues that face other people often go unnoticed. Not from callousness, nor from a lack of caring, but from a lack of knowledge. No one can fix a problem if they don't know that the problem exists. The menstrual hygiene crisis that many people in our own community face every month is suffered in such silence.
I was unaware that most of the shelters in the city do not have enough, if any, menstrual hygiene products for its beneficiaries. Red Party founder Stephanie Frary wasn't aware of this issue, either, until she spoke to a friend about an experience she had during a vacation a couple of years back.
---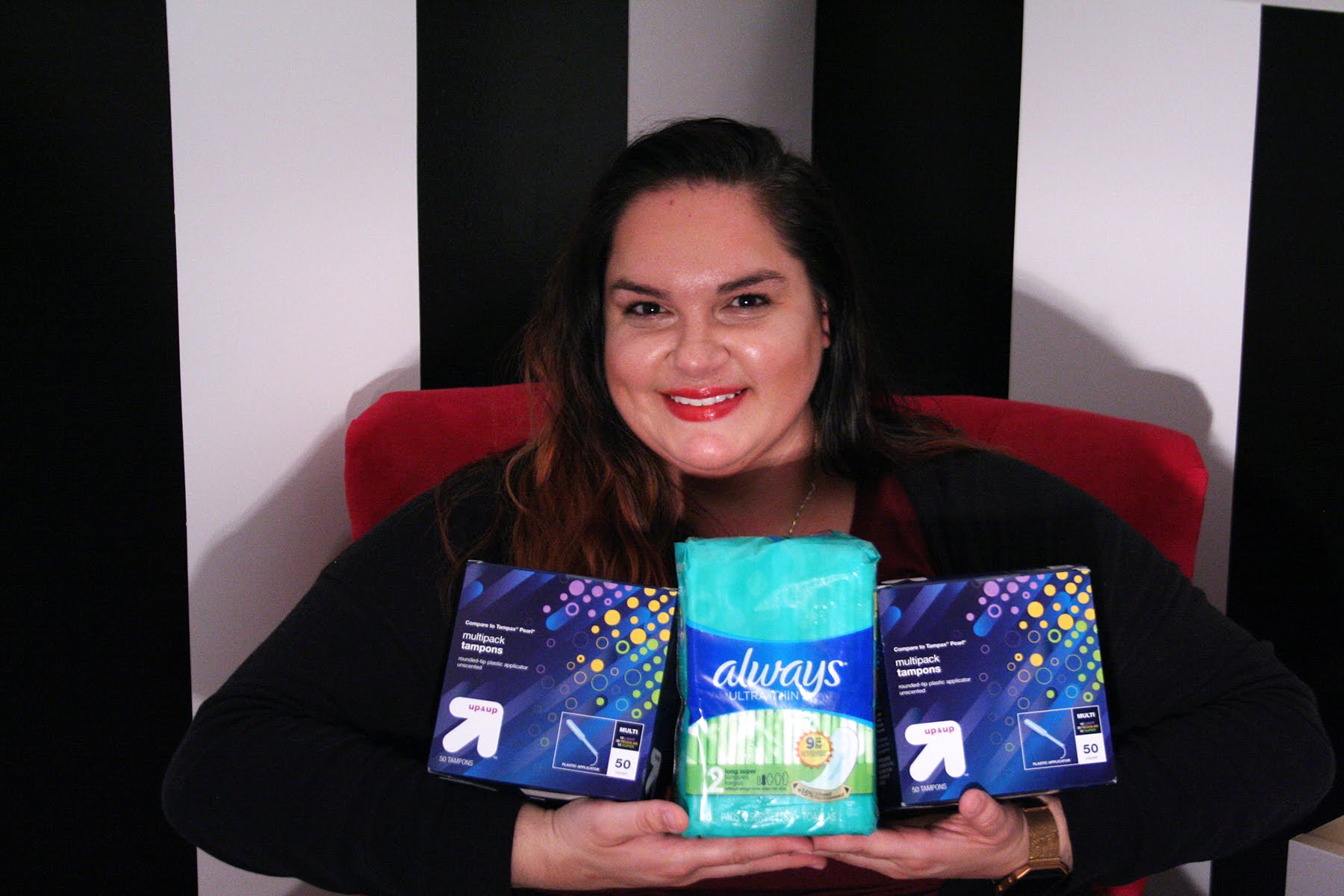 While in New Orleans for a conference, Stephanie decided to pay a visit to Our Lady of Guadalupe Church, which has a very special meaning to her. When her grandfather died, her grandmother displayed a picture of Our Lady of Guadalupe, and she was always very drawn to it. While at a gas station near the church, a woman approached her in the parking lot. She asked sheepishly if she had any extra pads or tampons, and unfortunately, Stephanie did not have any on her at the time. The woman said thank you, and went on her way.
When telling a friend who works at a health clinic in Buffalo about this encounter, she asked if the woman was homeless. After thinking about it, Stephanie realized that yes, she was. It was then that Stephanie learned that most shelters often do not have enough or any menstrual hygiene supplies. She looked deeper into the issue and learned a sad truth. Some people have been reduced to using socks, paper towels, and in some cases, their babies' diapers, just to see them through their menses.
---
Knowing that this indignity is happening right in our own backyard was not something she could let happen — she was horrified. As soon as she heard about this, she galvanized into action.
"I was like, oh my gosh, I need to do something, this is not ok with me," Stephanie said. Anyone who menstruates knows the special kind of panic that happens when we find ourselves without a pad or tampon in our hour of need. Now imagine that feeling for your entire cycle, every month. She knew she would have to step up. But how?
"[I was] at brunch at Resurgence Brewing Company, and there ended up being a Cause for Paws fundraiser. I thought to myself, 'I can do something here, right?'" But then a couple of months passed, and she still wasn't too sure of how to make things happen. She knew a fundraiser of some kind would be the trick, but how do you even start something like that? "My friend Gaitrie Devi, of Devi Bollywood Dance, had made a Facebook group called Women of Buffalo. I posted in there about [this issue and wanting to do something] and she said, 'OK, let's have a call and let's get the ball rolling.' I was like, 'OK, yeah, let's do this!' And then it just kind of went from there. After the call ended, I was like, 'Oh my gosh, this is really happening!' I was just so excited but then scared at the same time because I had never done anything like that before."
---
If Buffalo loves something, it's a party. And to be fair, Stephanie loves a good party, too. And that's how the Red Party started.
Stephanie emailed Resurgence after her encouraging phone call with Gaitrie, ready to step into action. The brewery was more than happy to host. With a venue on the calendar, and a to-do list in hand, she started planning for the party and made it a reality. "It sounds cheesy, but it felt like I was meant to cross paths with the woman [near the church in New Orleans]. I just felt like Our Lady was there, and maybe coordinated things from above a little bit, so that kind of makes it extra special."
The first Red Party happened last June at Resurgence, and was a huge success. There were basket raffles, a 50/50, and boxes and bags of donated tampons, pad, and panty liners. Between proceeds from the party and donations via GoFundMe, the Red Party rose around $500 dollars that year.
Armed with cash, Stephanie rolled into BJ's, the place to go for bulk anything, and loaded up her cart until it was overflowing with supplies. It wouldn't all fit in a single trip, so she had to make several just to get everything purchased and delivered.
"My cart leaving BJ's was huge. The woman checking receipts was [shocked]. I said, 'Don't worry, they're all being donated! They're not for me!' And she was like, 'You know what, when we were little we were homeless for a little bit. I was so young I wouldn't have needed them but this is so wonderful — I think that's such a wonderful thing.' I was trying to not burst out crying."
---
The recipients were Haven House, Buffalo Peace House, Journey's End Refugee Services, Jericho Road, Buffalo City Mission, and Compass House. Stephanie felt like the Santa Claus of Pads when she rolled up to the centers. Each house responded with delight when receiving their donation.
A Peace House worker exclaimed, 'Oh my gosh — I can put a box of these on everyone's bed today — this is so great!' City Mission greeted her with a big hug, a thank you, and a prayer. "She asked me, 'Can we say a prayer for this?' It was really sweet, it was really special," Stephanie said. The teens at Compass House were eyeing her with 'oohs' and 'ahhs' when they saw what she was carrying for them.
After talking with the workers at the various shelters, she learned that sometimes these products are purchased out of the pockets of the very workers themselves. "The office women were just buying them out of their own pocket because they were like, 'We can't let them just like be without them.'" After learning of this, Stephanie knew she was putting her efforts into something incredibly worthwhile.
---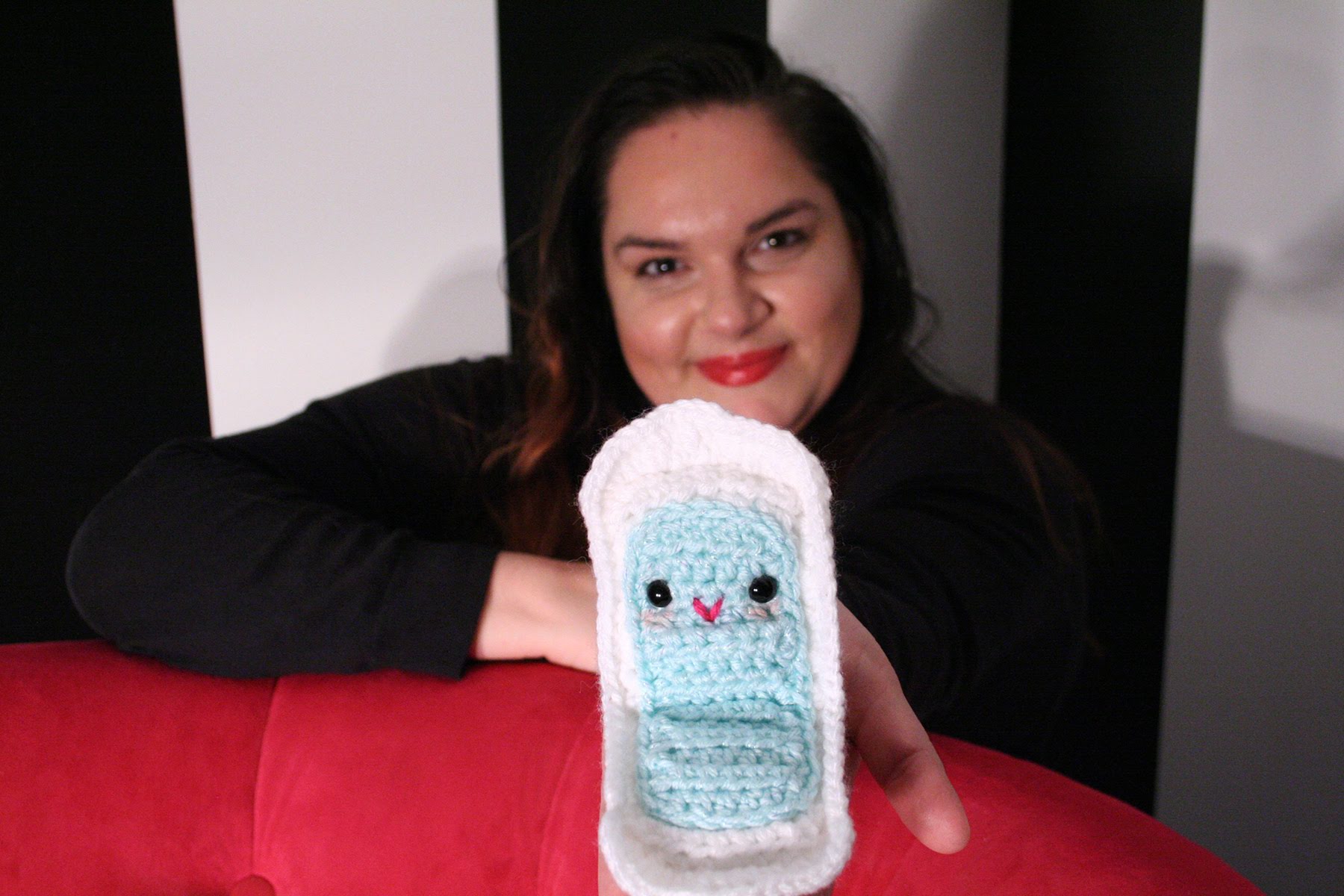 Because every cause needs a mascot, Red Party got one this past winter. The crocheting queen of Mermaid & Weasel, Diana Miranda-Gaeddert, made Red Party Miss Maxi, the most adorable anthropomorphic maxi pad you've ever seen. You can follow her on Instagram at @MissMaxiIfYoureNasty, where you can also see the overflowing carts and trunks that were donated. Rumor has it there's a Tampon in the works who will be joining the Red Party crew soon.
The Red Party is coming back to Resurgence, 1250 Niagara St., Buffalo, again this Sunday, June 9, at 3 p.m. For $20 you will get admission to the party, two drink tickets, and 10 raffle tickets. There will be bigger and better baskets being raffled off, a 50/50 drawing, and more. If you can't attend but want to help, you can always donate to the Red Party GoFundMe page, which collects money all year long.
But Stephanie is not just about getting products to the people who need them. "At first I just wanted these people to get the products they need, but now I'm also trying to create awareness of how unavailable the products are. I've been paying more and more attention to what bathrooms have them for free and who still charge. The Buffalo airport has them for free, which made me very happy, very proud."
---
So how can you help your community? Aside from donating to Red Party, you can write to places that you feel should supply menstrual hygiene products, like your local big box stores and supermarkets. Even our beloved Wegmans, which supplies diapers and wipes, hand soap and lotion in their restrooms, do not have pads or tampons available.
You can also raise awareness by letting everyone know that this is a need that is not easily met at shelters. Most people just don't know that this is something that is lacking. These products should be ubiquitous, to anyone who needs them, anyone who finds themselves in distress, regardless of their socioeconomic status or their gender identity.
"I'd like to change the world, try to help people, make a positive impact. I want to do something nice for people who are forgotten about. It's a process that's so taboo — no one wants to talk about a period[s], but everyone knows that they happen," Stephanie said.
The more people know, the more they can help. And you can help, too. Help your community out this summer at the Red Party, or donate today. Your period should never hold you back!
"I say pay it forward — for every box I buy myself, I buy a box for someone else." You can, too.
---
Video interview conducted & filmed by Paul Fanera of Living in the Buff, highlighted with permission.