Lara Martini and Kristy Michelle had the opportunity to spend a few hours with the FabUBus ladies at Flying Bison Brewery this past August, where they were on-hand for this year's Run716, pampering race participants and the general public alike. Both received pedicures; Lara also received a manicure while Kristy took some much-needed downtime in the massage room. — KMM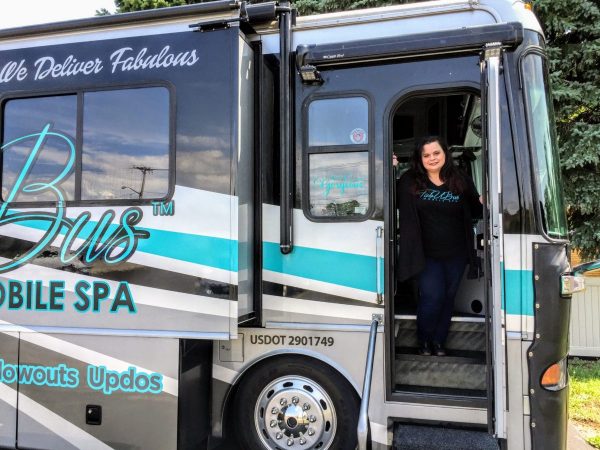 Kirsten DiCarlo is not a hairstylist, makeup artist, or nail technician, yet she is the creator of Buffalo's only mobile spa: The FabUBus. Not many vehicles like this exist – the mobile service vans that have popped up here and there across the country are few and far between, and typically offer a single type of service, such as tanning, hair, massage, or nails. FabUBus, on the other hand, has it ALL.
Inside its silver and turquoise glittering exterior, you can get a massage, a spa pedicure, gel manicure, fancy blowout, or updo, and your makeup expertly done by their professional and friendly staff in about 40 minutes or so. After studying the best parts — and, perhaps more importantly, the worst parts — of any pampering service gained from a lifetime of personal experience, FabUBus was created so that every service and every customer is relaxed, happy, and has that five-star treatment they expect — and deserve.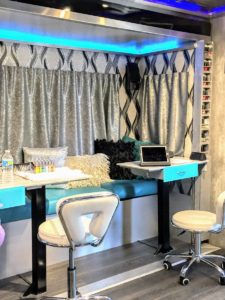 When going to the nail salon, a few common, somewhat irritating things can pop up. For instance, you plan to go with your bestie whom you haven't seen in ages and want to spend your pamper time catching up, only to be seated far away from each other. Sometimes the technicians don't talk to you, or just don't listen to your needs or worries (we all have a foot issue here and there we need to address with our professional), leaving you feeling less like an important customer and more like cattle being processed.
In FabUBus, no such thing will ever happen. The nail benches are in a sleek tiny row, fitting up to four people at a time. Right across the way is the bay with two spa pedicure chairs. Next to that are the hair styling and makeup chairs. The key part is that everything is inside a huge (but not too huge) RV — so you can TALK to your friend, no matter what service they are receiving, and you don't have to yell across a loud and busy salon. The only exception is the massage room in the back in which, let's be honest, you probably want some peace and quiet. It has a closed door so you have the privacy that service requires.
---
So how did this enterprise get started? It happened in two parts. First came the idea, then came the opportunity. Let's rewind a little bit here. Kirsten had been a marketing executive for a pretty big place in Buffalo for nearly two decades, and had spent most of those years absolutely loving her job. She was used to public speaking and had been regularly giving presentations to audiences anywhere from five to 20,000 people globally. She learned that one of the keys to being confident was being happy with how you look — a simple but meaningful observation. When you feel good about yourself, you generally exude that confidence — it pours out of you and people can see it in your posture, your energy, and your enthusiasm. In marketing, this is a critical component.
Why don't you have the manicure come to you?
One day, after a grueling 70-hour workweek, Kirsten had a presentation that was going to be cast to thousands of people globally. "That presentation happened to be videotaping my hands for the product. I was smart enough to [book] a manicure an hour before the presentation. Before I left, my boss said, 'I need you to do my PowerPoint,' so I missed my appointment. I gave the presentation, and as prepared as I was for it, I stumbled and I stuttered because all I could think about was [that] my hands looked really bad and I had chipped off my polish. Someone said, 'Well, why don't you have the manicure come to you?' and I thought, 'Well, why can't it?'" It was then that the idea for FabUBus started to percolate in the back of her mind.
Next came the opportunity. Kirsten had loved her job, but for the last handful of years things had started to change and the job she once loved was now a source of stress. One fateful day she was called into the human resources office and was told she was being let go. "When you are pulled into the room with HR and have that [feeling of] relief, you know it's time to go…it was the best thing that ever happened to me. I told my kids, and they were like, 'Thank god, you were so unhappy!' This was a sign — and this is where opportunity was knocking. "I know I didn't want to go to another corporate job."
---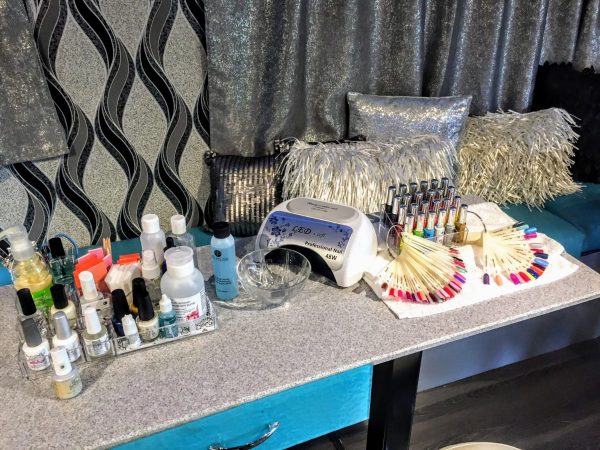 FabUBus, an idea in the back of her mind, couldn't be brought to fruition while she worked those harried hours. Now, however, was the opportunity to make FabUBus a thing for real.
But first came the bus itself. A brand new RV is incredibly expensive — almost like buying a home. It would be a shame (and senseless) to buy something beautiful and then rip out the guts to build in a salon, so another angle would have to be pursued. Kirsten found one that had burned out — the interior needed to be gutted anyway — but the outside wasn't damaged. This was the perfect solution. So on a very cold, traffic-less Superbowl Sunday, Kirsten headed off to Minnesota to buy a burnt-out RV at an auction and drive the future FabUBus home to Buffalo.
"The buildout took almost a year; I designed everything," she said. And she means everything. The interior was all custom-made and built out to function and also travel safely. That means that the chairs and stations needed to be literally nailed down. There had to be room to move around, but the space needed to be efficiently laid out to accommodate all the services. From the posters to the curtains to the cushions on the benches — everything was thought out and carefully designed and built. However, Kirsten will be quick to point out that it's not your typical RV. "This is not a Recreation Vehicle, it's a Rejuvenation Vehicle."
---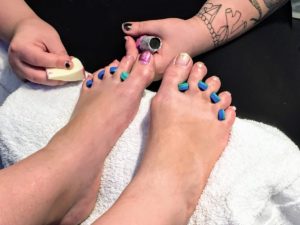 After over a year of custom work and getting the final touches done, FabUBus was in need of a staff. Kirsten thought she would stick with what she knew; marketing, business strategies, and the all-consuming day-to-day tasks that come with running a small business. So she did the most logical thing – she hired professionals. After getting a staff of the finest hair stylists, makeup artists, nail technicians, and massage therapists, FabUBus was ready for its first public event this past spring. Since then, the public has been able to find FabUBus anywhere from local events like Food Truck Tuesdays, where it is parked down at Flying Bison Brewery, to private homes for weddings or bachelorette parties, to rolling up to Queen City Fashion Week or
Day of the Girl
.
One of the benefits of FabUBus for private events like weddings and bachelorette parties is that nowadays, if you want someone to come and do your hair and makeup in your home, you are typically compelled to clean your house and make a good impression. Not anymore. The FabUBus just sits parked in your driveway; you and your guests can come and go as they please and not have to hang around in the hotel room or salon waiting for everyone else to get done. You can eat in your house, relax, and just be free to roam around. It offers the perfect blend of professionals in a clean, beautiful environment, and the freedom to come and go and not be tied down to one location while 10 ladies are getting hair, makeup, or nails done.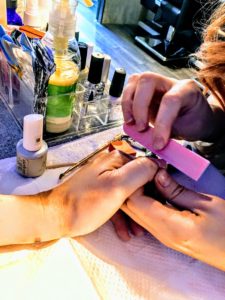 "It's convenient for the bride; we don't go into their house and get in their way, they don't have to drag everything to a salon. At a salon you're all stuck there," Kirsten explained. It's quite the flip on the old script. Even less traditional pampering schedules are happening. "We've been doing brides the day before the wedding — they want to get their nails done, so a day or two before we'll go and do all the nails for the bride and bridal party." And it doesn't end there. They do bachelorette parties, where they get their nail, hair, and makeup done in the afternoon, leisurely, then go out for dinner. "It's a nice start to their day," she said.
They also do birthday parties — from little girls to adults. The kids' parties will have updos, sparkly nail polish, and even a craft, like making their own bath salts. The adult birthday parties will often have men on board getting their first-ever manicure or pedicure, because that's what the birthday girl wants. You name it, and FabUBus will be there to make it happen — from divorce parties, to wreck the dress parties, to AA meetings. "We're private, we sign disclosures; you don't have to sit in a church basement," Kirsten said.
FabUBus is also interested in giving the gift of feeling good to the community. They have already visited a Presbyterian Village senior living facility for a day of pampering the residents, and are in talks to visit more senior facilities in the Western New York region. "The seniors are hysterical," Kirsten said. Most of the residents are still mobile and able to board the bus to get their manicures and pedicures, but if not, they have a solution. "We have [mobile mani kits], so we can go in and service them in the common areas," she explained. There are more ideas in the works, ranging from pampering cancer patients at Roswell Park Cancer Institute, to making sure new mothers leave the hospital with a pretty manicure.
---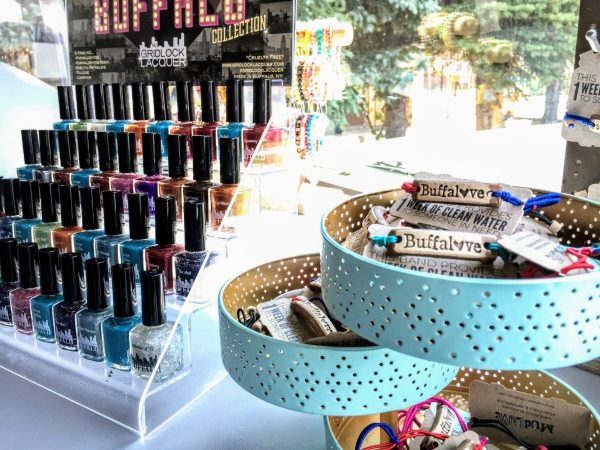 So what's next for FabUBus? Making this unique mobile spa a franchise, so that other women can also become entrepreneurs. "My plan is to franchise this and target it towards female entrepreneurs, because that is what my business model really is," Kirsten said. "I know it's intimidating as a woman to go into business, it's scary. I was in corporate for a really long time and [had to] overcome a lot of hurdles. This is about empowering women, so I want to do that for the female entrepreneurs as well."
When you see FabUBus, don't just think of it as a unique and relaxing place to get a massage or get your hair, makeup, and nails done (although it is the perfect place to do just that!) but remember that this is the creation of a woman who was stuck in the rut of corporate America and transformed a dream into a reality. She took that dream, and with the help of a backup camera and some side view mirrors, drove it down narrow streets, turned blind curves, and sped it down the highway.
Stay tuned for upcoming FabUBus appearances this holiday season via Facebook, Twitter, and Instagram, or schedule your party today.