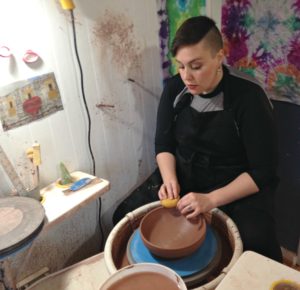 In the small hamlet of Derby within the town of Evans, about 18 miles southwest of Buffalo on the shore of Lake Erie, Bear can be found forming away, a Shiba Inu and a Shetland sheepdog her righthand assistants.
Sarah "Bear" Cozzemera, co-proprietor and master potter at Everyday Earthware, has been in business for a little over 4 years, taking her first pottery class 3 years prior. Back then she was working in academia, an adjunct English professor. Shifting out of that world into one fully encompassed by her creative endeavors wasn't simple, she says. "I felt very attached to my discipline, and to be honest, I really didn't know a life outside of school — I'd spent 23 years of my life in classrooms, on both sides of the desk — as a student, and then as an instructor," she said.
"There have been a few fleeting moments of thinking I could or should just stop living the entrepreneur-hustle and just get some job that I could tolerate because that would be easy. But, I wouldn't find any satisfaction in that," Sarah explained, detailing the drive for her business and art.
---
Evolving her burgeoning love and work in pottery into a full-fledged business was a natural progression, she said. "After I took that first pottery class (and I mean the first 3-hour session that I sat in front of the wheel and touched clay), I knew that clay work would become part of my life. From there I took another class and participated in open studio memberships for the next 3 years.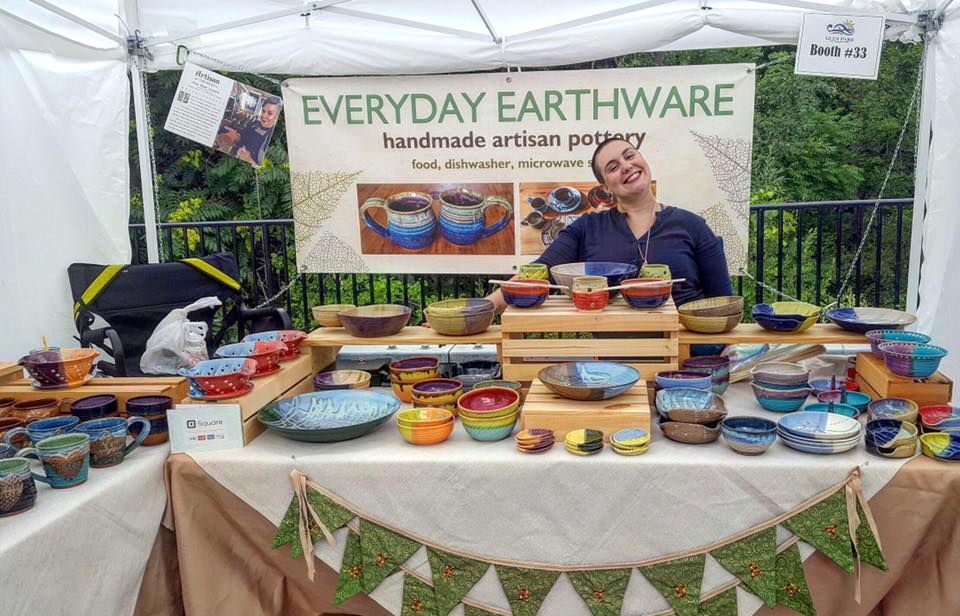 "It finally made sense for me to buy my own wheel in April 2011, and then a kiln in December 2011. Once I had the kiln it was GAME ON! I lost all interest in my academic job, and started looking into vending art shows. It became clear that if I really wanted to get good; like fucking GOOD-going-on-great at pottery, that it needed to become my sole (soul) focus. My husband supported and encouraged me with such enthusiasm that I consider him a co-owner. He is still very involved in the business," Sarah said.
---
Although show season doesn't ramp up until May, production is year-round. Inventory for the upcoming year is produced and stocked in those first few months of the year; when spring rolls around, it's time to shine. "Once shows start to pick up again, I am on what feels like a giddy sort of merry-go-round of production, show, stock shops, production," she said.
Show season consists of approximately 20 shows, with pieces being regularly stocked in about 11 locations in and around Buffalo. She cites Saturday Artisan Market at Canalside, Women's Gifts (Babeville, November), and the Artists in Buffalo Holiday Show at the Burchfield Penney Art Center among her favorites.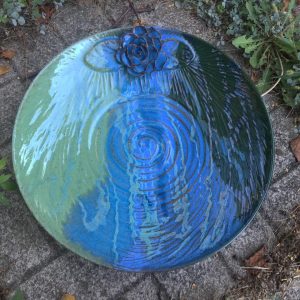 She is also the co-creator of "A Bowl of Your Own," a show she calls, "An all vegan soup extravaganza." Co-created with Don Zinteck of 1045 Elmwood Gallery of the Arts in 2015, a $20 ticket got you your choice of a hand-thrown deep dish soup bowl and tea cup, as well as a complimentary bowl of vegan soup (choice of three) made by Vegan Pathways, and a cup of tea. The goods were then washed and packed for patrons to take home. The 2015 and 2016 events were both sold out.
---
When asked for her advice to someone wishing to pursue a similar path, Sarah warns that giving advice is difficult, but encourages people to be practical. "It's going to be tough. You are going to work more than you thought you could or should. You will make many sacrifices, and it will become your life.
"Whenever you make money, you need to pay your bills, think about what you need to re-invest in the business, and THEN you get paid. It takes 5 years to really establish a business. It took me 4 years to feel like I really earned myself a decent salary (now that I did get through the infancy of those first years, I am earning more than I did when I was an adjunct professor). It will demand so much from you, but the rewards are immense, and can't always be measured in dollars. If you aren't ready, willing, and able to lay everything on the line like that, then spend some time re-thinking if it's the right step for you," she said.
---
It is apparent in the way that Sarah discusses her passion that this is absolutely the right step for her. "I don't really take much time off from work because I LOVE my job; I think about making pots every hour, I dream about making pots. When I'm taking a break from work to eat lunch or dinner, I watch YouTube videos of people making pottery. It's difficult to describe how I feel about pottery, but I need it in my life. It feels like something I'm meant to do," she said.
I think about making pots every hour, I dream about making pots.
Sarah continued: "Nothing has ever tugged at my soul, inspired, and motivated me to succeed as much as this does. I'd never felt a drive like that, I'd never had a path, or known what I wanted to do for a career until I started working for myself and started my own business. I've never been more willing to sacrifice my time and amenities (going out to eat twice a week, getting expensive haircuts, etc.) than I have for Everyday Earthware. I have given more of myself to this business and this work than anything else in my life, because it completes me. It doesn't really feel like I've given anything up because what I get in return is not solely measured in dollars or things I own.
"Of course I've had various moments of doubt, difficult times, shed some tears. But those moments are usually precipitated by some form of setback, and those feelings don't last very long," she said.
---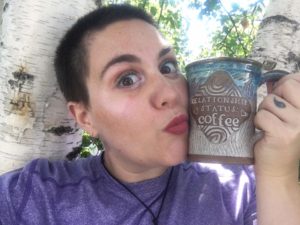 The faces of success are myriad for Sarah. Seeing her business grow by 40 percent this past year was an obvious goal post met. "I finally feel like I have a decent salary, my bills are paid, I have no debt from starting the business, and was able to pay for/treat my husband to three trips this year. This is a success!
"But, I also count it a success when I unload the kiln and every piece comes out looking great. Success is when I wake up in the morning and get a smile on my face thinking about what I'm going to make for the day. Or when a customer comes up to me at a show to tell me how much they love their piece, and came back to buy a gift for someone else. Success is when I go to a friend's house and they have my dishware in their cabinets, and when people send me pictures of their pottery being used. There are many ways that I measure success, and keeping gratitude as part of that equation ensures that I stay motivated," she said.
---
A few final pointers on the grind from Sarah:
– Social media is a phenomenal (and free) way to grow your customer base.
– Find a group of artists and business owners that you can become friends with who understand the ups and downs of this work. This is your social and business network. These are your people.
– The hustle is real. The hustle is non-stop.
– Establish a good bookkeeping system and money tracking system ASAP. Don't wait until you've done a few shows, events, or a couple of months goes by.
Catch Everyday Earthware for the Trick or Treat Ice Cream Social with Perry's Ice Cream and Adam's Nursery on October 27, from 6-8 p.m. in Lancaster. A $10 ticket includes: Your choice from more than 100 handmade ceramic bowls, a free dish of Perry's Ice Cream, and trick-or-treating around the greenhouse, as well as a free kid-sized pumpkin. She can also be found at the following events this season:
Find Everyday Earthware on Facebook for more information, and photos of current work.
Photos provided