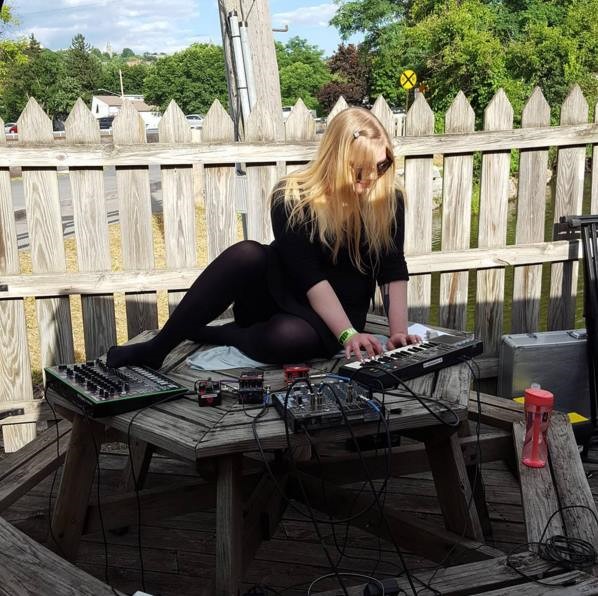 Angie was in for a wild ride from the moment she was born. She tells me, "The only reason my name is Angie M. Conte is because my father stepped in seconds after I was born and told my mother that 'Carissa sounds like a bar of soap. We're naming her Angela Marie.' Thanks, dad." Apparently she had an incident with a number of glitter cannons in the summer of '09, earning her the stage name, Sparklebomb.
Angie's musical career has been varied: "I used to play accordion for a girl's band that only played weird living room folk punk shows back in Syracuse. I eventually bailed and started performing sad accordion songs under the name Accordion 2 Angie." After moving on from the accordion, she was a part of a no-name synth punk band with a buddy, Matt Hall. After he moved away, she moved into his room and started making weird noise and beats with a neighbor, Mike. That's when Sparklebomb was born, which Mike was not too keen to be called, so she started performing solo. While she usually works alone, she has collaborated with Buffalo greats God of Gaps, YesYes, Lesionread, Kristachuwan, and Mic Excel.
"My sound is kind of what you'd expect to hear at a funeral in outer-space: dreamy and pretty, yet sad and haunting." Sparklebomb is ever-evolving. "I put an ad on Craigslist titled, 'I want 2 buy your basement keyboards' and before I knew it, I'd rounded up no fewer than 15 outdated Casios. I was circuit bending them to make weird glitches and noise and putting those sounds over distorted beats from a 50-year-old drum machine. I eventually started buying guitar pedals and running the Casios through them to make them sound like actual synthesizers."
Her creativity doesn't end there: "I'm kind of a creep… I would regularly steal answering machine tapes from garage sales/thrift stores and loop them into my songs. I was never a particularly "lyrical" producer; I let the strangers talk instead. Lots of sad and anxious answering machine messages matched up perfectly with my sad and spacey soundscapes." Angie now owns real synthesizers, but she's still making the same breed of spacey synth, just more "professionally." "By 'professional' I really mean 'this shit is so expensive but it sounds fantastic,'" she adds.
Her passion for electronics started early and nearly ended her life: "My mother loves telling people this story, which demonstrates both the resilience of children and also the fact that you should probably keep an eye on your kid at all times. She was on the telephone one day gabbing away. I was about 2 or 3 years old. As she always recalls, 'I heard what sounded like popping. Like…pop pop, crackle pop.' She turned around and found me sitting next to the electrical outlet with her keys. I'd inserted the keys into the outlet and electrocuted myself. She immediately took me to the hospital and I somehow wound up being 100 percent fine (aside from having a charred hand for a week or two). Who knows — had I not potentially zapped myself to death as a toddler, maybe I wouldn't have grown up to have such a faithful bond with electronics."
Sparklebomb is inspired by her inherited emotional sensitivity overload of feelings. In Buffalo, she is also inspired by the general response to her music. "The fact that I showed up to this city one day and started playing shows and gained such a following…it changed my life. There wasn't much of a niche in my hometown for music like mine whereas in Buffalo *everyone* is endearingly weird and accepting and they make and appreciate music in the same vein. It really changes who you are as a person when people suddenly understand and relate to what you're doing with your time. I must thank all of you for making me feel way too many feelings."