This Saturday, June 3, Buffalo officially kicks off the beginning of the summer season with Porchfest, a hyper-adorable day of live music streaming from dozens of porches all along and inside the periphery of the Elmwood Village neighborhood. We had a chance to chat with four women who will be playing around town; grab a refreshment and plan your route on what is promising to be a gorgeous Saturday in Western New York.
Kerry Fey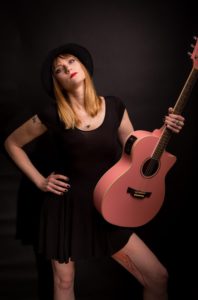 Hot off of her first CD release, Apocalypse, Baby!, Kerry Fey is a singer-songwriter and guitarist who describes her genre as "cheeky-folk-rock." While Kerry mostly focuses on guitar, she has "been known to jump in on other people's songs with a tambourine or djembe drum. I can find my away around a piano in a pinch as well. One time, Pam Swartz let me play with this giant accordion that she has, and I really enjoyed that. Maybe I'll take that up one day."
She also organizes "Ol' Wondermusic," a monthly musical series at Nickel City Housing Cooperative's Ol' Wondermoth. It takes place on the third Saturday of every month and features one artist or group. Proceeds are split between the group and a charitable organization of their choice. Kerry says, "I enjoy organizing, hosting, and promoting shows for other artists as much as I enjoy performing in my own, and I hope to expand on that in the coming months."
Besides Ol' Wondermusic, Kerry has some exciting events coming up during the Buffalo Infringement Festival, including a ukulele collaboration called "Hooray for Boobies" that will feature mostly Bloodhound Gang covers. Kerry enjoys seeding creativity in others. "[During Infringement] I'll also be conducting interactive workshops on goal-setting, in hopes of helping others hone in on what they want to do artistically or professionally before the next Infringement." Outside of Infringement, you can sometimes catch her modeling at fundraiser fashion shows.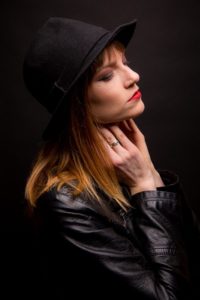 Kerry's musical career started early: "I started writing songs and singing when I was very young. My mom convinced me to play guitar around age 12. I played around with it a lot in high school, but it wasn't until college, living in the small town of Spartanburg, SC, that I really started to find my voice in this Americana/blue-grass/indie-folk vibe, came-up with my stage name, and really started to play out." She took a brief hiatus after moving back to Buffalo, focusing more on the Brazen-Faced Varlets. "But then just a couple years ago, Buffalo Infringement Festival got me back into performing more frequently and allowed me to develop my style even further."
Kerry's music comes straight from her heart and mind: "My music is largely based on my own honest experience, and I rarely hide anything under ambiguity. I use my voice to promote body-positivity, self-love, and the menstrual revolution; challenge the unhealthy expectations we all have in relationships; and raise awareness of such issues as cat-calling and rape culture."
She explains: "The community I've found in Buffalo, especially between BiF, Nietzsche's, and Mohawk Place, has been so supportive of me as I've wound down this long, weird road of finding my voice. I think we have a really strong and burgeoning presence of performers that reflect a multitude of gender and cultural identities, with very important messages to deliver. I'm honored to be a part of it and it's really important to me to see it continue to grow and that Buffalo continues to become a safe and nurturing space for all talent, fostering community rather than competition."
During Porchfest, You can catch Kerry Fey at 208 North St., 1 p.m. and again at 675 Richmond Ave., 3-5 p.m.
Find Kerry at SoundCloud, CD Baby, Reverbnation, Twitter, & Insta.
---
Alison Pipitone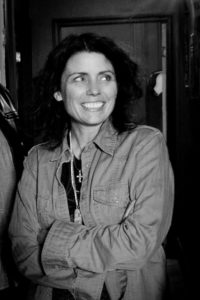 While Alison Pipitone mostly focuses on the Alison Pipitone Band, she is also in the midst of producing an album for Tom Naples and Mike Skowronski. Additionally, she has a few side projects, namely Girls Gone Mild with Mary Ramsey, Theresa Quinn, and Susan Rozier. Alison has been playing music for "30 short and long amazing years," focusing mostly on guitar and vocals and playing "mostly roots rock (back in the '90s we called it 'alternative')." She plays mostly her own music and has released nine albums.
She booked her Porchfest show as Pipitone and Nephew, (746 Richmond 2-3 p.m.), but he will be imaginary at this point due to a scheduling conflict.
In the 716, Alison is inspired by "the landscape, the blue collar roots, [and] the work ethic."
---
Frieda Bacha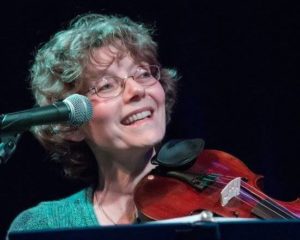 Frieda Bacha will be present for both Cooper/Kane/Bacha and No Illusions during Porchfest (both sets at 47 Ardmore, times TBA). She is also involved in Nickel City String Band and has done some studio recording for Joe Todaro and Mari Kozlowski. A violinist and vocalist, Bacha has been playing since grade school. "I like to mix is up," she says, "because the violin is so versatile." She goes on to explain that while she has classical training, along the way she "picked up improvisation and fiddling."
Frieda currently plays mostly acoustic folk, but loves harmonizing vocally and doing instrumental breaks. When talking about her inspiration, Bacha points to the connectivity of WNY: "Those two degrees of separation that Buffalonians talk about—it's true! I moved back here about five years ago after many years away and discovered all these uncanny connections with my bandmates, none of whom I knew previously." She elaborates: "I love WNY's close-knit, warm, collaborative, supportive, musical community. I'm home!"
---
Laura Bowen
Laura's been involved for three out of the five years that
Parade Chic
has been a thing. While she writes her own songs, she doesn't play them live or record anything under a given name. She explains, "I do have a whole list of potential solo-project names that I've been coming up with for the past decade—I quite like naming things…I'm sure I will focus on my solo work more one of these days, but I have a lot of artistic endeavors that keep me busy; I write stories, I make all kinds of art. I really love the music we make with Parade Chic, so it keeps me satisfied."
In Parade Chic, Laura focuses mostly on synth on a couple keyboards; a microKORG and a Roland JD-Xi. She also does some percussion and is "mostly banging a floor tom in about ¼ of the songs." She continues: "On the side, I like to write on piano or ukulele, and I attempt to sing." While she doesn't sing much in Parade Chic, she may be doing more of that in the future: "It's not something that comes naturally to me at all, but I don't find it embarrassing."
Music has had a varied path for Laura. She recounts: "As a kid we got to pick an instrument in school. I didn't know the names of many of them, so my top three picks were the ones that came to mind first: saxophone, trumpet, violin." She was told she was "too small" to play saxophone (which gets her heated to this day) and was assigned trumpet ("which I thought was pretty cool because my older brother played that."). She didn't last too long in band, as she "had zero interest in practicing." While she "hardly made an effort to remember the notes on the scale or how to play them," Laura had big dreams for a musical career. "I was sure that one day I would write music and play in a rock band…It was always in the back of my head." Finally, when she was 23, post-school and with some free time, was Laura able to sit down and begin to learn chords on a piano. "A week or two later, I joined by first band, 'The Bear Exchange.'"
Laura doesn't have a set genre that she enjoys playing. Her work is a bit of everything that she listens to and whatever music has spoken to her in the past three decades. On her own, she is "folky and quiet," but Parade Chic becomes more and more outspoken by the day. Laura won't join a project she doesn't love, and ended up turning down the first offer to join an early incarnation of Parade Chic. Unenthused by the earlier project, Laura got caught up in a later demo and has been finding ways to amplify a better sound. "I try a lot of different things until I find something that fits, and that's usually the same moment that the guys notice and say, 'Oh, what's that you're doing?' I like that. It always feels like the part was meant to be in the song, I just had to find it."
When she's not making music, Laura is busy designing children's books for a small publishing company in Buffalo. She focuses on non-fiction, yet fun topics. "They joke that I'm the only one who will do the insect books… I'm always rescuing bugs in the office."
Experience dominates Laura's inspiration over location; it "comes from specific experiences, fears, relationships, conversations, dreams I have or things I imagine—that's what's bouncing around in my head all of the time." She says: "Buffalo is definitely home, and home is a theme that's important to me. A lot of people in Buffalo have a part of them that would rather move away, and many of them do. For me, the part that cares about home is only slightly more powerful than the part that cares about adventure. There is always room for me here when I want to get involved in something—such as performing music."
Storytelling is very important to Laura Bowen, as she explains: "I like being able to visit my grandmother often. She's always been a storyteller, recounting tales of her childhood in Italy, before and during World War II, meeting my grandfather on a boat in the middle of the Atlantic, and winding up on Buffalo's West Side where she raised her family. I think I know everyone she's ever met, and some people she hasn't, just from her stories—and I inherited a love of telling stories from her. She doesn't know she's an artist. All the art I make is just a way of telling my stories."
You can catch Laura and the rest of Parade Chic at 568 Lafayette Avenue at 4 p.m. Additionally, they will be playing Friday, June 2 at Babeville, alongside the Leones and Humble Braggers.