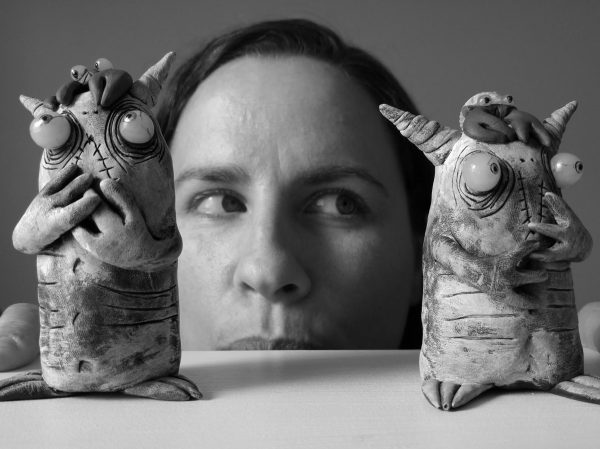 Artist Bio
Each mealy monster is hand-sculpted with polymer clay and detailed with acrylics. No molds are ever used. No two are alike.
Nicole Johnson of Mealy Monster Land is sure that her love of horror movies plays a part in her work. She studied at various places in New York State, including Buffalo State College's fine arts program, where she worked in all mediums, with a focus on printmaking. Many years later Johnson found herself taking a serious look at making art as a career and traveled down a path that led her to the wonderful world of art dolls. Taking her appreciation of all things creepy and mixing it with a sense of humor, the Mealy Monsters were created. Her work has been published in Artful Blogging, Art Doll Quarterly, Celebrate365, and Doll Collector as well as the book Polymer Clay Global Perspectives. She has shown in various exhibitions throughout the U.S.
You can also find her work at numerous art festivals throughout the year.
Johnson lives in Western New York with her husband, three children, cat, and two dogs.
---
How long have you been an artisan? How did your particular skillset develop over time?
I have been making art for as long as I can remember, but I have successfully been making a living off of my art for 11 years. The more I make the better I get; my first pieces were terrible, but I just kept at it and developed my own style and skill within the medium.
---
Please describe your work / product.
I make one-of-a-kind, hand-sculpted polymer clay monsters and creatures. Each one is hand-sculpted and detailed in acrylic paint. My goal is to mix creepy creatures with humor.
---
Who are some of your favorite artisans / makers in the region? Who amongst your peers inspires your work?
I am inspired by Halloween, horror movies, and spooky tales. I feel it is important to be inspired by ideas and not other artists. That being said, I love how embracing the people of WNY are to artists and their art. Two of my favorite local artists are Melissa Buckley of Rusty Button Studio and the whimsical work of Jessica Gadra.
---
How long have you been a business owner in WNY?
I have been making and selling mealy monsters in WNY since 2008.
---
How long have you been a part of Buffalo Women's Gifts?
This is my second year participating in the show.
---
Where can people see / purchase your work year-round?
---
Where else will you be representing your wares this holiday season?